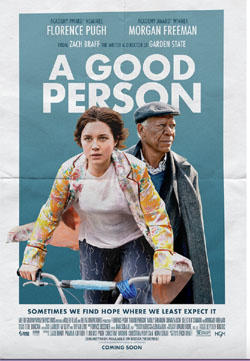 S.P. – Florence Pugh stars as a promising young woman whose life is destroyed by a tragic accident.
A Good Person introduces us to Allison (Florence Pugh), who sings and plays the piano at her joyous engagement party. Nathan (Chinaza Uche) embraces his future bride in front of their friends and family. They are the picture of happiness. The following day, Allison drives his sister (Nichelle Hines) and her husband (Toby Onwumere) to help choose a wedding dress. They're stuck in highway traffic. She darts forward to an open lane but doesn't see a backhoe reversing.
A year later, a shattered Allison lives with her mother in South Orange, New Jersey, her engagement having fallen apart. Diane (Molly Shannon) begs her daughter to try and leave the house and get a job. Allison becomes enraged when Diane refuses to give her Oxycontin. Diane knows Allison's grief has spiraled into addiction. She flushes her last prescription bottle, and Allison runs outside in desperate need of a fix.
Meanwhile, Daniel (Morgan Freeman) gets troubling news at his granddaughter's high school. Ryan (Celeste O'Connor) faces expulsion. She fights, curses at her teachers, and doesn't do her schoolwork. The promising student and athlete she once was vanished when her mother died. He admits to not having a clue how to deal with her. Daniel, an ex-cop and recovering alcoholic, attends an AA meeting at the local church. He's surprised when a sweaty and disheveled Allison enters. She freezes in fear and turns to leave once seeing him, but Daniel begs her to stay. He knows she needs help.
A Good Person pulls no punches. The characters are intertwined in significant states of distress. Allison cannot forgive herself. Opiates numbed the torment of her actions and terrible loss; she's hanging on by a thread in every moment. Nathan hates his father for abuse suffered during childhood. He refuses to help Daniel raise his niece. Nathan loves Ryan but still hasn't recovered from the accident's aftermath. Allison's sudden return to his family's life throws a wrench in the turmoil. No one can hide from their pain any longer. They must all confront the past together.
Starring Florence Pugh, Molly Shannon, Chinaza Uche, Celeste O'Connor, and Morgan Freeman.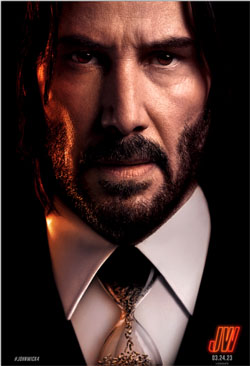 John Wick: Chapter 4 obviously picks up on the plot and ending of the previous installment, although some time has passed. Wick, who has already defied the odds of survival after emerging from being shot and falling off a tall building, is back in fine shape. The Bowery King (Laurence Fishburne) has taken in the rebellious hit man and nursed him back to health; they both have a bitter grudge against the High Table, and the Bowery King hopes that he can unleash Wick on its world and take it down.
As always, the odds are against him. He's excommunicado, so he no longer has the privileges and access he once did in the criminal underworld, and there's a $14 million bounty on his head. To make matters worse, the High Table has unleashed the Marquis de Gramont (Bill Skarsgård) as a cruel emissary who will stop at nothing to rid the world of even the faintest idea of John Wick. The Marquis's dogged hunt will send John from Berlin nightclubs to the Osaka Continental to the storied streets of Paris, all with one goal: Fight his way to freedom.
Cast: Keanu Reeves, Donnie Yen, Lance Reddick, Ian McShane, Laurence Fishburne, Bill Skarsgard, Rina Sawayama, Hiroyuki Sanada, Shamier Anderson, Clancy Brown, Aimee Kwan, Marko Zaror, Natalia Tena, Dorothea Neukirchen, Scott Adkins, Sven Marquardt
Directed by: Chad Stahleski
Written by: Shay Hatten, Michael Finch
Produced by Chad Stahleski, Basil Iwanyk, Erica Lee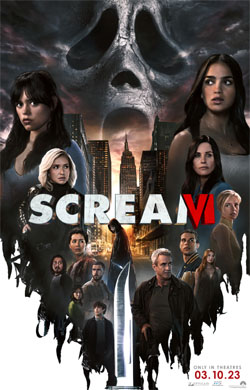 S.P. – Old school slasher fun, more bloodier than ever.
Scream VI the slasher sequel is more intense than ever. The sixth installment of the franchise, which started with Scream (1996), is a direct sequel to Scream (2022) and follows the main cast of people that made it through the previous film to New York City, where a new Ghostface murderer has descended upon the town. The 2022 film was directed by Matt Bettinelli-Olpin and Tyler Gillett, who also directed the upcoming sequel.
Six months after the events in Woodsboro, Sam (Barrera) and Tara (Ortega) are adjusting to college life in Manhattan. They're joined by twins Mindy (Jasmin Savoy Brown) and Chad (Mason Gooding). Tara wants to move on with her life by attending frat parties and meeting cute boys. Sam can't leave their traumatic past behind. She lives in fear for her younger sibling's safety. Tara doesn't want a babysitter. She's annoyed by Sam's constant monitoring.
Sam's intuition proves to be correct as new Ghostface killings rattle the city and campus. Someone is targeting the Carpenter sisters by murdering those around them and leaving strange clues. There's a sinister connection to the sisters that baffles law enforcement. NYPD lead detective Bailey (Dermot Mulroney) is confounded by the killer's knowledge of previous Ghostface crimes.
Sam, Tara, and the twins decide to stay together at all times. They get reinforcements when Kirby Reed (Hayden Panettiere), now an FBI agent, arrives to help. They don't want any assistance from Gale Weathers (Courteney Cox); who betrayed the sisters' trust. The new strategy doesn't work. Ghostface outwits them at every savage turn. Sam and Tara surmise that the killer has to be someone in their inner circle.
Cast:
Melissa Barrera, Jasmin Savoy Brown, Jack Champion, Henry Czerny, Mason Gooding, Liana Liberato, Dermot Mulroney, Devyn Nekoda, Jenna Ortega, Tony Revolori, Josh Segarra, Samara Weaving with Hayden Panettiere and Courteney Cox.
ANT-MAN AND THE WASP: QUANTUMANIA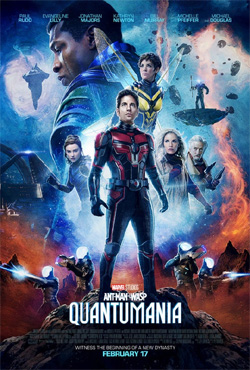 S.P. – Lots of Action, less comedy that doesn't overpower the scenes.
Scott Lang (Paul Rudd) has become an A-list celebrity. His turn as an Avenger and Blip-reversing heroics have solidified stardom. Everyone wants a selfie and autograph. Meals are on the house. Baskin-Robbins names him "Employee of the Century." There are lines out the door for his book readings. He relishes fame while his significant other Hope (Evangeline Lilly) uses Pym Particles for the public good.
Eighteen-year-old Cassie Lang (Kathryn Newton) has followed in her father's troublemaker footsteps. She's constantly getting arrested. Cassie believes that Scott can do more to help people. Saving the world, defeating Thanos, and bringing billions back from disintegration just isn't good enough.
A family dinner leads to Cassie showing her and Hank's (Michael Douglas) new project. She's invented a beacon that can send and receive subatomic signals to the Quantum Realm. A horrified Janet (Michelle Pfeiffer) pulls the plug too late. The device generates a portal that sucks them in. Scott and Hope activate their suits as everyone tumbles apart. She grabs her parents while Scott secures Cassie. Two groups land in a strange and exotic environment. Janet has kept dark secrets about her decades apart. A terrifying threat hunts them. They must find Scott and Cassie before he does. Kang (Jonathan Majors) cannot be allowed to escape his imprisonment.
Cast: Paul Rudd, Evangeline Lilly, Michael Douglas, Michelle Pfeiffer, Jonathan Majors.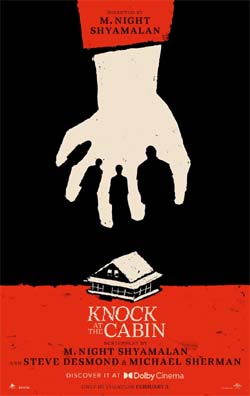 S.P. – Becomes boresome very fast.
Young Wen (Kristen Cui) collects grasshoppers in the woods near her parent's secluded Pennsylvania vacation cabin. She's frightened when the hulking Leonard (Dave Bautista) appears seemingly out of the blue. A wary Wen warns that she shouldn't talk to strangers. Leonard agrees to be her friend but apologizes sincerely for what's to come. Other figures emerge carrying medieval weapons. Wen races inside and locks the front door.
Andrew (Ben Aldridge) and Eric (Jonathan Groff) wonder what's all the commotion. A breathless Wen warns that people are coming for them. Her fathers' skepticism turns to concern when Leonard knocks. Andrew can't believe what he's seeing outside their window. They grab Wen and try to barricade every entrance. It's a futile ploy when glass can be easily shattered.
The family huddles in fear as they are restrained. The four nervous captors introduce themselves. Sabrina (Nikki Amuka-Bird) is a trauma nurse that spent all of her savings to be there. Ardiane (Abby Quinn) cooks as a line chef in a restaurant. She also has a young child. The erratic Redmond (Rupert Grint) works at a gas utility. Leonard teaches the second grade. The disparate quartet have dire purpose. Mankind will be destroyed unless the captives choose to kill one of their own.
Cast: Dave Bautista, Jonathan Groff, Ben Aldridge, Nikki Amuka-Bird, Kristen Cui, Abby Quinn and Rupert Grint.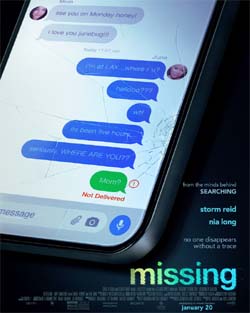 S.P. – Young Detective (Storm Reid ) at Work using Social Media to solve Mother's disappearance

June Allen (Storm Reid) lives with her widowed mother in Los Angeles. Gracie (Nia Long) finds it difficult to get her eighteen-year-old daughter's attention. June ignores her mother while constantly chatting on social media. Gracie implores June to erase her voicemails as the inbox is full. She's also annoyed when June turns off her phone's location finder while shirking curfew.
Gracie and her new boyfriend, Kevin Lin (Ken Leung), are going to Cartagena, Columbia, for a romantic getaway. She deposits emergency money in June's account just in case. Gracie warns her rebellious offspring to carefully mind the funds. June sees an opportunity for a wild party.
June throws an epic bash with her friends. She revels in having the house to herself. A hungover June clamors to clean up before picking up her mother at the airport. Gracie and Kevin fail to arrive. June becomes more worried when the Columbian hotel still has their luggage. The couple never checked out. June uses every internet tool at her disposal to search the city. She then decides to hack her mother and Kevin's e-mail accounts for further clues. Junes discovers frightening secrets that deepen the puzzle of Gracie's disappearance.
Cast: Storm Reid, Joaquim de Almeida, Ken Leung, Amy Landecker, with Daniel Henney and Nia Long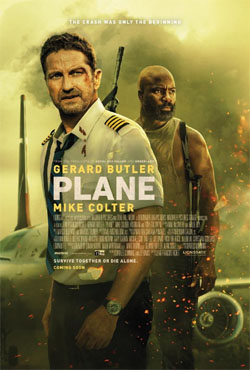 S.P. – A suspenseful violent flight.
Captain Brodie Torrance (Gerald Butler) races to the gate in Singapore. He's eager to reunite with his teenage daughter (Haleigh Hekking) in Hawaii. A pair of events unnerve Torrance as the passengers board. Bad weather looms on the flight path to Tokyo. He's given permission to fly above the storm despite misgivings. Also, law enforcement has captured a murderer on the run for fifteen years. Louis Gaspare (Mike Colter) is handcuffed in the back row for extradition to the United States.
The first officer (Claro de los Reyes) has faith in Torrance's skill. That's immediately tested as turbulence rocks the plane. Passengers whimper as Torrance raises altitude. Calm turns to terror when lightning strikes. Bonnie (Daniella Pineda), the head flight attendant, screams for everyone to remain seated. The foolish ignore her order.
The aircraft loses power. All electronic instruments have failed. The plane begins a rapid descent over a vast ocean. They have ten minutes before plummeting to certain death. Torrance yells for the passengers to prepare for a water landing. A patch of green with a winding road miraculously appears through the blinding rain. Everyone braces for impact. But the remote island of Jolo isn't a safe haven. An anti-government militia watches as a fresh batch of western hostages crashes in the jungle.
Cast: Gerard Butler, Mike Colter, Yoson An, Daniella Pineda, Paul Ben-Victor, Remi Adeleke, Joey Slotnick, Evan Dane Taylor, Claro de los Reyes, and Tony Goldwyn.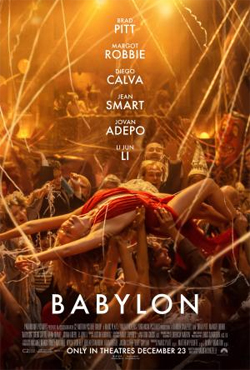 S.P. – A Dazzling Spectacle
In 1926 Blair, California, Manny Torres (Diego Calva) struggles to haul an elephant uphill for studio mogul Don Wallach's (Jeff Garlin) wild party. It's a scatological affair as Manny finally reaches the den of sin and lust. Black trumpeter Sidney Palmer (Jovan Adept) plays onstage with his jazz band as the sea of flesh writhes before them. MGM star Jack Conrad (Brad Pitt) arrives with his bickering wife (Olivia Wilde) to great fanfare.
Manny's sent to handle a problem when he notices a rambunctious gate crasher. The loud but gorgeous Nellie LaRoy (Margot Robbie) demands entrance. She's going to take Hollywood by storm. A mesmerized Manny sneaks her in, where Nellie makes the most of the opportunity. Wallach can't help but noticing her.
The following day has Nellie on the frenetic CinemaScope lot, along with Manny who became Jack's personal assistant after driving him home. They are both thrilled to finally be a part of the movies. Gossip journalist Elinor St. John (Jean Smart) gets a kick out of the crude Nellie. She can sense a rising newcomer.
Several weeks later, Jack gets word that Al Jolson's "The Jazz Singer" is expected to be a massive hit. He flies Manny to the New York premiere to see what's the fuss about talking pictures.
The film's second act sobers up the ensemble. Nellie and Jack struggle as actors with speaking roles. Manny and Sidney rise, but with embarrassing racial slights. The price of fame becomes a cost they can no longer afford. This inevitable downturn takes the sparkle and sheen off the narrative. Gazelle gets predictably ugly. Stars can't burn forever. It's obvious from the start that his characters aren't capable of change.
Brad Pitt, Margot Robbie, Diego Calva, Jean Smart, Jovan Adepo, Li Jun Li, P.J. Byrne, Lukas Haas, Olivia Hamilton, Tobey Maguire, Max Minghella, Rory Scovel, Katherine Waterston, Flea, Jeff Garlin, Eric Roberts, Ethan Suplee, Samara Weaving, Olivia Wilde.
I Wanna Dance With Somebody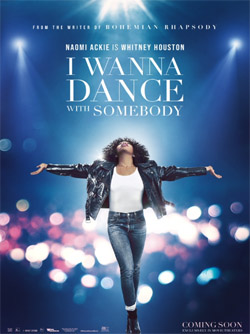 S.P. – Stellar performance by Naomi Ackie
I Wanna Dance with Somebody opens in early eighties East Orange, New Jersey. A teenage Whitney (Naomi Ackie) meets the beguiling Robyn Crawford (Nafessa Williams) in a park playground. Their friendship quickly evolves to romance. Whitney lives in the shadows of her famous mother, Cissy Houston (Tamara Tunie), and domineering father, John (Clarke Peters). She sings backup vocals in her mother's band.
Whitney's fate changes when powerful music executive Clive Davis (Stanley Tucci) comes to a show. Cissy realizes the enormous magnitude of the moment. She puts Whitney front and center for a stunning audition. Clive is blown out of his chair by the young ingénue's talent.
Clive signs Whitney to a record deal with her ecstatic parents and Robyn watching. He develops a relationship with his promising star that fosters her best traits. Whitney's debut album is a monster hit. She becomes America's pop "princess" and a global sensation.
Everyone is out for a piece of Whitney's financial windfall. Her father keeps ironclad control of the business, while Cissy and Clive steer her musical choices. They all agree on one thing. Tabloids are beginning to suspect her and Robyn are more than friends. As Whitney struggles with the pressures of fame, she's smitten by New Edition frontman turned solo star, Bobby Brown.
Starring: Naomi Ackie, Stanley Tucci, Ashton Sanders, Tamara Tunie,Nafessa Williams ,Clarke Peters.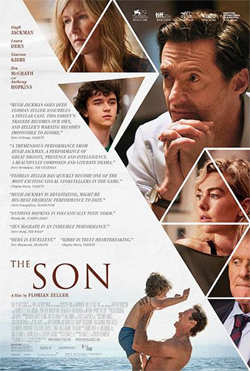 S.P. – Parents Struggle to handle Son issues.
The Son is a heavy drama about teenage depression and the crippling effect it can have on a family, with themes around suicide, self-harm, and strong language. It stars Hugh Jackman as Peter, whose teen son, Nicholas (Zen McGrath), comes to live with him, his partner Beth (Vanessa Kirby), and their baby. Nicholas is living with mental health issues and the film examines how his parents deal with it and how difficult that can be. The film also looks at how actions and decisions have consequences. The depiction of depression is raw and unforgiving, pulling no punches in the process. The film isn't very positive, and there isn't much optimism to take away.
STARRING: Hugh Jackman, Laura Dern, Vanessa Kirby, Zen McGrath, and Anthony Hopkins
PUSS IN BOOTS: THE LAST WISH
S.P. -Purrfect fun for the whole family.
Puss in Boots: The Last Wish opens with a grand display of Puss in Boots' larger-than-life personality. He has broken into some town's mayor's mansion and is hosting a party, clawing up portraits, singing, and dancing along with the townsfolk. However, after the mayor catches him in the middle of a dance number, a giant monster appears, forcing Puss in Boots to use his abilities to save the day yet again. This does not come without consequences, Puss in Boots is crushed by a falling bell at the very end of the fight, killing and forcing him onto the last of his nine lives. If he dies again, that is the end of the legendary feline. At first, this does not seem to faze him, and he heads to the bar upon waking. There, he encounters a powerful wolf with red eyes who presumably is a bounty hunter. This is not a fight Puss in Boots can win, and, with his head held low, he gives up the life he has lived to protect his last life. With the wolf chasing him, there is only one spot where Puss in Boots can truly be safe: Mama Luna's house. Mama Luna protects domesticated cats, and after burying his cape in her front yard, Puss in Boots resigns himself to a life of eating kitty kibble and sunbathing in the window forever. He resists it at first, but after being stuck inside the house for a while, he begins to accept his new fate and even gives up on grooming himself, making the beloved character completely unrecognizable to even the most devoted fan in this universe.
Adventure cannot stay away from him, and Goldilocks and the Three Bears, a crime family consisting of a human girl and her three talking bears, show up at the house looking for him. Puss in Boots evades their notice, but finds out about a mysterious Wishing Star in the process, prompting him to dig up his hat and cape from its shallow grave and set out for a brand new, potentially final journey. He is joined by Perrito, a dog who has been pretending to be a cat in the house, and reunites with Kitty Softpaws as they try to steal the map to the Wishing Star from Jack Horner. With three different teams out to get the Wishing Star and make their dreams come true, the movie turns into an epic journey across dreams and nightmares to find out that maybe everything someone ever wanted is right in front of them.
Genre: Animated Comedy Adventure
Cast: Antonio Banderas, Salma Hayek Pinault, Olivia Colman, Harvey Guillén, Samson Kayo, Wagner Moura, Anthony Mendez, John Mulaney, Florence Pugh, Da'Vine Joy Randolph, Ray Winstone
Director: Joel Crawford
Producer: Mark Swift
Executive Producer: Chris Meledandri
S.P.  – The Way of Water is the greatest 3D film ever made.
James Cameron returns  to Pandora with an unparalleled cinematic epic. Avatar: The Way of Water submerses you in an alien ocean of adventure, retribution, and tragic violence. Humanity's assault on the Na'vi and their magnificent world's unspoiled riches begins once again. Enemies long thought dead are reborn to threaten everything Jake Sully (Sam Worthington) holds dear. His beloved family must run for their lives as the leaders of a fierce resistance return.
Fifteen years after RDA's expulsion from Pandora, life has changed dramatically for Jake Sully. Toruk Makto and Neytiri (Zoe Saldaña) have successfully rebuilt the Omaticaya clan. They have four spirited children and an equally rambunctious interloper. The composed Neteyam (Jamie Flatters) has to keep younger brother, Lo'ak (Britain Dalton), out of trouble. Adopted daughter Kiri has a deep and mysterious connection to Eywa. She's idolized by their lovable youngest, Tuk (Trinity Jo-Li Bliss), a fixture at her siblings' side. Rounding out the energetic youth is Spider (Jack Champion), a human teen raised along the Sullys with a Na'vi sensibility.
Jake's worst fears are realized when he notices new stars appear in the night sky. Ships are entering Pandora's atmosphere. RDA lands with a massive force. General Frances Ardmore (Edie Falco) has brought new weapons to the fight. A platoon of Avatars led by Jake's greatest adversary has evened the physical score. They are just as strong as the native Na'vi, and most importantly, aren't recognized as invaders by Eywa. Neytiri's "demons" have come back to kill and conquer.
Jake must hide his wife and children if they are to survive. Ardmore will annihilate the Omaticaya to get them. They flee to the seas of Pandora, where thousands of islands can shield them from RDA's wrath. The Metkayina aren't happy to see the family of forest Na'vi. The pregnant Tsahìk, Ronal (Kate Winslet), warns they will bring destruction. But clan leader, Tonowari (Cliff Curtis), honors the asylum request of Toruk Makto.
Avatar: The Way of Water has a three-hour and twelve-minute runtime. The sound and visual effects are spectacular, absolutely stunning, the best to date.
Directed by James Cameron and produced by Cameron and Jon Landau, the Lightstorm Entertainment Production stars Sam Worthington, Zoe Saldaña, Sigourney Weaver, Stephen Lang and Kate Winslet.
Screenplay by James Cameron & Rick Jaffa & Amanda Silver.
Story by James Cameron & Rick Jaffa & Amanda Silver & Josh Friedman & Shane Salerno.
David Valdes and Richard Baneham serve as the film's executive producers.
In Theaters November 23 and on Prime Video December 16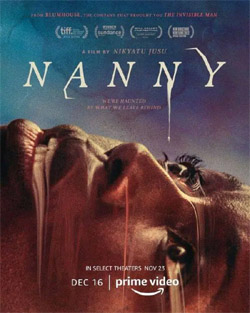 Nanny, a supernatural thriller that tells the story of Aisha (Anna Diop), a Senegalese immigrant nanny in New York City who works for wealthy white family as a live-in babysitter to their five-year-old daughter Rose (Rose Decker).while saving up to bring her own young son to the United States. As she is drawn deeper into the family's lives, however, she contends with forces both otherworldly and real that threaten her American dream.
Rose is known for disobeying caretakers and causing trouble, especially refusing to eat. Aisha doesn't have any of these problems. Instead, the young girl asks if she can try some Senegalese cuisines, quickly liking them and solving that problem. Meanwhile, parents Amy and Adam (Michelle Monaghan and Morgan Spector) are distant and arguing whenever they are in the same room. This happens to the extent that they come across as negligent guardians due to their self-absorbed behaviors. Adam even goes as far as making an unwanted romantic move towards Aisha.
Written and Directed by Nikyatu Jusu.
Starring Anna Diop, Michelle Monaghan, Sinqua Walls, Morgan Spector, Rose Decker, Leslie Uggams, Zephani Idoko, Olamide Candide-Johnson, Jahleel Kamara, Princess Adenike, Mitzie Pratt, Keturah Hamilton, Stephanie Jae Park, and Ebbe Bassey.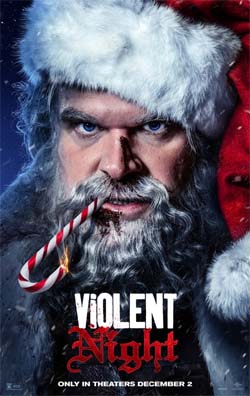 S.P. – One Naughty Santa!
On Christmas Eve, when a wealthy family is held hostage in their home by mercenaries led by Mr. Scrooge (John Leguizamo), the real Santa Claus (David Harbour), who has lost the Christmas spirit must summon his strength to defeat the bad guys and save the family including a young girl named Trudy (Leah Brady), who still believes in the magic of Christmas and Santa Claus.
Cast: David Harbour, John Leguizamo, Cam Gigandet, Alex Hassell, Alexis Louder, Edi Patterson and Beverly D'Angelo.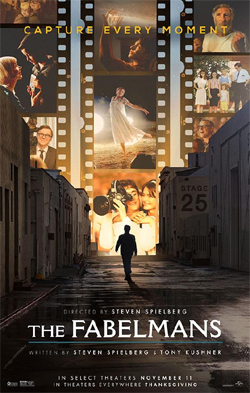 S.P. – Steven Spielberg puts his life on screen, in this amazing memoir.
Steven Spielberg tells the story of his youth in a heartfelt memoir about cherished family, an early love of filmmaking, and facing cruel antisemitism. The Fabelmans shines a spotlight on the iconic director's strong upbringing. His electrical engineer father and concert pianist mother fully supported creative endeavors. They grew a fascination with movies that blossomed to obvious talent. But the veneer of true happiness loses its luster with a startling teenage realization. Those dearest to him have secrets that endanger assumed stability. Spielberg's coming-of-age drama honestly depicts the struggle to find yourself when the world crashes down.
In fifties suburban New Jersey, young Sammy Fabelman (Mateo Zoryon Francis-DeFord) is dazzled by seeing The Greatest Show on Earth. His radiant mother, Mitzi (Michelle Williams), serves meals on paper plates with plastic utensils. She doesn't do dishes to save her pianist hands. Burt (Paul Dano), Sammy's genius father, makes extra money fixing broken televisions. Along with his three younger sisters, the Fabelmans are a picture of content. They celebrate their Orthodox Jewish faith during the holidays with Bennie (Seth Rogen), his father's best friend and co-worker.
Burt gets a lucrative job offer to move the family to Phoenix, Arizona. Mitzi implores her husband to not leave Bennie behind. He's become a treasured uncle to the children. In Phoenix, Sammy's (Gabriel LaBelle) skill with the family's 16mm camera takes a dramatic leap. He wows his family and neighbors with amazing short films. Burt and Mitzi are proud of his proficiency. Bennie gives him money to purchase a real camera. Sammy starts documenting everything. He notices that a divide exists between his parents.
Burt's career takes the family to Northern California. This time he couldn't find a place for Bennie. The change does not sit well with Sammy and Mitzi. He's beaten up at school for being Jewish. Daily bullying and taunts become unbearable. Film is his only escape. Mitzi plunges into a dark depression. Burt's confounded by this turn of events. He doesn't know how to keep his wife happy, and takes issue with Sammy's movies obsession. His son needs to focus on finding a legitimate career.
The Fabelmans begins with the seemingly limitless promise of childhood. Sammy, his sisters, father, and Bennie bask in Mitzi's glowing personality. She's beautiful, an incredible musician, and exudes an aura that lifts everything around her. Mitzi is the sun lighting every path forward. The older Sammy learns this isn't always true. His parents love each other but are very different people. As their children age, the chasm between them grows wider. Burt loves Mitzi unconditionally. She supported his career by being a good mother and wife, but has needs that he unfortunately cannot meet.
Genre: Drama
Cast: Michelle Williams, Paul Dano, Seth Rogen, Gabriel LaBelle, Jeannie Berlin, Julia Butters, Robin Bartlett, Keeley Karsten and Judd Hirsch
Directed by: Steven Spielberg
Screenplay by: Steven Spielberg & Tony Kushner
Produced by: Kristie Macosko Krieger p.g.a., Steven Spielberg p.g.a., Tony Kushner p.g.a.
Executive Producers: Carla Raij, Josh McLaglen.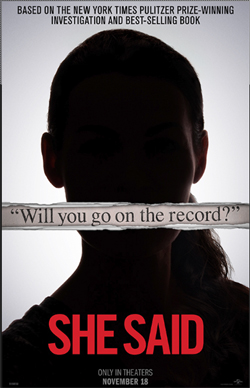 After months of investigating Weinstein, uncovering, and confirming reports of decades-long harassment and sexual misconduct, reporters Kantor and Twohey, along with Corbett, who was assistant managing editor at the New York Times at the time of the investigation, the women broke the Weinstein story, breaking decades of silence around the subject of sexual assault in Hollywood.
The result, along with Ronan Farrow's Weinstein expose, eventually fueled the fires of the #MeToo movement. Three days after the New York Times story dropped, Weinstein was fired from the Weinstein Co. Flashforward to February 2020, and Weinstein is found guilty of a criminal sexual act in the first degree and third-degree rape and would go on to be sentenced to 23 years in prison. Another trial, in which Weinstein faced 11 charges of rape and sexual assault began last month an L.A. judge overseeing the sexual assault trial dropped four of the 11 charges against Weinstein on November 15, when prosecutors announced they wouldn't move forward with counts connected to one of the accusers.
That said, it's mesmerizing to sit through She Said and witness the depth of commitment and risk Kantor and Twohey, and their editorial ally Corbett, experienced.
Genre: Drama
Cast: Carey Mulligan, Zoe Kazan 
Directed by: Maria Schrader
Written by: Rebecca Lenkiewicz
Producers: Brad Pitt, Dede Gardner, Jeremy Kleiner
Executive Producers: Megan Ellison, Sue Naegle
BLACK PANTHER: WAKANDA FOREVER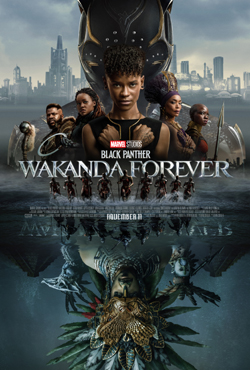 S.P. – Slow-burning Movie overshadowed by grief.
Wakanda reels from the unexpected death of King T'Challa. Queen Ramonda (Angela Bassett) assumes leadership with a broken heart. She gives the world a stark notice. The Black Panther is gone, but Wakanda remains undaunted. She will retaliate against any efforts by foreigners to steal Vibranium. Ramonda tries to make peace and accept the loss of her son. Princess Shuri (Letitia Wright) doesn't share her mother's ability to cope with grief. Anger fuels her genius mind. She's haunted by her inability to recreate the Heart-Shaped Herb. Her beloved brother died because she wasn't strong or smart enough to save him.
As Wakanda faces existential threats for its Vibranium resources. As hostile countries clamor for the valuable ore, an undersea source is discovered with a fierce protector. Who would burn the above ground to ashes and never capitulate.
Meanwhile, in the Atlantic Ocean, a specialized CIA device finds Vibranium on the sea floor. It unleashes a ferocious response from a long-hidden race of Mayan descendants. K'uk'ulkan (Tenoch Huerta), the king of Talokan, has seen the horrors of colonizing invaders. "The feathered serpent god", cursed as Namor by the terrified Spanish, won't allow his people's secret home to be known. He confronts Ramonda and Shuri with a deadly request. Wakanda and Talokan have the same enemies. Find and kill the Vibranium detector's creator (Dominique Thorne) or Wakanda will suffer the same wrath as the outsiders if they disobey him.
Cast: Angela Bassett, Letitia Wright, Winston Duke, Danai Gurira, Lupita Nyong'o, Martin Freeman, Dominique Thorne, Michaela Coel, Mabel Cadena.Tenoch Huerta,   and Alex Livinalli.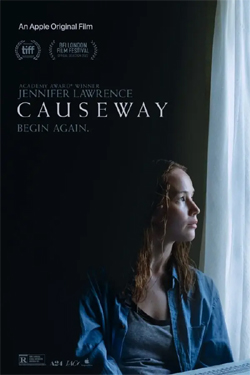 S.P. – Jennifer Lawrence plays a woman, who returns home to New Orleans after suffering severe injuries while serving in Afghanistan.
Causeaway follows Lynsey, a woman who returns home to New Orleans after suffering severe brain and body injuries as a result of her vehicle hitting an explosive in Afghanistan while serving in the U.S. Army Corp of Engineers. Causeway traces Lynsey's physical rehabilitation, her goal is to return to the army.
She forms an unlikely friendship with mechanic James (Brian Tyree Henry) when her truck breaks down.
A connection between two damaged people hurting inside, seemingly desperate for companionship and to open up to one another.
Causeway is a deeply human film that succeeds in illustrating the twisty road to recovery and the strength it takes to let other people in.
Directed by Lila Neugebauer.
Starring Jennifer Lawrence, Brian Tyree Henry, Linda Emond, Jayne Houdyshell, Stephen McKinley Henderson Russell, Harvard Frederick Weller, Sean Carvajal, Will Pullen, and Neal Huff.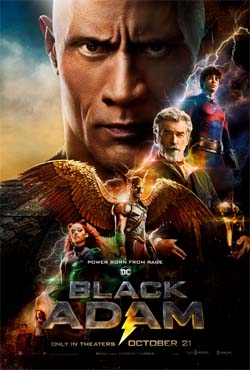 S.P. – Action – Packed movie, with great visuals.
5000 years ago in the Middle-Eastern country of Kahndaq, a ruthless king enslaved the population to search for a precious ore. Eternium's magical properties would allow him to construct the Crown of Sabbac, an object that harnessed demonic power. A young boy, Hurut (Jalen Christian), rebelled against the king but paid a severe price. His noble deeds were noticed by the cabal of wizards. They decided the suffering people needed a champion.
The violent, high-tech criminal syndicate Intergang rules modern Kahndaq. A teacher, Adrianna Tomaz (Sarah Shahi), her goofy brother Karim (Mohammed Amer), and fearless son Amon (Bodhi Sabongui), try to prevent Intergang from finding the buried crown. Adrianna's harrowing escape releases Teth-Adam (Johnson) from his long slumber.
Amon believes Teth-Adam has returned to liberate Kahndaq from outside oppressors. Teth-Adam counters that he's not a hero or savior. The myths have pegged him wrong. His awakening triggers Amanda Waller (Viola Davis) to counter the significant new threat. The Justice Society of America, led by Hawkman (Aldis Hodge) and Dr. Fate (Pierce Brosnan), bring new recruits, Atom Smasher (Noah Centineo) and Cyclone (Quintessa Swindell), to subdue Teth-Adam. They vastly underestimate their target's abilities. As Kahndaq erupts into chaos, Intergang continues to search for the evil crown.
Cast: Dwayne Johnson, Noah Centineo, Sarah Shahi, Marwan Kenzari, Quintessa Swindell, Bodhi Sabongui, Pierce Brosnan, Aldis Hodge
THREE THOUSAND YEARS OF LONGING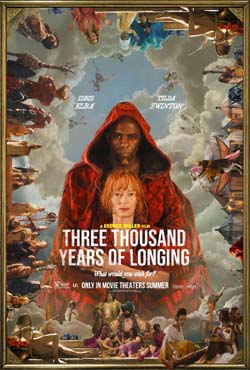 S.P. – Great Fantasy Story with Beautiful Visual Effects.
Based on the book The Djinn in the Nightingale's Eye, Three Thousand Years of Longing centers on Althea (Tilda Swinton) a literary scholar and expert on myths of modern as well as historic. On her trip to Istanbul, she happens to come across a small blue and white glass container that holds a secret Djinn (Idris Elba) inside it. Upon cleaning The Djinn's bottle, his embodiment fills the room, leaving very little space for her or him inside the tiny hotel room. It's at this moment, that The Djinn offers Althea three wishes. Althea is hesitant and begins debating on the merits of wishing. For one reason, she doesn't have anything she desires, and the second reason being her studies on literature mostly have indicated characters never truly get what they wish for. As the discussion over wishes plays out, The Djinn attempts to reason with Althea by giving tidbits of his life story to her.
Cast: Idris Elba, Tilda Swinton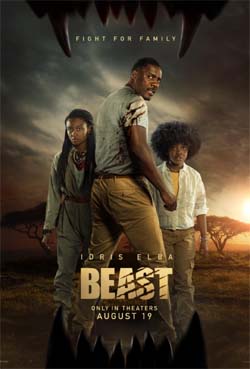 S.P. – Tiresome melodrama, boring plot. The characters argue constantly about family issues while under attack. The girls' nonstop complaining kills the movie's fun.
Dr. Nate Samuels arrives in the South African bush with his teenage daughters, Meredith (Iyana Halley) and her younger sister Norah (Leah Sava Jeffries). They're returning to visit Martin (Sharlto Copley), a wildlife conservationist and dear friend of Nate's recently deceased ex-wife (Naledi Mogadime). Nate wants to reconnect with his children while touring their mother's homeland. Meredith has followed in her footsteps as a photographer. She blames her father for being absent during her mother's battle with cancer. She argues with her father and sister from their landing.
Martin takes the family to a remote preserve. He shows them a pride of lions that he helped to raise from cubs. The tourist adventure takes a macabre turn when they drive to a nearby village. The residents have been massacred by a lion. Martin has never seen a lion behave so aggressively. He tells Nate and the girls to stay in the car. Martin ventures into the savanna to track the beast. Nate and the girls hear a gunshot. Followed by a terrifying encounter with the lion at the car. Martin radios that he's been injured. Nate tries to save Martin and get his children away from the savage predator.
Cast: Idris Elba, Sharlto Copley, Iyana Halley, Leah Sava Jeffries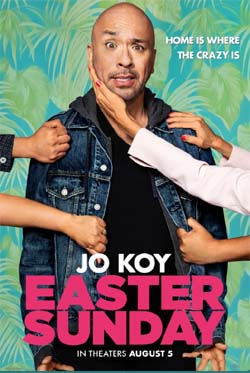 S.P. – Slow start but finishes strong.
Joe Valencia (Koy) races around Los Angeles juggling domestic affairs with career opportunities. He's got an important audition for a network sitcom and parent-teacher conference at his son's school. Junior's (Brandon Wardell) grades are tanking in his senior year. He's upset that his father doesn't have time for him. Joe's ex-wife (Carly Pope) and annoying new husband (Michael Weaver) constantly remind him of his poor parenting.
Joe's mother, Susan (Lydia Gaston), invites him and Junior to her home in Daly City for Easter dinner. He forces Junior to go but keeps an eye on his cell phone. Joe's agent (Jay Chandrasekhar) updates him on the sitcom's status. In Daly City, Joe learns that his mother and her sister, Tita Teresa (Tia Carrere), are embroiled in a bitter argument. He's also furious that his cousin, Eugene (Eugene Cordero), has stolen from a local gangster (Asif Ali) and squandered his loan for a taco truck. Joe must negotiate peace between his mom and aunt, save Eugene from a beatdown, deal with his agent, and bond with his son in one eventful day.
Cast: Jo Koy, Jimmy O. Yang, Tia Carrere, Brandon Wardell, Eva Noblezada, Lydia Gaston, Asif Ali, Rodney To, Eugene Cordero, Jay Chandrasekhar, Tiffany Haddish and Lou Diamond Phillips.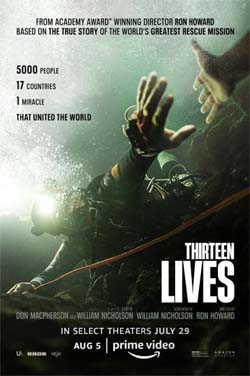 S.P. – Great story, filled with real sacrifice, outstanding courage, and people coming together to work for a common goal against all odds!
Thirteen Lives opens on a lush soccer field with the Wild Boars practicing under a gray sky. The boys have a birthday party that night. They decide to explore the nearby caves before attending. Their coach, Ekkaphon Chanthawong (Teeradon Supapunpinyo), comes along to supervise the outing. Everyone playfully enters the cave complex with literally the clothes on their backs. They ignore the posted warnings of flash flooding.
Several hours later during a torrential storm, none of the children are present at the party. Their concerned parents are told of the cave trip. Everyone races to the entrance. The cave has been blocked by the surging water. Police and rescue teams are called for help. They cannot get through the water. Governor Narongsak (Sahajak Boonthanakit) is notified. He takes command of the rescue as the Thai Navy Seals are also brought in.
Several days pass as news of the lost boys transfixes global media. The entrance to the cave is a hotbed of frantic activity. Meanwhile, a monsoon continues to drench Thailand. British ex-pat and experienced cave diver, Vern Unsworth (Lewis Fitz-Gerald), warns Governor Narongsak that time is running out. He reaches out to Richard Stanton (Viggo Mortensen) and John Volanthen (Colin Farrell). The English fireman and IT consultant were regarded as the world's best cave divers. Stanton and Volanthen arrive to a chaotic scene. Governor Narongsak, under siege from the panicked families and furious Thai officials, gives Stanton and Volanthen free rein to explore the labyrinthine cave. Stanton believes they must have all perished. Even if they find them alive, how would they get them out?
CAST:  Viggo Mortensen, Colin Farrell, Joel Edgerton, Tom Bateman, Paul Gleeson, Pattrakorn Tungsupakul, Tui Thiraphat Sajakul, James Teeradon Supapunpinyo, Sahajak Boonthanakit, Weir Sukollawat Kanaros.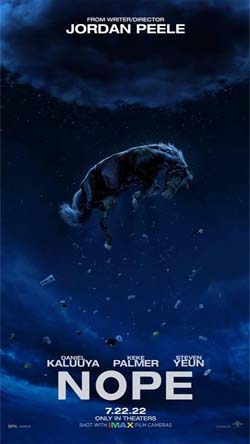 S.P. – Humorous, suspenseful sci-fi
We meet Otis Haywood Sr. (Keith David) and his son, OJ Haywood (Daniel Kaluuya), after a seemingly random and shocking open. They own a horse farm that provides animals for Hollywood productions. Keke Palmer co-stars as Emerald Haywood, OJ's scatterbrained sister that takes little interest in the hard work of training horses. A strange event has OJ and Emerald taking the reins of the family business.
The Haywood's farm sits adjacent to a Wild West theme park called Jupiter's Claim. The owner and star showman, Ricky "Jupe" Park (Steven Yeun) was a child actor on an infamous television show. OJ sells horses to Ricky who's also interested in buying the Haywood's land. OJ becomes upset when the chatterbox Emerald gets involved in their negotiation
Peculiar events plague the farm. Electrical devices lose power and horses behave erratically. OJ witnesses something extraordinary in the sky chasing after a spooked horse. Emerald believes there's big money in securing an image of the mysterious object. The Haywood's decide to hire Angel Torres (Brandon Perea), a conspiracy buff technician at the local electronics store, to help them wire the farm with cameras. Their efforts to document the unknown have a terrifying outcome.
Cast: Daniel Kaluuya, Keke Palmer, Steven Yeun, Michael Wincott, Brandon Perea
Written and Directed by: Jordan Peele
Producers: Ian Cooper, Jordan Peele.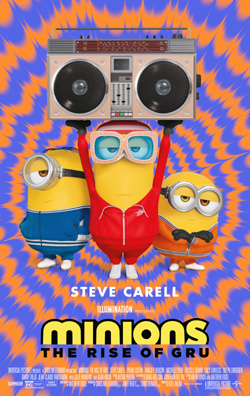 S.P.  – Minions take you back to the 70s
In the heart of the 1970s, amid a flurry of feathered hair and flared jeans, Gru is growing up in the suburbs. A fanboy of a supervillain supergroup known as the Vicious 6, Gru hatches a plan to become evil enough to join them. Luckily, he gets some mayhem making backup from his loyal followers, the Minions. Together, Kevin, Stuart, Bob, and Otto and a new Minion sporting braces and a desperate need to please and deploy their skills as they and Gru build their first lair, experiment with their first weapons, and pull off their first missions.
When the Vicious 6 ousts their leader, legendary fighter Wild Knuckles, Gru interviews to become their newest member. It doesn't go well, and only gets worse after Gru outsmarts them and suddenly finds himself the mortal enemy of the apex of evil. On the run, Gru will turn to an unlikely source for guidance, Wild Knuckles himself, and discover that even bad guys need a little help from their friends.
Cast: Steve Carell, Taraji P. Henson, Michelle Yeoh, RZA, Jean-Claude Van Damme, Lucy Lawless, Dolph Lundgren, Danny Trejo, Russell Brand, with Julie Andrews and Alan Arkin
Director: Kyle Balda
Co-Directors: Brad Ableson, Jonathan del Val
Producers: Chris Meledandri, Janet Healy, Chris Renaud.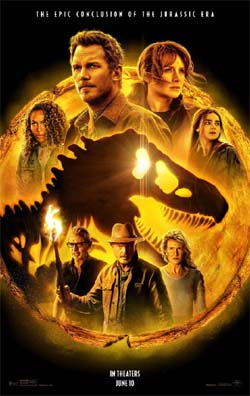 S.P. – All-star team reconnects
Set four years after a volcano destroyed Isla Nubar, dinosaurs have crashed the party on every continent. They have integrated themselves into the human ecosystem with dangerous interactions. World governments have given Biosyn, a competitor to InGen, the exclusive right to capture and move problem dinosaurs to a secure habitat in the Italian Dolemites Mountains. Biosyn's CEO, Lewis Dodgson (Campbell Scott), promises to use dinosaur DNA to herald a new era of scientific breakthroughs. He's hired a combative Ian Malcolm (Jeff Goldblum) as an advisor to "keep him honest" and stave off critics.
In California's remote Sierra Nevada, Claire (Bryce Dallas Howard) and Owen (Chris Pratt) have gone to great lengths to hide Maisie Lockwood (Isabella Sermon), the clone of Charlotte Lockwood. The fourteen-year-old chafes in isolation. Her adoptive parents fear she'll be taken if discovered. Meanwhile, Ellie Sattler (Laura Dern) reconnects with Allan Grant (Sam Neill). She's got a plague of prehistoric locusts and needs to find out where they came from. All paths collide after ruthless dinosaur hunters target the offspring of Blue, the clever Velociraptor trained by Owen.
Cast: Chris Pratt, Bryce Dallas Howard, Laura Dern, Jeff Goldblum, Sam Neill, DeWanda Wise, Mamoudou Athie, BD Wong, Omar Sy, Isabella Sermon, Campbell Scott, Justice Smith, Scott Haze, Dichen Lachman, Daniella Pineda.