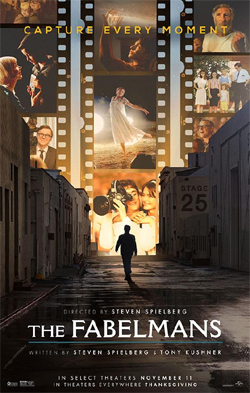 S.P. – Steven Spielberg puts his life on screen, in this amazing memoir.
Steven Spielberg tells the story of his youth in a heartfelt memoir about cherished family, an early love of filmmaking, and facing cruel antisemitism. The Fabelmans shines a spotlight on the iconic director's strong upbringing. His electrical engineer father and concert pianist mother fully supported creative endeavors. They grew a fascination with movies that blossomed to obvious talent. But the veneer of true happiness loses its luster with a startling teenage realization. Those dearest to him have secrets that endanger assumed stability. Spielberg's coming-of-age drama honestly depicts the struggle to find yourself when the world crashes down.
In fifties suburban New Jersey, young Sammy Fabelman (Mateo Zoryon Francis-DeFord) is dazzled by seeing The Greatest Show on Earth. His radiant mother, Mitzi (Michelle Williams), serves meals on paper plates with plastic utensils. She doesn't do dishes to save her pianist hands. Burt (Paul Dano), Sammy's genius father, makes extra money fixing broken televisions. Along with his three younger sisters, the Fabelmans are a picture of content. They celebrate their Orthodox Jewish faith during the holidays with Bennie (Seth Rogen), his father's best friend and co-worker.
Burt gets a lucrative job offer to move the family to Phoenix, Arizona. Mitzi implores her husband to not leave Bennie behind. He's become a treasured uncle to the children. In Phoenix, Sammy's (Gabriel LaBelle) skill with the family's 16mm camera takes a dramatic leap. He wows his family and neighbors with amazing short films. Burt and Mitzi are proud of his proficiency. Bennie gives him money to purchase a real camera. Sammy starts documenting everything. He notices that a divide exists between his parents.
Burt's career takes the family to Northern California. This time he couldn't find a place for Bennie. The change does not sit well with Sammy and Mitzi. He's beaten up at school for being Jewish. Daily bullying and taunts become unbearable. Film is his only escape. Mitzi plunges into a dark depression. Burt's confounded by this turn of events. He doesn't know how to keep his wife happy, and takes issue with Sammy's movies obsession. His son needs to focus on finding a legitimate career.
The Fabelmans begins with the seemingly limitless promise of childhood. Sammy, his sisters, father, and Bennie bask in Mitzi's glowing personality. She's beautiful, an incredible musician, and exudes an aura that lifts everything around her. Mitzi is the sun lighting every path forward. The older Sammy learns this isn't always true. His parents love each other but are very different people. As their children age, the chasm between them grows wider. Burt loves Mitzi unconditionally. She supported his career by being a good mother and wife, but has needs that he unfortunately cannot meet.
Genre: Drama
Cast: Michelle Williams, Paul Dano, Seth Rogen, Gabriel LaBelle, Jeannie Berlin, Julia Butters, Robin Bartlett, Keeley Karsten and Judd Hirsch
Directed by: Steven Spielberg
Screenplay by: Steven Spielberg & Tony Kushner
Produced by: Kristie Macosko Krieger p.g.a., Steven Spielberg p.g.a., Tony Kushner p.g.a.
Executive Producers: Carla Raij, Josh McLaglen.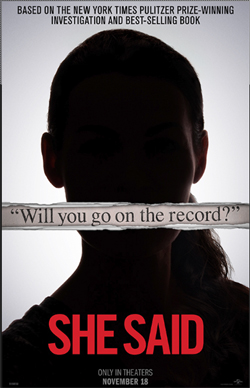 After months of investigating Weinstein, uncovering, and confirming reports of decades-long harassment and sexual misconduct, reporters Kantor and Twohey, along with Corbett, who was assistant managing editor at the New York Times at the time of the investigation, the women broke the Weinstein story, breaking decades of silence around the subject of sexual assault in Hollywood.
The result, along with Ronan Farrow's Weinstein expose, eventually fueled the fires of the #MeToo movement. Three days after the New York Times story dropped, Weinstein was fired from the Weinstein Co. Flashforward to February 2020, and Weinstein is found guilty of a criminal sexual act in the first degree and third-degree rape and would go on to be sentenced to 23 years in prison. Another trial, in which Weinstein faced 11 charges of rape and sexual assault began last month an L.A. judge overseeing the sexual assault trial dropped four of the 11 charges against Weinstein on November 15, when prosecutors announced they wouldn't move forward with counts connected to one of the accusers.
That said, it's mesmerizing to sit through She Said and witness the depth of commitment and risk Kantor and Twohey, and their editorial ally Corbett, experienced.
Genre: Drama
Cast: Carey Mulligan, Zoe Kazan 
Directed by: Maria Schrader
Written by: Rebecca Lenkiewicz
Producers: Brad Pitt, Dede Gardner, Jeremy Kleiner
Executive Producers: Megan Ellison, Sue Naegle
BLACK PANTHER: WAKANDA FOREVER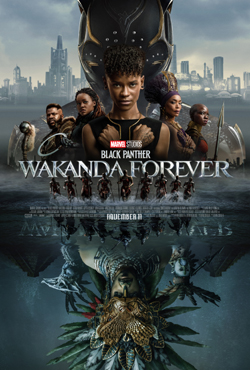 S.P. – Slow-burning Movie overshadowed by grief.
Wakanda reels from the unexpected death of King T'Challa. Queen Ramonda (Angela Bassett) assumes leadership with a broken heart. She gives the world a stark notice. The Black Panther is gone, but Wakanda remains undaunted. She will retaliate against any efforts by foreigners to steal Vibranium. Ramonda tries to make peace and accept the loss of her son. Princess Shuri (Letitia Wright) doesn't share her mother's ability to cope with grief. Anger fuels her genius mind. She's haunted by her inability to recreate the Heart-Shaped Herb. Her beloved brother died because she wasn't strong or smart enough to save him.
As Wakanda faces existential threats for its Vibranium resources. As hostile countries clamor for the valuable ore, an undersea source is discovered with a fierce protector. Who would burn the above ground to ashes and never capitulate.
Meanwhile, in the Atlantic Ocean, a specialized CIA device finds Vibranium on the sea floor. It unleashes a ferocious response from a long-hidden race of Mayan descendants. K'uk'ulkan (Tenoch Huerta), the king of Talokan, has seen the horrors of colonizing invaders. "The feathered serpent god", cursed as Namor by the terrified Spanish, won't allow his people's secret home to be known. He confronts Ramonda and Shuri with a deadly request. Wakanda and Talokan have the same enemies. Find and kill the Vibranium detector's creator (Dominique Thorne) or Wakanda will suffer the same wrath as the outsiders if they disobey him.
Cast: Angela Bassett, Letitia Wright, Winston Duke, Danai Gurira, Lupita Nyong'o, Martin Freeman, Dominique Thorne, Michaela Coel, Mabel Cadena.Tenoch Huerta,   and Alex Livinalli.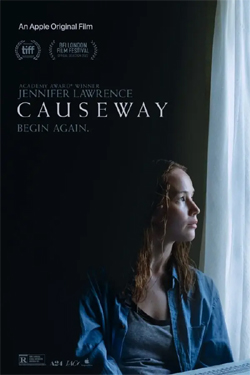 S.P. – Jennifer Lawrence plays a woman, who returns home to New Orleans after suffering severe injuries while serving in Afghanistan.
Causeaway follows Lynsey, a woman who returns home to New Orleans after suffering severe brain and body injuries as a result of her vehicle hitting an explosive in Afghanistan while serving in the U.S. Army Corp of Engineers. Causeway traces Lynsey's physical rehabilitation, her goal is to return to the army.
She forms an unlikely friendship with mechanic James (Brian Tyree Henry) when her truck breaks down.
A connection between two damaged people hurting inside, seemingly desperate for companionship and to open up to one another.
Causeway is a deeply human film that succeeds in illustrating the twisty road to recovery and the strength it takes to let other people in.
Directed by Lila Neugebauer.
Starring Jennifer Lawrence, Brian Tyree Henry, Linda Emond, Jayne Houdyshell, Stephen McKinley Henderson Russell, Harvard Frederick Weller, Sean Carvajal, Will Pullen, and Neal Huff.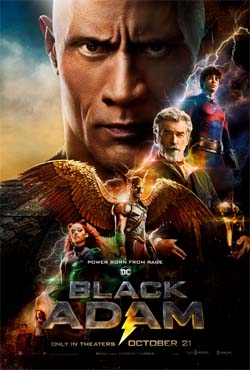 S.P. – Action – Packed movie, with great visuals.
5000 years ago in the Middle-Eastern country of Kahndaq, a ruthless king enslaved the population to search for a precious ore. Eternium's magical properties would allow him to construct the Crown of Sabbac, an object that harnessed demonic power. A young boy, Hurut (Jalen Christian), rebelled against the king but paid a severe price. His noble deeds were noticed by the cabal of wizards. They decided the suffering people needed a champion.
The violent, high-tech criminal syndicate Intergang rules modern Kahndaq. A teacher, Adrianna Tomaz (Sarah Shahi), her goofy brother Karim (Mohammed Amer), and fearless son Amon (Bodhi Sabongui), try to prevent Intergang from finding the buried crown. Adrianna's harrowing escape releases Teth-Adam (Johnson) from his long slumber.
Amon believes Teth-Adam has returned to liberate Kahndaq from outside oppressors. Teth-Adam counters that he's not a hero or savior. The myths have pegged him wrong. His awakening triggers Amanda Waller (Viola Davis) to counter the significant new threat. The Justice Society of America, led by Hawkman (Aldis Hodge) and Dr. Fate (Pierce Brosnan), bring new recruits, Atom Smasher (Noah Centineo) and Cyclone (Quintessa Swindell), to subdue Teth-Adam. They vastly underestimate their target's abilities. As Kahndaq erupts into chaos, Intergang continues to search for the evil crown.
Cast: Dwayne Johnson, Noah Centineo, Sarah Shahi, Marwan Kenzari, Quintessa Swindell, Bodhi Sabongui, Pierce Brosnan, Aldis Hodge
THREE THOUSAND YEARS OF LONGING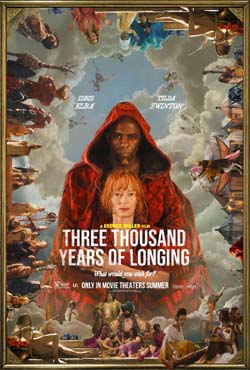 S.P. – Great Fantasy Story with Beautiful Visual Effects.
Based on the book The Djinn in the Nightingale's Eye, Three Thousand Years of Longing centers on Althea (Tilda Swinton) a literary scholar and expert on myths of modern as well as historic. On her trip to Istanbul, she happens to come across a small blue and white glass container that holds a secret Djinn (Idris Elba) inside it. Upon cleaning The Djinn's bottle, his embodiment fills the room, leaving very little space for her or him inside the tiny hotel room. It's at this moment, that The Djinn offers Althea three wishes. Althea is hesitant and begins debating on the merits of wishing. For one reason, she doesn't have anything she desires, and the second reason being her studies on literature mostly have indicated characters never truly get what they wish for. As the discussion over wishes plays out, The Djinn attempts to reason with Althea by giving tidbits of his life story to her.
Cast: Idris Elba, Tilda Swinton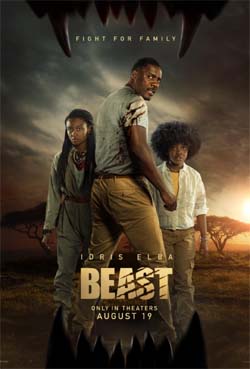 S.P. – Tiresome melodrama, boring plot. The characters argue constantly about family issues while under attack. The girls' nonstop complaining kills the movie's fun.
Dr. Nate Samuels arrives in the South African bush with his teenage daughters, Meredith (Iyana Halley) and her younger sister Norah (Leah Sava Jeffries). They're returning to visit Martin (Sharlto Copley), a wildlife conservationist and dear friend of Nate's recently deceased ex-wife (Naledi Mogadime). Nate wants to reconnect with his children while touring their mother's homeland. Meredith has followed in her footsteps as a photographer. She blames her father for being absent during her mother's battle with cancer. She argues with her father and sister from their landing.
Martin takes the family to a remote preserve. He shows them a pride of lions that he helped to raise from cubs. The tourist adventure takes a macabre turn when they drive to a nearby village. The residents have been massacred by a lion. Martin has never seen a lion behave so aggressively. He tells Nate and the girls to stay in the car. Martin ventures into the savanna to track the beast. Nate and the girls hear a gunshot. Followed by a terrifying encounter with the lion at the car. Martin radios that he's been injured. Nate tries to save Martin and get his children away from the savage predator.
Cast: Idris Elba, Sharlto Copley, Iyana Halley, Leah Sava Jeffries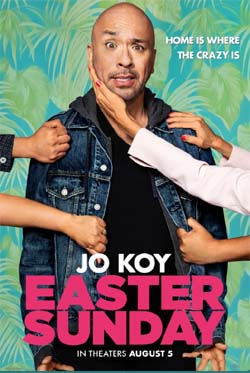 S.P. – Slow start but finishes strong.
Joe Valencia (Koy) races around Los Angeles juggling domestic affairs with career opportunities. He's got an important audition for a network sitcom and parent-teacher conference at his son's school. Junior's (Brandon Wardell) grades are tanking in his senior year. He's upset that his father doesn't have time for him. Joe's ex-wife (Carly Pope) and annoying new husband (Michael Weaver) constantly remind him of his poor parenting.
Joe's mother, Susan (Lydia Gaston), invites him and Junior to her home in Daly City for Easter dinner. He forces Junior to go but keeps an eye on his cell phone. Joe's agent (Jay Chandrasekhar) updates him on the sitcom's status. In Daly City, Joe learns that his mother and her sister, Tita Teresa (Tia Carrere), are embroiled in a bitter argument. He's also furious that his cousin, Eugene (Eugene Cordero), has stolen from a local gangster (Asif Ali) and squandered his loan for a taco truck. Joe must negotiate peace between his mom and aunt, save Eugene from a beatdown, deal with his agent, and bond with his son in one eventful day.
Cast: Jo Koy, Jimmy O. Yang, Tia Carrere, Brandon Wardell, Eva Noblezada, Lydia Gaston, Asif Ali, Rodney To, Eugene Cordero, Jay Chandrasekhar, Tiffany Haddish and Lou Diamond Phillips.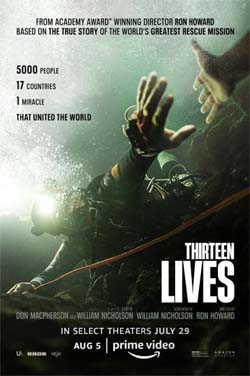 S.P. – Great story, filled with real sacrifice, outstanding courage, and people coming together to work for a common goal against all odds!
Thirteen Lives opens on a lush soccer field with the Wild Boars practicing under a gray sky. The boys have a birthday party that night. They decide to explore the nearby caves before attending. Their coach, Ekkaphon Chanthawong (Teeradon Supapunpinyo), comes along to supervise the outing. Everyone playfully enters the cave complex with literally the clothes on their backs. They ignore the posted warnings of flash flooding.
Several hours later during a torrential storm, none of the children are present at the party. Their concerned parents are told of the cave trip. Everyone races to the entrance. The cave has been blocked by the surging water. Police and rescue teams are called for help. They cannot get through the water. Governor Narongsak (Sahajak Boonthanakit) is notified. He takes command of the rescue as the Thai Navy Seals are also brought in.
Several days pass as news of the lost boys transfixes global media. The entrance to the cave is a hotbed of frantic activity. Meanwhile, a monsoon continues to drench Thailand. British ex-pat and experienced cave diver, Vern Unsworth (Lewis Fitz-Gerald), warns Governor Narongsak that time is running out. He reaches out to Richard Stanton (Viggo Mortensen) and John Volanthen (Colin Farrell). The English fireman and IT consultant were regarded as the world's best cave divers. Stanton and Volanthen arrive to a chaotic scene. Governor Narongsak, under siege from the panicked families and furious Thai officials, gives Stanton and Volanthen free rein to explore the labyrinthine cave. Stanton believes they must have all perished. Even if they find them alive, how would they get them out?
CAST:  Viggo Mortensen, Colin Farrell, Joel Edgerton, Tom Bateman, Paul Gleeson, Pattrakorn Tungsupakul, Tui Thiraphat Sajakul, James Teeradon Supapunpinyo, Sahajak Boonthanakit, Weir Sukollawat Kanaros.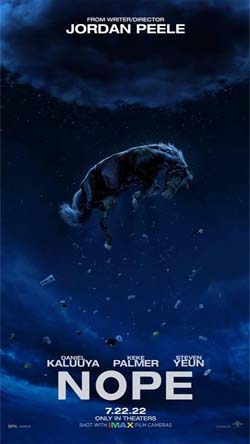 S.P. – Humorous, suspenseful sci-fi
We meet Otis Haywood Sr. (Keith David) and his son, OJ Haywood (Daniel Kaluuya), after a seemingly random and shocking open. They own a horse farm that provides animals for Hollywood productions. Keke Palmer co-stars as Emerald Haywood, OJ's scatterbrained sister that takes little interest in the hard work of training horses. A strange event has OJ and Emerald taking the reins of the family business.
The Haywood's farm sits adjacent to a Wild West theme park called Jupiter's Claim. The owner and star showman, Ricky "Jupe" Park (Steven Yeun) was a child actor on an infamous television show. OJ sells horses to Ricky who's also interested in buying the Haywood's land. OJ becomes upset when the chatterbox Emerald gets involved in their negotiation
Peculiar events plague the farm. Electrical devices lose power and horses behave erratically. OJ witnesses something extraordinary in the sky chasing after a spooked horse. Emerald believes there's big money in securing an image of the mysterious object. The Haywood's decide to hire Angel Torres (Brandon Perea), a conspiracy buff technician at the local electronics store, to help them wire the farm with cameras. Their efforts to document the unknown have a terrifying outcome.
Cast: Daniel Kaluuya, Keke Palmer, Steven Yeun, Michael Wincott, Brandon Perea
Written and Directed by: Jordan Peele
Producers: Ian Cooper, Jordan Peele.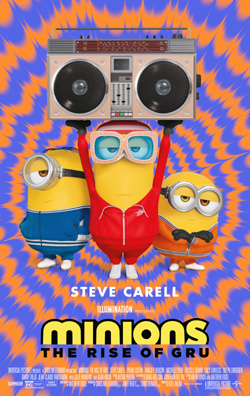 S.P.  – Minions take you back to the 70s
In the heart of the 1970s, amid a flurry of feathered hair and flared jeans, Gru is growing up in the suburbs. A fanboy of a supervillain supergroup known as the Vicious 6, Gru hatches a plan to become evil enough to join them. Luckily, he gets some mayhem making backup from his loyal followers, the Minions. Together, Kevin, Stuart, Bob, and Otto and a new Minion sporting braces and a desperate need to please and deploy their skills as they and Gru build their first lair, experiment with their first weapons, and pull off their first missions.
When the Vicious 6 ousts their leader, legendary fighter Wild Knuckles, Gru interviews to become their newest member. It doesn't go well, and only gets worse after Gru outsmarts them and suddenly finds himself the mortal enemy of the apex of evil. On the run, Gru will turn to an unlikely source for guidance, Wild Knuckles himself, and discover that even bad guys need a little help from their friends.
Cast: Steve Carell, Taraji P. Henson, Michelle Yeoh, RZA, Jean-Claude Van Damme, Lucy Lawless, Dolph Lundgren, Danny Trejo, Russell Brand, with Julie Andrews and Alan Arkin
Director: Kyle Balda
Co-Directors: Brad Ableson, Jonathan del Val
Producers: Chris Meledandri, Janet Healy, Chris Renaud.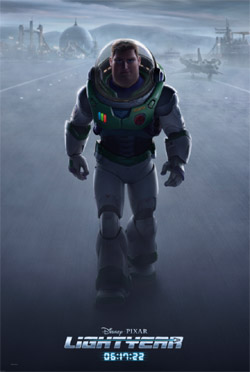 S.P. – Fun and exciting adventure movie, with beautiful animation and lovable sidekick.
Buzz Lightyear makes his debut in another great Pixar adventure. The gallant Space Ranger that captivated our imaginations in the Toy Story franchise learns the value of friendship. His stubborn quest to correct a perceived mistake forces him to confront formidable adversaries. Buzz battles teleporting robots, their mysterious master Zurg, and the complex nature of time itself. He gains a motley crew of unlikely allies and a spectacular feline robot sidekick. Sox will have audiences of all ages laughing and cheering out loud.
In the future, a behemoth spaceship leaves Earth to colonize a distant world. The crew and passengers sleep away the long journey. Lead pilot Buzz Lightyear (Chris Evans) is awakened by the ship's computer. Sensors detect another habitable planet outside of their programmed trajectory. Buzz makes the fateful decision to deviate off course and investigate.
Buzz alerts his commanding officer and best friend, Alisha Hawthorne (Uzo Aduba). She mocks Buzz's self-narration as they explore the strange planet. The advance team is attacked by alien insects and snatching vines; which quickly turn their attention to the docked ship. Buzz blames himself when they are marooned in a hostile place. The ship runs out of the crystalline fuel that enables faster than light travel. Buzz volunteers to fly a fighter that tests a new fuel source. He swears to Alisha that he'll figure out a way to get the colonists back into space.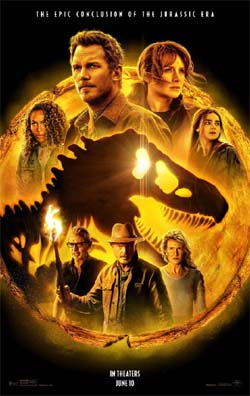 S.P. – All-star team reconnects
Set four years after a volcano destroyed Isla Nubar, dinosaurs have crashed the party on every continent. They have integrated themselves into the human ecosystem with dangerous interactions. World governments have given Biosyn, a competitor to InGen, the exclusive right to capture and move problem dinosaurs to a secure habitat in the Italian Dolemites Mountains. Biosyn's CEO, Lewis Dodgson (Campbell Scott), promises to use dinosaur DNA to herald a new era of scientific breakthroughs. He's hired a combative Ian Malcolm (Jeff Goldblum) as an advisor to "keep him honest" and stave off critics.
In California's remote Sierra Nevada, Claire (Bryce Dallas Howard) and Owen (Chris Pratt) have gone to great lengths to hide Maisie Lockwood (Isabella Sermon), the clone of Charlotte Lockwood. The fourteen-year-old chafes in isolation. Her adoptive parents fear she'll be taken if discovered. Meanwhile, Ellie Sattler (Laura Dern) reconnects with Allan Grant (Sam Neill). She's got a plague of prehistoric locusts and needs to find out where they came from. All paths collide after ruthless dinosaur hunters target the offspring of Blue, the clever Velociraptor trained by Owen.
Cast: Chris Pratt, Bryce Dallas Howard, Laura Dern, Jeff Goldblum, Sam Neill, DeWanda Wise, Mamoudou Athie, BD Wong, Omar Sy, Isabella Sermon, Campbell Scott, Justice Smith, Scott Haze, Dichen Lachman, Daniella Pineda.