ALL RELEASE DATES ARE SUBJECT TO CHANGE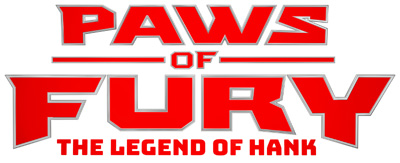 ONLY IN THEATRES JULY 15, 2022
We're mutts about this song! The lyric video for "The Paws of Fury" features 
an original song produced by Ruwanga Samath, whose credits include producing for The Weeknd.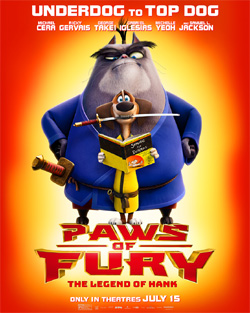 A hard-on-his-luck hound Hank (Michael Cera) finds himself in a town full of cats who need a hero to defend them from a ruthless villain's (Ricky Gervais) evil plot to wipe their village off the map.  With help from a reluctant teacher (Samuel L. Jackson) to train him, our underdog must assume the role of town samurai and team up with the villagers to save the day. The only problem… cats hate dogs! Also starring Mel Brooks, George Takei, Aasif Mandvi, Gabriel Iglesias, Djimon Hounsou, Michelle Yeoh, Kylie Kuioka, and Cathy Shim, PAWS OF FURY: THE LEGEND OF HANK pounces into theatres July 15, 2022.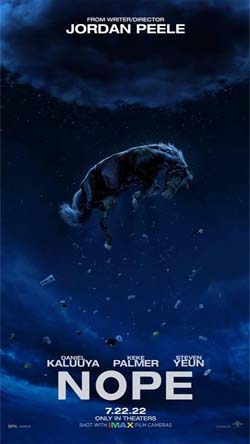 Oscar® winner Jordan Peele disrupted and redefined modern horror with Get Out and then Us. Now, he reimagines the summer movie with a new pop nightmare: the expansive horror epic, Nope. 
The film reunites Peele with Oscar® winner Daniel Kaluuya (Get Out, Judas and the Black Messiah), who is joined by Keke Palmer (Hustlers, Alice) and Oscar® nominee Steven Yeun (Minari, Okja) as residents in a lonely gulch of inland California who bear witness to an uncanny and chilling discovery. 
Nope, which co-stars Michael Wincott (Hitchcock, Westworld) and Brandon Perea (The OA, American Insurrection), is written and directed by Jordan Peele and is produced by Ian Cooper (Us, Candyman) and Jordan Peele for Monkeypaw Productions. The film will be released by Universal Pictures worldwide.
Genre: Horror Epic
Cast: Daniel Kaluuya, Keke Palmer, Steven Yeun, Michael Wincott, Brandon Perea
Written and Directed by: Jordan Peele
Producers: Ian Cooper, Jordan Peele
Horrific Thriller To Be Released in Theaters in the U.S. and Canada on Wednesday, August 31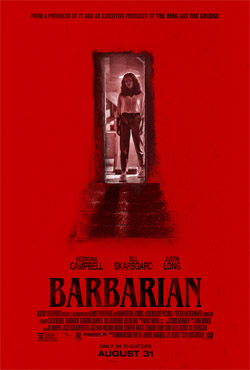 20th Century Studios and New Regency have released the trailer, poster and still images for the horrific thriller "Barbarian," which will open in theaters in the U.S. and Canada on Wednesday, August 31.
In "Barbarian," a young woman traveling to Detroit for a job interview books a rental home. But when she arrives late at night, she discovers that the house is double booked, and a strange man is already staying there. Against her better judgement, she decides to spend the evening, but soon discovers that there's a lot more to fear than just an unexpected house guest.
From 20th Century Studios and New Regency, "Barbarian" stars Georgina Campbell, Bill Skarsgård, Justin Long, Matthew Patrick Davis, Richard Brake, Kurt Braunohler and Jaymes Butler. The film was written and directed by Zach Cregger. The producers are Arnon Milchan, Roy Lee, Raphael Margules and J.D. Lifshitz. Michael Schaefer, Natalie Lehmann, Danny Chan, Alex Lebovici and Bill Skarsgård are the film's executive producers.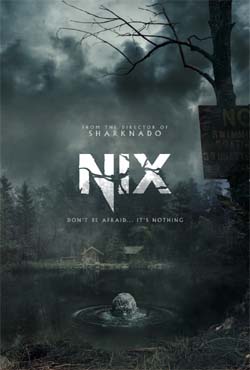 1091 Pictures, a Chicken Soup for the Soul Entertainment (Nasdaq: CSSE) company, is a modern distribution partner for independent film and series owners based in New York and Los Angeles, offering content licensing and delivery to over 100 destinations in over 100 countries. The company represents over 500 filmmakers and distributors and has amassed over 150 award nominations, including two Academy Award® nominations, an Emmy nomination, a Grammy Award for Best Music Film, and over a dozen Spirit Awards nominations. 1091 Pictures' diverse slate of releases include NYT Critics' Picks such as The Ghost of Peter Sellers and Grammy-Award Winner Linda Ronstadt: The Sound of My Voice, riveting sports stories such as A Kid From Coney Island executive produced by Kevin Durant and featuring Stephon Marbury and Red Bull's The Dawn Wall, audience favorites such as The Last Blockbuster, groundbreaking documentaries such as Close Encounters of The Fifth Kind and The Phenomenon, which reveal the latest intelligence on UFOs, and indie film hits such as Academy Award® Winner Taika Waititi's What We Do in the Shadows and Hunt for the Wilderpeople. For more information, please visit: 1091pictures.com


SMILE IS ONLY IN THEATRES SEPTEMBER 30, 2022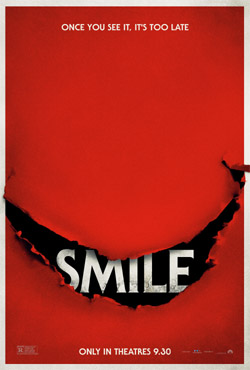 After witnessing a bizarre, traumatic incident involving a patient, Dr. Rose Cotter (Sosie Bacon) starts experiencing frightening occurrences that she can't explain. As an overwhelming terror begins taking over her life, Rose must confront her troubling past in order to survive and escape her horrifying new reality.
Cast: Sosie Bacon, Jessie T. Usher, Kyle Gallner, Robin Weigert, Caitlin Stasey with Kal Penn and Rob Morgan.
WHITE BIRD: A WONDER STORY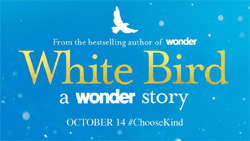 From the best-selling author of Wonder, the book that sparked a movement to "choose kind," comes the inspirational next chapter. In White Bird: A Wonder Story, we follow Julian (Bryce Gheisar), who has struggled to belong ever since he was expelled from his former school for his treatment of Auggie Pullman. To transform his life, Julian's grandmother (Helen Mirren) finally reveals to Julian her own story of courage — during her youth in Nazi-occupied France, a boy shelters her from mortal danger. They find first love in a stunning, magical world of their own creation, while the boy's mother (Gillian Anderson) risks everything to keep her safe. From director Marc Forster (Finding Neverland and Christopher Robin), screenwriter Mark Bomback, and based on R.J. Palacio's book, White Bird: A Wonder Story, like Wonder before it, is an uplifting movie about how one act of kindness can live on forever.
Ariella Glaser, Orlando Schwerdt, Bryce Gheisar, with Gillian Anderson, 
and Helen Mirren
Directed by:                              Marc Forster                            
Screenplay by:                          Mark Bomback
Based on the Book by:               R.J. Palacio              
In Select Theaters October 14th
Everywhere October 28th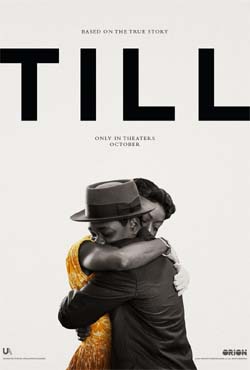 Till is a profoundly emotional and cinematic film about the true story of Mamie Till Mobley's relentless pursuit of justice for her 14 year old son, Emmett Till, who, in 1955, was lynched while visiting his cousins in Mississippi. In Mamie's poignant journey of grief turned to action, we see the universal power of a mother's ability to change the world.
Directed by: Chinonye Chukwu
Written by: Michael Reilly & Keith Beauchamp and Chinonye Chukwu
Producers: Keith Beauchamp, p.g.a., Barbara Broccoli, p.g.a., Whoopi Goldberg, Thomas Levine, Michael Reilly 
and Frederick Zollo, p.g.a.
Executive Producers: Preston Holmes, Chinonye Chukwu
Cast: Danielle Deadwyler, Jalyn Hall, Frankie Faison, Haley Bennett, and Whoopi Goldberg
Puss in Boots: The Last Wish
Puss in Boots: The Last Wish, only in theaters December 21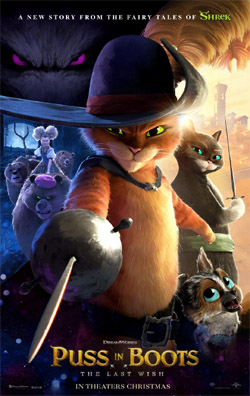 This fall, everyone's favorite leche-loving, swashbuckling, fear-defying feline returns. 
For the first time in more than a decade, DreamWorks Animation presents a new adventure in the Shrek universe as daring outlaw Puss in Boots discovers that his passion for peril and disregard for safety have taken their toll. Puss has burned through eight of his nine lives, though he lost count along the way. Getting those lives back will send Puss in Boots on his grandest quest yet. 
Academy Award® nominee Antonio Banderas returns as the voice of the notorious PiB as he embarks on an epic journey into the Black Forest to find the mythical Wishing Star and restore his lost lives. But with only one life left, Puss will have to humble himself and ask for help from his former partner and nemesis: the captivating Kitty Soft Paws (Oscar® nominee Salma Hayek). 
In their quest, Puss and Kitty will be aided—against their better judgment—by a ratty, chatty, relentlessly cheerful mutt, Perro (Harvey Guillén, What We Do in the Shadows). Together, our trio of heroes will have to stay one step ahead of Goldilocks (Oscar® nominee Florence Pugh, Black Widow) and the Three Bears Crime Family, "Big" Jack Horner (Emmy winner John Mulaney, Big Mouth) and terrifying bounty hunter, The Big Bad Wolf (Wagner Moura, Narcos).
Puss in Boots: The Last Wish features an all-star comedic cast that includes Oscar® winner Olivia Colman, Ray Winstone (Black Widow), Samson Kayo (Sliced), Emmy nominee Anthony Mendez (Jane the Virgin) and Tony nominee Da'Vine Joy Randolph (Trolls World Tour).  
The long-awaited follow-up to the 2011 Academy Award®-nominated blockbuster, The Last Wish is directed by Joel Crawford and produced by Mark Swift, the creative team behind DreamWorks Animation's smash, The Croods: A New Age. The film's executive producer is Illumination founder and CEO Chris Meledandri. 
The character of Puss in Boots first appeared in 2004's Oscar®-nominated Shrek 2 and instantly became a global, scene-stealing sensation. Puss then co-starred in two other Shrek sequels and his solo film, as well as in multiple DreamWorks Animation videos and TV series. The Shrek and Puss in Boots films have collectively earned more than $3.5 billion worldwide.
Genre: Animated Comedy Adventure
Cast: Antonio Banderas, Salma Hayek, Olivia Colman, Harvey Guillén, Samson Kayo, Wagner Moura, Anthony Mendez, John Mulaney, Florence Pugh, Da'Vine Joy Randolph, Ray Winstone
Director: Joel Crawford 
Producer: Mark Swift
Executive Producer: Chris Meledandri
DUNGEONS & DRAGONS: HONOR AMONG THIEVES
OUR JOURNEY BEGINS IN THEATRES ON MARCH 3, 2023
#DnDMovie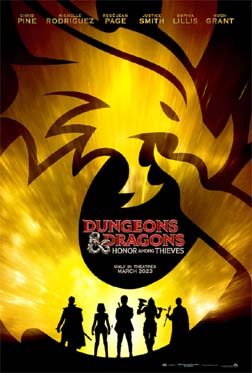 A charming thief and a band of unlikely adventurers undertake an epic heist to retrieve a lost relic, but things go dangerously awry when they run afoul of the wrong people.  Dungeons & Dragons: Honor Among Thieves brings the rich world and playful spirit of the legendary roleplaying game to the big screen in a hilarious and action-packed adventure.
Cast:
Chris Pine, Michelle Rodriguez, Regé-Jean Page, Justice Smith, Sophia Lillis, Chloe Coleman, Daisy Head and Hugh Grant