Mark Wahlberg and Paul Wahlberg Celebrated Their Wahlburgers Grand Opening Party at The Shoppes at Mandalay Place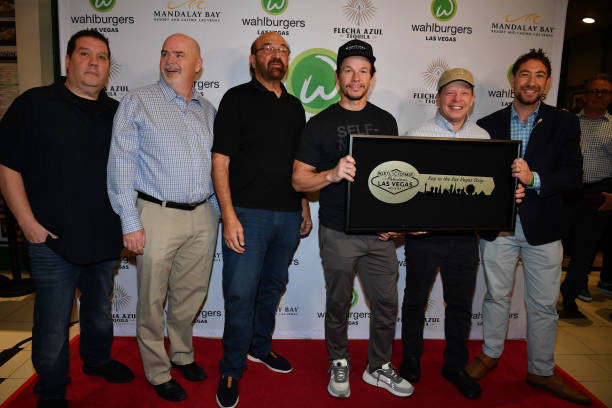 Mark Wahlberg, who recently set down roots in Las Vegas with his family, and his brother, Paul Wahlberg, who is the chef behind Wahlburgers' award-winning menu, were presented with the Key to the Las Vegas Strip. The brothers were honored at the grand opening of their newest Wahlburgers at Mandalay Bay within The Shoppes at Mandalay Place. Hundreds of fans gathered outside of the new Wahlburgers, the second in Las Vegas, joining their burger restaurant in the Grand Bazaar Shops at Horseshoe, which opened in 2016.
While doing interviews on the red carpet, Mark joked with Paul that he should be next to move to Las Vegas, pointing out the desirability of the city's schools, churches and homes. The brothers then went inside, where Mark posed in countless selfies before stepping behind the bar to pour shots of his Flecha Azul tequila. He stopped and took photos with all the Wahlburgers' employees, even going back to the kitchen where he spent more than 30 minutes getting to know the cooks.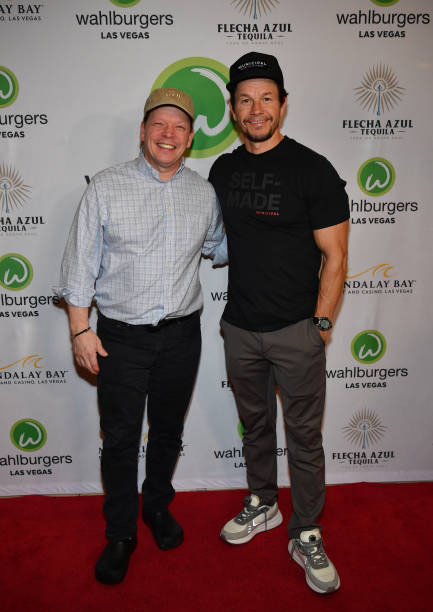 The brothers were welcomed by Clark County Commissioner Michael Naft, whose district includes the world-famous Las Vegas Strip, who presented the brothers with the key, which also honored their brother and other Wahlburgers partner, Donnie Wahlberg. The key honors the expansion of the franchise and the brothers' contributions to the vitality of the Las Vegas Strip. Other notables whose contributions have been honored with a Key to the Las Vegas Strip include Katy Perry, Tiësto and Jimmy Kimmel.
Fellow Bostonian and globally renowned chef, Todd English, and DJ and podcast superstar, Whoo Kid, were among the more than 150 VIP guests who came out to celebrate the grand opening.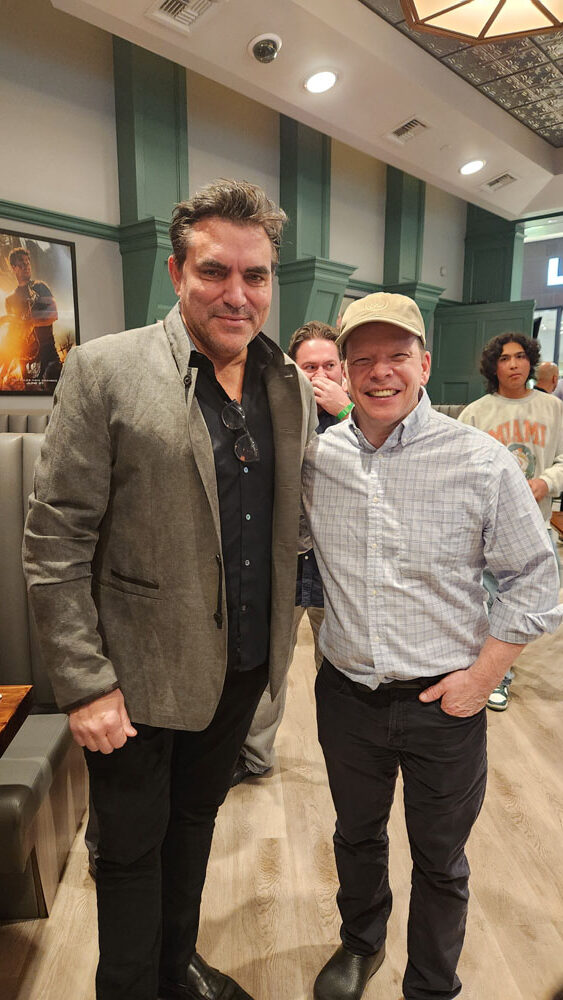 At 5,000 square feet, the new Wahlburgers has a capacity of 150 guests, including an oversized bar ideal for grabbing a beer, adult shake or "Wahlcoction," and watching the game. HDTVs are located throughout the restaurant, so you'll never miss a minute of the game whether you're seated in the dining room or at the bar.
Founded in Hingham, Massachusetts in 2011, Wahlburgers now has more than 90 locations across the US, Canada, Australia and New Zealand.
More information about Wahlburgers can be found on the website at https://wahlburgers.com/, as well as on Facebook at https://www.facebook.com/wahlburgers/, and on Instagram at https://www.instagram.com/wahlburgers/. 
26th Annual Educational Taste of Excellence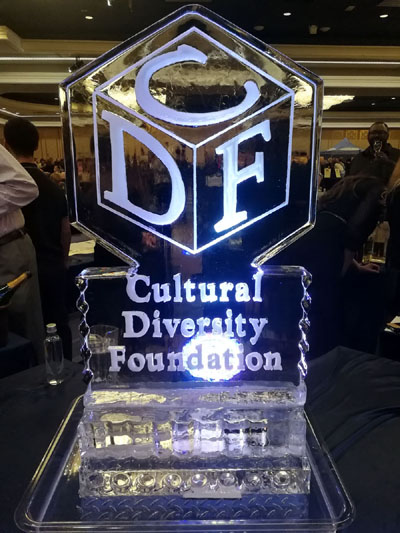 The 26th Annual Educational Taste of Excellence was held on Saturday, March 25, 2023 at the Westgate Las Vegas Resort & Casino. The Event featured a variety of fine wines and culinary cuisines prepared by some of Las Vegas' executive chefs.
Also, a live and silent auction gave guests an opportunity to bid on items donated by various hotels & casinos, airlines, restaurants, golf, and more!
Live entertainment featured Saxophonist Darren Motamedy http://darrenmotamedy.com/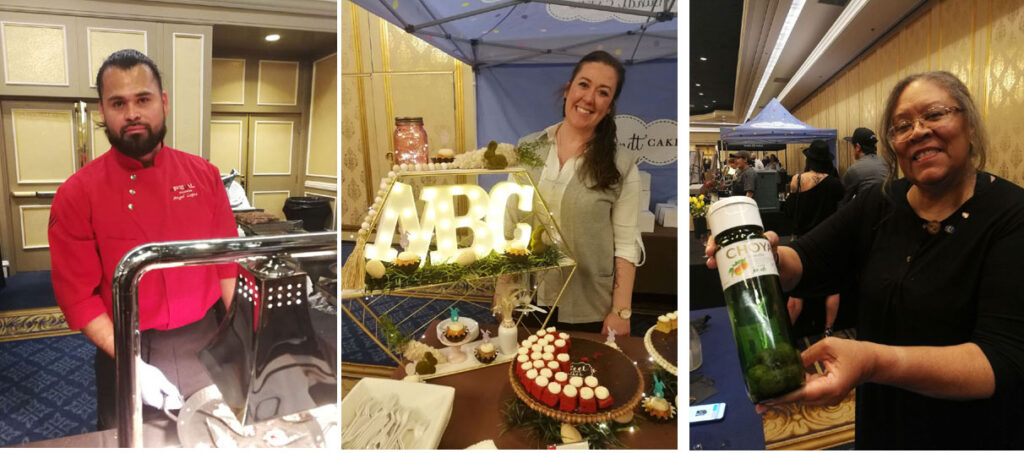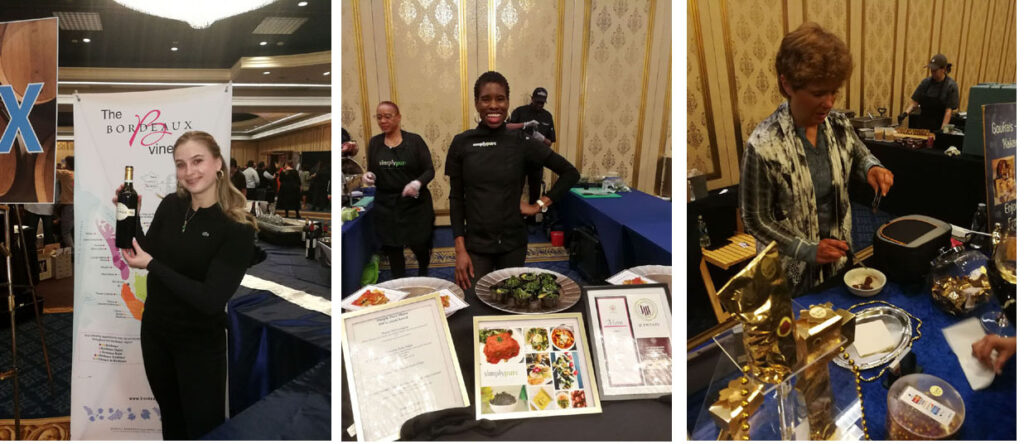 About CDF:
The goals of the CDF's educational and enrichment programs are to promote multiethnic/multicultural awareness and acceptance within the community; to focus on coordination of outreach support efforts to diverse communities, to respond to and support the professional and educational needs of the disadvantaged.
The Cultural Diversity Foundation will be sponsoring many educational programs; computer skills for job readiness, scholarship workshops, and community events such as the annual Educational Taste of Excellence: Wine Tasting, Spirits & Jazz Scholarship Fundraiser, the Golden Hand Service Awards, and Looking Through the Eyes of the Beholder: An artist's Vision to support our vision and goals.
Dr. Joni Flowers is the Founder, President and Executive Director, of the Cultural Diversity Foundation (CDF), a nonprofit 501(c)3 organization which was established in 2004.  She received her Doctorate of Education, Instructional Technology with an emphasis in Distance Education from the University of Nevada, Las Vegas.
Dr. Flowers served as a member of the American Association of University Women, American Education Research Association, EDUCAUSE, American Library Association, and Black Professional Women's Alliance.
Dr. Flowers is also a full-time professor for the School of Education, College of Southern Nevada. She has been for teaching there for 25 years
In 1996, Dr. Flowers founded and organized the annual scholarship benefit, Educational Taste of Excellence: Wine Tasting, Spirits, and Jazz.
Home
Bemka Royal Siberian Ossetra Sturgeon Caviar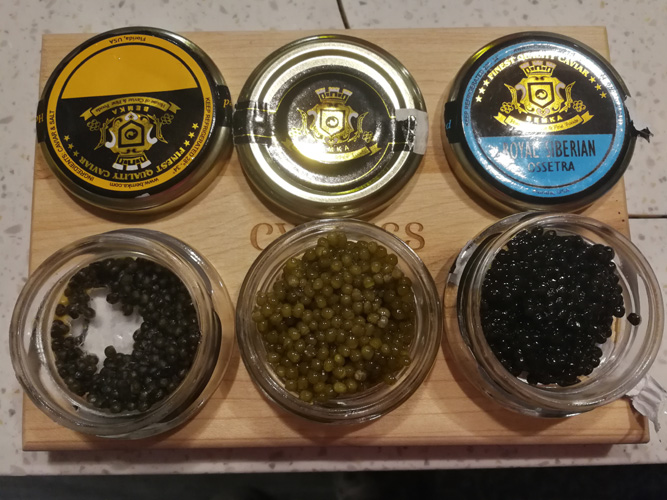 Treat your guests to a true delicacy with this Bemka royal Siberian Ossetra caviar. This caviar comes from Siberian sturgeons native to the icy Ob river in Russia, which produce delicious caviar that satisfies the palates of the most discerning gourmands. These medium-sized, delicate eggs are harvested from sustainably farm-raised fish and are selected for their large size and consistent grade. They boast an alluring, dark smoke-gray color. This caviar gently pops on the tongue, revealing a clean, crisp, nutty flavor that will impress even the most discerning gourmands. Its texture is especially creamy and velvety. In short, this product is the epitome of luxury, an exquisite indulgence that will turn any event into an opulent feast.

With over 30 years of experience in luxury foods, Bemka House of Caviar and Fine Foods is committed to delivering quality your establishment can depend on. By strategically sourcing international farmed caviar from all over the world as well as domestic wild caviar, Bemka is able to offer a broad selection of this extraordinary delicacy. All of their products are hand-selected by seasoned experts and carefully packed with ice, so they arrive at your location tasting as fresh as they did the day they were harvested. For a premium selection of caviar and other international fine foods backed by a commitment to outstanding quality and service, explore Bemka's premium line of offerings to find the perfect ingredients for your gourmet establishment.
For more information and different varieties of Caviar visit https://caviarlover.com
Hikaru The Sushi Wine / Di Arie Vineyard & Winery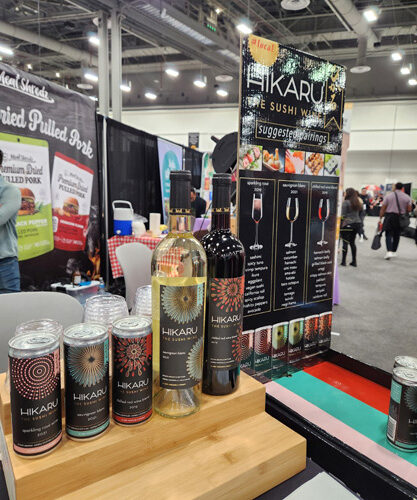 Hikaru means to shine in Japanese, and was created to hold sushi in the limelight. Carefully crafted to reflect the pureness of the fish, guided by the principles of balance, harmony and attention to detail, Hikaru takes you on a flavor journey other beverages cannot.
They come in three flavors:
There's a dry and flinty Sauvignon Blanc meant to accompany hamachi, octopus, kanpachi and sagoshi, among other selections of similarly restrained seafood.
There's a crisp, fruity and lightly effervescent "Bubbly Rosé," a blend of Grenache, Primitivo and Syrah, intended to be paired with more pronounced seafood such as spicy tuna, spicy scallop and toro, as well as lively dishes like shishito peppers, agedashi tofu and nasu miso eggplant.
And there's a dark and spicy "Chilled Red Blend" with suggestions of cherries, smoke and herbs, a mix of Barbera, Primitivo, Zinfandel and Grenache, to be paired with grilled miso-glazed black cod, tempura udo, salmon teriyaki and similarly forthright Japanese dishes.
All of them taste delicious and are so great with Sushi for once.
For more information visit https://www.hikaruthesushiwine.com/
2023 Taste of the NFL, Presented by Frito-Lay, Quaker and the PepsiCo Foundation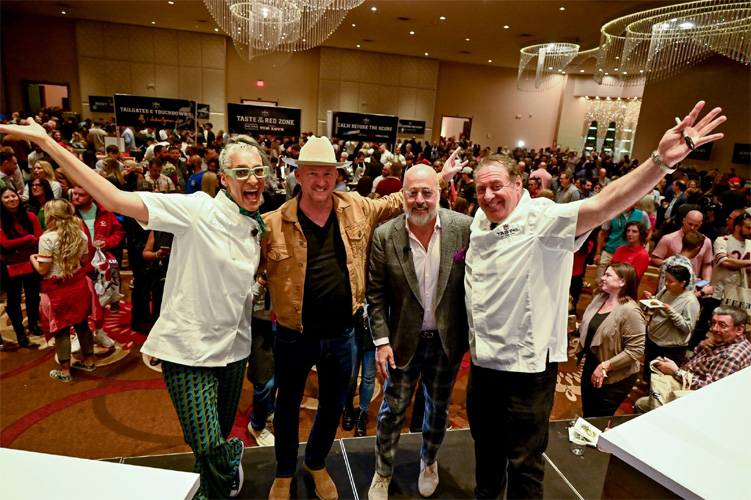 Taste of NFL 2023 took place at the Chateau Luxe in Phoenix on Saturday, February 11, 2023.
Over 2,000 guests came together to help GENYOUth to #EndStudentHunger the biggest purpose-driven culinary event. Guests enjoyed tasting national and regional food specialties, sipping signature cocktails, mingling with NFL Players, getting Photo oops with Miss America and other surprise Celebrity Guests, all while enjoying culinary demonstrations by star chefs Andrew Zimmern, Carla Hall, Tim Love, Lasheeda Perry, and Mark Bucher as well as tastings from 25 Arizona food masters. The event also featured a silent auction with autographed merchandise and delicious culinary experiences to bid on, along with a live auction.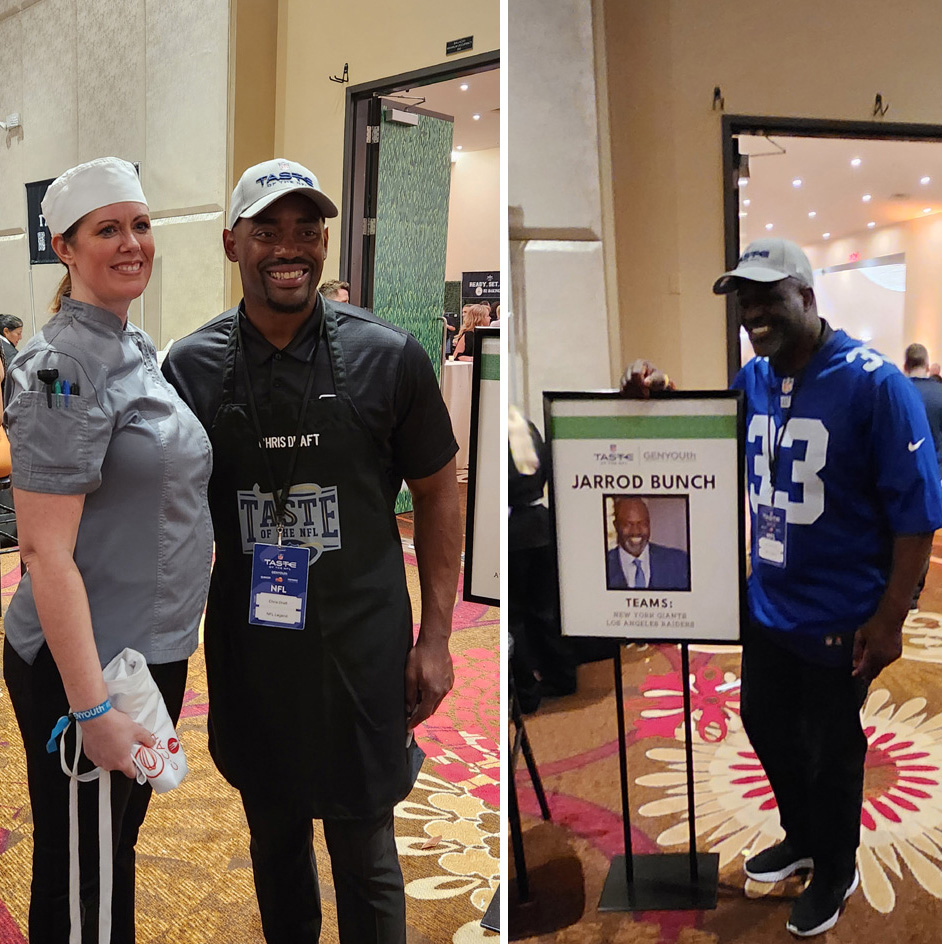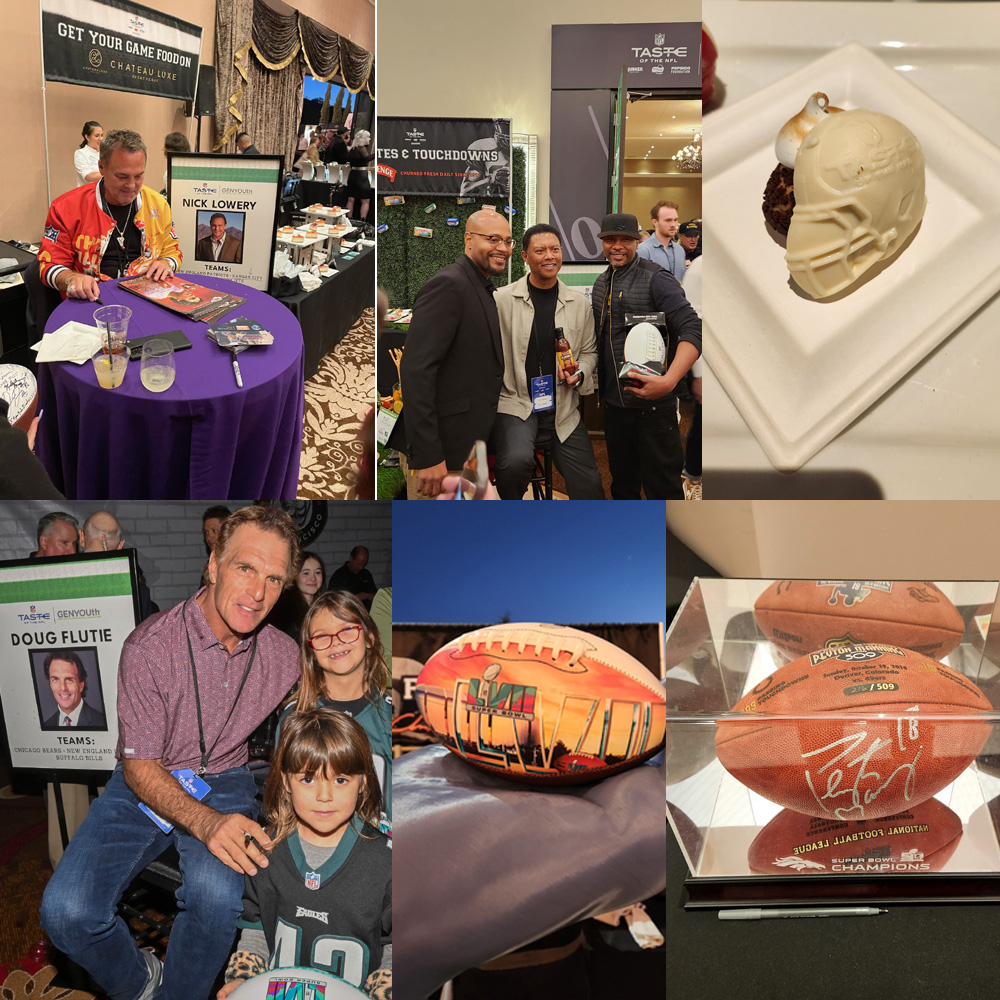 For over 25 years, #TasteoftheNFL has been working to #kickhunger with more than $25 million raised so far. Millions of people in America are struggling with hunger, with 1 out of 6 people, many of whom children and seniors, still lacking food for the necessities of life.
The Taste of the NFL Mission addresses the needs of the hungry and homeless by raising awareness and money through special events and programs.TNFL Founder and culinary entrepreneur, Wayne Kostroski, has led this charge since 1992.
Taste of the NFL is an official NFL-sanctioned event. All proceeds benefit GENYOUth's End Student Hunger fund which will provide schools nationwide with the resources and equipment needed to help feed food insecure children, especially the 30 million children who depend on school meals for an important part of their daily nutrition.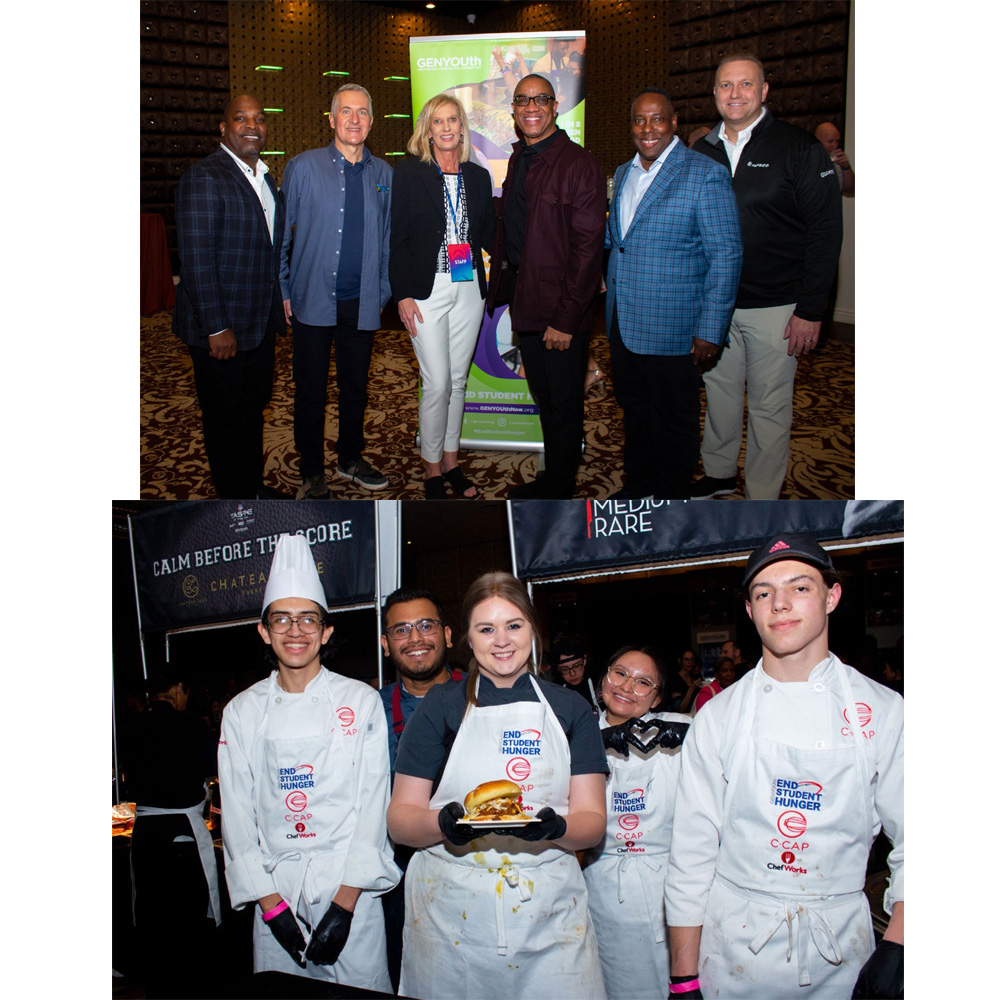 CONCERN FOUNDATION'S 47th ANNUAL BLOCK PARTY JULY 9th, 2022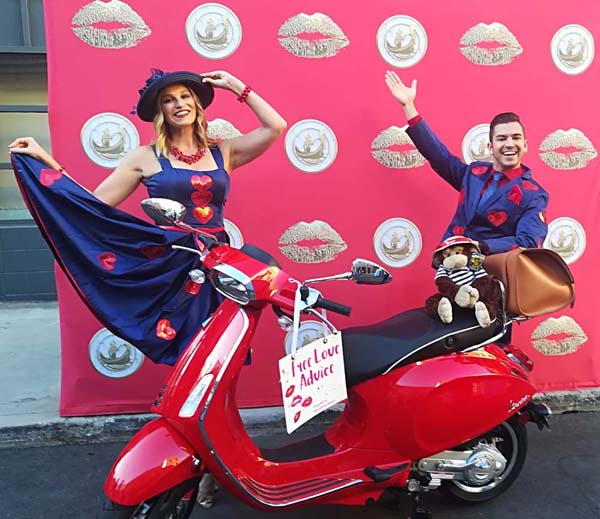 Concern Foundation's 47th annual Block Party took place on Saturday, July 9 at Paramount Studios in Hollywood. Nearly 3,000 people came "Back on the Block" to enjoy multiple stages of live entertainment, casino-style games, live and silent auctions, food, desserts, and beverages from over 60 of Los Angeles' best restaurants and caterers. The Foundation raised over $2 million for cancer research and was a huge success!
Live Entertainment included the Tom Nolan Band, D' City Sound & Events, and the Vibrato Grill Jazz stage. Throughout the venue guests enjoyed photo studios, lounges, casino style gaming, and spa services provided by the Beauty Bus Foundation. One of the highlights of the evening was the online silent and live auctions underwritten by ZACUTO GROUP that featured items and packages including one-of-a-kind opportunities, concert and event tickets, restaurants, staycations, golf packages and much more donated by the local community.
This year honorees included entrepreneurs, philanthropists and community leaders, Janet Crown and Steve Robinson with the first ever Larry Powell Spirit of Concern Award named after one of the founders of the organization.
Some of the Restaurants who participated were: Vibrato Grill Jazz, Factor's Famous Deli, Bar Hayama & the California Sushi Academy, The Drago Group, Porta Via, Maria's Italian Kitchen, and Pink's Famous Hot Dogs, H&H Brazilian Steakhouse, Gion Beverly Hills, Conservatory West Hollywood, Ike's Love & Sandwiches, Milagro Tequila, Bé Ù, Little Llama Peruvian Tacos, Deutsch Family, Brontë Bakes just to name a few.
For more information visit https://www.concernfoundation.org/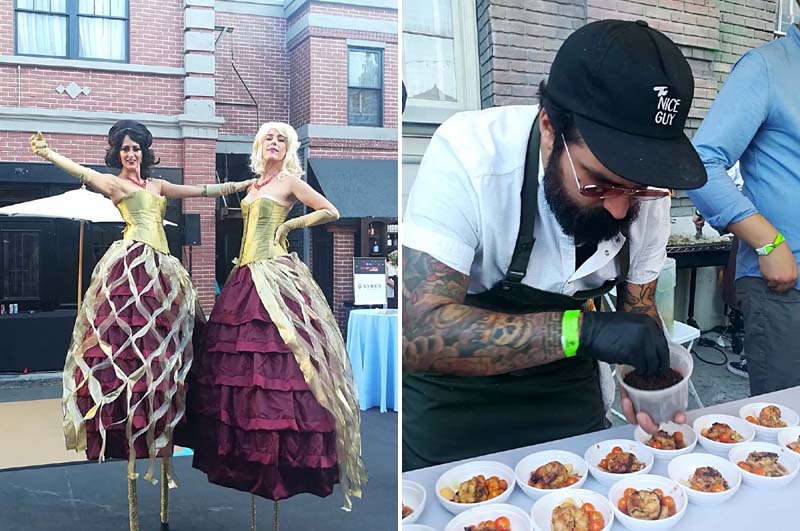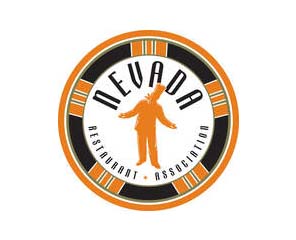 NEVADA RESTAURANT ASSOCIATION TO HOST THE 2022 LAS VEGAS EPICUREAN AFFAIR AT THE RED ROCK RESORT THURSDAY, MAY 12, 2022
The Culinary Extravaganza to Showcase Top Restaurants and Beverages
Every year in May the Las Vegas Epicurean Affair highlights some of the most exquisite cuisine and brightest culinary talent in Las Vegas. This gourmet event attracts crowds every year. Not only does the brightest culinary and mixology talent in Las Vegas unite for this event, but proceeds also go towards supporting the Nevada Restaurant Association's educational programs.
The one-day culinary oasis took place poolside at the luxurious Red Rock Resort on May 12th and featured over forty of the city's most popular and well-regarded chefs and restaurants serving signature dishes and inspired creations, as well as Vegas's top mixologists crafting classic and unique cocktails.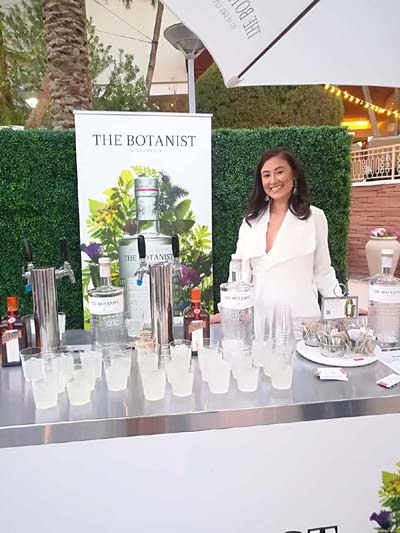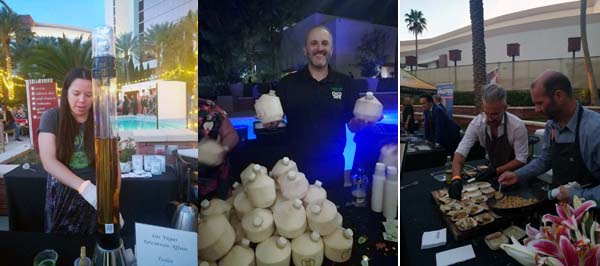 About the Nevada Restaurant Association
Proceeds from the Epicurean Affair go to support the Nevada Restaurant Association. This organization was founded in 1982, with the mission to "promote, protect, and educate Nevada's rapidly growing restaurant industry".
At the time of the Nevada Restaurant Association's founding, the culinary scene in Las Vegas was already gaining traction, but since then it has exploded. Las Vegas is seen as one of the top culinary destinations in the world, and the Nevada Restaurant Association plays a huge role in supporting and educating up-and-coming talent in the foodservice industry.
The organization helps through educational programs that teach students the knowledge needed to be successful in some of the best restaurants in the world. They also provide scholarship programs to students who are looking to expand their knowledge in the food service and culinary fields, including completing a restaurant management program. Proceeds from purchased tickets go directly towards supporting this program statewide.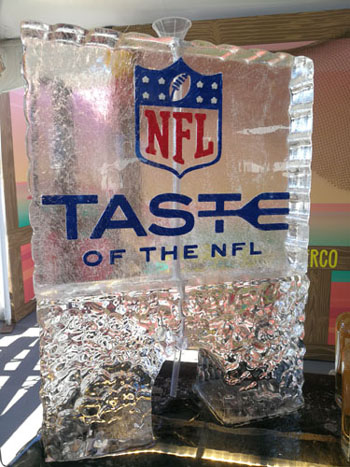 Top celebrity chefs, including Andrew Zimmern and Carla Hall, joined 2,500 guests at the highly popular, purpose-driven culinary party on Saturday to end hunger by raising funds for the nonprofit organization GENYOUth.
On Saturday, with a record-breaking heat wave of 90 degrees in Los Angeles, 2,500 hungry guests gathered at this year's annual and highly popular Taste of the NFL event held at the famed Petersen Automotive Museum. Top celebrity chefs, including Andrew Zimmern, Carla Hall, Tim Love, Ming Tsai, Lasheeda Perry and Mark Bucher joined together to participate in a friendly, but competitive, live cook off. Separated into teams NFC (Tsai, Love and Perry) and AFC (Zimmern, Hall Bucher), the celebs whipped up an array of innovative dishes and tasty tailgate specialties that were served to guests and earned rave reviews. Some of the sweet and savory items they made were root beer glazed pop overs, worcestershire infused michelada drinks, sweet and sour meatballs and gluten-free, vegan power pocket cheese burgers. Celeb chef Marcus Samuelsson cheered from the audience and team NFC was announced as the winner of the cook off.
"The Taste of the NFL is one of the most fun events and one of the most important," Tsai told The Knockturnal moments before the cook off. "Us chefs, above everything, we love to make people happy through food and we also want to make sure to leave our mark by giving back. So here at this event, we get to do both. We are able to make a lot of delicious food and raise a couple of millions of dollars for the GENYOUth organization. The fact that one out of four children are hungry, that's a stat that has to be eliminated. We're in America. We're the smartest most powerful country in the world. So if all of us can help just a little bit, and also bring awareness, that's a huge win, win."
Established in 1992, Taste of the NFL has become a yearly important fixture during the Super Bowl created to raise money and awareness in the fight against hunger and food insecurity. The NFL is partnering with the nonprofit organization GENYOUth to support children in the U.S. who are food insecure. All net proceeds raised from the Taste of the NFL will benefit GENYOUth's End Student Hunger fund.
Throughout the party, guests roamed around the numerous outdoor food stalls enjoying the free flowing cuisine, such as lobster rolls chilled with mayo from Broad Street Oyster Co., beef and cheese empanadas, Cajun crab stuffed mushroom caps, nitrogen artisanal cookies 'n cream ice cream from Super Cool Creamy and thirst-quenching alcoholic drinks. NFL greats, including Charles Woodson, Miles Sanders and Leonard Wheeler were spotted signing autographs and posing for selfies with fans during the four-hour all access food event. Other celebs at the party included Miss America 2022 Emma Broyles and Lisa Leslie, the former WNBA star.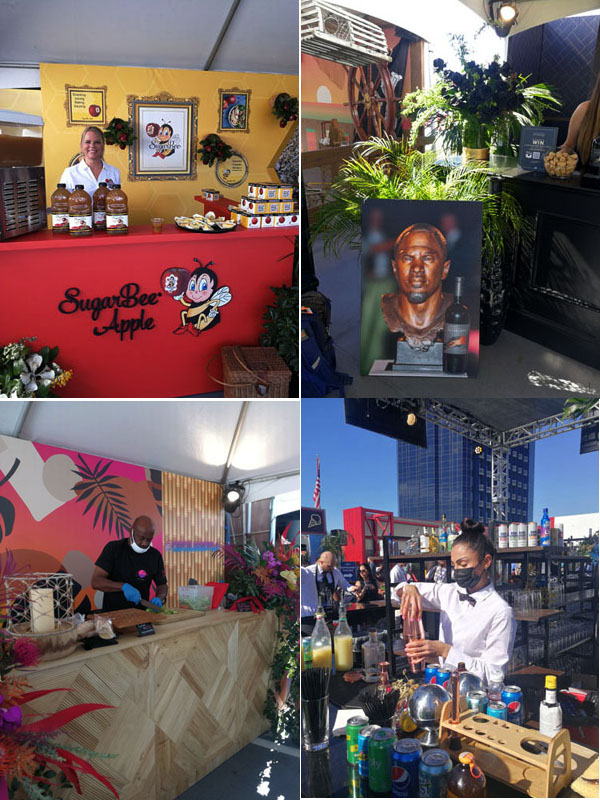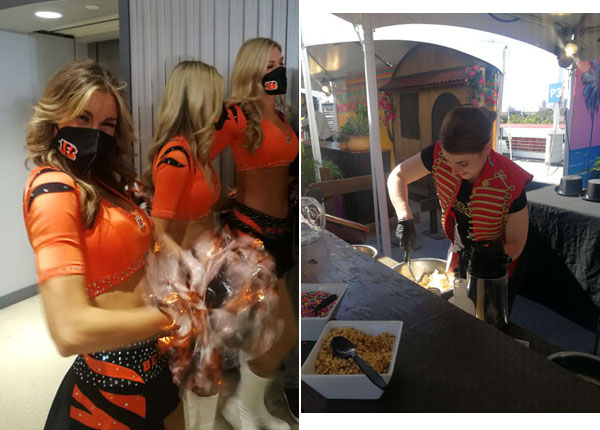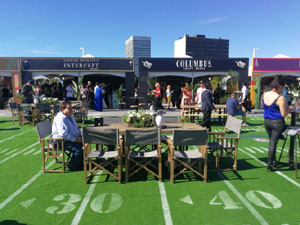 Culinary stars shined at the 9th annual Los Angeles Food & Wine, August 22-25, 2019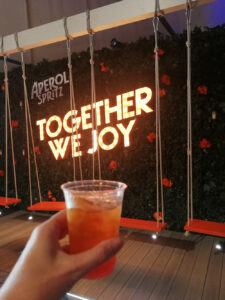 In a collision of cuisine and culture, Southern California's number-one food and wine festival, Los Angeles Food & Wine,  ramped up its ninth rendition, August 22-25. Festival-goers  rubbed shoulders with the nation's hottest chefs during the four-day epicurean extravaganza, with events spanning the City of Angels.

Among the culinary supernovas on the festival marquee were legendary Jeremiah Tower ("The Last Magnificent"), native Angelenos Nancy Silverton, Jet Tila and Alvin Cailan, and several celebrity chefs who have made the city their own, like Curtis Stone, Tim Hollingsworth and Antonia Lofaso. The festival  showcased wines from across California and the world.
Los Angeles Food & Wine started of Thursday evening with a series of dinners at restaurants across the city. The action then shifted to the historic Barker Hangar at Santa Monica Airport, one of LA's premier event spaces, for the rest of the weekend. Among the 14 culinary star-studded events were:

The Legends Dinner at Chi SPACCA: The widely credited father of California cuisine Jeremiah Tower joined the queen of the Mozza-Plex Nancy Silverton at her white-hot Chi SPACCA. This epic, one-night-only pairing promised a lifetime of bragging rights to the 40 festival-goers fortunate enough to snag a ticket.
Dinner at Otium: Fans of Netflix's "The Final Table" could pull up a chair to watch 2018 season winner Tim Hollingsworth share the spotlight with rising star chef Travis Swikard at Hollingsworth's downtown masterpiece, The Broad museum-adjacent Otium. 
The Epic Burger Throwdown with Alvin Cailan: Host Alvin Cailan, star of

YouTube's "The Burger Show,"  joined celebrity judges Seth Rogen, Tiffani Thiessen and Adam Richman in this juicy battle of the beef.
LA's Faves & Craves: In one short stroll, festival-goers could take in the breathtaking diversity of L.A.'s culinary landscape as the city's own Jet Tila hosted a showcase of the most crave-worthy dishes of 25 local chefs. L.A's finest tacos, pizza, hot dogs, donuts, fried chicken and a wealth of Asian-inspired specialties  shared one location for one afternoon only.
Meat Me at LAFW's Great Steak-out & BBQ: Meat master Curtis Stone of Gwen Butcher Shop & Restaurant and 25 other great tamers of the flame brought their A+ game to LAFW. Surf, sides, caviar and Big Cabs  complemented the slabs at this event evoking the nation's greatest steakhouses and BBQ joints.
Sunday Brunch So Hard: Those lucky enough to score one of the very limited VIP tickets to LAFW's grand finale enjoyed a rare pre-event access to Jeremiah Tower, the illustrious self-taught chef dubbed "The Last Magnificent" by Anthony Bourdain.


Event Sponsors included: Chase Private Client, Food & Wine magazine, Guinness, Suntory Whiskey and Bulleit Whiskey, among others.
"Honda Evening Under the Stars"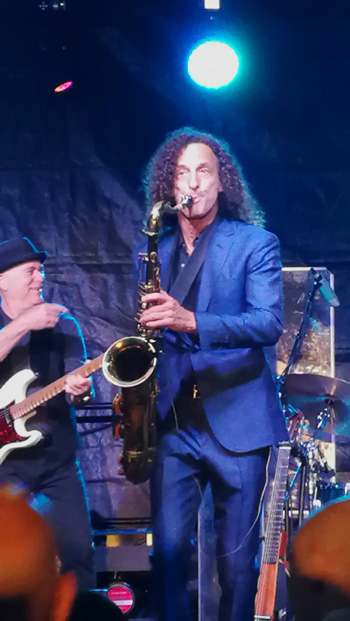 Honda "Evening Under the Stars" is a gourmet food and wine tasting festival presented by Honda in partnership with the Torrance Area Chamber of Commerce focused on the healthcare of South Bay kids. Honda cares about children and supports those who are committed to providing healthcare and comfort to children in the South Bay.
Honda Evening Under the Stars took place on Saturday, August 24, 2019 on the grounds of American Honda in Torrance. The evening featured delicious food and wine tastings from top restaurants in the South Bay and wineries from various regions, as well as a great performance from Grammy Award winning saxophonist Kenny G.
Proceeds from this event will support partner Torrance Memorial Medical Center. Torrance Memorial Medical Center is a locally governed, nonprofit medical center established to provide quality healthcare services, predominantly to the residents of the South Bay, Peninsula and Harbor communities. Torrance Memorial seeks to offer the most current and effective medical technologies rendered in a compassionate, caring manner.
AMERICAN CANCER SOCIETY HONORS PATRICK DEMPSEY AT CALIFORNIA SPIRIT 34 FOOD AND WINE BENEFIT, WITH HOST CHEF ANTONIA LOFASO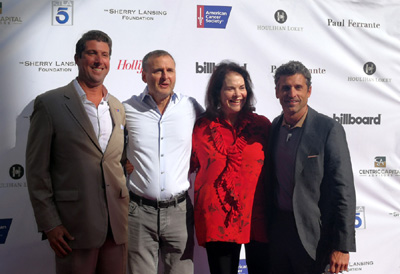 The American Cancer Society's California Spirit 34 Food and Wine Benefit honored actor and activist Patrick Dempsey (The Art of Racing in the Rain) with the 2019 Impact Award for his inspiring work in the fight against cancer through The Dempsey Center in Maine.  The event, held on Sunday, August 18 at Sony Pictures Studios in Culver City, was hosted by Antonia Lofaso, celebrated chef and restaurateur.
Honorary chairs Sherry Lansing (Paramount Pictures, STOP CANCER, Stand Up 2 Cancer) and Phil Rosenthal (15-time Emmy Award-winning Everybody Loves Raymond, Spanglish, I'll have What Phil's Having and Somebody Feel Phil on Netflix) welcomed the crowd.   Actor Harry Lennix (The Blacklist) spoke passionately about the Mission of the American Cancer Society and introduced 15-year-old survivor speaker Caitlin Herron.   Influencer June Quan, founder of the popular Instagram page Stir and Style, served as emcee for the benefit.  The event was attended by Rebecca Metz (Better Things, Shameless, Coop & Cami Ask the World), Chef Derrick Fox (Master Chef season 6) and Kimberly Fox (actress), among others.
Guests enjoyed offerings from LA's top restaurants including The Bel-Air;  BOA Steakhouse; The Butcher's Daughter;  Charcoal Venice; DAMA; Del Frisco's Double Eagle Steak House; Eleven City Diner; Faith & Flower; Fig & Olive; Guerilla Tacos; Maple Block Meat Co; McConnell's Fine Ice Creams; Milla Chocolates; Nic's On Beverly; Pizzeria Mozza; Prawn Coastal; Takami Sushi  & Robata; Wolfgang Puck Catering; and Wood & Vine. Libations were poured by Ammunition Wine; Desparada Wines; Golden Road Brewing; Herman Story Wines; Kikori Whiskey; Michael Mondavi Family Estate; Moraga Bel Air; Mulholland Distilling; Nebula 9; and Seedlip.  
Board of Ambassadors sponsors include Centric Capital Advisors; Houlihan Lokey; Paul Ferrente, Inc.; The Sherry Lansing Foundation; David Zuckerman; and Anonymous. 
Media sponsors included KTLA5, The Hollywood Reporter; Billboard Magazine; Angeleno Magazine; the Los Angeles Business Journal and KJAZZ Radio.
California Spirit 34 proceeds support the American Cancer Society's groundbreaking research, free patient and caregiver services, and early detection and prevention education programs.  To help the American Cancer Society save lives and attack cancer from every angle, donate by visiting www.calspirit.org or text "CAL" to 91999.  For cancer information, visit cancer.org or call 1.800.227.2345 anytime.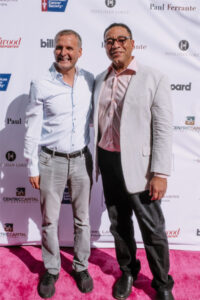 CONCERN FOUNDATION'S 45th ANNUAL BLOCK PARTY RAISES $1.8 MILLION FOR CANCER RESEARCH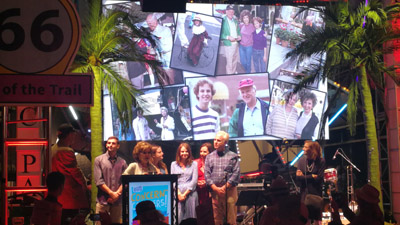 On Saturday, July 13th 2019, Concern Foundation for Cancer Research successfully produced its 45th Annual Block Party on the backlot of Paramount Studios in Hollywood featuring multiple stages of live entertainment, casino style games, live and silent auctions, and food, desserts and beverages from over 70 of Los Angeles' best restaurants and caterers. Themed this year as California Dreaming to Conquer Cancer, the highly anticipated event hosted approximately 4,000 guests, successfully raising $1.8 million for cancer research through ticket sales, donations and bids on auction items.
2019 marked Concern's 45th Annual Block Party and since its inception, Concern has raised over $68 Million Dollars in salary support to 800 gifted cancer scientists studying cancer. This year, in honor of their lifetime of contribution and efforts in support of the Concern Foundation, Judy Carroll, Lexy & John Carroll & the Carroll Family were awarded with the Lifetime of Giving Award. The successful event was led by the Concern office staff, a team of volunteers and designed once again by John Ferdenzi of Town and Country Event Rentals. 
The backlot streets were filled with over 70 food and beverage vendors including notable classics such as Vibrato Grill + Jazz, Ocean Prime Beverly Hills, The Grill on the Alley, Fogo de Chao, The Urban Oven, Oak Smoke BBQ, STK Los Angeles, Button Mash, La Boheme, Bertha Mae's Brownie Company, Mykie's, Buzz Bar, DeLuscious Cookies & Milk, Maria's Italian Kitchen, Porta Via, Stonefire Grill, Bar Hayama, El Floridita Cuban Supper Club, Giacomino Drago Group of Restaurants, Gyu-Kaku, Jayde's Market, Micoo Mochi Ice Cream, Wurstküche, Factor's Famous Deli, Dulan's on Crenshaw Soul Food, and Pink's Famous Hot Dogs just to name a few. This year's event also featured The Garagiste Festival Micro-Winery Tastings area, Nuda Tequila, Tito's Handmade Vodka, Asahi Beer U.S.A., Weaver's Coffee & Tea, Humboldt Distillery, Buzz Box, Reed's Ginger Brews, The Macallan, COKE Products and Dulce Vida Tequila. Plenty of musical and interactive entertainment were held on multiple stages featuring the Tom Nolan Band, D' City Sound with MC Dwayne, Paul McDonald Group and The MudBug Brass Band. Other event highlights included limited edition poster giveaways sponsored by A Good Print, Island Ink airbrushed tattoos, Foto Spark services, Vita Perfetta creative experiences, spa services provided by Beauty Bus Foundation and a Ferris Wheel which guests enjoyed throughout the night.
For the 15th year in a row, Los Angeles Magazine has been Concern Foundation's media partner and in their long-lasting relationship, has donated nearly $350,000 to Concern Foundation to help conquer cancer. This year their "The Best of LA 2019®" on Los Angeles Magazine's street featured relaxing lounge furnished by Mitchell Gold + Bob Williams, photo booths by INFINITI, treats and beverages from ArcLight Cinemas, Seedlip, and Don Francisco's Coffee, DJ dancing and much more.
For more information about the 2019 Block Party and the Concern Foundation, please visit www.concernfoundation.org. Guests who could not be in attendance may still donate to the Concern Foudnation by texting Concern19 to "52182".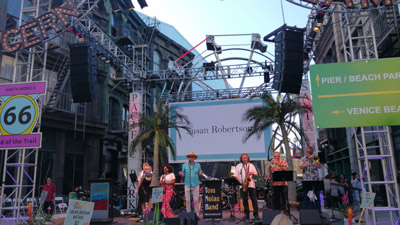 Taste of Wailea "The Best of The Best of Wailea's Best Chefs." during the 2019 Maui Film Festival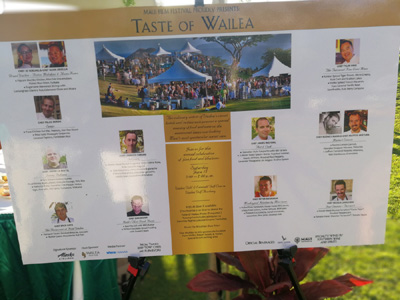 This premiere event also called the Crown Jewel' of the Festival's Culinary Arts Celebrations took place at the Wailea Golf Academy at Wailea Golf Club on Saturday, June 15th, 2019
Sponsors included: Alaska Airlines, Wailea Golf Club Gold & Emerald Courses, WHERE | HAWAII,
Grey Goose Vodka, Maui Brewing Co. and Specialty Wines by Southern Wine & Spirits, Taste of Wailea Chefs & Purveyors.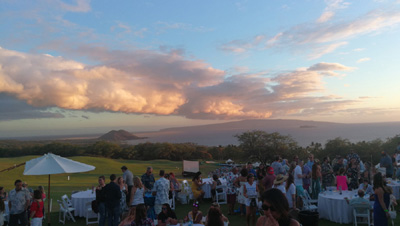 Taste of Chocolate at the 2019 Maui Film Festival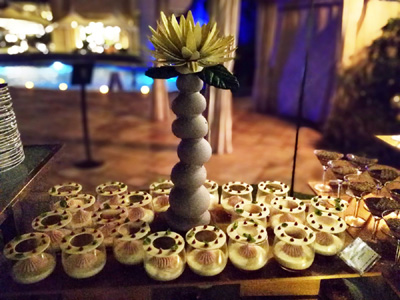 The event took place at the Four Seasons Resort Maui in Wailea on Thursday, June 13th, 2019.
One of Maui Film Festival's over-the-top event for chocolate lovers! The event featured extraordinary flavors and creations known as the Taste of Chocolate.
Sponsors included: Four Seasons Resort Maui at Wailea, Hawaii Tourism,Variety, Modern Luxury Hawaii, Grey Goose Vodka, Johnson Brothers and Maui Brewing Co.
Celebrities in attendance that evening included: Paul Rudd, Joe Manganiello and Sofía Vergara.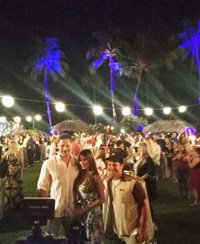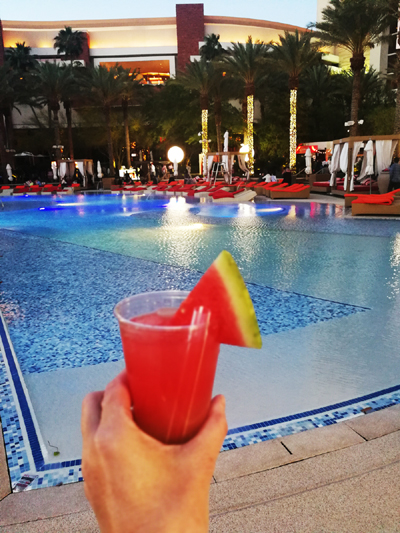 It's that time of the year again to enjoy an evening poolside at The Las Vegas Epicurean Affair. This years event took place on Thursday, May 19th at the Red Rock Resort & Casino. The Las Vegas Epicurean Affair, sponsored by the Nevada Restaurant Association, gathered the city's finest restaurants, nightclubs, and beverage vendors for this tasty event and featured the most savory cuisines and refreshing cocktails Las Vegas has to offer.
Some of the restaurants included: Scotch 80 Prime, TAO Las Vegas, Beauty & Essex, Blue Ribbon Sushi Bar & Grill, Hank's Fine Steaks & Martinis, Mint Indian Bistro, b.B.d.'s beers burgers desserts, Shake Shack and many more.
Event proceeds support the Nevada Restaurant Association's educational and scholarship programs, including ProStart ®, a national high school culinary skill and restaurant management program. In Nevada, more than 2600 students in 33 schools take part in the program, which teaches students the skills and knowledge needed to succeed in the food service industry.
nvrestaurants.com
VEGAS UNCORK'D BY BON APPÉTIT COMMENCES WITH A BURST OF CHAMPAGNE AT THE CEREMONIAL SABER OFF Chef Bruce Bromberg Kicked Off the Iconic Las Vegas Culinary Festival at Boulevard Pool at The Cosmopolitan of Las Vegas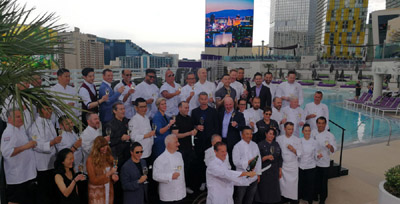 The 13th annual Vegas Uncork'd by Bon Appétit, presented by the Las Vegas Convention and Visitors Authority, started with a splash as some of the biggest names in the culinary world united at the Boulevard Pool at The Cosmopolitan of Las Vegas. Joined by more than 30 iconic chefs including Masaharu Morimoto, Roy Choi, Frankie Pellegrino Jr., Michelle Tribble, Greg Sherry, Angelo Auriana, Timon Balloo, Mark LoRusso and Stephen Hopcraft, Chef Bruce Bromberg sabered a magnum of champagne to kick off the weekend of festivities at Caesars Entertainment, The Cosmopolitan of Las Vegas, MGM Resorts International, The Venetian Resort and Wynn Las Vegas.
Hosts Adam Rapoport, Editor in Chief of Bon Appétit, Eric Gillin, Chief Business Officer of The Lifestyle Division at Condé Nast, Bree McKenney, Head of Marketing for The Lifestyle Division at Condé Nast, Simon Pettigrew, Senior Vice President of Resort Operations for The Cosmopolitan of Las Vegas, and Fletch Brunelle, Vice President of Marketing, Las Vegas Convention and Visitors Authority raised a toast to thank the chefs, resort partners and brands for their continued support of the Las Vegas culinary scene.
Recognized as one of the country's top food, wine and spirits festivals, the four-day event featured some of the world's greatest culinary talent including returning favorites Jean-Georges Vongerichten, Gordon Ramsay, Giada De Laurentiis, Guy Fieri, Lorena Garcia, Nobu Matsuhisa, Lisa Guy Savoy, Bryan and Michael Voltaggio, Julian Serrano, Michael Mina and Susan Feniger to name a few.
LEGENDARY CHEFS GATHER AT VEGAS UNCORK'D BY BON APPÉTIT'S 13TH ANNUAL GRAND TASTING EVENT, MAY 10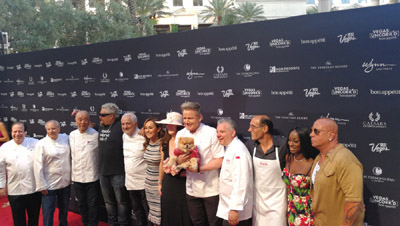 The world's most sought-after chefs, sommeliers and mixologists from Caesars Entertainment, The Cosmopolitan of Las Vegas, MGM Resorts International, The Venetian Resort and Wynn Las Vegas came together to showcase their extraordinary talents during the Grand Tasting at the 13th annual Vegas Uncork'd by Bon Appétit. This year's epicurean indulgence  returned to the dramatic 5-acre Garden of the Gods Pool Oasis at Caesars Palace and featured more than 50 award-winning chefs as well as more than 100 of the best wines and spirits from around the world.
Chefs and special guests  at the Grand Tasting red carpet included:
Lisa Vanderpump, Gordon Ramsay, Giada De Laurentiis, Guy Fieri, Nobu Matsuhisa, Frank Pellegrino Jr., Steve Martorano, Greg and Marc Sherry and Guy Savoy of Caesars Entertainment
Stephen Hopcraft of The Cosmopolitan of Las Vegas
Will Guidara, Roy Choi, Masaharu Morimoto, Susan Feniger, Shawn McClain, Michael Mina, Diane Mina, Arturo Corpuz, Philippe Angibeau, Florent Cheveau and Adam Arencibia of MGM Resorts International
Lorena Garcia, Kim Canteenwalla, Juyoung Kang, Evan Hosaka, Olivier Dubreuil, Christian Tetedoie, Claude Le Tohic, Steve Benjamin, Simone Bregardis, Alan Ji, Lee Man Sing, Timon Balloo, Joel Versola, Matteo Ferdinandi, Angelo Auriana and Daniel Yang of The Venetian Resort
Mark LoRusso of Wynn Las Vegas  
Charles Phan, Shaun King, Haruhiko Takeshita, Kiko Ojeda, Michael Ingino, Miguel A. Rivera and David Mangual of The Forum Shops at Caesars Palace
Fletch Brunelle, Vice President of Marketing, Las Vegas Convention and Visitors Authority
Eric Gillin, Chief Business Officer, The Lifestyle Division, Condé Nast
Bree McKenney, Head of Marketing, The Lifestyle Division, Condé Nast
Adam Rapoport, Editor in Chief, Bon Appétit
Alex Delany, Associate Web Editor, Bon Appétit
Andy Baraghani, Senior Food Editor, Bon Appétit
Christina Chaey, Associate Editor, Bon Appétit
Rachel Karten, Associate Director of Social Media, Bon Appétit
Paulie Dibner, Director of Editorial Operations, Condé Nast Traveler
Mayer Rus, West Coast Editor, Architectural Digest
Whembely Sewell, Executive Editor, them.
Mark Anthony Green, Special Projects Editor, GQ
Benjy Hansen-Bundy, Senior Associate Editor, GQ
Jeffrey Tousey, Social Media Director, Vanity Fair
Chris Legaspi, Menswear Editor,

Vanity Fair
3rd Annual Picnic at The Park
The third annual Picnic at The Park where some of the most notable chefs in the industry including Jean-Georges Vongerichten, Michael Mina, Masaharu Morimoto, Roy Choi, Bryan and Michael Voltaggio, Susan Feniger, Julian Serrano, Shawn McClain, and MGM Grand executive pastry chef Florent Cheveau came together to offer creative twists on classic al fresco dining along with carefully paired wine curated by Master Sommelier Jason Smith, cocktails by Mixologist Craig Schoettler, and a variety of beer. The outdoor dining and entertainment district was stocked with each chef's creation including sweet corn from Masaharu Morimoto, Japanese wagyu Thai beef salad from Jean-Georges Vongerichten, beef short ribs from Bryan and Michael Voltaggio, tandoori kampachi with butter chicken oysters from Michael Mina, apricot lacquered jidori chicken from Shawn McClain, and boquerones en vinaigrette from Julian Serrano, among other delectable options.
About Bon Appétit
Bon Appétit is where food and culture meet. The award-winning No. 1 food lifestyle brand covers food through the lens of cooking, fashion, travel, technology, design, and home. As the leading arbiter of taste, its home-grown talent and tireless dedication to recipe testing separates it from the competition by miles. Bon Appétit has been named to Advertising Age's A-List for eight consecutive years, including Magazine of the Year 2013 and 2017, Brand of the Year 2015, and Digital and Video recognition in 2019, and has been named to Adweek's Hot List every year since 2012, including Hottest Food Magazine in 2013, 2017 and 2018. Bon Appétit has also been nominated for 32 National Magazine Awards in the past six years, including wins in 2014 for General Excellence and Photography, in 2017 for General Excellence, and in 2019 for Social Media. For more, visit www.bonappetit.com.
About the Las Vegas Convention and Visitors Authority
The Las Vegas Convention and Visitors Authority (LVCVA) is charged with marketing Southern Nevada as a tourism and convention destination worldwide and also with operating the Las Vegas Convention Center. With nearly 150,000 hotel rooms in Las Vegas alone and more than 11 million square feet of meeting and exhibit space citywide, the LVCVA's mission centers on attracting ever increasing numbers of leisure and business visitors to the area. Download the virtual reality app, Vegas VR, to experience Las Vegas from your iPhone or Android by visiting http://www.vrtv.vegas/. For more information, go to www.lvcva.com or www.visitlasvegas.com.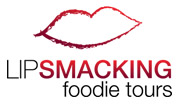 By S.P. – Come with an appetite!
It was such a wonderful delicious experience to take the "Savors of the Strip" by Lipsmacking Foodie Tours on Thursday, May 9th in Las Vegas.
The tour began in front of the arched waterfall outside the Aria Resort & Casino and included 4 top restaurants, and a little bit of history. As we stopped at Retrospecs & Co. located at The Cosmopolitan of Las Vegas were we got a tour of old preserved sunglasses, manufactured during the 1870s-1970s. (An interesting perk)
The first stop was BARDOT Brasserie, which served us: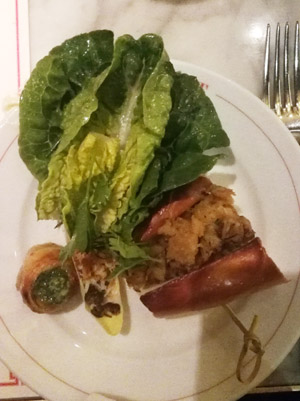 ECARGOTS BARDOT
Wild burgundy snails, Toasted hazelnuts chartreuse garlic butter, Puff pastry shells.
KING CRAB CAESAR
Belgian endive, Wild caught king crab, Parmesan bread crumb, Caper aioli, Herbed bread cumbs.
ROASTED FRENCH CHICKEN DIP
Gruyere cheese, Mushroom bread pudding, Greenbeans, Vin jaune au jus
Our second stop was Julian Serrano, which served us Tapas and Paella.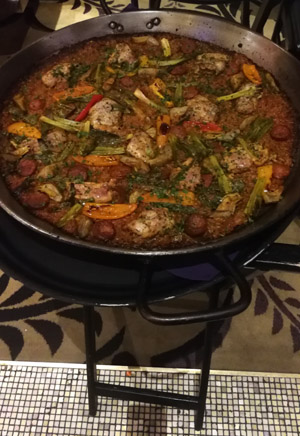 PAELLA
Valenciana, chicken, Spanish pork choizo, Vegetables, saffron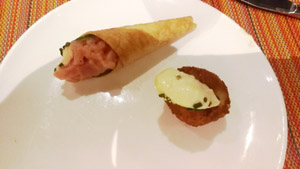 TAPAS
Spanish croquetas, Chicken bechamel, Tuna cones, Ahi tartare cucumbers, Cripy won ton, Avocado, Ponzu, Stuffed dates, Nedjool dates, Goat cheese, Bacon, Apple puree.
The third stop was Estiatorio Milos (my favorite) which served us a delicious Greek Salad, Octopus and Milos Special.
THE GREEK SALAD
Vine ripe tomatoes, Extra virgin olive oil, Barreel-Aged feta.
OCTOPUS
Sushi quality mediterranean octopus grilled, Santorini fava.
MILOS SPECIAL
Lightly Fried Zucchini, Eggplant, Tzatziki & Kefalograviera Cheese
The finally stop was Cucina by Wolfgang Puck which served us delicious yummy sweats with a choice of coffee.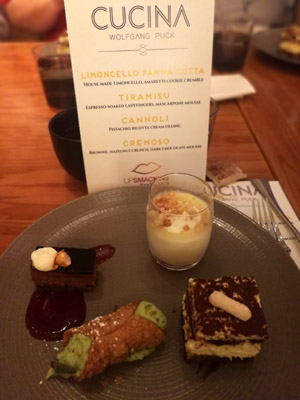 LIMONCELLO PANNA COTTA
House made limoncello, Amaretti cookie crumble
TIRAMISU
Expresso Soaked Ladyfingers, Mascarpone mousse
CANNOLI
Pistachio ricotta cream filling
CREMOSO
Brownie, hazelnut crunch, dark chocolate mousse
This tour is great for Locals and Tourists who want to experience some of the Top Restaurants, Las Vegas has to offer.
ABOUT LIPSMACKIN FOODIE TOURS:
In just a short time, Lip Smacking Foodie Tours has grown into the premier culinary walking tour in Las Vegas, garnering not only loyal fans but outstanding accolades. Its variety of tours offer guests personalized service and VIP access to the best tables in the house at the city's most acclaimed restaurants – all without standing in line or the hassle of making reservations. Each tour includes an expert guide who entertains guests with insider knowledge about the sights along the way. At each of four restaurant stops on The Strip or downtown, guests indulge in signature dishes, as well as receive a warm welcome from the chefs. Guests can sit beside different patrons at every stop, gaining new friends and networking connections. The tours are perfect for everyone from locals to tourists to business travelers, including corporate groups of up to 250. In 2019, Lip Smacking Foodie Tours expanded for the first time outside of Vegas to include upscale Santana Row in San Jose, located in the heart of California's dynamic Silicon Valley. 
Recent honors include: "Best Tour", "Best Food Tour", and "Best Date Night Spot" by Las Vegas Review-Journal in 2018; "Best Food/Beverage Tour Operations (Land)" by The World Food Travel Association 2018; "Best Tour", "Best Fine Dining", and "Best Brunch" by Las Vegas Review-Journal in 2017; "Best Tour" by Las Vegas Review-Journal in 2016; "Best Tour" by INVEGAS Magazine in 2015 and 2016; and "Best New Tour" by Thrillist in 2015; as well as inclusion in TripAdvisor's "Top 3" tours in Las Vegas, and ranked #1 tour on Yelp.
Additionally, Lip Smacking Foodie Tours has been given the honored distinction of "preferred partner member'' of Virtuoso, the invitation-only member network catering to luxury travel advisors. That designation means that no other company offering similar experiences can become a member of this leading international travel agency network that specializes in opulent experiential travel.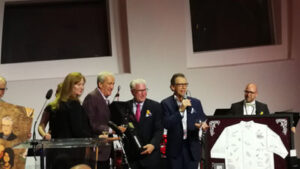 UNLVino, proudly sponsored by Southern Glazer's Wine & Spirits of Nevada since the event's inception, returned for its 45th year as Las Vegas' longest running wine and food festival. Benefitting the students of UNLV's Harrah College of Hospitality, this highly anticipated event returned for three incredible nights.
Bubble-Licous
Bubble-Licious, which is the first event in the UNLVino series, featured champagne, sparkling wines and award-winning restaurants from The Venetian and The Palazzo's outstanding collection.
UNLVino was confounded in 1974 by the William F. Harrah College of Hotel Administration and Southern Wine & Spirits of Nevada, now operating as Southern Glazer's Wine & Spirits. Over the past four decades, UNLVino has raised several million dollars for scholarships and other academic developmental needs of UNLV students. UNLVino is differentiated through unparalleled, hands-on student experiences at all levels of even planning, execution and promotion, as well as the impactful funds raised each year – all testaments to the celebratory weekend's broader purpose – scholarship.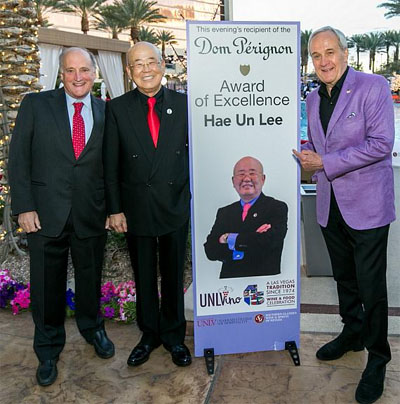 Night two officially open the evening celebration, with traditional Japanese drummers, Japanese swordsmen, themed characters and UNLV Rebel Girls paraded through the resort's casino and led guests to the entrance of the event. Japanese warriors with samurai swords performed alongside the traditional Japanese drummers. Guests also enjoyed the Great Tuna Cutting by Naked Fish's of the 300-lb tuna, a celebration that has come to be known by guests of Sake Fever. Following the ceremony, a DJ spun upbeat tracks alongside the evening's emcee, Ron Cabildo, while attendees worked their way around the beautiful resort pool under the beautiful Las Vegas sky to enjoy Japanese spirits, sake and more as well as Asian-inspired cuisine from restaurants in Las Vegas.
To further commemorate the evening, Michael Severino, Ian Staller and Larry Ruvo (all of SGWSNV), as well as Mr. Lee of Lee's Discount Liquors and Stowe Shoemaker of UNLV Harrah College of Hospitality, all took part of the Sake Barrel Ceremony, a tradition of the event since its inception. Following the ceremony, Severino, Shoemaker and a UNLV student of the UNLVino Class presented Mr. Lee with the Dom Pérignon Award of Excellence for his incredible contribution to our community.
UNLVino concludes on Saturday, April 13 with the Grand Tasting at The Mirage Events Center. This final event honored Nicole Brisson of Eataly Las Vegas and featured premium selections of wine, spirits, craft beer and other beverages and over 20 award-winning restaurants, as well as special performance  by Legends In Concert.
Highlights from LA Times' THE TASTE 2018 over Labor Day Weekend
Los Angeles Times THE TASTE 2018 transformed the Paramount Pictures Studios backlot into the ultimate evening block party over three nights during Labor Day weekend from Aug. 31 to Sept. 2nd. This year, The Taste featured chefs and restaurants who have helped make Los Angeles one of the most exciting places in the world to eat.A special wall tribute painting was made by artist Devin Liston of LA Times food critic Jonathan Gold, who passed away July 21 2018 of pancreatic cancer. Los Angeles Times' The Taste was presented by Pacific Sales Kitchen & Home, and is produced in association with Best Events. The Collins College of Hospitality Management and L.A. Regional Food Bank were the event's charity beneficiaries. Some highlights and dishes from the show this Labor Day weekend: 
The 8th Annual LA Food & Wine Festival Once Again Took Over LA.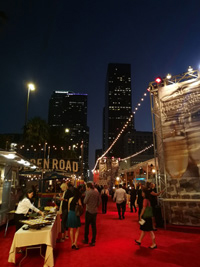 AUGUST 22-26, 2018
Los Angeles Food & Wine Festival, produced by Coastal Luxury Management and presented with founding partners FOOD & WINE and Lexus, celebrated its 8th Anniversary from August 22-26. Master sommeliers, local chefs, and the food world's biggest culinary stars once again gathered as the best of the Los Angeles culinary scene took over the City of Angels for the unprecedented four-night and five-day extravaganza. Here are some of the Highlights: Ultimate Bites of L.A. Hosted by Alvin Cailin & Antonia Lofaso.
Heat on the Street: Taco Takedown
Replaced the traditional Night Market in Downtown Los Angeles with an all-new Heat on the Street on Grand Avenue, hosted by Robert Irvine, Susan Feniger, Mary Sue Milliken, and Aarón Sánchez. This "Friday Fiesta" brought all the nuanced flavors of Latin cuisines to the plate, serving ceviche, tacos, carne asada, nopalitos, and more, with perfectly paired cervezas, tequila, and delectable wine.
Some other events included: LIVE on Grand with Curtis Stone, Tiffani Thiessen, and Special Guest DJ Questlove, Lexus Grand Tastings, Exclusive Luncheons and Dinners.
AMERICAN CANCER SOCIETY HONORS CHEF MING TSAI AT CALIFORNIA SPIRIT 33 GOURMET GARDEN PARTY, WITH HOST CHEF JAVIER PLASCENCIA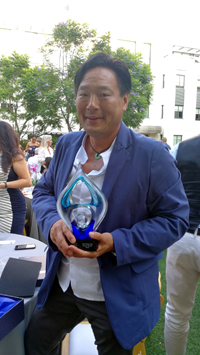 The American Cancer Society's California Spirit 33 gourmet garden party honored Chef Ming Tsai with the 2018 Impact Award for his inspiring work in the fight against cancer through his leadership in the national non-profit Family Reach on Sunday, July 15 at Sony Pictures Studios in Culver City. The event was hosted by Chef Javier Plascencia, celebrated chef, author, TV personality noted for his signature interpretation of the cuisine of Baja California. Chef Jason Fullilove, owner of Barbara Jean LA presided as Culinary Chair for the event. Honorary chairs Sherry Lansing (Paramount Pictures, STOP CANCER, Stand Up 2 Cancer) and Phil Rosenthal (15-time Emmy Award-winning "Everyone Loves Raymond," "Spanglish," "I'll have What Phil's Having" and second season of "Somebody Feel Phil" on Netflix) welcomed the crowd and Andrew Firestone (Principal at StonePark Capital) presided over the live auction. The event was attended by Sophia Bush (One Tree Hill, Chicago P.D.), Sharon Lawrence (NYPD Blue), Samantha Harris (Entertainment Tonight, Dancing with the Stars, Camila Banus (Days of Our Lives), among others.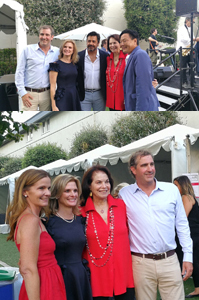 The event featured a performance by Band From TV, a powerhouse of well-known and acclaimed actors including Greg Grunberg, Adrian Pasdar, Jack Coleman, and Scott Grimes. Guests enjoyed offerings from LA's top restaurants including 71 Above, Barbara Jean LA, The Bel-Air, BOA, Fig & Olive, Frida Mexican Cuisine, Guerilla Tacos, Kato, Life Energy Food, Maple Block Meat Co, McConnell's Fine Ice Creams, Panini Kabob Grill, Prawn Coastal, Takami Sushi & Robata, Sweet Lady Jane, The Wallace, Wolfgang Puck Catering, and Wood & Vine. Libations were poured by Ammunition Wine, Codigo 1530 Tequila, Danone Waters of America, Drake's Organic Vodka & Rum, Golden Road Brewing, Hilltop Coffee, Lillet, Kikori Whiskey, Moraga Bel Air, Malibu Vineyards, and The Ojai Vineyard.
Corporate and individual sponsors include, at the Master Chef level ($25,000)—Centric Capital Advisors, Ellie Kanner and David Zuckerman. Chef de Cuisine sponsors ($10,000) include Cedars Sinai Samuel Oschin Comprehensive Cancer Institute, Sam and Peggy Grossman, Sherry Lansing, New York Film Academy Foundation, and Phil & Monica Rosenthal. Supporters at the Sous Chef level ($5,000) are Amalfi Estates, Heyler Realty, Lynn Both & Kent Kresa, SoCalGas, and Torrance Memorial Medical Center. Media sponsors included KTLA-TV, Variety, Angeleno, The Hollywood Reporter, and KJAZZ Radio. California Spirit raised $________ for the Society's groundbreaking research, free patient and caregiver services, and early detection and prevention education programs.