L'Oréal unveils two new CES® 2023 innovation award-winning beauty technologies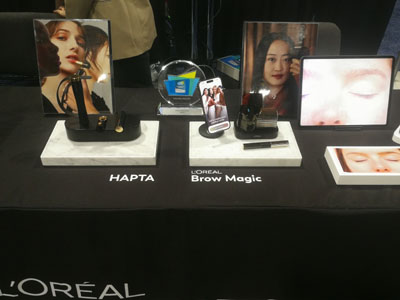 L'Oréal at CES® 2023 unveiled two new technology prototypes that expand access to beauty expression: HAPTA, the first handheld, ultra-precise computerized makeup applicator designed to advance the beauty needs of people with limited hand and arm mobility; and L'Oréal Brow Magic, the first at-home electronic eyebrow makeup applicator that provides users with customized brow looks in seconds.
"For L'Oréal, the future of beauty is inclusive. And this future will be made more accessible by technology,"said Nicolas Hieronimus, CEO of the L'Oréal Groupe. "The two consumer technologies we are unveiling this year at CES represent the true purpose of our company: to create the beauty that moves the world."
Introducing HAPTA
An estimated 50 million people globally live with limited fine motor skills. This makes some daily gestures, like applying makeup, challenging.  Under development by L'Oréal scientists and engineers, HAPTA is a handheld, ultra-precise smart makeup applicator for users with limited hand and arm mobility, offering them the ability to steadily apply lipstick at home. HAPTA will incorporate technology originally created by Verily to stabilize and level utensils to give people with limited hand and arm mobility the ability to eat with confidence and independence.
The key to HAPTA is its combination of built-in smart motion controls plus customizable attachments that give the user an improved range of motion, increased ease of use for difficult-to-open packaging, and precision application that is otherwise hard to achieve – to help individuals feel confident, independent, and empowered to enjoy the self-expressive power of beauty.
"Inclusivity is at the heart of our innovation and beauty tech strategy,"said Barbara Lavernos, Deputy CEO in charge of Research, Innovation and Technology at L'Oréal. "We are dedicated and passionate to bring new technologies powering beauty services that augment and reach every individual's ultimate desires, expectations, and unmet needs."
 HAPTA is equipped with a magnetic attachment that allows for easy ergonomic use enabling for 360 degrees of rotation and 180 degrees of flexion. A "clicking" feature allows the user to intuitively set the intended position, stay in position during use, and allow for the user to lock in customized setting for future use. HAPTA comes with a built-in battery (three hours to full charge) and device charging which results in one-hour continuous use (approximately 10+ applications).
HAPTA's leveling device will be piloted with L'Oréal-owned Lancôme in 2023, first with a lipstick applicator followed by additional makeup applications in the future.
"For years, Lancôme has sought to provide every woman with beauty solutions adapted to their needs. Beauty tech has enabled us to fulfill this mission in an even more powerful way, revolutionizing the way we develop beauty products and services and enabling greater personalization," said Françoise Lehmann, Lancôme Global Brand President.
"With HAPTA we are going one step further by making beauty more accessible to use, because everyone should have equal access to it."
Introducing L'Oréal Brow Magic
Historically, achieving a desired eyebrow look can take several products, time and expertise—with precise results requiring expensive professional services like microblading. With L'Oréal Brow Magic, people can achieve a personalized eyebrow look at home based on their natural brow and facial features.
 Developed by L'Oréal in partnership with the tech company Prinker, a pioneer in printed, non-permanent tattoos, L'Oréal Brow Magic makes professional-like results accessible at home. Using 2,400 tiny nozzles and printing technology with up to 1,200 drops per inch (dpi) printing resolution, L'Oréal Brow Magic is the first handheld, lightweight, electronic brow makeup applicator to provide consumers with their most precise brow shape in seconds.
Using L'Oréal's Modiface AR technology, L'Oréal Brow Magic scans the user's face and makes recommendations for microblading, micro-shading, or filler effects.
"The strength of L'Oréal's beauty tech program is supported through the quality of our partnerships,"said Guive Balooch, L'Oréal Global Head of Research and Innovation's Tech Incubator. "Often, we find a brilliant technology that is being applied to something outside the beauty realm. Combining L'Oréal's heritage of beauty with these advanced technologies allows us to create entirely new beauty gestures—reimagining the original technology, and the traditional beauty experience, in the process."
 How to use the device:
●       Open the L'Oréal Brow Magic app and scan face with the Modiface brow reader
●       Select desired shape, thickness, and effect
●       Brush the L'Oréal Brow Magic primer through brows
●       Move the printer across the eyebrow in a single, sweeping motion
●       Apply a topcoat finish to lock in the look
The eyebrow look created by L'Oréal Brow Magic is easily removed with a standard makeup remover. L'Oréal Brow Magic is expected to launch in 2023. 
About L'Oréal
For over 110 years, L'Oréal, the world's leading beauty player, has devoted itself to one thing only: fulfilling the beauty aspirations of consumers around the world. Our purpose, to create the beauty that moves the world, defines our approach to beauty as inclusive, ethical, generous and committed to social and environmental sustainability. With our broad portfolio of 35 international brands and ambitious sustainability commitments in our L'Oréal for the Future programme, we offer each and every person around the world the best in terms of quality, efficacy, safety, sincerity and responsibility, while celebrating beauty in its infinite plurality.
With 85,400 committed employees, a balanced geographical footprint and sales across all distribution networks (e-commerce, mass market, department stores, pharmacies, hair salons, branded and travel retail), in 2021 the Group generated sales amounting to 32.28 billion euros. With 20 research centers across 11 countries around the world and a dedicated Research and Innovation team of over 4,000 scientists and 3,000 tech professionals, L'Oréal is focused on inventing the future of beauty and becoming a Beauty Tech powerhouse.
Meet "Moxie" a technically impressive childhood robot from iRobot's former CTO
Founded in Los Angeles in early 2016 by USC robotics professor Maja Matarić and former iRobot CTO Paolo Pirjanian, Embodied is the latest company to swing for the fences here. The startup has backing from Intel Capital, Toyota AI Ventures, Amazon Alexa Fund, Sony Innovation Fund, JAZZ Venture Partners, Calibrate Ventures, Osage University Partners and Grishin Robotics.
The company has enlisted the help of employees from Pixar and Jim Henson to flesh out the real-world robotic character. At first glance, the results are plenty impressive.
Moxie is a new type of robot that has the ability to understand and express emotions with emotive speech, believable facial expressions and body language, tapping into human psychology and neurology to create deeper bonds."
The robot focuses on a different theme each week, including kindness, friendship, empathy and respect, personalizing content to a child over time. Moxie looks to be an impressive take on the category, though things are still very early stages here. Along with all of the built-in difficulties that come with launching a home robot, the device is price-prohibitive at $1,499. Orders are available now and Moxie will start shipping in the fall.
Paolo Pirjanian is the founder and CEO of Embodied, a next-generation robotics startup that is a part of the Alexa Fund. The company's Moxie robot was voted as among the top 100 inventions of 2020 by TIME magazine.
"The robot is designed to develop 'EQ' skills in children," says Pirjanian. "Through play-based interactions, missions and tasks, Moxie helps children do things like label their emotions, regulate their emotions through breathing exercises, and express gratitude."
MOXIE's therapeutic framework that leverages established and evidence-based therapeutic strategies has been shown to have a positive developmental impact on children with mental behavioral developmental disorders (MBDDs) in as little as six weeks.
Pirjanian has been involved with robotics for all of his career that has spanned nearly three decades. He has conducted research for NASA's Jet Propulsion Lab, in addition to serving as the CTO of iRobot, the company behind the revolutionary Roomba vacuums.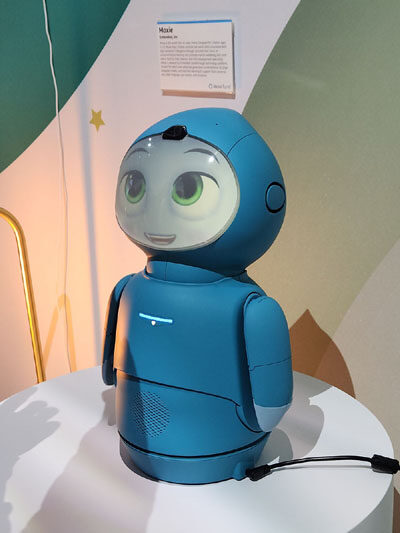 1.Design for different modalities of human-computer interaction
"Robots are often depicted in popular media as autonomous machines that imitate and often exceed human intelligence – not always with the most pleasant consequences. However, it is more practical to think of robotics as a human-centric engineering discipline, one where technology doesn't supplant human intelligence, but complements it by helping make up for our limitations and biases.
This human-centric view drives every facet of product development for Moxie, especially when it comes to enabling multi-modal interactions. 
Moxie's goal is to help develop and empower mindful and confident children. For this to happen, we had to ensure that Moxie is able to make eye contact with children. 
We didn't want to model behavior where people are not able to make eye contact. 
As a result, we developed computer vision algorithms to ensure that Moxie was able to locate the child – which can get tricky when the child is seated in a group – and make eye contact. However you don't want Moxie to maintain eye contact for an excessively long period of time, which could make for an unpleasant and almost dystopian experience. We developed a whole grouping of animations where Moxie looked at you, turned away for a second and then looked back again. 
Voice is another important facet of developing multi-modal interactions. Here, we had to leverage the state-of-the-art in natural language processing to develop a system that enables Moxie to identify where the speaker is located, distinguish between pertinent and background noise, and understand the context of the conversations.
We recognize that in a majority of use cases, robots don't have to be as attuned to the intricacies of human emotion as Moxie. However, business and technical leaders should always view robots within the prism of human-computer interaction, and not as autonomous entities. Even warehouse robots have to interact with humans as they carry out their tasks, and thoughtful human-centric and multi-modal design will help robots carry out their duties to the best possible extent." 
2. Focus on what's important to your customer
"It's vital that you zero in on the "must haves" when it comes to your customer. For Moxie, it was imperative that we kept the cost low. And because we work with children, it also meant that we could make no compromises when it came to privacy. 
Our refusal to compromise on cost and privacy meant that we had to overcome significant scientific and technological challenges that we could have overcome by adopting more standard solutions. 
For example, we had to be thoughtful and clever when it came to selecting the optimal number of motors responsible for gestures and body movements. Incorporating a high-powered GPU from an external vendor would have increased the cost of the robot to over ten thousand dollars. As a result, we had to invest engineering resources to optimize our software to run on a low-end, low-cost, "off-the-shelf" processor.
Our focus on privacy meant that we had to overcome several software-related challenges as well. We invested resources to make sure that every piece of data is encrypted. Because every image taken by Moxie stays on device, we couldn't use many of the standard cloud-based computer vision algorithms. That meant that we have to invest resources in developing mechanisms that help ensure images never leave the robot. This is an incredible challenge to overcome cost-effectively because computer vision can be highly compute-intensive.
As anyone who has developed products and services for children knows, you can't even remotely have anything inappropriate. This includes obvious things like the usage of inappropriate words. But it's important to remember that we live in an incredibly diverse world. A Bart Simpson reference might be totally acceptable in one family, but totally unacceptable in another. This meant that we had to design and train a neural network on all of the topics that might be considered inappropriate."
Focusing on areas that were important to our customers allowed us to understand how and where we should allocate our valuable technical resources."
3. Leverage innovations in the broader scientific community
"Many of the most significant advances in the field of artificial intelligence have been made possible as a result of collaborations between academia and the industry at large. There are several startups, enterprises and organizations that have leveraged innovations from initiatives like the ImageNet Large Scale Visual Recognition Challenge or the development of the Robotics Operating System (ROS).
You should build your own custom in-house solution when there's no alternative. However, when possible, you should also work with the best provides in the world and utilize their services.
Voice is one example of an instance where you don't have to reinvent the wheel. When we launched Moxie five years ago Alexa didn't have some of the capabilities we were looking for. However it's an entirely different story today – there's such a strong community of scientists, businesses and developers building on Alexa. The service keeps getting better over time. So it makes a lot more sense to harness all of this innovation, and free up your resources to delivering a great customer experience."
Lenovo introduces a multifaceted Yoga Book 9i dual-screen device
The all-new Yoga Book 9i is the first full-sized OLED dual screen laptop1 and comes with a unique set of capabilities designed to empower the creative to craft their own story. More versatile than a traditional clamshell laptop form factor, the exceptionally flexible Yoga Book 9i built on the Intel® Evo™ platform offers dual-screen versatility, multi-mode functionality, and superior entertainment options. For a new generation of consumers who bring creativity to a new level, Yoga Book 9i supports their multi-faceted digital demands and empowers their ambitions whether working, creating, learning or enterta
Dual-Screen Tasking for Next Level Efficiency
Powered by up to the latest generation of Intel Core™ processors, the Yoga Book 9i enables users to take advantage of a full laptop experience along with the flexibility and multi-tasking potential of dual screens. These thin and light laptops, built on the Intel Evo platform, are designed and engineered to provide seamless communication experiences across a wide range of apps while minimizing the impact on responsiveness, battery life, and connectivity.
The Yoga Book 9i's dual screen technology empowers consumers to enjoy a unique range of versatile experiences. It could be as simple as having the ability to surf the web and view the image across two full screens with an easy 5-finger motion. Or, for those wanting to work on two separate files simultaneously, they can view both files, one on each screen, for hyper-productivity. Similarly, consumers can watch a video on one screen while taking notes or researching on the second screen at the same time, without interruptions.
The slim and lightweight convertible form factor offers users flexibility to switch seamlessly between laptop, tablet, or tent mode according to their needs. In a face-to-face meeting, users can use the tent mode to display a slide presentation on one screen while viewing and controlling the presentation from the second screen. Communication and collaboration in virtual meeting sessions are also enhanced with the dual screen capability – enabling the host to share a presentation on one screen while viewing the chat, responding to questions and advancing slides from the second screen.
Yoga Book 9i also comes complete with a folio stand enabling users to work on the go more easily. A detachable Bluetooth® keyboard enhances the multi-tasking potential, as does the Lenovo-designed Smart Pen stylus which can be used to further enable and elevate productivity.
Sophisticated Software & Elevated Entertainment
Yoga Book 9i's innovative software designed by Lenovo, and in collaboration with Microsoft, also enhances the user's potential to work, learn, stream, create, and do light gaming. Running on Windows 11, the software includes smart writing and reading features as well as note-taking features for those who are learning from home. This feature lets the user take notes on one screen while simultaneously viewing an online class on the second screen.
When it's time to sit back and relax, users can watch a movie on one screen while researching interesting background facts about the movie on the second screen. With the Yoga Book 9i's two 13.3-inch 2.8K OLED PureSight displays with 100% DCI-P3 color accuracy and Dolby Vision® HDR, users will be impressed by the ultra-vivid colors, sharper contrast, and richer detail of the visuals. Together with Dolby Atmos® spatial audio and a 360-degree rotating sound bar featuring Bowers & Wilkins® speakers, consumers can enjoy an outstanding entertainment experience. An additional poignant design feature of the Yoga Book 9i is its modern and sophisticated Tidal Teal color. It also comes in eco-conscious packaging with the cushion materials, gift box, and outer box all containing 100% recycled paper.
Key Specs
Yoga Book 9i

Processor(s)

13th Gen Intel Core i7-U15

Operating System

Windows 11 Home




Windows 11 Pro

Graphics

Intel Iris® Xe

Memory

LPDDR5X 16G

Storage12

PCle SSD Gen4: 512G/1T

Display

13.3" 2.8K, 400 nits, OLED/DCI-P3 100%, 60Hz, 16:10




4-side narrow bezel (91% AAR) HDR, PureSight, Dolby Vision

Audio

2 x 2W




2 x 1W




Bowers & Wilkins speakers




Dolby Atmos

Camera

FHD IR+RGB (5M USB)




Webcam with Privacy Shutter

Battery3

80WHr




Mobile Mark 2018: up to 7.3 hours




Video Playback: up to 10 hours (Dual screen on 150 nits), up to 14 hours (Single Screen)

Dimensions

(mm) 299.1 x 203.9 x 15.95




(inches) 11.78 x 8.03 x 0.63

Weight

1.38kg

Hinge

360°

Colors19

Tidal Teal

Ports

3 x USB Type-C (all full function and Thunderbolt™4.0)

Wireless

Wi-Fi 6E24
HW Support Bluetooth 5.2


OS Just support Bluetooth 5.1

Software20

Windows Hello




Cortana




Multi-point touch




Lenovo Vantage


Microsoft Office 36521
Amazon Alexa22
Neakasa Showcased All-In-One Pet Grooming Kits and Smart Home Cleaning Devices at CES 2023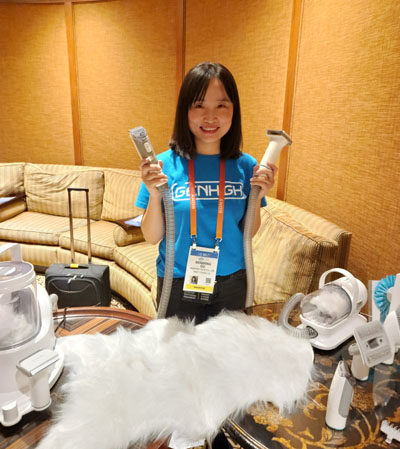 Neakasa showcased a broad range of innovative technologies at CES 2023 with demonstrations of its best-in-class home cleaning and smart pet cleaning solutions. CES 2023 is the world's most influential tech event in Las Vegas which took place January 5-8th and Neakasa showcased its newest Neakasa N3 Vacuum, PowerScrub II, P1 Pro and P2 Pro Pet Grooming Kits.

The Neakasa PowerScrub II is the newest addition to Neakasa's top-of-the-line smart cleaner series. Praised for its powerful yet versatile lightweight design, this next-generation wet/dry vacuum aims to deliver the most effective and efficient detailed cleaning to give homes well-vacuumed, freshly-mopped floors every day. Complete with strong suction of 18,000pa, the Neakasa PowerScrub II ensures this high-powered cordless vacuum provides clean floors since it's built to remove wet and dry messes from carpets and hard floors thanks to its dual water tank system: one to diffuse clean water and the other to hold 700ml dirty water. The Neakasa PowerScrub II includes a unique roller brush that grabs pet hair and fine dust from the baseboards. Priced at $399.99, the Neakasa PowerScrub II cordless wet and dry vacuum cleaner is now available to order on Neakasa.com.
The Neakasa P1 and P2 Pro Pet Grooming Kits includes vacuum clips and groom pets in one easy to use unit. The all-in-one professional grooming kit is equipped with five grooming tools for cats and dogs. The product addresses grooming problems by eliminating messy pet hair, excessive noise and cumbersome grooming tools. The advanced technology used in the P1 and P2 Pro helps pet owners brush and vacuum dirt away, save money, easily remove undercoat, reduce matting and hotspots for a healthier coat and happier pet. The Neakasa P1 Pro's MSRP is $159.99 and P2 Pro MSRP is $199.99 both available on Amazon and on Neakasa.com.
About Neakasa
Founded in August 2017, Neakasa (FKA Neabot) is a global brand of smart home cleaning appliances. As a market-leading innovator, Neakasa offers a wide range of products, including smart floor cleaning products and smart pet cleaning products.
The company is headquartered in Shenzhen China with branch offices in Los Angeles and Tokyo. Coming from a number of the world's most respected brands like Microsoft, Honeywell, Huawei, Motorola, Foxconn and more, the Neakasa team fuses innovative technology and fashion into every piece of creation that empowers us to move forward all along.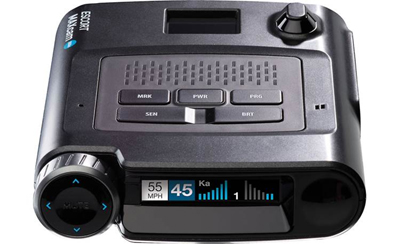 Escort's MAXcam 360c radar detector/dash cam combines two futuristic technologies in one convenient package. One is a long-range radar detector which works with your connected vehicle to provide real-time updates without the hassle of taking out your phone. The other is a 1440p-resolution camera in case you're involved in an accident or other type of incident. Along with these two features, it also displays where the threats are coming from with eye-catching arrows, ensuring you're always on top of the situation as you travel.
Escort outfitted the MAXcam 360c with a 1440p dash camera with Sony STARVIS image sensors for outstanding image clarity. It offers a 143º field of view to capture all the action nearby, along with enhanced night vision to let you see better in the dark. You can program the camera to record in continuous loops of 1-, 3-, or 5-minute lengths, and it features a Parking Mode to automatically record if something hits your parked car. It'll even let you add date, time, and location info to the videos, and you can capture the audio with the 360c's microphone. A built-in G-sensor locks the most recent video footage in case you're in an accident. Escort includes a 16GB microSD card with the detector, and it's compatible with cards up to 64GB. An included mini-USB cable lets you transfer video content to your computer.
Escort's free Drive Smarter app lets you view a gallery timeline of your dash cam videos, set up advanced safety and security features, receive shared community alerts, and easily manage your device settings. You can view, download, and share your dash cam videos while they're stored safely in the cloud. It also offers updates for road conditions and potential hazards along your route. You can even set up a "Mayday Alert" that automatically sends an email and/or text message to an assigned emergency contact if you're involved in an accident. The app also combines your GPS location information with real-time reports from other app users to keep you abreast of potential threats in your vicinity. You can also use the app to report your own sightings of law enforcement or potential travel hazards, so they're instantly available to other app users.
The Escort MAXcam 360c's built-in dual-band Wi-Fi compatibility lets it connect with your car's Wi-Fi signal . You can take advantage of real-time info like updated speed trap alerts and false alert zones, without accessing the apps on your phone or depending on a Bluetooth connection the radar detector takes care of it automatically. All you have to do is pair the Escort Drive Smarter on your phone with your vehicle's Wi-Fi signal and the detector once and the detector will automatically remember to activate the app every time you get into your car with your phone. The built-in Wi-Fi also allows the detector to download firmware updates automatically no need to download them from the web and transfer them to the detector.
The Escort MAXcam 360c shields you against X-, K-, and Ka-band radar signals, plus multiple laser threats. Digital signal processing lets this detector sniff out potential issues quickly. Once a signal is found, the arrows on the detector's display will light up so you can know immediately where you can find its source. Escort's advanced sensors now look for the signature of each signal the MAXcam 360c encounters, to weed out false alerts and to get the information to you more quickly. It also features Escort's Traffic Signal Rejection and In-Vehicle Technology filters to keep false alerts triggered by roadside monitors and collision warning systems from nearby cars to a minimum.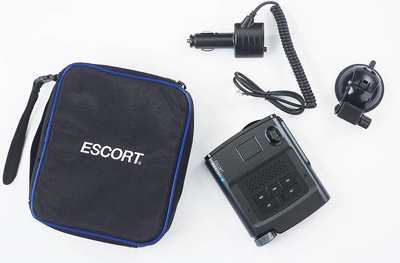 The MAXcam adds sleek looks to its advanced performance. The dash camera sits at the end of the device, next to the radar antenna array. The full-color OLED display is customizable and easy to read. The easy-to-recognize icons and graphics really stand out on the detector's screen, allowing you to see the functionality of the detector and dash cam at the same time. You'll also get voice alerts in English or Spanish so you can make timely decisions while keeping your eyes on the road. A rotary dial around the arrows allows for quick adjustments to the 360c's volume.
The MAXcam 360ccomes with a preloaded database of safety, red-light, and radar camera locations across North America, allowing the detector to warn you when you get near. You get a free 90-day subscription with your 360c purchase, and you'll need a subscription to update the 360c's database update subscriptions are available through Escort's website.
In addition to the 16GB SD card, Escort includes a travel case, an EZ Mag windshield mount, and a 12-volt SmartCord in this package. The SmartCord features smart and coiled sections and allows you to see alerts when the detector's in fully dark mode, or to mute the detector without touching it.
Product highlights:
Radar/Laser detector and QHD dash camera
Wi-Fi, Bluetooth, GPS protection, and preloaded database of red-light and radar cameras
EZ Mag windshield mount
Also includes 16GB microSD card, padded case, micro-USB cable and straight/coiled SmartCord cord with mute button and alert LED
Mini-USB input
Color OLED graphic display
Headphone jack
What's in the box:
Escort MAXcam 360c owner's manual
Radar detector/dash cam
16 GB microSD card (inserted)
EZ Mag Mount (w/2.5″ suction cup)
SmartCord USB with USB Type A port and 28″ cable (RJ11 plug)
40″ USB cable (Type A USB on one end and Mini-B USB on other end)
Soft zippered carry case
Quick Start Guide
Warranty Card
Support card
Bob Mini Dishwasher -Daan Tech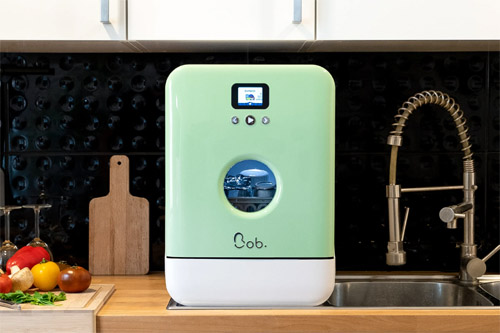 Bob is a small and easy to move dishwasher that comes with a bag in order to transport it. Once connected to the electricity and the discharge pipe, Bob is ready to be used. Born thanks to a Parisian start-up and it is no coincidence: firstly, because of the great attention France pays to the start-ups world. Second reason is easy to guess and is linked to the small size of living spaces in the French capital, where students and young workers often live in a handful of square meters. Mini apartments where a traditional built-in dishwasher would struggle to find its place. And here comes Bob, which is a little bulkier than a microwave oven and can be placed on a shelf, on a table, or even moved around and started up when needed.   
With its rounded lines, a wide choice of color options, Bob fully embodies the modern-day ideal of a smart appliance in terms of aesthetics.   Installing the dishwasher is quite simple, also thanks to a PDF instruction manual which is accessed through a QR code. Above all, this reminds us of that of many other connected devices we have experienced in recent years. Even though it does not have its own app, Bob has a series of options that can be directly customized from the site, and once connected to the electricity the dishwasher connects to the smartphone first, then to the home WI-F network. The digital interface is refined and functional, with well-organized flows on a color LCD screen on the dishwasher front panel and perhaps it is not the most successful but certainly the most surprising characteristic of this small appliance, with precise flows that really simplify and improve the user's experience. Once the preliminary operations have been completed, the internal tray has been assembled and the soap cartridge inserted the Bob cassette, which, once used up, can be ordered with a click directly from the dishwasher panel, or replaced with simple dish soap the device can be used. And here the options multiply.   

Bob's strength is not its size, rather its versatility due to the design choices. Apart from the obvious fact that it is a connected appliance but what is not connected these days, you might ask the strength of its design lies in its ability to adapt to different situations and environments, and even to switch from one to another, thanks to its weight of around ten kilos and two handles that make its transport easier.   
It can be the dishwasher in a shared student flat, the dishwasher in a young professional's house, but it could be placed in a study as well, it could be in the college cupboard and only be taken out when needed, or you could take it with you to a holiday home or a camper. You can hook it up to an anti-theft cable if you use it in a shared environment. It can be used wherever there is electricity, even on a campsite in a "nomadic" mode, recycling a wonderful French word found in the official guide. Bob is designed to be connected to the home water supply network, but it has an integrated tank capable of holding enough water for one wash and of refilling manually too. The same goes for the drain, which can be connected to the mains or to freely flow into a sink or, why not, a jerrycan. There are a couple of slight errors in the product's packaging: the wastewater discharge is right next to the electricity connection, a position that could be reconsidered to ensure greater safety; furthermore, the quality of the discharge pipe is not up to the standard of the rest of the product, but it can be obviously replaced quickly and with a minimal expense. These are all details that could be reviewed and improved for a possible Bob2.   
 
Once the dishwasher has been installed and connected up to water, electricity and Internet all you have to do is fill it up, choose an option and run it. Bob has four standard cycles, including an ecological one and a fast one, another dedicated to glasses only and the possibility of saving as many personalized ones. Otherwise, the mini-dishwasher behaves just as you would expect: its mini-basket is a scale reproduction of what you would find in a usual dishwasher, on a single level. It is suitable, without advancing too far, for the needs of one or two people: you can put a few plates, a couple of glasses and some cutlery in it, or you can rearrange the interior space for special needs thanks to the tray modular elements – for instance, if you need to wash a lot of glasses after an aperitif with friends. This extremely classic approach leads us to wonder whether, in the next few years, we might not see an optimization of small dish washing spaces, perhaps with new technologies, rather a simple miniaturization of the dishwashers we already know.
Useful and important for today is the optional and paid ultraviolet lamp to disinfect everyday devices and objects. In this way, Bob is transformed from a dishwasher into a sanitizer. Certainly, putting keys and other everyday objects in a place where you would normally wash dishes seems strange, and psychologically it probably will not give many people the impression of being 'clean'. But it is a good idea and this optional function underlines Bob's best quality, its flexibility.   
Ready to make your own Cocktails like professional? Now you can with the new Bartesian Cocktail Maker.
Similar to the Coffeemakers, this gadget offers liquor-based drinks by popping in pre-mixed pods such as margaritas, old fashioneds, and mules. Just add your favorite spirit to a pod, press Start, and add ice.
Using pods from Bartesian, it works on the same principal and allows up to five different liquors to be connected. A cool fact is that actual bottles can be used instead of transferring the liquid into machine specific bottles. You can choose how strong you want your drink to be. Bartesian measures the amount of liquor, mixes the drink and then dispenses it into the glass. The process takes about 30 seconds for each drink.
Bartesian is expected to cost $349.99 when it hits the market in a few months. A pack of six pods will cost about $15.
https://bartesian.com/
Alen BreatheSmart 45i True HEPA Air Purifier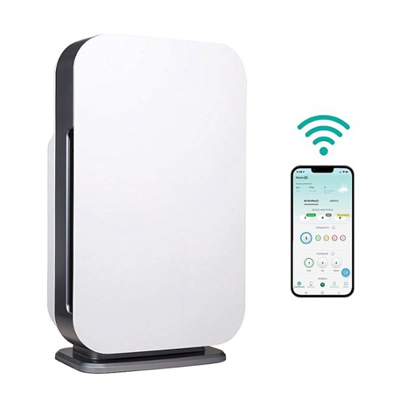 The BreatheSmart 45i True HEPA Air Purifier is one of Alen's best sellers and is designed for medium to large-sized rooms, including bedrooms and common areas. It has a coverage area of up to 800 square feet and will clean the air in the room where it is located every 30 minutes on its highest setting. This air purifier is a quiet machine that generates soothing 'pink noise' on all four-speed settings.
The BreatheSmart 45i is energy efficient and is Energy Star certified. The air purifier's advanced particle sensor technology continually monitors air quality. It has five color-coded LED rings to let you know how clean or dirty the air is in your home. The machine will automatically adjust its speed based on the purification needs.
The BreatheSmart 45i uses true medical-grade HEPA filters, which remove 99.99 percent of the air's irritants and contaminants, including dust, pet dander, pollen, and other common allergens, as well as the smallest virus droplets. Alen's air purifier filters are also equipped with proprietary antibacterial treatment to kill bacteria and mold. There are four filter options to choose from. Each comes with a HEPA filter and pre-filter.
For best results, it's recommended that you use only Alen-branded filters with the BreatheSmart 45i. If you use the air purifier correctly and run it 24 hours a day, you will need to replace the filters every nine to 12 months.
The BreatheSmart 45i comes with an optional ionizer. Ionizers work well with HEPA filters and are designed to clump together the smallest particles that HEPA filters aren't able to trap by themselves. Ionizers do create ozone which can be unhealthy to breathe and damage the lungs even in small quantities. Alen says the BreatheSmart 45i does not let off any ozone when the ionizer is disengaged and less than 0.001 PPM (parts per million) when it is engaged. The EPA's public health standard (https://www.epa.gov/indoor-air-quality-iaq/ozone-generators-are-sold-air-cleaners)  for ozone inhalation is 0.08 PPM over eight hours.
Alen BreatheSmart 45i comes in various color options to choose from: Graphite, Brushed Stainless Steel, Espresso, Oak, and White.
How to set it up:
Carefully lift the air purifier, there is a handle on the back so that you can move it. The next thing you need to is open the front panel. You just need to pull the panel. It has a magnetic touch that makes it easy to open and change the filter. Open the front panel and take out the air filter to remove the plastic cover. The whole process is simple and hassle-free. It's best to place the air purifier near a power outlet .After plugging in, push on and press the auto. And that's it. No hassle! Also, the manual has everything covered. So, you don't have to worry about it.
What's in the Box
BreatheSmart 45i air purifying unit

True HEPA H3 filter

User manual
About  Alen:
Alen is a company based in Austin, Texas, that's been manufacturing air purifiers and filters since 2005. It considers itself an innovator in the air purifier industry. Its mission is to improve its customers' quality of life by making the best air purification products possible. The company prides itself on being responsive to its customers by promptly addressing online questions and complaints and providing solutions to any problems that may arise with its products.
Alen also believes in giving back to its community. It has raised money for local animal shelters and donated meals to those in need. And during the COVID pandemic, Alen has donated air purifiers to hospitals and schools and helped get businesses and state governments safely back to work.
Yukai Engineering Debuted 'AMAGAMI HAM HAM,' Stuffed Animal Robot that Nibbles on Your Finger, at CES Unveiled and CES 2022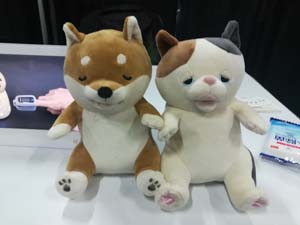 At CES® Unveiled (Jan. 3), Yukai Engineering, a Tokyo-based robotics startup,  unveiled "AMAGAMI HAM HAM," a stuffed animal robot that nibbles on your finger. The robot adopts a character from Japan's wildly popular "Nemu Nemu" stuffed animal series produced by LIV HEART CORPORATION. Designed to recreate the somewhat pleasing sensation that people get when human babies and pet animals softly bite on fingers, "AMAGAMI HAM HAM" is one of the latest works of Yukai Engineering, which is known for "creating robots that bring joy to life." Yukai and LIV HEART plan to collaboratively launch a crowdfunding campaign for the robot in the spring of 2022. 
Motorola Tech3 Smart True Wireless Earbuds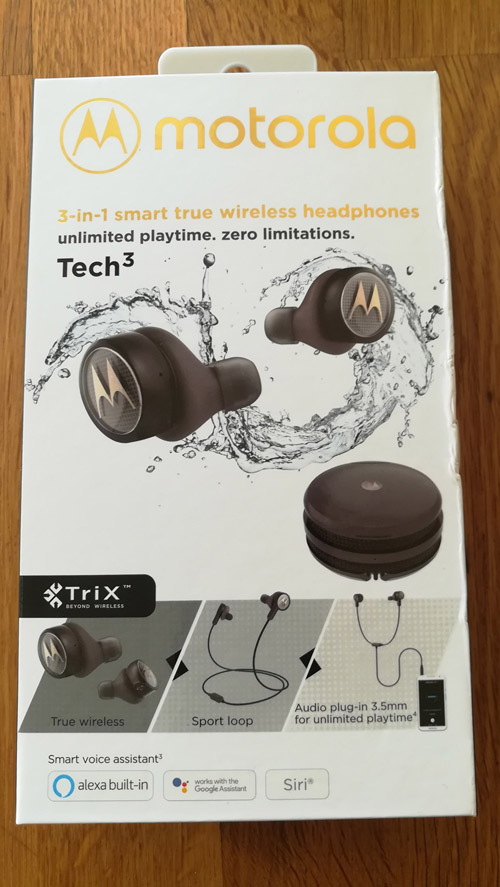 S.P. – Awesome earbuds! great sound quality whether listening wirelessly or directly plugging them in and a great battery life!
Motorola's innovative Tech3 earbuds combine three styles in one headphone: true wireless, sport loop, and wired via a 3.5mm stereo plug. They offer easy operation with one-step pairing and tangle-free cord storage. Coupled with the Hubble for VerveLife app, you can enhance your true wireless audio experience, with various ground-breaking features that include everything from voice assistance support to helping you find your lost earbuds. These revolutionary headphones offer unlimited playtime solutions for diverse lifestyles, with full control at your fingertips and no limitations. They come in 3 colors to choose from black, white and mocha.
Specs:
Earbuds 7 hours playtime with 11 hours charging case

Turbo charge 3 hrs in 15 mins

Microphone for hands-free calls

Waterproof IPX5

Cable management case

Unlimited playtime with audio plug in

Bluetooth® 5.0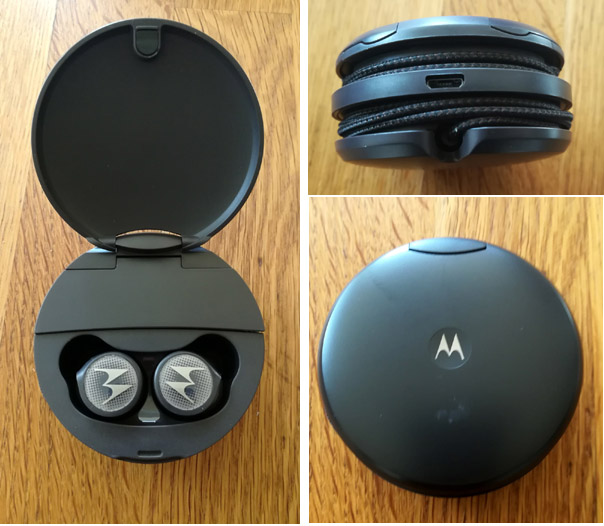 Keep AR and VR Lenses Clean and Fog-Free With New LensPen AR/VR Cleaning Kit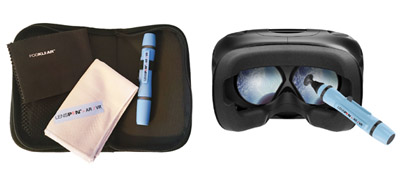 S.P. – Great kit to have all the cleaning tools in one place.
This new kit includes everything they will need to keep their AR and VR lenses clean and fog-free: a LensPen AR/VR, FogKlear and MicroKlear, all packaged in a handy zipper pouch.
LensPen AR/VR safely removes fingerprints and grease from goggles, headsets and smart glasses. LensPen cleans in two safe, easy steps. First, use the retractable natural brush to remove any loose dust. Next, twist the cap off the other end and use the molecular carbon technology in the cleaning tip to remove any remaining grease or fingerprints; the same process photographers and gamers have trusted for more than 25 years. LensPen AR/VR will provide hundreds of cleanings.
Use FogKlear – a dry anti-fog cloth – to keep lenses, goggles and other optics fog-free. FogKlear will provide more than 200 anti-fog applications. MicroKlear is a microfiber cloth for cleaning headset housings.
LensPen products can be used to clean smart glasses and AR/VR goggles, including Microsoft HoloLens, Oculus Quest and PlayStation 4 VR system and any other gamer headsets or optics. They are environmentally friendly, have no expiration date.
To order the LensPen VR Kit, go to https://lenspen.com/product/lenspen-vr-kit/. MSRP $19.95. Watch LensPen clean at https://www.youtube.com/watch?v=7DVQYG2NAW4
S.P. – One of the best Soda Machines by far, easy to handle and movable, no outlet needed to operate.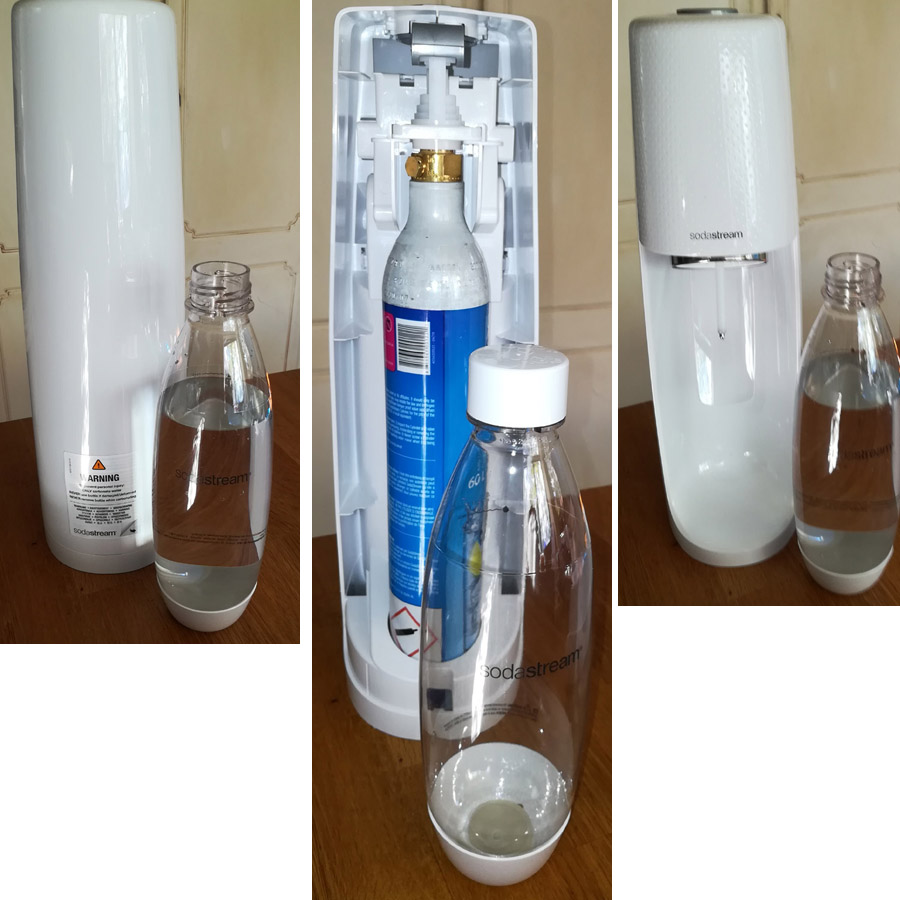 The SodaStream Fizzi allows you to make your own sparkling water at home, in your office or on the road. It doesn't require an outlet for it to work. You can start with ordinary tap water (preferred filtered), or bottled water, and add any flavor you like. It works best with cold water and it is also recommended. With the Fizzi, you'll be able to enjoy a great sparkling drink with a fraction of the cost of store-bought brands, and without the hassle of shopping and carrying heavy bottles home.
Specs & Features:
SodaStream has been making products like this for some time, and the Fizzi is one of their most popular one. It's a small kitchen appliance with a tall, slim, space-saving body at only about 6x8x18 inches, so you can store it easily in your kitchen or office without it getting in your way. Or just take it with you on a road trip or vacation.
The Starter Kit includes:

The Fizzi Sparkling Water Maker

A sturdy 1-liter Reusable BPA-Free Plastic Bottle with lid

A reusable CO2 cylinder good for making 9 liters of water. You can also optionally purchase a larger, refillable cylinder good for 60 liters (package comes with a mail-in rebate coupon toward this additional purchase)

Instruction booklet
It can be used with a variety of different bottle sizes, from party-sized to handy .5 liter. If you're not sure about compatibility, SodaStream's website has a chart on what bottles will work.
The Fizzi's handsome design is surprisingly lightweight at 6 pounds and comes in black and white. It requires no electricity or batteries, just a pressurized CO2 cylinder, so it will carbonate your cold drink on-demand in just a few seconds.
It features SodaStrean's Snap-lock design so that you can quickly and easily attach bottles with an air-tight seal. Then all you do is hit the carbonation button, usually three-to-seven times depending on how much carbonation you want. It also includes a silencer valve to keep any pressure noises down to a gentle puffing.
The SodaStream Fizzi does exactly what it's supposed to do, which is make good sparkling water easily and quickly. You can add syrups, fruit juices, or other flavors to it if you want. Keeping your drinks healthy is also a huge improvement over sugary store brands.
Mobile Edge CORE Power AC USB - 27,000mAh Portable Laptop Charger
Is a must-have accessory that will make charging all your devices  so better.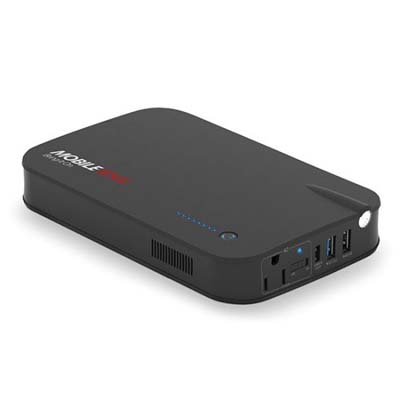 S.P. – I love this device it comes in handy especially at the airport when no outlets are available.
The CORE Power AC USB 27,000mAh Laptop Charger from Mobile Edge recharges USB and AC-equipped devices by offering a TSA-compliant, 27,000mAh capacity battery, which houses an AC outlet and a trio of USB ports. The CORE Power's AC outlet delivers up to 85W to power up laptops, phones, tablets, and other equipment.
The CORE Power is armed with one USB Type-C port, which provides up to 3A of current and features a reversible design that lets you connect your USB Type-C cable on the first try. This battery pack also features two USB Type-A ports, one of which supports Quick Charge 3.0 to rapidly charge compatible devices, while the other port provides 2.4A of power. Moreover, the CORE Power is outfitted with an LED flashlight and a compact design.
Key Features
Charges AC and Three USB Devices

27,000mAh Capacity

85W Maximum AC Output

1.5 to 3A Power Outputs

Internal 27,000mAh capacity battery charges power-hungry devices multiple times
With three USB ports, the CORE Power works with most USB-powered devices: micro-USB, Lightning, USB Type-C, and Qualcomm Quick Charge 3.0 technology

USB Type-C port delivers 5V / 3A of power to quickly charge devices

Recharging the CORE Power can be done in about 4 hours using the supplied AC wall charger connected to the DC input port

AC wall outlet provides up to 85W of power for charging laptops, lights, fans, and other equipment

On/Off switch and LED power indicator light allow you to turn off the AC output without needing to unplug the device

Front-facing LED light lets you see in dark or low-light environments in the event of a power outage or emergency

IntelliQ Technology uses Smart Tips to detect each device's power needs and adjusts the power flow automatically for the fast and efficient charging
Colgate MAGIK Toothbrush Teaches Kids A New Healthy Way To Brush Their Teeth.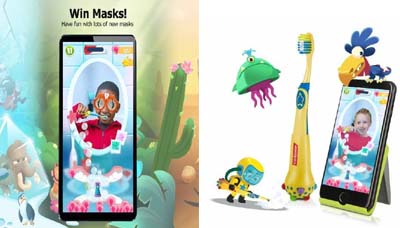 S.P. – Kids will love this!
The Colgate MAGIK Toothbrush turns brushing into a game using an app with augmented reality. It's really cool! Kids can travel through an AR universe, defeat cavity monsters as they brush, unlock new worlds and win MAGIK Brushing Masks all while developing healthy brushing habits through the gamification.
The app is free but you need the special MAGIK toothbrush for it to work properly. The toothbrush also comes with a stand for your device so you can set it on the counter while you are brushing and have your hands free.
You can set up more than one profile on the app so that more than one kid can use it.
Another cool thing is that it offers feedback in the parental dashboard so that you can help your kids improve their brushing technique.The Magik Check Up provides a personalized mouth map to show where each child has brushed and where they missed.
Colgate MAGIK was designed for kids ages 5+ and it's easy to set up to start the day with an exciting toothbrushing experience.
The MAGIK kit is sold on Shop.Colgate.com or Amazon.com and retails for $14.99. It includes a manual toothbrush, a smart toothbrush connector and a phone holder and the MAGIK app can be downloaded for free on all iOS and Android devices. For every kit purchased directly from Shop.Colgate.com, Colgate will donate a manual toothbrush to their 'Bright Smiles, Bright Futures' cause, which helps children around the world have access to quality dental care with a goal to give every child a healthy smile.
Sirius, the World's Smallest Foldable 65W Charger with GaN Tech by Eggtronic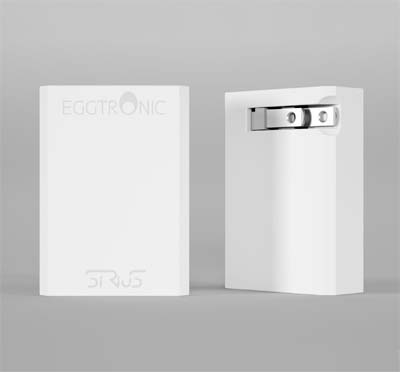 S.P. – Sleek pocketable light charger.
Boasting a sleek design and twice the efficiency of the standard chargers, it's the perfect one-size-fits-all charger for modern devices. Its smart-detection technology automatically reads the voltage and current of connected devices to ensure that each one charges safely and quickly.
The Sirius 65W Universal Charger Power Adapter, on the other hand, is small enough to tuck into any purse and powerful enough to keep all the devices charged all day.
The key to the charger's efficiency is its EcoVoltas technology, which is like nothing else on the market. It uses an exclusive design that runs at cooler temperatures to help devices last longer, as well as being responsible for packing such high-speed charging into such a compact package.
Specifications:
Input: 100–240VAC, 50-60Hz; 1.5A
Output: USB-C PD 3.0 5V/3A, 9V/3A, 12V/2A, 20V/3.25A, max 65W
Finishing: White Glossy or Black Soft Touch
Cable: USB-C to USB-C (6ft)
75g Moso Refrigerator Bag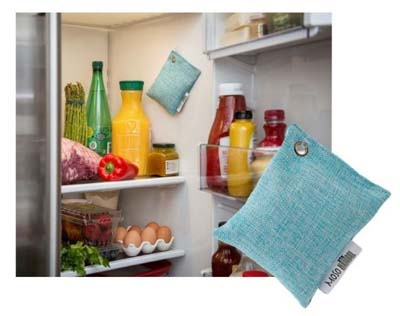 S.P.  – Specially helpful during this time!
Moso Bags are a very simple and effective solution for a smelly refrigerator, providing odorless and chemical-free results within hours of placement! These bags might be small but they are mighty: All-natural bamboo charcoal contains millions of tiny pores that can attract and absorb odors, bacteria, chemicals and moisture from the fridge like a magnetic sponge (including spoiled produce or foods with strong scents like fish). They also keep your produce fresh by absorbing ethylene gas, a naturally occurring gas from fruits and vegetables that causes them to ripen quickly.Moso Bags are also reusable for up to 2 years, ensuring the fridge is fresh year-round.
All bags are fragrance-free, natural and non-toxic. For space saving convenience, a suction cup is also included to hang the bag out of the way of groceries. MSRP $8.95 and available online at  mosonatural.comhttp://mosonatural.com
SOMAINNOFIT the perfect Smart Bra fitting for at Home.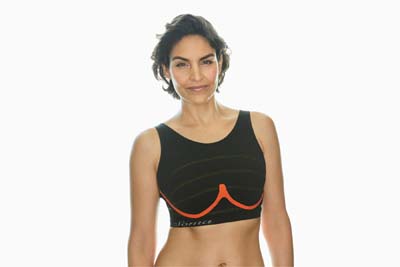 By S.P. – Very helpful after picking the wrong sizes before!
For all the Woman out there finally the perfect Bra fitting tool has arrived with SOMAINNOFIT? It's this new and revolutionary devise from Soma to get a precise bra fitting at home. In fact, the SOMAINNOFIT bra provides a more accurate fitting than by many professionals. SOMAINNOFIT is a battery-operated bra with a coordinating free app; the combination measures you for a perfectly fitting bra without even needing to get naked! With exclusive new measuring technology, SOMAINNOFIT provides an accurate measurement and the perfect bra size right from your smartphone.
The SOMAINNOFIT bra is like a sports bra made of a super stretchy fabric; one size fits all. It comes in a box with a instructions. The bra is pulled on over your own bra, so no need to strip down. It's recommended to use your best unpadded bra. The bra has metallic threads creating several horizontal stripes across the front. At the back of the bra is a small and extremely slim battery pack; press the power button on the battery prior to using the app. The battery will last around five years with normal use; this is a product that is designed to be used more than once.
The SOMAINNOFIT app is free and available at both the Apple and Google app stores; it is necessary to download the app prior to using the bra. The app is easy to use. When you first open it, you will be invited to register with your name and email address. You then have the option to share your height and weight and then share two bra brands you wear and the size in those bras. Once you have filled out this information, the app guides you through putting on and using the bra with clear photos and language. It even provides an informative video. Once you've gone through the steps of putting and turning on the bra, click measure and stand still for a few seconds while you are measured and that's it very simple.
Once the measuring is complete, you will receive your bra size as well as the bras Soma recommends for your specific size and shape. They have a great selection of various bras for every ones style and taste.
The SOMAINNOFIT is made out of 89% nylon, 9% spandex, 2% polypropylene and not to be washed. Do not tumble dry, dry clean and do not iron.
For more information visit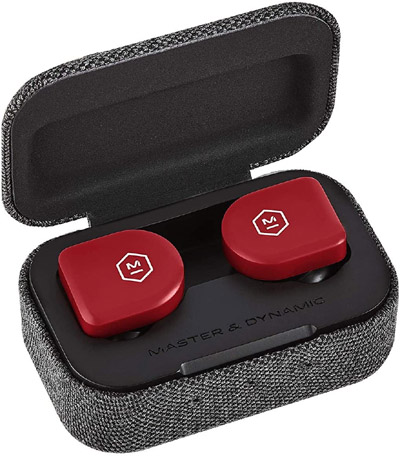 S.P – Sleek beautiful design, great for any activity.
The D-shaped MW07 Go are outfitted with a TR90 composite often used in athletic eyewear. This material has two benefits: cost reduction and increased durability. You can choose between four colors: Electric Blue, Fire Red, Jet Black, and Stone Grey, all of which include a compact charging case and USB-C cable.
The earbuds are remarkably comfortable due to the angled nozzles, featherweight build, and proprietary silicone ear and wing tips. The comb-like Fit Wings are superior to most other wing tips: they allow for a secure fit that works with the shape of your ear, rather than pressing into or against it. Master & Dynamic provides four additional pairs of ear tips ranging from extra small to extra large.
A multifunction button sits atop the edge of the right earbud and enables virtual assistant access, music playback, and call controls. On the left earbud is an adorably small volume rocker, which is easy to use despite its small scale.
The rectangular charging case has blunted edges and a magnetic closing mechanism. Three LED indicators line the front and glow for a few seconds after the lid is shut. If all three alight green, the battery is at full capacity. Once it starts depleting, the LEDs will glow orange or red to indicate medium and low battery, respectively.
Specs:
Quick pairing technology and a 100ft/30m connectivity range allow for listening on-the-go.

WATER RESISTANT SPORT EARBUDS: Crafted with ultra-durable TR90 composite these headphones feature an IPX6 water resistance rating.

CUSTOMIZABLE FIT IN EAR: With silicone Fit Wings in 3 sizes and ear tips in 5 sizes, these headphones are able to fit any ear comfortably.

BUILT TO LAST: These are our most durable earphones yet, perfect for those on the move.

LONG BATTERY LIFE: 10 hours of battery life with an additional 12 hours of battery life for 22 hours of total listening time.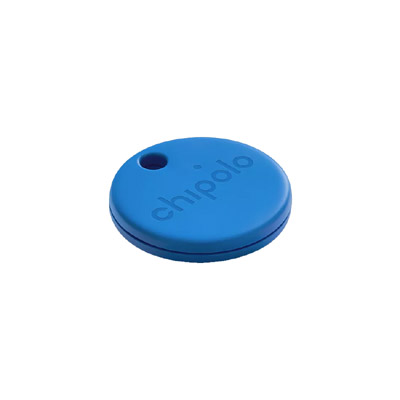 S.P. – Very simple cute little device which works well
Chipolo One is a small yet surprisingly vocal device which connects to your phone to help you find your keys, purse, cat or whatever else you choose to attach it to.
The Chipolo One is a plastic disc a little larger than a standard round communion wafer, approximately 38mm in diameter and just over 6mm thick. It is lightweight and doesn't feel at all 'premium' or ostentatious: the design and six colour options are basic.
Its USP is that it has an easily replaceable battery a standard coin lithium which lasts up to two years.
You do need to create an account and install an app to use the device. Thankfully, the app is lightweight and very easy to set up. In the app, you can list plenty of Chipolo devices and tag them as 'keys', 'wallet', 'dog', 'helmet', etc. You also get a map view of all your device locations, based on Google Maps.
Overall, the app is clean, simple and free of external ads. However, we would recommend immediately going to settings to disable analytics, promotions and location history collection.
To find your connected item, you simply select the missing item from your list in the app and tap 'Ring to find'. The Chipolo One starts ringing within a second or so; the ringing can be switched off in the app. If you have Bluetooth always switched on, this works very reliably.
The Chipolo One can also be used in reverse: the device can be double-clicked to make your phone 'ring'. To use this function, you must have the Chipolo app always running.
FEATURES:
RING CHIPOLO – Ring Chipolo from the Chipolo app on your phone.

FIND YOUR PHONE – Ring your phone by double clicking the Chipolo.

LAST KNOWN LOCATION – Track your item to where you last had it via the Chipolo app.

OUT OF RANGE ALERTS – Receive a notification from the app when you leave your item behind.

SHARING – You can share your Chipolo with your loved ones to help each other find your misplaced items.

COMMUNITY SEARCH – Mark your item as lost in the app. When any Chipolo user comes near your item, you will receive an updated location.

VOICE CONTROL – Chipolo works with Google Assistant, Amazon Alexa and Siri.

CHANGE RINGTONE – You can change the ringtone of your Chipolo.

WIDGET – You can ring Chipolo from your phone's home screen, without opening the app.

SELFIE – Use Chipolo as a wireless shutter of your phone's camera.
SIZE:
1,49 in x 0,25 in (37,9 mm x 6,4 mm)
RANGE:
200 ft – line of sight (60 m)
WATER RESISTANCE:
splash proof (IPX5 Standard)
BATTERY:
Standard replaceable battery – CR 2032. Lasts up to 2 years.
COMPATIBILITY:
Compatible with iOS 11 and later, and devices running Android 5 and later.
PACKAGING:
Each Chipolo is packed individually.
Ohsnap Is 'the Phone Grip That Doesn't Suck'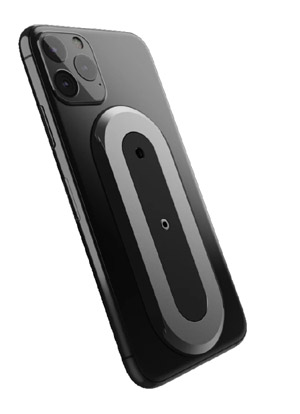 By S.P. – Great Flexibility
The ultra-thin, magnetic, one-finger grip is a non-invasive, premium phone grip that makes it simple and easy to use your phone, no matter the circumstance.
Ohsnap is a low-profile grip device for your smartphone. It can attach to objects magnetically, can be removed quickly for wireless charging, and its main feature is a pop-out finger loop.
Ohsnap appears to be very low profile grip, unlike many of the phone grip-type products available today only 3mm thick compared to 7mm for Pop Socket, which means it is much less likely to get caught on your pans when trying to insert it into your pocket. It's pop-out finger loop deploys with a touch, and appears to be easy to use, swivels 360 degrees, and can also act as a stand for your phone. Ohsnap is quickly removable to facilitate wireless charging, and it is magnetic, so you can stick it to metallic objects. Finally, is it also available in four anodized aluminum colors: Black, Gold, Space Gray, and Rose Gold.
While Ohsnap is compatible with many phone cases, it will not effectively attach to a case that is very flimsy, squishy/bendy or has extreme textures, such as fabric or large ridges/bumps.
Included in the package are the Ohsnap phone grip, and metal plate that can be stuck to a non-metal surface.
It definitely comes across as an excellent device when it comes to quality. Certainly a creative option that could serve to fix issues that folks have with displaying their phone. I would find the ring holder to be particularly helpful, or even just being able to stand it up.
For more information visit www.ohsnap.com
LucidSound LS10X Advanced Gaming Wireless Headset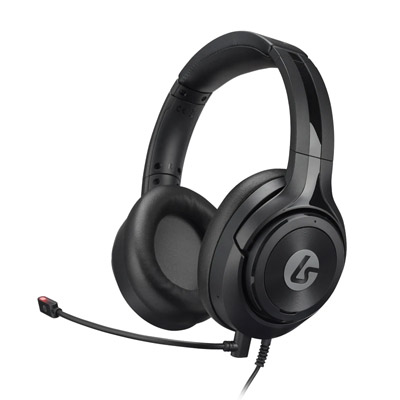 Let's take a look at the headset for the first time noticeable is one thing, the cushioning. The ear cushions on this peripheral are a super-soft leatherette material. They are comfortable to wear and don't cause any strain on your head or ears. The main headband is made up of plastic but has a cushion on the inner top of the headset to hold it in place. It is also adjustable to fit any head size. As opposed to some other headsets this one stayed comfortable even for long gaming sessions.
Unlike most headsets, the LS10X comes with two microphones. One is built directly into the left ear-cup and the other is a detachable microphone with red LED light to show whether you are muted or talking. When using the mic in-game people had no problem hearing me, which is a good sign of quality. There was no static or any other background noise from the microphone.
Equipped with state-of-the-art neodymium magnets, you will hear very clear highs along with deep bass. The speakers are a standard 50mm size and attach directly to your PC, mobile device, or Xbox controller with a 1.2-meter long cord with 3.5mm jack.
Even so some minor issues were found the Audio is quieter than anticipated for certain situations but overall a great Headset.
Specs:
Cost: $59.99 USD
Speaker Size: 50mm

Sound Space: Stereo Sound – Surround Sound on Xbox Using Dolby Atmos or Windows Sonic

Frequency Response: 20 – 20,000 Hz

Connectivity:

Console Game Audio: 3.5mm

Console Chat: 3.5mm

Mobile: 3.5mm

Weight: 256g

Ear Coupling: Over-ear

Microphone: Omni-directional, removable LED mute indicator + built-in mic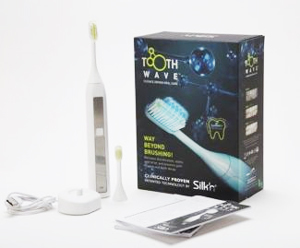 The Silk'n ToothWave is the next innovation in oral health products. So much more than your regular manual or electric toothbrush, the ToothWave takes things to the next level with its patented DentalRF™ technology. With the ability to deliver professional quality results at home, the ToothWave can look after your dental health and brighten your teeth, all by simply brushing!
The Silk'n ToothWave delivers unparalleled results for your teeth and gums thanks to its clinically proven DentalRF™ technology. It works by sending radiofrequency waves that consist of charged molecules directly to the surface of each tooth. This reaches underneath the gumline where regular toothbrushes can't to detach the impurities from the tooth's surface and wash them away. The impurities are then replaced with a strong protective layer that shields the teeth from new impurities looking to attach. This means your teeth are cleaned deep down to help get rid of plaque and calculus (tartar) as well as discolourations and stains that can lead to yellow and dull-looking teeth.
The ToothWave also features innovative brush heads unique to Silk'n. These contain 2 electrodes with a silicone strip in between so that the radiofrequency waves move between the two electrodes to effectively reach the tooth's surface. These brush heads also work to sweep away any loose dirt and impurities and in doing so, thanks to their extra soft bristles, won't damage the enamel surface or cause sensitivity. By working together, the DentalRF™ technology and unique brush heads effectively clean the teeth deep down as well as on the surface for a brighter smile and a healthier mouth.
Patented DentalRF™ technology
Clinically proven

Unique extra-soft brush heads

Designed not to cause sensitivity

Won't damage the enamel

3 vibration speed settings

Waterproof with IP67 rating

Smart internal timer

Auto shut-off timer

Up to 2 weeks of battery life

Safe on braces and dental implants

Innovative brush head design
To use your ToothWave, first wet the bristles then apply a regular amount of your favourite toothpaste. When ready, turn on the device and press the control button to select your treatment mode. There are 3 vibration settings to choose from: low, medium and high. Brush your teeth as normal using small and gentle circular motions over each tooth. Brush your teeth for 2 minutes and every 30 seconds you will feel a slight vibration indicating to move onto another part of your mouth. Please refer to the treatment plan in the user manual for more information. The device will automatically shut off after 2 minutes. Rinse the bristles and then store for next time.
Brush your teeth with the ToothWave twice daily, once in the morning and once in the evening. The ToothWave is suitable for use on metal braces, fillings, facings and all other types of dental implants. Replace the brush head every 3 months or when you feel it is worn out or damaged. Contact your dentist before use if you have severely injured gums or have had oral or gum surgery in the last 2 months. Read the instruction manual before use for full information.
Silk'n ToothWave device
2 extra soft brush heads (small and large)

Charging cradle

USB wall adaptor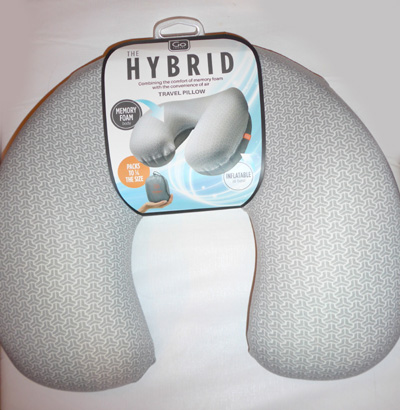 S.P. – Soft, Easy to fold, Makes you fall asleep like a Baby!
Combining the comfort of memory foam with the convenience of air, this handy hybrid pillow's plush memory foam top instantly moulds to your contours and an inflatable base provides a support boost and personalized fit. Rest anywhere, anytime, this super-versatile design makes an ideal lumber support in-flight or in the office and is great too to rest your head in a window seat. Packing to a ¼ of its size, pop it in any bag. A perfect companion for the Hybrid Pillow, the combination is great for long-haul travellers.
• Memory foam top pillow with inflatable base
• For use as a head and neck pillow or as a lumbar support
• Packs down to 1/4 the size for travel (carry pouch included)
Go travel offers a variety of Travel Products from : Anti Tamper Luggage Cover, Heat – Proof Storage Pouch & Safety Map, Mini Flood Light, Mobile Power, Secure Lock, Soft Ear Plugs, Travel Memory Foam Dreamer Neck Pillow just to name a few.
For more information about products visit:
Shimoda Designs has launched their new Women's Shoulder Strap line.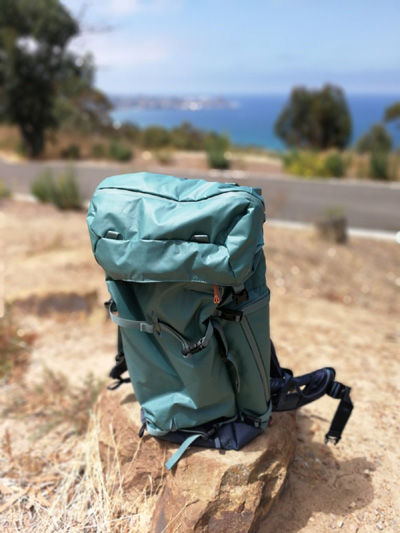 S.P. – Absolutely comfortable easy on the back!
All of Shimoda's backpacks include a shoulder strap system which allows for torso-height adjustment that can be interchanged with optional strap designs to customize an adventure-photographer's backpack fit.
This new series of three shoulder straps is designed specifically for women, constructed around pressure points across the chest and under the arm to provide a secure and comfortable fit.
The Explorer comes in 3 different sizes Explorer 30, 40, 60 as well as a Carry-On Roller and are available in two different colors Blue- Nights and Sea Pine.
I am going to talk about the Explore 60 which is a great bag, with excellent workmanship, materials, design, and especially the fit/comfort and is perfect take on a landscape, wildlife, adventure sport, or any sort of outdoor activity.
The bag has an internal aluminum frame and is combined with an interesting shoulder strap design and adjustable harness, the entire system is incredibly versatile.
Camera gear is stored within the bag inside inserts Shimoda calls Core Units. These modular units come in two sizes 'small and medium' and include adjustable dividers to compartmentalize gear in almost unlimited ways.
The best part about the Core Units is that they work hand-in-hand with the design of the backpack to create an extremely customizable work flow. Depending on how the bag and Core Units are configured, gear is accessed from either the top, side, or back of the bag.
External mounting points and pockets on the Explore 60 are perfectly placed for storing smartphones, water bottles, snacks, and radios. Two wrap-around straps on the front work with a clever pair of notches on the material of the bag to create a modular mounting location for everything from pickaxes and tripods to skis and snowboards.
The flip-top design of the Explore 60 proved greatly beneficial for times when I needed a little more space. In addition to a double-compartment pocket on the top of the bag, an adjustable cinch-style pocket shrinks and expands to fit as little or as much gear as needed to bring.
Inside the back compartment of the Explore 60 is a hidden laptop/tablet pocket as well.
The outside the Explore 60 bag is constructed of a resin-coated nylon material that repels water and snow without any problem. The water-repellent zippers on the bag worked solid as well, letting only the smallest bit of water in, even after opening them multiple times in a downpour.
Overall, the Explore 60 was exactly what it intended to be; the "better" adventure camera bag. It took on the elements without any issues and was one of the most comfortable bags I've ever used.
Specifications
Top, rear, and side access to the interior of the bag

Rear access via the compartment that touches your back; opens book-style, from right to left

Separate top zippered pocket on the top of the bag for accessories, which also has a zippered mesh divider within

A couple accessory pouches on the shoulder straps, as well as a water bottle holder

Large, flat zippered pocket from the top to bottom of the bag on the outside; meant for carrying a snow shovel, water bladder, jacket, laptop, or similar

Two internal sections separated by a (removable) thin fabric divider; you're meant to put your camera equipment in the bottom section by adding a separate "core unit"

Removable external pouch that can fit a full-frame DSLR with a 70-200mm f/2.8 lens for quicker access (including front access)

Dimensions: 11 inches/28 cm deep, 11.4 inches/29 cm wide, 24 inches/61 cm tall

Weight: 3.3 lbs/1.5 kilos, without any of the camera units inside

45 liter capacity that can expand to 60 liters

13-inch laptop sleeve (which really is just 13 inches, and definitely couldn't fit my 15-inch laptop; however, my laptop did fit in the top-to-bottom flat zippered pocket without issue)

Stabilizer straps

Sternum strap

Waist strap
Prices vary by size for more information visit: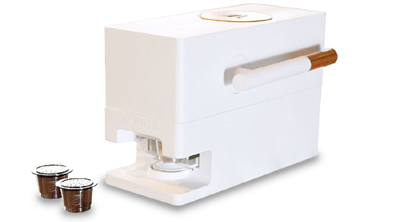 By S.P. – Sleek, Stylish, Compact Design, also easy to take on the road for the perfect coffee.
Coffee enthusiasts will love the way this easy-to-use, attractive device fills a reusable capsule with a consistent volume, density and tamping pressure with zero mess. Just place ground coffee into the top, insert an empty Capsi capsule at the bottom and pull the lever for a perfectly filled capsule.

The Capsulier LITE features an elegantly minimalist design that looks right at home on countertops and next to coffee machines and other appliances. It comes with a Capsi a reusable stainless steel capsule so you can get started right away creating your own capsules with exotic beans and handpicked spices. The Capsi is an environmentally and wallet friendly alternative to single-use capsules and easily rinses clean for reuse.

Capsulier LITE is designed to be Nespresso compatible. Just put a custom blend CAPSI into the Nespresso Lattissima One, for a freshly blend cup of coffee. Capsulier LITE is one-half smaller as Nespresso Lattissima One, and also Capsulite LITE only costs one-fifth less than Nespresso Lattissima One.
What's included:

Removable drip tray

1 Capsi reusable capsule
Specs:
Model: AXB-1070

Material: Plastic

Dimensions: 9.5″ L x 5.5″ W x 8″ H

Weight: 2.5 lbs.

Warranty: 1-year warranty

Made in China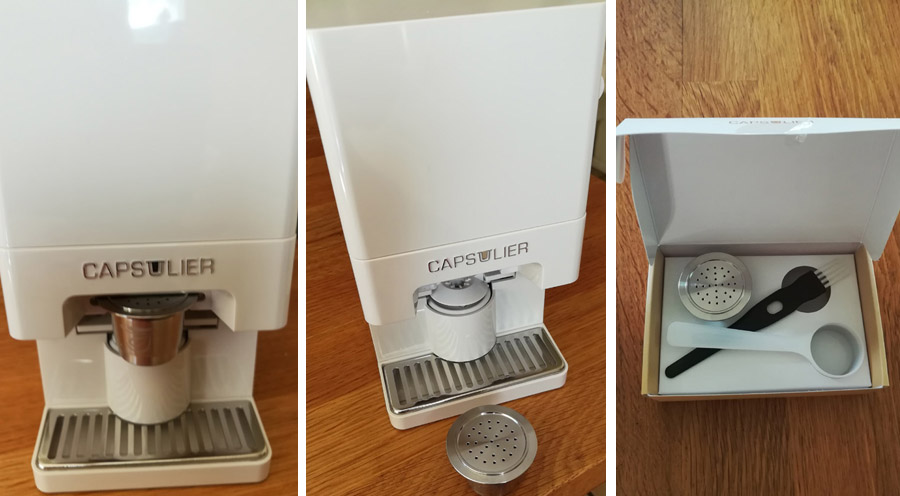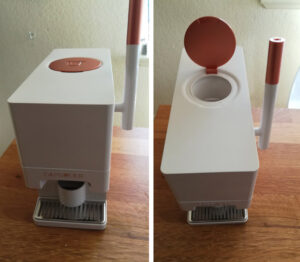 NEXTBASE LAUNCHES SERIES 2 RANGE, INTRODUCING A REVOLUTIONARY NEW GENERATION OF DASH CAM TECHNOLOGY TO THE US
World's Leading Dash Cam Manufacturer to Offer Newest Innovations Across the Revamped Range, Including 'World-First' Features such as Emergency SOS and AutoSync, as well as Amazon Alexa Auto Built-In.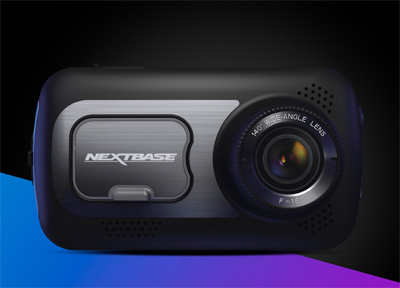 Pioneering Dash Cam manufacturer Nextbase has brought further innovation to the sector with a complete overhaul of its product offering. In the biggest Dash Cam launch ever seen, Nextbase has introduced five new models to motorists to the US motorist.
Nextbase, having sold over 1m units to date, has used its knowledge and experience to revolutionize the sector. Their former range, Series 1 which was available in Europe received widespread critical acclaim and won numerous awards, cementing the manufacturer's position at the top of the sector and giving them over 60% share of the fast-growing sector.
The 'Series 2' Dash Cams focus on video quality. Unparalleled access to the development teams at Ambarella, the leading semi-conductor manufacturer, has allowed Nextbase to create image quality that is better than ever before, irrespective of the time of day or weather conditions.
'Series 2' is comprised of five Dash Cams and three modular, plug-in cameras that can record the rear or vehicle cabin. Ease of use remains a mainstay across the new 122, 222, 322GW, 422GW and 522GW, but each boasts an array of innovative new features. Nextbase has also introduced MyNextbase, a new software package that includes an App (MyNextbase Connect), desktop video player (MyNextbase Player) editing suite and free cloud storage at mynextbase.com to securely store user videos.
Every product is 35% smaller than its predecessor, making the cameras as unobtrusive as possible, whilst still remaining easy to use for the consumer. Every model features Nextbase's new Click&Go PROTM powered mounting system with neodymium magnets, which makes the actual Dash Cam itself cable free, ensuring hassle free use. A sophisticated Intelligent Parking Mode is also now included in every model, helping owners to keep their cars safe even when stationary.
A significant first for the sector, Nextbase has introduced Bluetooth into its cameras, from the mid-range 322GW upwards. The AutoSync feature uses Bluetooth 4.2 and Wi-Fi technology to automatically send video files to the owner's smartphone. Access to the full high-quality file via Wi-Fi allows the owner to zoom in on number plate detail, while files can be edited and shared using the MyNextbase Connect App. A feat of engineering by Nextbase's engineering team, this is the first time that this connectivity has been made available to Dash Cam users, making data transfer to mobile phone seamless. The 322GW and above also feature an IPS touch screen, for clearer image viewing, better user experience and ease of use.
At the top end of the range, Nextbase has broken new ground delivering its first Dash Cam with Alexa built-in. Based on the Alexa Mobile Accessory Kit, the 422GW and 522GW allow motorists to talk directly to their Dash Cam. The new Nextbase skills will soon provide additional features and capabilities on the device. For example, drivers will be able to use voice to control elements of the Dash Cam, with commands such as "protect a recording" if they witness something of interest on the road. Alexa can get directions, play music, place hands-free calls, control smart home devices, and more – all you have to do is ask.
What's more, these high-end models come with potentially lifesaving technology that can alert the emergency services to a vehicle's exact location if a serious collision is detected and the driver is unresponsive. Once an incident is detected, the system will follow a series of failsafe protocols, to ensure there are no false callouts, before ringing the owner's phone. If the driver remains unresponsive, the emergency services will be alerted and the vehicle's GPS position uploaded. Nextbase's Emergency SOS system can even be pre-loaded with medical history, such as blood type, and next of kin. This service is included for the first year, and then offered on a $4.99 monthly subscription, allowing drivers full flexibility to suit their needs.
Nextbase's Series 2 Dash Cam range is available with Best Buy in stores nationwide and online.
122 – $79.99

222 – $109.99

322GW – $169.99

422GW – $229.99

522GW – $259.99 (exclusively sold at Best Buy)

Rear Window Module Camera – $99.99 ($49.99 with purchase of Nextbase Dash Cam at Best Buy)

Rear View Module Camera – $99.99 ($49.99 with purchase of Nextbase Dash Cam at Best Buy)

Cabin View Module Camera – $99.99 ($49.99 with purchase of Nextbase Dash Cam at Best Buy).
LifeStraw Go Water Filter Bottles with 2-Stage Integrated Filter Straw for Hiking, Backpacking, and Travel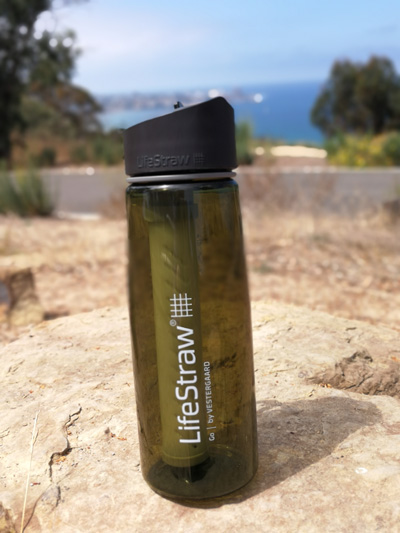 S.P. – Another great product for the Road: Lifestraw Go Water Filter Bottle
After using the LifeStraw Go Water Bottle on a couple of hikes, I was in love. Simply put, the LifeStraw Go Water Bottle is easily one of the best hiking accessories I've ever used. It's essentially a BPA free water bottle with a built-in water filter for a straw. You can literally scoop water from the stream into the bottle and drink it directly through the straw without waiting. The water has absolutely zero bad aftertaste as far as I can tell. The manufacturer claims it should filter 264 gallons of water before the filter needs to be replaced and should filter out 99.9999 percent of bacteria and 99.9 percent of parasites. However, they do recommend using a water purification tablet anywhere where human sewage might be present because it will not filter out viruses.
The Lifestraw Go is simple to use just remove the cap/filter combination and make sure the cap does not get dirty water on it, fill bottle with water and put cap back on then suck and consume clean water through the mouthpiece. To clean, remove cap/filter and blow through mouthpiece until no more water comes out of the filter tube base, let bottle and filter dry and reassemble.
LifeStraw Go Specs:
Reusable LifeStraw Go BPA-free water bottle filters water while drinking; great for travel, backpacking, camping, and emergency kits
Award-winning LifeStraw hollow fiber membrane water filter removes bacteria and protozoa from lakes, streams to ensure safe, clean drinking water
2-stage activated carbon filter reduces odor, chlorine and leaves zero aftertaste
Removes 99.9999% of waterborne bacteria, and 99.9% of waterborne protozoan parasites without chemicals, iodine or batteries
Durable, 23-ounce, leak-proof bottle made of BPA-free Tritan and features a food-grade silicone mouthpiece; replacement filters available separately.
On the Road with Steeped Coffee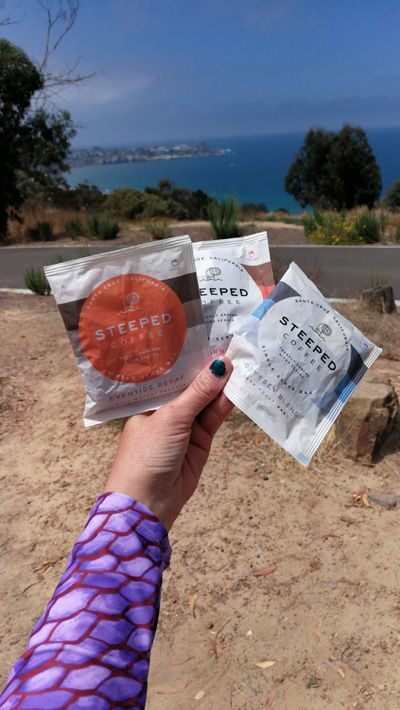 S.P. – I absolutely love this product
It is the easiest way to make a great cup of coffee anytime, anywhere, in minutes. If you are at home, at work, or on the go. Steeped single-serve coffee bags are filled with 100% specialty coffee and are crafted for quality, freshness, and convenience. Every bag is nitro-sealed inside and the packaging is compostable, making every cup guilt-free and eco-friendly. I took a variety of bags on the road and it paid of it definitely beats the hotel room coffee makers.
You can choose from 5 different blends: Light, Medium, Dark, Extra Dark, and Decaf.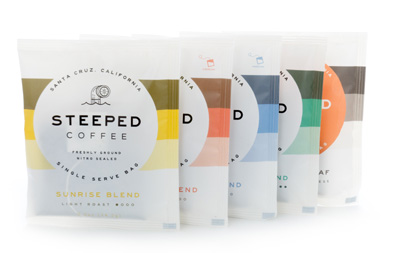 Steeped Coffee launched when serial entrepreneur and coffee lover Josh Wilbur decided to combine the convenience of a single-serving brew method with the premium quality of ethically sourced coffee. Wilbur wanted to redeem the environmental dilemma created by wasteful coffee pods. Happy to do the math, Wilbur points out over 10 billion unrecyclable pods accumulate in landfills each year enough to wrap around the earth more than 110 times if placed side-by-side. Moreover, each type of pod depends on expensive and often moldy brewing machines, which are also unrecyclable.
It took Wilbur seven years to innovate the proprietary Steeped Coffee system that delivers fresh roasted, pre-portioned, precision ground, micro batched coffee in customized Full Immersion Filters. "Premium coffee roasters have shied away from offering their specialty beans in single-serve packaging because it's been nearly impossible to keep ground coffee fresh, which quickly ruins the taste," said Wilbur. "With our Nitro Sealed bags, oxygen is replaced with nitrogen, so the coffee stays fresh as if it was ground moments ago."
"Steeped Packs are the easiest way to make a delicious cup of coffee," Wilbur Says. "You shouldn't need to perform chemistry before you've made your coffee." Simply steep each Steeped Bag in hot water for about five minutes to allow the coffee to develop its distinctive body and flavor. There is no machine, no noise, no cleanup, no destructive waste.
Comfitude Velvet Weighted Blanket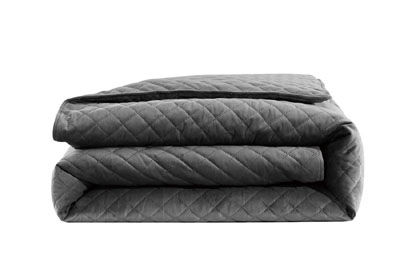 By S.P. – Stylish Comfort
I always had sleep issues, so I've been wanting to try a weighted blanket for a while now. They are meant to help with anxiety and nervousness, and can have additional benefits as well like decreasing cortisol (the stress hormone), causing a growth in serotonin and melatonin levels to get that desired good night sleep.

I recently had the chance to try out one of the Velvet Weighted Blanket from Comfitude and it has been such an instant improvement in my sleep! Since I always had issues falling asleep- and staying asleep- and while it's not 100% fixed, it has honestly gotten significantly better. The weight of the blanket calms my body down and keeps me from tossing and turning constantly, and trying to get comfortable. It feels like a giant, warm hug and is so snuggly!
Some weighted blankets can have issues with retaining too much heat, but I haven't found that to be the case of this one because of the natural cotton shell. Even with the heat on in my room, I've been comfortable all night.
This blanket in particular is also awesome because the quilted outer layer can be machine washed and is dryer safe! You can even remove the outer cover and use the inner blanket on it's own in the warmer months to keep a little cooler. It's versatility which is a huge plus compared to other weighted blankets!
The blankets comes in 4 different colors ( Charcoal, Grey, Electric Blue, Taupe), and 3 different weights (10 LBS, 15 LBS, 20 LBS).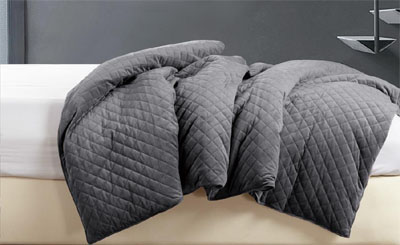 New Black Eye Pro Kit G4 - A One-Kit Solution for Pro-Level Mobile Photography and Filmmaking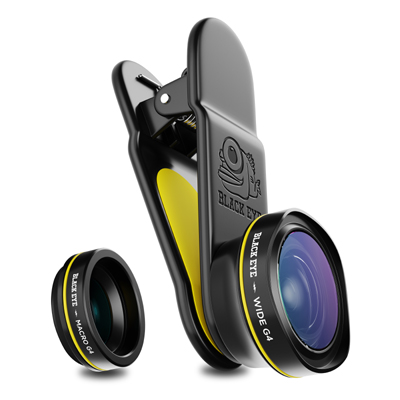 By S.P. – This is an excellent, well-made and easy-to-use Lens Kit.
The pro series set of lenses from Black Eye are the high-end lenses that are designed with the highest optical quality in mind. Black Eye created these lenses with premium sharpness, for high-end model smartphone cameras, lens coating for high flat resistance, premium chromatic aberration control, and lens coating and glass quality for realistic color reproduction. The Black Eye Pro Kit Lenses are compatible with nearly all smartphone cameras. The kit includes the Pro Portrait Tele G4 lens, Pro Cinema Wide G4 lens, Pro Fisheye G4 lens, Black Eye universal attachment clip, 3 Lens caps, cleaning cloth, and protective zipper travel case. The specs for each style lens is listed below.
Pro Portrait Tele G4
Sharpness: Sharp in the centre of the frame with a natural drop-off on the edges

Vignetting: Close to none

Barrel distortion: Close to none

Chromatic aberration: 1px at edge

Design: 5 Elements in 4 Groups

Lens coating: Double Sided 3 Layer AR Per Glass Element

Magnification ratio: 0,63X

Tv distortion: >-0,5%

Resolution(Axis): 300 LP/MM

Resolution(Corner): 280 LP/MM
Pro Cinema Wide G4
Sharpness: Sharp in the centre of the frame with a natural drop-off on the edges

Vignetting: Close to none

Barrel distortion: Close to none

Chromatic aberration: 1px at edge

Design: Groups 3 Elements in 3

Lens coating: Double Sided 3 Layer AR Per Glass Element + 1 Hard Protective Coating

Magnification ratio: 0,4X

Tv distortion: >-65%

Resolution(Axis): 200 LP/MM

Resolution(Corner): 150 LP/MM
Pro Fisheye G4
Sharpness: Sharp in the centre of the frame with a minimal natural drop-off on the edges

Vignetting: Close to none

Barrel distortion: not applicable

Chromatic aberration: 1px at edge

Design: 4 Elements in 3 Groups

Coating: Double Sided 3 Layer AR Per Glass Element + 1 Hard Protective Coating

Magnification ratio: 0,2X

Tv distortion: >-95%

Resolution(Axis): 300 LP/MM

Resolution(Corner): 250 LP/MM
The Black Eye Pro Kit G4 retails for about $ 249.90.
Audio Technica ATH-ADG1X Open Air High-Fidelity Gaming Headset
By S.P. – Comfort and sound quality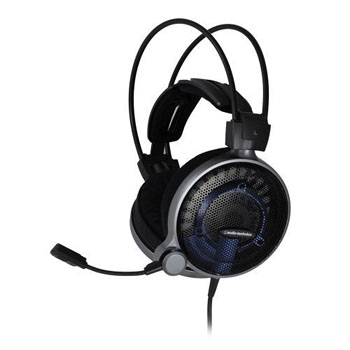 The Audio-Technica ATH-ADG1X open-air gaming headset gives users advanced, high-fidelity sound and a comfortable, secure fit. The all-metal honeycomb housings keep the headset light and cool, providing an open, natural sound.
The ATH-ADG1X comes equipped with a premium gooseneck microphone to handle all your in-game communication. The microphone's supercardioid element is rejects unwanted ambient noise, so the user's voice will come through clear every time. It comes with a windscreen that slips onto the mic to further combat wind and breath noise. The headset's 1.2 m (3.9′) cable includes a simple volume/locking mute switch for easy one-hand operation, and comes with a 2.0 m (6.6′) extension cable for greater versatility.
Audio-Technica ATH-ADG1X Features:
Advanced 53 mm drivers provide accurate soundreproduction for FPS (first-person shooter) and other games

Open-air design provides unrivaled sound quality,clarity and comfort

Improved 3D Wing Support system offers hours ofcomfort and a secure fit

Audio-Technica's state-of-the-art microphone enablesclear in-game voice communication

Simple volume control and locking microphone muteswitch enable one-hand operation

Soft earpads provide superior comfort for extendedgame play

Equipped with 1.2 m (3.9′) attached cable and 2.0 m(6.6′) extension cable

Included microphone windscreen reduces unwanted wind and breath noise
Audio-Technica ATH-ADG1X Specifications:
Type: Open-air dynamic

Driver Diameter: 53 mm

Frequency Response: 5 – 35,000 Hz

Maximum Input Power: 1,000 mW

Sensitivity: 99 dB / mW

Impedance: 48 ohms

Weight: 285 g (10.1 oz), without cable

Cable: 1.2 m (3.9′)

Connector: 3.5 mm (1/8″) gold-plated stereo mini-plug(4 pole)

Accessories Included: 2.0 m (6.6′) extension cable;windscreen

Type (Microphone): Condenser

Sensitivity (Microphone): -41 dB (0 dB = 1 V/Pa, 1kHz)

Frequency Response (Microphone): 100 – 12,000 Hz

Polar Pattern (Microphone): Supercardioid
SHEERTEX Classic Unbreakable Pantyhose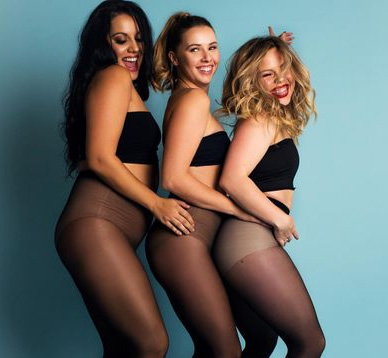 S.P. – Finally a Pantyhose that lasts more than a day!
The world's toughest sheer pantyhose, sheer-to-waist design, lightweight, antimicrobial, and cooling. As we received a sample which included a test kit we put it to the test and stuffed it into a zipper and no tear, stretched it, pulled it, poked it – nothing so pretty good as far as runs, holes etc. So far they outlasted every other pantyhose owned.
They are available in four different colors: Black, Light, Medium, Dark.
Sheertex has spent the last 24 months month re-inventing pantyhose from the ground up to create the world's strongest pair of sheers. Named on of Time Magazines 50 Best Inventions of 2018.
Developing the world's toughest pair of sheer pantyhose was no easy feat. Not satisfied with any of the fibers on the market today, the Sheerly Genius team developed a proprietary fiber specifically for the product. Developed from the same category of fibers used in bulletproof vests, climbing equipment and fishing line, Sheertex fibers are 10 times stronger than steel, cool to the touch, and antibacterial.
Sheertex founded by Katherine Homuth, a Canadian serial entrepreneur and angel investor – who at the age of 27 has already built and sold two companies. She has been named one of the Women to Watch in Wearables, one of Canada's Top 100 Most Powerful Women and one of Flare's Sixty Under 30.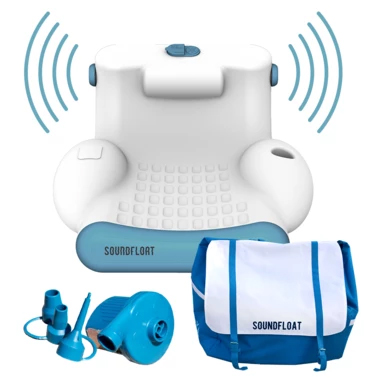 By S.P. – Perfect Summer Fun!
SoundFloat takes air mattresses to the next level! A Tech-enabled luxury air lounge. Super comfortable made with Memory-foam surface and features a wireless waterproof audio system with 20W ampifier for great sound quality in and out of the water.
A WaterProof Pool Float with a Built-in High-End Bluetooth Sound System
Waterproof Design Guaranteed to Protect Your Devices with Useful Features such as Drink Holders and Bluetooth Speakers.
Easy to Inflate, Easy to Tuck Away Comfortable Lounge Seating for the Water
Luxury Design That's Built to Last
Removable Battery that doubles as a Power Bank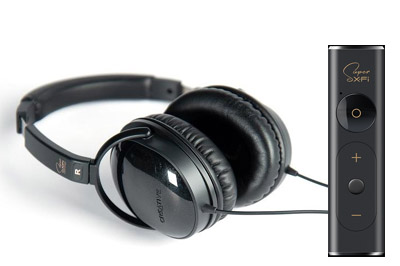 Headphone holography is the next big thing in audio.
The Super X-Fi recreates the soundstage of a multi-speaker surround system in a pair of headphones and personalises it by scanning the user's head and ears so that the custom-fit audio experience becomes natural.
Here is how it works:
Super X-Fi is computational audio; it uses complex algorithms and computationally intensive techniques to custom fit audio, for every individual, through a sophisticated Head and Ear-Mapping process. This is done by simply taking three photos of your face and ears with your phone.
Hundreds of anthropometric parameters are extracted from the features of the head in high precision using real-time image detection and analysis. An artificial intelligence (AI) engine then uses these parameters along with the dynamics of the targeted headphones, and synthesizes them with a multidimensional map of the desired room acoustics.
About the SXFI AMP:
The SXFI AMP delivers the best of two worlds in advanced personalized headphone audio. It incorporates the all-new 'mind-blowing' and award-winning Super X-Fi technology which is miniaturized into a dongle no larger than a finger. The SXFI AMP is also a premium high-performance headphone amplifier that is capable of driving even studio-grade headphones.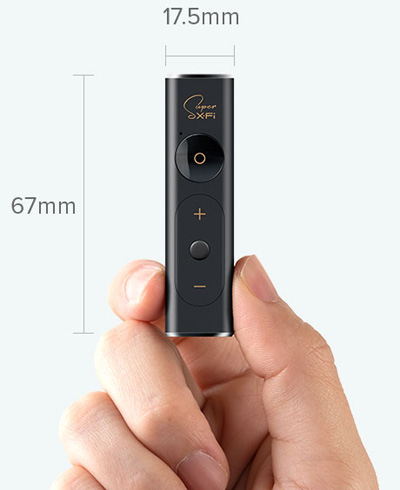 The SXFI AMP connects to your devices via USB Type-C. You can also add-on appropriate converters to connect other port types. With a USB connection to your PC or Mac, the SXFI AMP can support an advanced feature that lets you enjoy 5.1 and 7.1 cinematic audio content from movies and games, with the magic of a holographic Super X-Fi sound stage that sounds as good as the real thing!
The on-board Super X-Fi UltraDSP chip processes pristine digital audio from the USB port in accordance with your Super X-Fi profile. Such digital audio is then converted to analog by a high-precision DAC and amplified by the on-board amp. The amplified output goes to your headphones via a 3.5mm jack at the other end.
The SXFI AMP's powerful amplifier can drive any headphone, all the way to studio grade headphones with up to 600 ohm impedance. It uses a separate 128dB high-end high-precision AKM 32bit DAC. This provides maximum audio fidelity and pristine quality yielding up to 120dB SNR, and 0.0003% THD – easily beating some of the most expensive headphone amps on the market today. 
SPECIFICATIONS: Physical
● Chassis: Fine textured black Anodized Aluminium Unibody
● Dimensions: 9.7 x 17.5 x 67 mm (0.38 x 0.69 x 2.6 inches)
● Weight: 15g (0.5 ounces)
● Connector: USB Type-C, 3.5 mm jack

Audio
● DAC: AKM AK4377 (32-bit, 192 dB)
● Format: 2.0/5.1/7.1 channels, 24-bit/96KHz ● SNR: Up to 120 dB
● THD+N: Up to -110 dB (0.0003%)
● IMD: < 0.0022%
● Crosstalk: < -75 dB

Audiophile-Grade Op-Amp
● Gain: 3X Amplification ● Max Power: (16 ohm) 425 mW, (32 ohm) 370 mW, (300 ohm) 51 mW, (600 ohm) 26 mW
Get in the right mood with these amazing Speakers by Creative
Creative Halo Portable Bluetooth Lightshow Speaker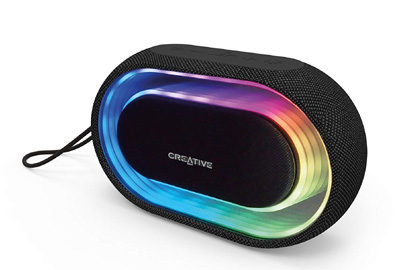 Since there are so many choices to choose from nowadays the Creative Halo definitely stands out among the crowded market of Bluetooth speakers, bringing something new and exciting to the table your own personal lightshow.
Creative Halo brings a fully programmable lightshow with support of up to 16.8 million colors. The Halo's lights can also be set to a solid color,  if you like.
Creative Halo supports multiple color runnings on the light panel. Each effect also has customized settings that can be modified via the free Xpectra Lightshow Control app on an iPhone or Android phone.
A button on top of Halo toggles between the different lighting patterns (glows, blinks, etc) and there are also other playback controls. These do not have background lighting and have the same color as the panel, which can be challenging to see in the dark. Another great feature is to have the Halo pulse along with the your favorite tune. Design wise; Creative Halo looks really beautiful and futuristic.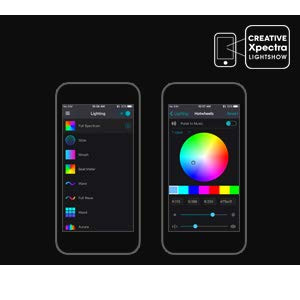 Apart from Bluetooth, the speaker also supports the good, old 3.5mm wired connection which supports a wide range of audio devices. Surprisingly, the speaker also has a built-in microphone so you can use it to take calls. It weighs half a kilo and has an attached strap, making it pretty easy to carry around with a battery life of roughly around 8 hours which depends on which lighting effects you have it on. It has a great sound and deep bass.
This is a great device to take to a party and a great eye candy.
Creative Nova Alexa-Enabled Wi-Fi Multi-Room 5-Driver Portable Smart Speaker with Bluetooth for iOS Devices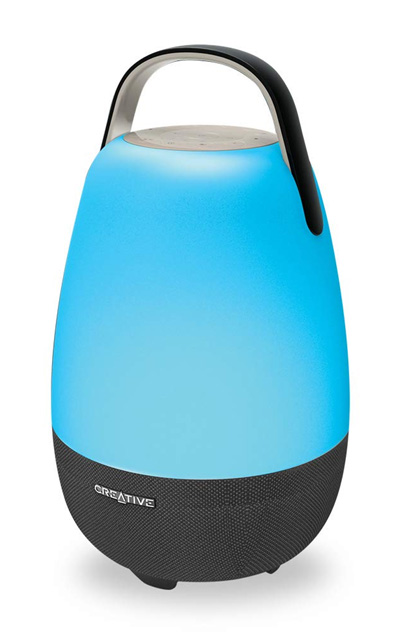 I really love the speaker. There so many options not only is the sound great, you get the added benefits of all these cool sound spa options and light/color options that are super fun. It's waterproof so you can use it in the shower, take it on camping trips or simple relax with it.
Overview:
Alexa-enabled speaker access information and thousands of songs from the internet Nova also works with Smart home devices and fixtures.
Wireless multi-room playback play music or stream music directly on one Nova or synchronize Nova speakers wirelessly via Wi-Fi. Stream music directly online without connecting your phone.
Wi-fi and Bluetooth speaker The Nova packs a 5-driver configuration consisting of two far-field drivers, a down-firing built-in woofer, as well as two passive radiators that delivers big sound.
Sound and light Span experience Nova's mood changing feature -Creative Nova comes with a 16.8 million color ambient Lamp for a customizable Audio and light experience for relaxation.
Sound Blaster interconnect app for iOS for iPhone users, the app allows you to control multiple Nova speakers around your home or office via Wi-Fi and customize light and sound Span settings. (No Android support )
Ion Audio Mustang LP Ford 4-in-1 Classic Car Styled Music Center, Red
A fun way to listen to Vinyl again – By S.P.

Here's an exciting way to enjoy all your favorite music. The Mustang LP is a 4-in-1 music center with exciting retro automotive styling that recalls the great road cruising' music of yesteryear. Everything you need is here: A quiet belt-drive 3-speed turntable plays every record in your collection and records them to a USB flash drive. The unit has built-in speakers and an internal amplifier so you don't need any extra equipment. There's an Auxiliary input for connecting other devices and even a headphone jack for private listening. But what really sets Mustang LP apart from the crowd is its FM tuning dial that looks just like the speedometer of the classic 1965 Mustang, right down to being flanked by round dials on either side. This unit delivers great music with unbeatable style. Just be careful not to exceed the speed limit!
4-in-1 retro music center with turntable, radio, USB and aux input

3-speed belt-drive turntable plays all your records

Records your albums onto USB flash drive

Sensitive FM tuner with speedometer look

Built-in speakers and headphone jack for private listening; Auxiliary input for connecting and playing other devices
Mpowerd LUCI Inflatable Smart Solar Light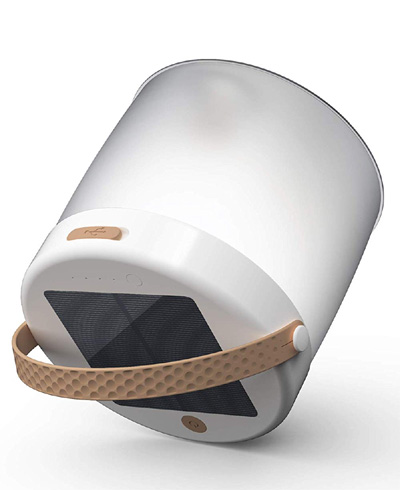 Comes in handy in a Power Outage – By S.P.
Luci is an inflatable, affordable, solar lantern that generates continuous light with zero emissions anywhere on earth, independent of the grid. It can be charged under direct sunlight or cloudy skies.It's easy to use as it is to deflate and stow, Luci's durable, waterproof design makes it ideal for everything from boating and camping to outdoor entertaining, and power outages. In fact, lack of electricity was the inspiration for the idea. MPOWERD was co-founded by Jacques-Philippe Piverger, John Salzinger, and Jason Alan Snyder. Principal inventor Jason Alan Snyder worked hand in hand with John Salzinger to develop the Luci lantern after an earthquake in 2010 left thousands without power in Haiti. Now, MPOWERD is on a mission to illuminate the lives of people who live in energy poverty all over the world.

Unlike other solar light products, Luci incorporates the functions of a task light, flashlight, and diffused lantern. Its rechargeable lithium-ion battery weighs only 4.5 ounces. In your car, at home, or for those in need, Luci has the power to shed light on all types of tasks and all kinds of situations.
Luci Connect is an inflatable solar light with Bluetooth wireless technology that is completely powered by the sun. Set it in direct sunlight for 14 hours or charge via USB for 2-3 hours and Luci Connect lasts up to 24 hours on a single charge
Luci Connect app (compatible with both iPhone and Android devices) lets you customize your light by choosing from unlimited color options, 3 preset moods or the ability to create and save your own moods
App allows you to control brightness, hue, speed of transition between colors and conveniently check battery life when light is out of reach
36 LEDs (24 pure white + 12 multi-color) surround the perimeter of the disk facing in allowing the light to emanate toward the center and shine up to 250 lumens
Luci Connect is perfect for camping, pool & patio lighting, yoga & spa, mood lighting, event decor, holidays and as a unique gift
Weighs less than most mobile phones at 15 oz. / 426 g
Inflatable, lightweight, durable and waterproof (rated IP67)
MPOWERD offers a 1-year manufacturer's on all MPOWERD products sold by authorized sellers.
BuddyPhones best Headphones for Kids of 2019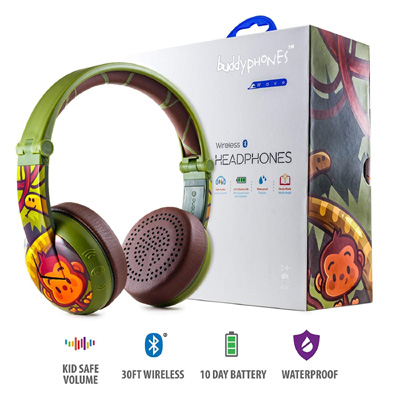 Colorful fun Headphones for Kids – By S.P.
These days, we're more connected than ever, and kids are using headphones all the time. Whether they're watching cartoons in the car, listening to music on their phones, or playing video games in the basement, it's important for your kids to have headphones that won't damage their ears.
The BuddyPhones children's headphones are safe, comfortable, and designed to withstand the heavy beating kids typically give their gear.
What's more, these audio listening devices feature safe volume limits that provide parents and caregivers with the opportunity to cap the maximum noise level at either 75, 85, or 94 decibels.
Beyond that, these headphones are compatible with any Bluetooth device, which means you get to altogether eliminate the hazardous cord you probably associate with headphones.
What's more, these headphones charge up quickly and maintain an average of 14 hours of battery life per full battery. When used for only a few hours per day, this easily can amount to two or three days of use per charge. As such, these are a great product for forgetful youngsters.
The BuddyPhones are extremely comfortable. They boast hypoallergenic cushions with tons of ear padding. Needless to say, the band can be adjusted to fit a growing head.
One of the most unique features of these headphones is they are water and spill-proof with a rating of Ip67. They are also compatible with all Bluetooth devices within 30-feet.
While these headphones are compatible with all Bluetooth-enabled devices, they also feature an optional 2.5-foot AUX cable for when your child wants to connect directly to their listening device.
What's more, they come with a 3.5-millimeter gold-plated "buddy" cord that allows users to sync their audio with up to four additional children. The headphones boast a diverse array of colors, including Safari yellow, Light pink, Amazon green, and Glacier blue.
Each pair of headphones comes with a soft storage bag and a set of kid-friendly decorative stickers. They are designed and sized for children three and older. What's more, they collapse for storage and travel.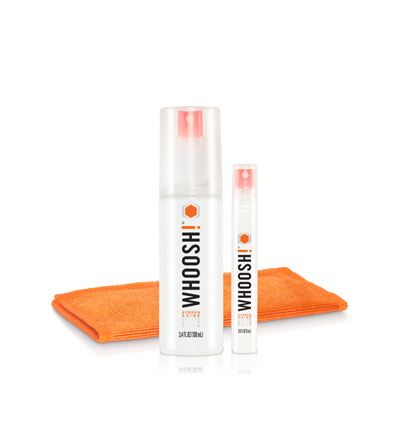 Makes your devices look like new – By S.P.
WHOOSH! Screen Shine is a powerful screen cleaner that rids your cell phone and devices of dirt and grime. The proprietary formula leaves a nano – thin, anti-static, and invisible coating that repels and resists dust, smudges, oils, and fingerprints. 
Screen Shine is safe for you and your devices. The non – toxic and odorless formula contains no alcohol and no ammonia, and leaves behind no harmful residue. It was designed to be completely safe for all screens and devices, including tablets, HDTVs, wearable tech, and eyeglasses.
Available sizes
Includes one standard 6 x 6 in (15 x 15 cm) antimicrobial microfiber cloth, except where indicated Pocket – 0.3 fl oz (8 mL)
Go – 1 fl oz (30 mL)
Go Big – 1.7 fl oz (50 mL) Go XL – 3.4 fl oz (100 mL)
Duo – Pocket and Go XL – includes two standard antimicrobial microfiber cloths.
Professional – 16.9 fl oz (500 mL) – does not include antimicrobial microfiber cloths – not for retail sales.
Also available:
Screen Shine Wipes. The same Screen Shine formula, in a handy disposable wipe.
12 Pack – includes one mini antimicrobial microfiber cloth 30 Pack – includes two mini antimicrobial microfiber cloths
CAR LOVERS MEET STYLE AND FUNCTION IN THE NEW AUTOWIT MINICYCLONE CORDLESS HANDHELD VACUUM
Savvy handy little device
Genhigh, the leader in innovative car accessories, unveiled its upcoming cordless handheld car vacuum the AUTOWIT MiniCyclone during the Consumer Electronics Show in Las Vegas, Nevada. The company has launched an Indiegogo crowdfunding campaign for MiniCyclone to give consumers an opportunity to get their hands on this cutting-edge vacuum before anyone else.
AUTOWIT MiniCyclone is designed to meet consumers' needs for efficient cleaning and chic styling. The sleek black and silver model boasts improved functionality with higher suction power with multiple attachments for various cleaning needs. The petite cordless handheld vacuum is small enough to store in your car yet powerful enough to use on heavy-duty jobs.
"We're excited to offer consumers an opportunity to get early access to the AUTOWIT MiniCyclone vacuum through our crowdfunding campaign on Indiegogo," said Minming Gu, Co-Founder at Genhigh. "The Autowit MiniCyclone cordless handheld vacuum makes cleaning effortless and excels both in functionality and design. It will be a very competitive model in the market."

Weighing less than two pounds, the ergonomic, sleek industrial design is also jam packed with features like a 7.2V/2000mAh battery that gives you over 15 minutes of uninterrupted battery life, straight air passages that maximize vacuum efficiency, low noise levels, and outstanding 4200pa suction power.

AUTOWIT MiniCyclone is currently available for pre-order through Indiegogo starting at the super early-bird price of $39. You can find the live campaign at https://www.indiegogo.com/projects/autowit-minicyclone-cordless-handheld-vacuum#/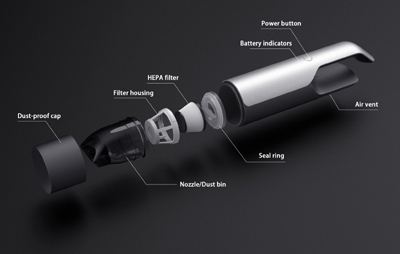 Core Gaming Backpack by Mobile Edge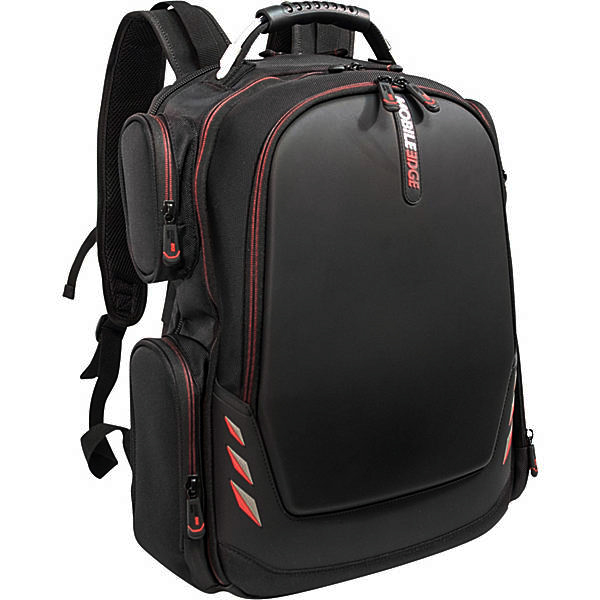 The Core Gaming is great backpack designed for any gaming enthusiast and others on the move. It comes with a lot of great features such as a built-in charge port and a charging cable that runs throughout the backpack which allows you to add a portable charger anywhere inside the backpack. It also comes with an USB plug outside the backpack so you can charge your cell phone or other devices easily. Also it can carry any kind of mobile devices from gaming gear, laptops, mobile phones, tablets to fit everyone's need there is enough room. Another great feature is there are 3 storage pockets inside to store your memory cards and extra pockets for pens, credit cards etc…as well as 4 outside pockets for extra storage. It's a solid backpack, thanks to the durable ballistic nylon and padded air-mesh shoulder straps and back panel that makes carrying so much easier. There's also a padded carry handle for easy lifting and a convenient trolley strap to stack it on top of you luggage. The Core gaming pack comes in a black and red color combination. This backpack also comes with a lifetime warranty. Mobile Edge's Core Gaming Backpack is one of the most well-made packs I tried out so far. This one is a must-have backpack for any user that's constantly on the move.
For more information visit www.mobileedge.com and use the special PromoCode: 30offCES2019
Surfit Qubo Mini Projector Takes Entertainment On-The-Go to New Levels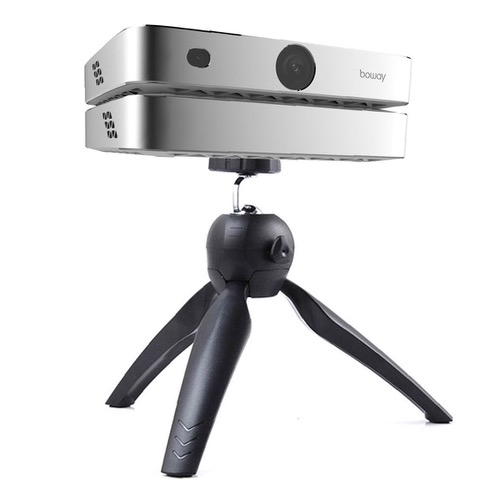 GenHigh unveiled its Surfit Qubo mini projector during this year's 2019 Consumer Electronics Show in Las Vegas, Nevada. Surfit Qubo is light enough to travel with and provides up to four hours of cable-free projection time thanks to a detachable battery that also serves as a power bank. Surfit Qubo features 2.4G/5G dual-band Wi-Fi, Bluetooth 4.1 and USB 3.0 to easily connect anywhere anytime. In addition, Surfit Qubo runs an Android System so you can easily install apps like Netflix, Hulu, YouTube TV and more. Gamers and movie fans can easily enjoy a super-sized screen anywhere they go with this portable slim projector that easily fits in a bag or backpack.
Surfit Qubo Mini Projector Key Features:
Detachable Battery Module: Surfit Qubo includes a wall charger, but those who want an on-the-go solution, can easily attach the magnetic battery module that doubles as a power bank for prolonged battery life or to charge other gadgets.
Display: Boasting a real 150 ANSI lumens WVGA bright display, Surfit Qubo has a native resolution of 854×480 pixels with an optimal display size of 20-100 inches.
Pocket-Sized Modern Minimal Design: Surfit Qubo is enclosed with aviation alloy case, measures a toast size (5.2 x 5.2 in / 13.2 x 13.2 cm) making it the perfect travel companion.
Connectivity: Surfit Qubo is 2.4G/5G dual-band Wi-Fi, Bluetooth 4.1 and USB 3.0 enabled to seamlessly connect to the internet, mobile devices and flash disks thus eliminating the need for extra wires when operating.
Dual Speakers/Audio Jack: Built-in speakers on each side of the mini-projector provide mobile entertainment for the family or simply plug in headphones for a more private experience. A 3.5mm audio jack also means you can plug in external speakers to take the sound up a notch for larger groups.
Local Storage: Surfit Qubo also features a 2G RAM and 16G ROM, making it possible to store your favorite contents locally within the projector itself and view them anytime.
Heat Dissipation: Most projectors release heat horizontally, but Surfit Qubo dissipates heat flow vertically to prevent discomfort when sitting next to it.  
For more info visit www.genhigh.com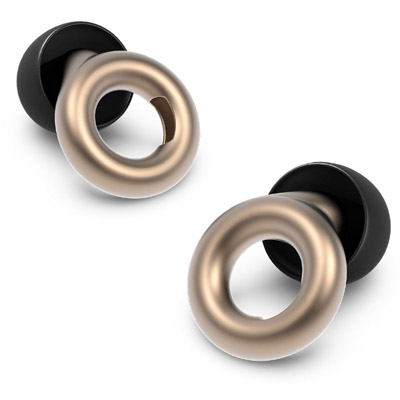 Stylish, Comfortable and Easy-to-Use
Designed specifically for listening to music, Loop uses an acoustic channel that imitates the function of your ear canal. At the end of this channel is an acoustic mesh filter that reduces sound by 20 decibels across all frequencies. The combination of the channel and the filter produces a clear sound and lets you enjoy the music without destroying your eardrums.
I tried out a pair at a rock concert during the 2019 CES recently and must say the work effectively.
The Loops lowered the intensity of the volume, but didn't smother it. The sound of the bass and drums were reduced, while the singers' voices and guitar riffs remained clear. Every now and then I'd remove the Loops from my ears to experience the loudness for a few minutes, but put them right back in "what a difference". They are extremely comfortable with the clever "ring" design they fit securely in your ear you don't have to constantly push them back in, like other earplugs.
They come with assorted sizes of foam tips to ensure you'll get a good fit inside your ear and a little leather bag to store them inside your pocket or purse. There are five different colors to choose from and they retail for $ 29.95.
Audio-Technica ATH-SR30BT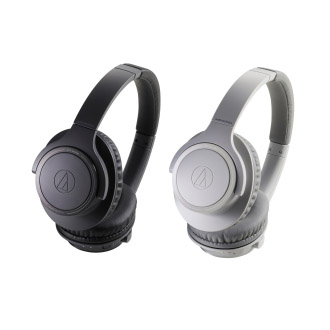 Audio-Technica introduced a headphone with 70 hours of battery life. At $99, the ATH-SR30BT is a great deal for any budget.
The SR30BT are very light and just big enough to be over-ear headphones and they fit perfect without feeling too tight. And the sound isolation is decent with no compromise on comfort.
What sets these headphones apart from the pack is the battery life. With 70 hours of charge, this headphone will outlive any other device. Unfortunately, the SR30BT does not have a wired capability. There's no input for a cable, so you can't use these in passive mode. And you'll just have  to recharge them with the included micro-USB to USB cable.
Another defining quality of these headphones is that they employ Bluetooth 5 technology. And although this is slowly becoming the standard for newly released wireless headphones, it's still hard to find a pair with Bluetooth 5 for this price. The SR30BT comes with all the usual functions; 3 buttons on the left earcup allow you play, pause, skip and control volume. You can also invite Siri or Google Assistant over for a chat by holding down the middle button. Audio-Technica headphones tend to be easy to pair. When you take them out of the box, all you have to do is turn them on, and you'll find the headphone in your Bluetooth settings. After you've first paired them, they will connect automatically every time you turn them on.
SPECIFICATIONS:
Driver: 40mm
Frequency Response: 5 – 40,000 Hz
Sensitivity: 100dB
Impedance: 35 Ohms
Weight: 180g
For more info visit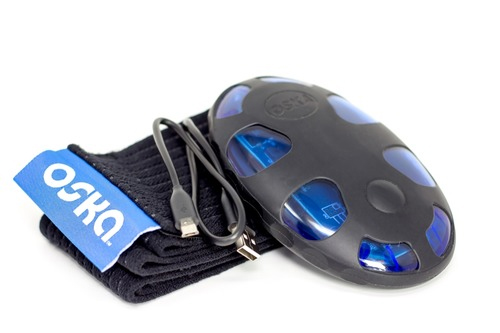 Oska Pulse is a wearable pain-relief device intended to help reduce muscle stiffness, relieve minor pain and increase mobility through its proprietary eTec pulse technology. eTec pulse technology optimizes pulsed electromagnetic field (PEMF) therapeutic technology to help individuals live a more active, pain-free lifestyle. Oska Pulse is a small, portable, wearable, safe, noninvasive, drug free technology that has no side effects and is made in the USA.
So how does Oska Pulse work if we don't see or feel it physically doing anything?
Fundamentally, pain radiates from a damaged area of the body and the same area exhibits inflammation. In the case of a knee injury, irrespective of whether it's due to damage to your nervous system, your bone, your cartilage etc, when PEMF ( Pulsed Electromagnetic Field Therapy ) is applied, it stimulates your body to repair and renovate the damaged area. Almost immediate relief is delivered via a reduction in inflammation and longer term relief results from the repair mechanisms your body implements under the influence of Oska Pulse.
I have to admit I was amazed by this device is so cool and futuristic looking. I turned it on and I didn't feel a thing; It doesn't vibrate, buzz, get warm, hum or do anything visibly other than seeing it light up in its blue color so you know it's on. It's super simple to handle, you just turn it on with the back button then you can lay it next to the painful area of your body; against clothing or you can use the adjustable strap (which is included) and wrap it around your painful area. Here is the cool thing… you don't even have to have it touching your body, as long as it's within 8 inches from the effected area you're good to go and it's working! It's an amazing little device, easy handle, great for traveling and office use.
For more information visit www.oskawellness.com
ANTOP 400-BV - Best Outdoor TV Antenna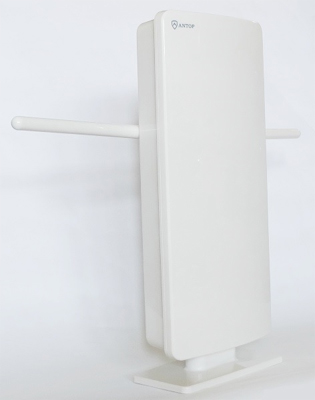 After testing the Antenna on multiple TVs in different rooms in an area with the worst reception to begin with, I must say this is so far the best outdoor TV antenna.
The ANTOP Flat Panel Smartpass Amplified Outdoor/Indoor HDTV antenna (AT-400BV) is encased in rigid white plastic that has been UV coated and has a weather resistant finish. It is a large antenna measuring 22″ x 10″ x 4.7″. It comes with a Smartpass Amplifier and 4G filter for "balanced reception range and blocking unwanted 3G/4G interference". It also has a white plastic indoor stand for occasions when you may want to set this antenna on a flat surface.
The AT-400BV
is also referred to as the "Big Boy" model. It can be mounted either on a roof or roof peak as well. The antenna has a metal bracket on the back of the panel for mounting. It comes with all the hardware needed for installation. That includes a 39-foot cable with a thick weather resistant coating.
Getting yourself a TV antenna can change the way you look at your finances, and your cable subscription. If you properly set up a TV antenna, there's an excellent chance that you will get a much better HD quality picture compared to cable. Channels like CBS, ABC, PBS, NBC, The CW and FOX are all yours for the taking and looking better than your pay-TV subscription.
TV antennas are pulling in digital signals directly from a broadcast tower. Cable companies like Comcast,Cox etc…have to compress the broadcast at the expense of picture quality to send it through the cable cord going into your home.
Digital broadcasts only began around seven years ago, and a surprisingly small number of Americans know about free high definition signals despite the best efforts of the federal government. That's beginning to change in a dramatic way.
An estimated 22 million people are expected to drop their cable TV subscription this year.
So whether you're a football fan who wants to watch NFL and NCAA games, or a PBS addict who wants every episode of America's Test Kitchen, a TV antenna gets you free high definition programming for life.
Receiving sub-channels:
Sub-channels are not offered on cable: There's a good chance that your local network affiliates like NBC are broadcasting more than one channel from their broadcast tower. These sub-channels might not all be in HD quality. Many of them aren't. But there has been a rise genre-specific channels with programming as good as many a cable channel. If you're a true crime fan, you might find a sub-channel like ESCAPE. Episodes of Forensic Files and American Greed are broadcasted regularly. Those two shows are regularly shown on cable channels like HLN and CNBC.
Range:
Being able to pull in channels from a far distance, and have a decent gain to pull in VHF and UHF signals is one of the more important aspects of any antenna you choose. I recommend using an amplifier with an antenna because in many cases it can help with getting channels.
Other antennas that I've tested here have struggled with picture quality. I noticed right away that the ANTOP was getting a stronger signal even from a less-than-ideal placement. This was probably due two features in particular. The ANTOP AT-400BV comes with a Smartpass amplifier that you can actually switch on and off. A small bulb on the amp turns green when it's on, yellow when it's off. This TV antenna also has a 4G LTE Filter, designed to block 3G and 4G interference from cell towers.This is by far the best of all of the antennas that I have tried so far .
The Package Contents:
Flat Panel Smartpass Amplified Outdoor/Indoor HDTV antenna (AT-400BV)

Two plastic coated VHF enhancing rods

Indoor Table Stand

AC/DC Power Adapter

Power Inserter with Smart Switch

Wall/Pole Mounting Bracket

39 ft Coaxial Cable

Instruction/User Manual
Technical Specifications:
Application: Indoor/Outdoor

Amplification: Smartpass Amplified

Reception Pattern: Multi-directional

Distance to transmitter: 60/70 mile

Frequency Range: 87.5-230MHz, 470-700MHz

Gain: Switch-OFF: 10dB; Switch-ON: 33dB

Output Level: 100dBuV Max

Noise Figure: <3.5dB

Impedance: 75Ω

Power Supply: DC 12V via power adapter

Cable Length: 39ft

Color: White

Size: 22″ x 10″ x 4.7″

Operating Temperature: -40° F to 140° F

Whole house solution: Can feed multiple TVs

Enhancer Rods to strengthen VHF reception

4G LTE filter: Blocks unwanted 3G and 4G signals

UV coating, weather resistant finish

Easy home exterior installation: wall, roof, balcony (can be installed in attic and used on table too)

Online customer support, installation assistance

12-month warranty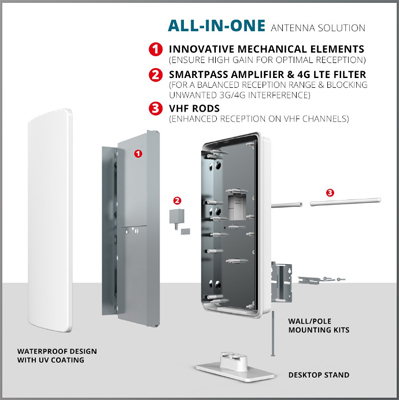 For more information visit https://antopusa.com/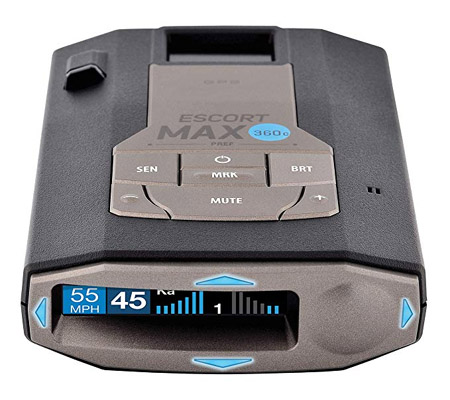 Escort released the new Max 360c ($699), their successor to the original Max 360 ($649). The updated 360c adds WiFi for automatic updates which means it's now the first windshield mount radar detector that can automatically keep itself updated over time as new software updates are released. Let's take a closer look at the Max 360c.
An interesting new feature are the Escort Live & Automatic Updates that Escort has introduced with the Max 360c is integrated WiFi. (The "c" stands for "connected" as in "connected car.") If you have WiFi built into your car, your radar detector can connect to Escort Live without requiring your phone.
Using WiFi, the Max 360c can also automatically update both its firmware and built-in red light camera database, something that's not available over Bluetooth like with the original Max 360. To update your radar detector, you no longer have to bring the detector home, plug it into your computer, and run the update software. The Max 360c is now the first radar detector that's able to keep itself updated for you automatically.
When a new firmware update is available, the Max360c will notify you, ask you if you want to update, and then the update process takes about 5-10 min. You can also go into the detector manually at any time and check to see if there's a new update available. This is a great feature and convenient.
Escort doesn't notify users of updates except for posting notifications on their forum, so unless you're actively keeping an eye out for updates it's nice to have the detector taking care of this for you.
While it is possible for Escort to update their detectors over Bluetooth, Bluetooth LE is really slow to transfer files in a reasonable amount of time which is one of the main reasons why Escort has opted to use WiFi for the update process. The AntiLaser Priority laser jammer can do automatic firmware updates over Bluetooth, but its firmware update files are much smaller.
The Max 360c can also automatically update its built-in red light camera and speed camera database over WiFi, a nice feature since Escort updates their RLC database pretty regularly. Normally you'd have to bring your detector inside periodically, plug it into your computer, and run Escort's update software, but now the detector can take care of that for you while driving. Pretty cool.
You see, as long as you're connected to Escort Live, whether it's through your phone via Bluetooth or over your WiFi hotspot, you'll always have access to the latest red light camera database. If the RLC database built into your detector is out of date, it actually doesn't matter because your detector will reference the latest database online and use that instead. Since the detector is designed to automatically connect to Escort Live every time you get in your car, as long as you take your phone with you, you've already have access to the latest RLC database so it's not a big deal if you haven't updated the detector's built-in database recently.
If you want to use WiFi, there's several different different ways to give your Max 360c the WiFi connection it needs.
The Max 360c works best if your vehicle has a dedicated WiFi hotspot built into it. This way you start up your vehicle, your detector automatically hops online, and everything works seamlessly while you drive.
As far as your phone many cell phones have tethering capabilities where they can turn into a WiFi hotspot and share their internet connection with other devices. I use this all time time when traveling to give my laptop an internet connection, for example. This would work with the Max 360c, particularly on Android. On iOS it wouldn't work as well.
Whichever type of phone you're using, if your phone is going to act as a WiFi hotspot, you'll need a second phone to set up your Max 360c. You'll need your primary phone set up as a hotspot and a second phone to control the 360c and connect it to the first phone. Once you do that then yes, your 360c will work with tethering.
Max 360c features includes:
Latest Magnetic Sticky Cup Windshield Mount

Included Escort USB SmartCord (for an additional savings of $34.95!)

Flexible Travel Case

FREE 1 Year Subscription to Escort Live!

FREE 3 Month Subscription to Defender Database
For more information about the Escort Max 360c Radar/Laser Detector visit www.https://www.escortradar.com
Petcube - Interactive Pet Camera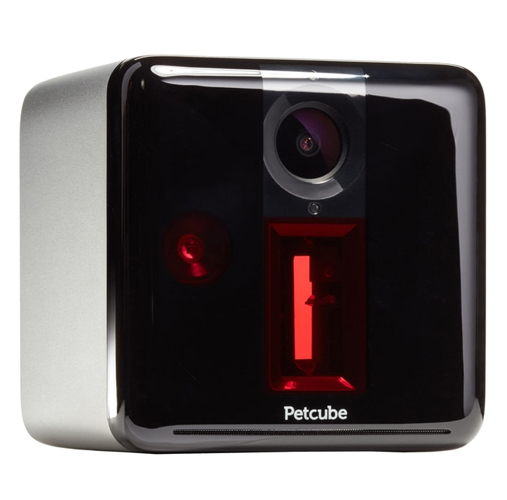 The Petcube Camera is a device which lets you check in via video and audio with your pets, while you're away from home. But the Petcube is far more than a simple pet monitor.
The Petcube interactive wi-fi pet camera is truly interactive: It has a laser 'toy' built in, which can be remotely activated to play with your pets while you are away. There is also two-way audio: You can speak to your pets and hear them. A significant part of the Petcube experience, is the Petcube app for both Android and Apple phones. This is not only how you interact with your pet, but it also provides a powerful social networking tool. Via Petcube Care, your pet's activities can be recorded on Petcube video and viewed at your leisure.

Specs: The Petcube plugs into the mains power, and uses WiFi to connect to the rest of the world. It ships in a neat 4-inch aluminum cube with a black plastic face that shields the camera and laser. The camera offers 720p HD and offers a wide angle 138-degree lens so you should" be able to see your pet in its main room.
Laser Pointer: The laser is a mere 5 milliwatt model, so there's no risk of singe marks on your cat or dog, but by dragging your finger across the smartphone screen, you can guide the laser across the floor or up a wall for the pet to play with as a laser toy, helping coax them out of destructive behavior.
Access Control: Users can share access to the camera and app with family, allowing them to play with the pets too – and there's a special Petcube social media site where owners can gather and show off their pets in action. That public mode may be not for everybody regarding privacy, but it is there.

Pros:
Excellent video quality
Unobtrusive design
Multi-purpose app
Barking and movement alerts

Cons:
Erratic laser
Non-adjustable camera
The other great use is for animal shelters and establishments such as cat cafes. Petcube works with a number of shelters across the US, and it's nice that you're able to help keep the animals entertained. Even if you don't have a Petcube of your own, you might enjoy the app just to be able to play with and observe animals from around the world.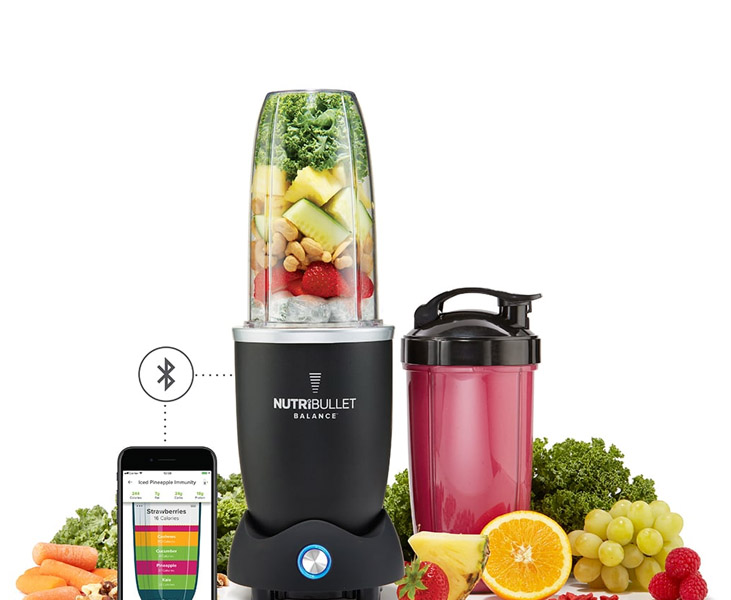 I love smoothies for my breakfast and throughout the day, especially after a work out. It's an easy, healthy solution and I love that it doesn't take me much time to make myself a nutritious meal. I use plant-based protein powder, almond milk, fresh spinach, and whatever other ingredients I feel like, such as beets, bananas, carrots, pineapples, kale etc. to make a healthy smoothie.
So I tried the NutriBullet Balance it's compact, easy to use, even easier to wash, and it can blend up just about anything. Even more than that, though, this smart blender hooks up to an app on your phone and helps you track everything you put in your smoothie. It tells you how many calories you're consuming with every smoothie, along with all your macros.
The NutriBullet Balance, is a smart nutrient extractor that has a built-in scale and a Bluetooth connection. With the NutriBullet Balance blender and its companion app, available for iOS and Android, you can build NutriBlast smoothies that have been customized to meet your dietary preferences and needs.
Using this blender has been a huge help for me, because I can now see that some of my smoothies in the past have simply contained too much food for one meal. If you're trying to lose weight and you love smoothies, you might fall in love with this product!
Here is how it works:
Before you start using the NutriBullet Balance, you should get the Balance App. The App is available for Apple iOS and Android mobile devices, and you can download it in the Apple App Store or Google Play. Once you have downloaded and installed the App on your smart phone or tablet, you can launch it, and it will quickly connect via Bluetooth.
The App lets you choose your eating style, with options such as low-sugar, dairy-free, and paleo. Based on your tastes, nutrition goals and dietary restrictions, the App will search its database of hundreds of recipes, and show you recipes that match your preferences. In addition to smoothies, the database contains recipes for soups, desserts, dips, and other liquid meals and snacks. Each recipe is accompanied with nutritional information, including calories, protein, carbs, sugar, and fiber.
After choosing a recipe, you can place the blending cup on the NutriBullet Balance and start adding ingredients per the App's instructions. The built-in scale of the blender measures the weight of your ingredients as you add them to the blending cup, and sends the information to the App via Bluetooth. Once you hit the right amount of an ingredient, the App gives you visual and audible cues so you know it is time to move on to the next step.
Once the ingredients are in the blender, you can initiate the blending process. Based on the ingredients, the NutriBullet Balance automatically sets the blend time, so each NutriBlast smoothie should come out nice and smooth. During the blending process, you can watch the second countdown to your perfect smoothie on the App.
Tenba Transport Air Wheeled Case Attache 3220W (Black)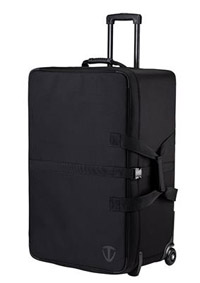 Photographers wishing to up their travel game will appreciate the black Transport Air Wheeled Case Attache 3220W from Tenba. The case has a zippered, spacious main compartment with touch-fastening dividers for storing and organizing two video/DSLR cameras or lighting gear, up to ten lenses, flash, and related accessories. Under the lid is a clear-mesh, zip pocket for cables, cards, batteries, and more. The lid is tethered for easy access to gear. Carry the case with the three soft-rubber grip handles, or roll with the heavy-duty wheels and extending handles. Knowing how hard life can be on a photographer's gear, Tenba has designed the case to withstand a stacked load of up to 400 pounds. The front of the case has a clear I.D. window for your business card. Strength and durability are ensured by the 1680D ballistic nylon construction, YKK zippers, welded steel D-rings, ABS molded rim, air-channeled polypropylene walls, high-density EVA foam, and more.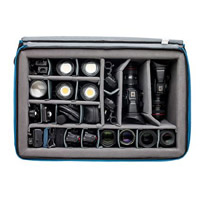 Hard Case Safety
Air Cases provide the strength and rigidity of a hard case at a fraction of the weight. They are strong enough to withstand more than 400 pounds stacked on top, yet they weigh up to 35% less than the average plastic hard case.
Impact Protection
Patented layered construction absorbs and disperses impact better than the single-layer wall of an injection molded hard case.
Durability and Weather Resistance
Built with the finest materials and hardware, including water-repellent 1680D ballistic nylon (exterior), soft brushed tricot (interior), hypalon-reinforced corners, YKK® zippers and heavily-reinforced stitching.
Heavy-duty Wheels and Extending Handle
Corner mounted wheels give the case a wide wheelbase and ensure excellent stability when rolling. Aircraft-grade aluminum handle extends to comfortable walking height, easing the strain on the back and shoulders when wheeling through long airport stretches. Ergonomic handle has soft coating for a comfortable grip.
Tethered Case Lid
Keeps lid upright when opened so it works as a mobile workstation. Helps the Air Case maintain a small footprint in tight environments.
Soft Rubber Hand Grips
Comfortable to carry even when the case is fully loaded. Three handles per case ensure that heavy loads can be shared with a second person when needed.
Zippered Interior Pocket
Keeps cables and other small items organized.
Versatile Divider System
Reinforced, adjustable dividers to customize layout. Gray dividers are flexible and blue dividers are rigid for additional support.
The Tenba Air Case retails for $399.95, www.tenba.com