SUPERVILLAIN: THE MAKING OF TEKASHI 6IX9INE
SERIES PREMIERE DATE: Sunday, February 21, on SHOWTIME 22 on Apple TV+
New episodes of Supervillain will debut on-air every Sunday through March 7, while the entire series will release for on-demand streaming or download on SHOWTIME and across all SHOWTIME partner platforms on February 21.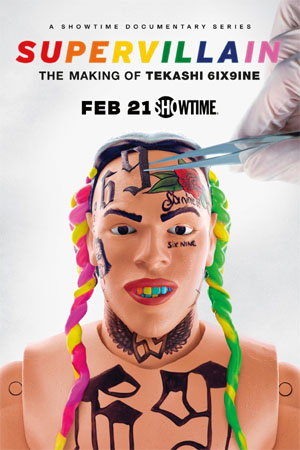 In the three-part series, director Karam Gill (Ice Cold, G-Funk) examines manufactured celebrity through the lens of 6ix9ine's controversial artistry, personal demons and mastery of social media, as a reflection of our times and the complicity of culture today. The series is narrated by Giancarlo Esposito (Better Call Saul, The Mandalorian). SUPERVILLAIN is produced by Imagine Documentaries, Rolling Stone and Lightbox. Brian Grazer executive produces with Justin Wilkes and Sara Bernstein of Imagine Documentaries, Gus Wenner of Rolling Stone, Jonathan Chinn and Simon Chinn of Lightbox, journalist Stephen Witt and Peter J. Scalettar.
SUPERVILLAIN will trace how New York City deli clerk Daniel Hernandez manufactured himself into viral hip hop sensation Tekashi 6ix9ine, the ruthless, tattooed face of Gen Z and hip hop's prince of trolls. Based on Witt's Rolling Stone feature, "Tekashi 6ix9ine: The Rise and Fall of a Hip-Hop Supervillain," the series features an exclusive post-prison interview with 6ix9ine following his release last year. Through the narrative spine of Tekashi 6ix9ine's controversial artistry and personal demons, this bizarre and complicated story is in many ways the truest reflection of current times as it unpacks the life-shattering results of influence, impact of social media and the disturbing possibilities of a deeply connected world.
DIRECTED BY: Karam Gill
EXECUTIVE PRODUCED BY:  Brian Grazer, Justin Wilkes & Sara Bernstein (Imagine Documentaries), Gus Wenner (Rolling Stone), Jonathan Chinn & Simon Chinn (Lightbox), Stephen Witt (author of Rolling Stone feature "Tekashi 6ix9ine: The Rise and Fall of a Hip-Hop Supervillain"), Peter J. Scalettar
NARRATED BY: Giancarlo Esposito
Tuesdays on NBC (8-8:30 p.m. ET); Series Premiere: Feb. 16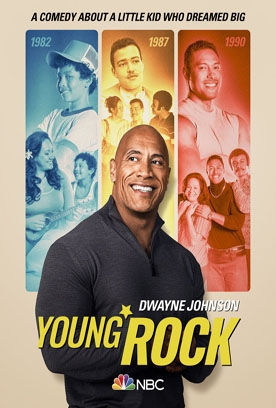 "From Nahnatchka Khan and Dwayne Johnson, NBC has given an 11-episode series order to "Young Rock," a single-cam comedy inspired by Johnson himself.
The series will be executive produced by Nahnatchka Khan, Dwayne Johnson, Jeff Chiang, Dany Garcia, Hiram Garcia, Brian Gewirtz and Jennifer Carreras. The show will be produced by Universal Television, a division of Universal Studio Group, Seven Bucks Productions and Fierce Baby Productions.
The pilot was co-written by Khan and Chiang. Johnson will appear in each episode as the focus and inspiration of the series will be about his formative years.
Johnson and Garcia's Seven Bucks Productions is a global entertainment force with film revenues exceeding $10 billion worldwide. Johnson currently stars in "Jumanji: The Next Level" which has grossed over $600M worldwide and will next star in Disney's "Jungle Cruise." Johnson and Garcia will also return to executive produce the second season of NBC's "The Titan Games," Johnson also serves as host.
Writer/director/showrunner Khan's Fierce Baby Productions is a film and TV production company focused on amplifying new voices and perspectives in both comedy and drama. Khan is the creator and executive producer of the groundbreaking television series "Fresh Off the Boat," currently airing its sixth and final season, and previously "Don't Trust the B—- In Apartment 23," which ran for two seasons on ABC."
---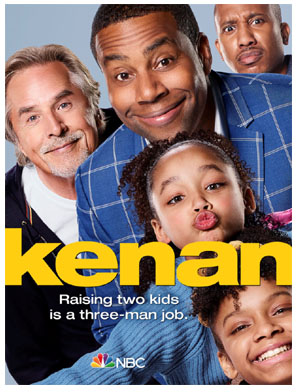 This single-camera comedy follows a widowed dad, Kenan (Kenan Thompson), who's juggling a high-profile job as the host of an Atlanta morning show and raising his two girls. As Kenan tries to move on, his father-in-law (Don Johnson), brother (Chris Redd) and co-workers all have strong opinions on the best way to live his life.

The show centers on the familial relationships as Kenan tries to reclaim his life after his wife's death. Kenan's daughters are his world – the too smart Aubrey (Dani Lane) and the silly, unpredictable Birdie (Dannah Lane). He struggles to balance parenting them as a single dad and hosting his show, which leads him to reluctantly accepting help from his father-in-law. Rick was a gallivanting sax player when his daughter, Cori (Niccole Thurman), was young and missed out on a lot of her childhood, so he is aiming to make that up with his granddaughters, although his old-school parenting style doesn't often match up to Kenan's.

At work, Kenan excels at his job with the help of his driven executive producer Mika (Kimrie Lewis). Mika can be tightly wound, especially when Gary, as Kenan's not-so-managerial manager, tries to insert himself, but Mika remains a confidante and ally to Kenan. They are able to be vulnerable with one another and connect as friends … and maybe something more.

Lorne Michaels, David Caspe, Jackie Clarke, Kenan Thompson, Ken Whittingham and Andrew Singer serve as executive producers.
"Kenan" is produced by Universal Television, a division of Universal Studio Group, in association with Broadway Video.
SNEAK PEEK FROM AN ALL-NEW EPISODE OF THE PSYCHOLOGICAL THRILLER SERIES, "LOSING ALICE," AVAILABLE THIS FRIDAY, FEBRUARY 5 ON APPLE TV+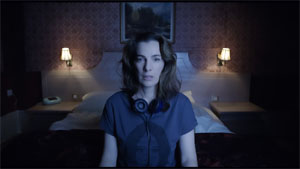 A new psychological thriller series, "Losing Alice" takes the viewer on a cinematic journey through the conscious and subconscious of a female film director who feels irrelevant since raising her family. After a chance encounter on the train, she becomes obsessed with a young femme fatale screenwriter and her haunting script, eventually compromising her moral integrity in order to achieve power, relevance and success. Through the prism of this female Faust, the series explores issues of jealousy, guilt, fear of aging, and the complex relationships women have among themselves and each other. But above all, "Losing Alice" is a love letter for the still-too-rare female director. New episodes premiere weekly, every Friday exclusively on Apple TV+.
"Losing Alice" stars internationally acclaimed actress Ayelet Zurer ("Daredevil," "Man of Steel") in the role of Alice Ginor; Lihi Kornowski ("False Flag (2)," "The Burglar") as Sophie Marciano; Gal Toren ("The Chef," "Red Cow") as David, Yossi Marshek ("Sleeping Bears," "Yellow Peppers"); and Chelli Goldenberg ("Out in the Dark") as Tami.
The series is created, written and directed by Sigal Avin, who also serves as executive producer alongside Yoni Paran, Nadav Palti and Tami Mozes Borovitz. The series will be available to stream globally for the first time ever on Apple TV+ in a new co-production deal with Israel's Dori Media productions in association with HOT.
Hashtag: #LosingAlice #AppleTV
"RIVERDALE" Wednesdays (8:00-9:00 p.m. ET) on The CW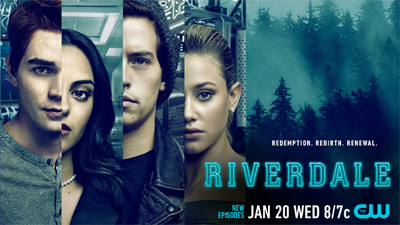 The fourth season of RIVERDALE began with a funeral and tribute to Archie's late father, the beloved Fred Andrews (Luke Perry). Throughout the season, Archie (KJ Apa) tried to live up to his father's memory by mentoring youths at his Community Center with the help of his pals Reggie (Charles Melton) and Munroe Moore. But the shadow of that tragedy loomed over Archie—and only darkened when Fred's brother Frank arrived, bringing unforeseen complications with him, much to the chagrin of Archie's mother (Molly Ringwald).
Meanwhile, after Betty (Lili Reinhart) saved her mom (Mädchen Amick) and sister from the Farm cult, she joined her brother Charles's Junior F.B.I. Training Program. Veronica (Camila Mendes) found herself locked in a season-long battle with her father Hiram (Mark Consuelos) and half-sister Hermosa over her burgeoning maple rum business. And, at the urging on FP (Skeet Ulrich), Jughead (Cole Sprouse) enrolled in a new school, Stonewall Prep, only to be caught up in a mystery that involved his grandfather, the secret author of a series of teen detective novels called "The Baxter Brothers." His classmates turned out to be killers—and it was up to Betty and Jughead (pretending to be dead) to solve the murder of…Jughead Jones!
At Thistlehouse, Cheryl (Madelaine Petsch) was trapped in a gothic nightmare, fighting her demons, literal and metaphoric, with the loving support of her girlfriend Toni (Vanessa Morgan). She finally put her brother Jason to rest while maintaining her control over the Vixens as resident HBIC against Principal Honey (Kerr Smith). Kevin (Casey Cott) got dragged into an illicit tickle scheme, but still found time to put on a Variety Show with hit songs from "Hedwig and the Angry Inch."
And throughout the season, disturbing unmarked videotapes kept appearing on our characters' doorsteps, ensuring that there would be one more mystery to solve. Season five of RIVERDALE will begin with our characters' final days as students at Riverdale High. From an epic Senior Prom to a bittersweet Graduation, there are a lot of emotional moments and goodbyes yet to come—with some couples breaking up, as everyone goes their separate ways to college—or elsewhere. Then, we will redock with our gang as young adults, all returning to Riverdale to escape their troubled pasts. And life—and romance—will only be more complicated now that they're in their twenties…
Based on the characters from Archie Comics, RIVERDALE is from Berlanti Productions in association with Warner Bros. Television and CBS Television Studios, with executive producers Roberto Aguirre-Sacasa ("Supergirl," "Glee"), Greg Berlanti ("Arrow," "The Flash," "Supergirl"), Sarah Schechter ("Arrow," "The Flash," "Supergirl)" and Jon Goldwater (Archie Comics Publisher & CEO).
"WALKER Thursday (8:00 – 9:00 p.m. ET) on The CW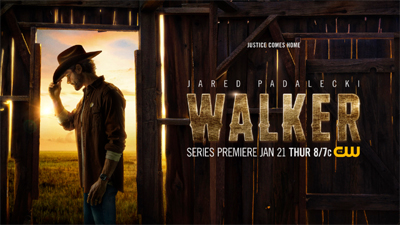 WALKER, a reimagining of the long-running series "Walker, Texas Ranger," stars Jared Padalecki ("Supernatural") as Cordell Walker, a widower and father with his own moral code, who returns home to Austin, Texas after being undercover for nearly a year, only to discover there's harder work to be done at home. Walker will attempt to reconnect with his creative and thoughtful son, August (Kale Culley, "Me, Myself and I") and his headstrong, somewhat rebellious teenaged daughter, Stella (Violet Brinson, "Sharp Objects") and navigate changes with the rest of the family. His ADA brother, William "Liam" (Keegan Allen, "Pretty Little Liars") returned home from New York and stepped in during Walker's absence, making it all the more difficult for Walker to resume his place in the family. The perceptive matriarch of the Walker clan, Abeline (Molly Hagan, "Herman's Head") doesn't hesitate to speak her mind to keep everyone in line and their traditional rancher father, Bonham (Mitch Pileggi, "The X-Files") isn't much for long winded, sentimental prattling, but voices his opinion when it counts most. At work, Walker's former colleague, Larry James, is now his Ranger Captain, (Coby Bell, "The Game") and both men need time to adjust to their new dynamic. Walker finds unexpected common ground with his new partner, Micki Ramirez (one of the first women in Texas Rangers' history) played by Lindsey Morgan ("The 100"). She knows there's a lot at stake for her in this new job and is quick to school Walker on curbing his maverick ways. Walker's not Micki's only distraction, as her relationship with an old friend, Trey (played by Jeff Pierre, "Once Upon a Time") becomes more serious. The series closely follows Walker as he tries to balance all the new details in his old life while growing increasingly suspicious about the circumstances surrounding his wife's (Genevieve Padalecki) death. 
WALKER stars Jared Padalecki as Cordell Walker, Lindsey Morgan as Micki, Keegan Allen as Liam, Mitch Pileggi as Bohnam, Molly Hagan as Abeline, Violet Brinson as Robin, Kale Culley as Arlo, Coby Bell as Captain Larry James, and Jeff Pierre as Trey Barnett.
WALKER is written and executive produced by Anna Fricke ("Being Human," "Valor"), and executive produced by Dan Lin and Lindsay Liberatore and Jared Padalecki. WALKER is from CBS Television Studios in association with Rideback.
"BATWOMAN" Sunday (8:00-9:00 p.m. ET) on The CW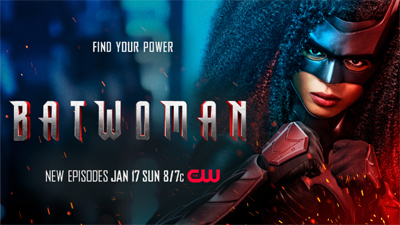 In season two of BATWOMAN, when Ryan Wilder (Javicia Leslie) first discovers Kate Kane's Batsuit, she has no idea how drastically her life is about to change. A sassy, smart lesbian with a difficult past, Ryan sees the suit as her chance to finally be powerful and no longer a victim as she survives in the tough streets of the city.
While Ryan goes rogue in the shadows, Gotham grapples with their missing hero, believing Batwoman has fled the city after a public stand-off with Commander Jacob Kane (Dougray Scott) and the Crows. But Kate Kane's disappearance hits hardest at home where Jacob, Sophie (Meagan Tandy), Luke (Camrus Johnson), Mary (Nicole Kang) and even Alice (Rachel Skarsten) each struggle with the devastating news in their own way. Meanwhile, the False Face Society tightens its grip on Gotham distributing a perilous new drug known as Snakebite, "Bruce Wayne" (Warren Christie) finds his way home to wreak havoc, Safiyah (Shivaani Ghai) surfaces with plans for revenge, and a new set of villains descends on the city.
As chaos and uncertainly proliferate, Ryan realizes how much the symbol on the suit means to Gotham, launching her on a personal journey that takes her from fledgling substitute to confident caped crusader, from living in her van with her plant to chasing villains in the Batmobile. Ryan Wilder becomes a very different Batwoman than Kate Kane – her own Batwoman – but with the same understanding of what it means to be a hero.
Starring Javicia Leslie, Dougray Scott, Rachel Skarsten, Meagan Tandy, Nicole Kang, and Camrus Johnson.
Based on the characters from DC, BATWOMAN is from Berlanti Productions in association with Warner Bros. Television with executive producers Greg Berlanti ("Arrow," "The Flash," "Supergirl"), Caroline Dries ("The Vampire Diaries," "Smallville"), Geoff Johns ("Arrow," "The Flash," "Titans"), Chad Fiveash ("The Vampire Diaries," "Gotham"), James Patrick Stoteraux ("The Vampire Diaries," "Gotham") and Sarah Schechter ("Arrow," "The Flash," "Supergirl").
"TWO SENTENCE HORROR STORIES" Premieres Tuesday, January 12th (8:00-9:00 p.m. ET) on The CW
TWO SENTENCE HORROR STORIES is an anthology of contemporary tales of horror and haunting for the diverse and digital age. Inspired by the viral fan fiction of two sentence horror stories, this anthology series taps into universal primal fears, filtered through the anxieties of the most connected and inclusive generation. With dizzying advancements in technology, social progress, inequality and environmental degradation…the things that haunt us are still the same.
Executive produced by Vera Miao ("Best Friends Forever"), Emily Wiedemann ("Creative Control") and Chazz Carfora ("Stories From The Felt"), TWO SENTENCE HORROR STORIES is from Stage 13 in association with Warner Bros. 
ENJOY THE VIEW … AND WATCH YOUR BACK WHEN THE SERIES PREMIERE OF 'BIG SKY' DEBUTS TUESDAY, NOV. 17 AT 10/9c, ON ABC
"Big Sky" premieres TUESDAY, NOV. 17 (10:00-11:00 p.m. EST).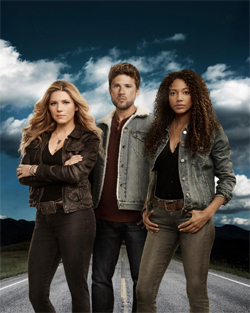 This new thriller from visionary storyteller David E. Kelley ("Big Little Lies") is set in the heart of Montana, where dark secrets lie beneath the beautiful vistas. Kelley returns to broadcast television as showrunner and writer (on multiple episodes) on this riveting drama. 
While on a road trip to visit her boyfriend in Montana, Danielle Sullivan and her sister Grace are kidnapped by a truck driver on a remote part of the highway, setting off a chain of events that leads private detectives Cody Hoyt and Cassie Dewell to team up with Cody's estranged wife and ex-cop, Jenny Hoyt, to search for the sisters. But when the investigators discover these are not the only girls who have disappeared in the area, it's clear they've stumbled onto something much bigger than them all.
The series stars Katheryn Winnick as Jenny Hoyt, Kylie Bunbury as Cassie Dewell, Brian Geraghty as Ronald Pergman, Dedee Pfeiffer as Denise Brisbane, Natalie Alyn Lind as Danielle Sullivan, Jade Pettyjohn as Grace Sullivan, Jesse James Keitel as Jerrie, Valerie Mahaffey as Helen Pergman with John Carroll Lynch as Rick Legarski and Ryan Phillippe as Cody Hoyt.
Premieres Friday, November 13 at 8/7c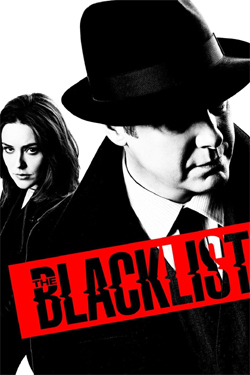 The Blacklist has finally made its return to NBC after a prolonged hiatus with "Roanoke," and the episode kicked Season 8 off to an intense and surprising start. Of course, not entirely surprising was the reveal that Katarina isn't the best influence on her daughter, but Liz's betrayal of both Red and the entire task force was a step beyond what fans may have expected, especially since she shared a kiss with Ressler in the episode as well! One of the most notable reveals of the episode, however, had to do with a character who has been recast: Dom.
Although Dom woke up from his coma before the unconventional end of The Blacklist Season 7, the death of actor Brian Dennehy seemed like the end of Dom in the show. Even though he didn't pass away in his coma as I for one expected, it still seemed more than a little possible that The Blacklist would kill the character early in Season 8, perhaps off-screen or with a body double. Instead, Guiding Light veteran Ron Raines is tackling the role moving forward, and executive producer John Eisendrath explained the decision to recast Dennehy to TVLine, saying:
It's always difficult to make that kind of decision. It is incredibly sad that people we've come to know and work with and admire have passed away. In this case, while on the one hand [Dennehy] is irreplaceable, on the other hand, the story was at a place where [Dom] was absolutely instrumental in it. He's the central point of the story. He knows a truth that everyone is trying to figure out. So while it was a difficult decision to do, we felt it was necessary, and we hope people understand that.
According to John Eisendrath, the plan for The Blacklist's twisty and turn-y plot had Dom at the center before Brian Dennehy's death. The actor passed away due to natural causes at the age of 81 back in April, and the Blacklist team used existing and previously filmed content to include Dennehy as Dom in the season finale, which used animation to complete elements that couldn't be finished before the production shutdowns throughout the entertainment industry.
James Spader and Megan Boone star in the drama about a criminal mastermind.
NBC RENEWS GLOBAL GAME SHOW PHENOMENON 'WEAKEST LINK' FOR SECOND SEASON
Freshman Series Won Timeslot in All Key Demos 
Jane Lynch Returns as Host and Executive Producer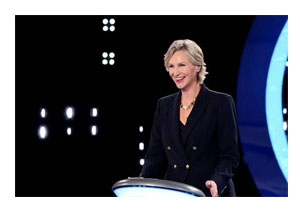 The "Weakest Link," NBC's newest hit game show phenomenon hosted by Jane Lynch, has been renewed for a second season. The popular series is a British import based on the iconic quiz show format distributed by BBC Studios.
Production on the new season, set for 13 episodes, will begin later this year.
"Audiences have clearly embraced this smart, fun and completely addicting show, and it's been a great addition to the NBC lineup," said Jenny Groom, Executive Vice President, Unscripted Content, NBCUniversal Television and Streaming. "A huge thank you to Jane, our friends at BBC Studios, Universal Television Alternative Studio and everyone who has been instrumental in keeping the DNA of the original format intact while simultaneously adding new flourishes that make it as relevant and popular as ever." 
"I'm thrilled that 'Weakest Link' will return for another season," Lynch said "It has been my honor to bring back this classic game show loved by millions. I also look forward to challenging the brain power of our players while baiting them to turn against one another for the chance to win some life-changing cash. And, of course, for my own enjoyment, and not to mention the opportunity to say 'You are the weakest link. Goodbye.' several times an episode." 
"As the fastest and fiercest game show on TV, 'Weakest Link' has been immortalized in pop culture," said Valerie Bruce, General Manager of BBC Studios, Los Angeles Productions. "The format has proven longevity, attracting global audiences for the past two decades and we're thrilled to celebrate its latest success in the U.S. Our Los Angeles production arm is excited to partner with NBC on a second season of the series with Jane Lynch, whose quick wit, humor and shrewdness are captivating."  
On the ratings front, "Weakest Link" was the #2 most-watched new broadcast alternative series of the fall and won its 10 p.m. Monday timeslot in all key demos. In most current figures for the season, "Weakest Link" is averaging a 1.2 in 18-49 and 5.6 million viewers, including linear, digital and VOD. In addition, the Sept. 29 premiere episode is up to a 1.9 in 18-49 and 7.7 million viewers when including linear and digital viewing.
Co-produced by BBC Studios' Los Angeles production arm and Universal Television Alternative Studio, the new version of "Weakest Link" delivers the fast-paced and quick-witted pillars of the original British format distributed by BBC Studios with a few modern twists.
The hybrid game show sees contestants answer general knowledge questions to bank prize money across multiple rounds. At the end of each round, the contestants vote out who they perceive to be the "Weakest Link" remaining. 
In each episode, eight contestants enter the studio as total strangers but must work together to bank the maximum amount of prize money available in each round. The contestants take turns to answer general knowledge questions to build chains of correct answers. Consecutive correct answers greatly increase the value of the chain, while incorrect answers break the chain and force the contestants to start over on the lowest rung with the smallest amount money. At the end of each round, contestants vote to eliminate the fellow contestant they consider to be the "Weakest Link" in the chain. The contestant who receives the highest number of votes leaves the game as the host declares the iconic phrase, "You are the Weakest Link. Goodbye."
The massively successful "Weakest Link" format distributed by BBC Studios has been produced in 46 territories around the globe, with more than 1,500 episodes having aired in the UK alone.
"Weakest Link" is casting now for its second season. Put your trivia skills and pop culture knowledge to the test. If you have the speed and smarts to win the grand prize, apply at theweakestlinkcasting.com. You must be 18 years or older, and other terms and conditions may apply. 
Lynch is a five-time Emmy Award and Gold Globe Award winner who received back-to-back Emmys for her role as host of NBC's "Hollywood Game Night." Her last Emmy win came in 2019 for Outstanding Guest Actress in a Comedy Series for her role in "The Marvelous Mrs. Maisel." 
"Weakest Link" is produced by BBC Studios in association with Universal Television Alternative Studio. Ryan O'Dowd serves as executive producer for BBC Studios. Stuart Krasnow, who executive produced the original NBC run, serves in the same role and is also showrunner. Lynch also executive produces. 
ABOUT BBC STUDIOS
BBC Studios, a global content company with British creativity at its heart, is a commercial subsidiary of the BBC. Formed in 2018 by the merger of BBC Worldwide and BBC Studios, it spans content financing, development, production, sales, branded services and ancillaries. BBC Studios' award-winning British programs are internationally recognized across a broad range of genres and specialties. The company has offices in 22 markets globally, including seven production bases in the UK and production bases and partnerships in a further nine countries around the world. BBC Studios, which makes over 2,500 hours of content a year, is a champion for British creativity around the world and a committed partner for the UK's independent sector.
In the Americas, BBC Studios – with team members across the region – operates two production units: one in Los Angeles, responsible for ratings juggernaut and Emmy Award-nominated "Dancing with the Stars" and multi-award-winning "Life Below Zero," and the other in Brazil, where local productions "Dancing Brasil" and "Bake Off Brasil" have become breakout hits. The company manages joint venture relationships with AMC Networks for flagship channel BBC America (U.S.) – home of original series "Killing Eve" and global brands "Seven Worlds: One Planet," "Doctor Who" and "Top Gear" – and with ITV for SVOD service BritBox (U.S./Canada), as well as a strategic partnership in Canada with Blue Ant Media for BBC Earth Channel. The company also operates a robust linear and digital content sales and co-productions operation, as well as a franchise management business.Currently, the company is readying the launch of BBC SELECT, a digital streaming channel offering unrivalled content across culture, politics and ideas that will be available on Amazon Prime Video Channels and the Apple TV app in early 2021. 
ABOUT UNIVERSAL TELEVISION ALTERNATIVE STUDIO
Launched in 2016, Universal Television Alternative Studio, a division of Universal Studio Group, is a leading supplier of successful unscripted content and formats, and creates, develops and produces a diverse slate of original series domestically and internationally. Among the studio's notable projects are Emmy Award-winning "World of Dance" from Jennifer Lopez, Dawyne Johnson's "The Titan Games" and songwriting competition "Songland." The studio is also responsible for the high-stakes game show "The Wall," which has been sold into 27 territories internationally, "Hollywood Game Night," which has been remade across 21 territories, and "Making It" from Emmy-nominated hosts Amy Poehler and Nick Offerman.