Opening Night Premiere with Celebrity Host Ashley Tisdale a Dazzling Success Drawing Crowds and Raising Funds for St. Jude! Day 1 Highlights for Thursday, February 16,2023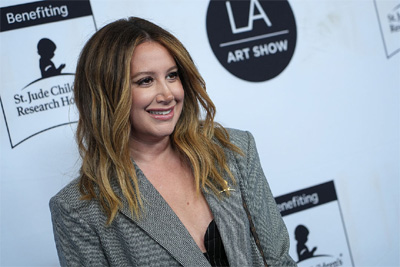 LA Art Show Opening Night Premiere Party drew large crowds of enthusiastic art lovers and raised funds for St. Jude Children's Research Hospital, and their charity partner.
Crowds of visitors gathered to see artist Robert Vargas live painting a powerful mural on site at the opening of the LA Art Show. Part of the artist's series, The sacRED Project, the mural, entitled, "Protect The Life Givers," will be on view throughout the show. 

The third mural in a three-city series – Albuquerque, New York City and now Los Angeles – is a call to address the epidemic of Missing and Murdered Indigenous Women in Canada, the United States and Latin America.

The #MMIW movement is intended to focus on the impact of violence in communities, and the high rates of domestic violence, sexual violence and growing rates of trafficking combined with the problems of poverty, racism and homelessness, which make this issue more challenging to address.
Also invited a group of Korean dignitaries that attend the Opening Night Premiere. 

LA Art Show Producer-Director Kassandra Voyagis, along with the Consul General of the Republic of Korea in Los Angeles Youngwan Kim, and the Director of the Korean Cultural Center Los Angeles Sangwon Jung, gathered to welcome the 14 Korean Galleries participating in the 28th Edition of the LA Art Show.
And also hosted a Meet & Greet for DIVERSEartLA with International Dignitaries representing Europe, including the Consul General of the Federal Republic of Germany Los Angeles, Stefan Schneider and the Director of Italian Institute of Culture, Emanuele Amendola, during the Opening Night Premiere. Curated by Marisa Caichiolo, the DIVERSEartLA exhibition platform is a collaborative program involving the participation of several international museums and art organizations. 
DIVERSEartLA returns to the LA Art Show with nine compelling immersive insallations addressing the global climate crisis.