ALL RELEASE DATES ARE SUBJECT TO CHANGE
"AVATAR: THE WAY OF WATER"
FILM OPENS IN THEATERS DECEMBER 16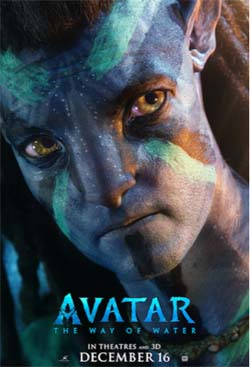 James Cameron's highly anticipated first follow-up to his Academy Award®-winning "Avatar" opens in theaters on December 16, with advance tickets for the film now on sale.
With "Avatar: The Way of Water,"  the cinematic experience reaches new heights as Cameron transports audiences back to the magnificent world of Pandora in a spectacular and stirring action-packed adventure.
Set more than a decade after the events of the first film, "Avatar: The Way of Water" begins to tell the story of the Sully family (Jake, Neytiri, and their kids), the trouble that follows them, the lengths they go to keep each other safe, the battles they fight to stay alive,  and the tragedies they endure. 
Directed by James Cameron and produced by Cameron and Jon Landau, the Lightstorm Entertainment Production stars Sam Worthington, Zoe Saldaña, Sigourney Weaver, Stephen Lang and Kate Winslet. Screenplay by James Cameron & Rick Jaffa & Amanda Silver. Story by James Cameron & Rick Jaffa & Amanda Silver & Josh Friedman & Shane Salerno. David Valdes and Richard Baneham serve as the film's executive producers.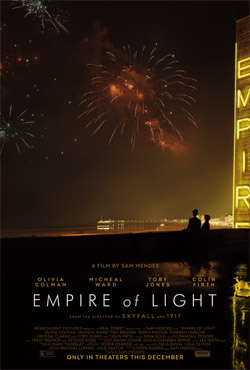 From Academy Award®-winning director and writer Sam Mendes, EMPIRE OF LIGHT is a moving drama about the power of human connection during turbulent times. Set in and around a faded old cinema in an English coastal town in the early 1980s, it follows Hilary (Olivia Colman) a cinema manager struggling with her mental health, and Stephen (Micheal Ward), a new employee who longs to escape this provincial town in which he faces daily adversity. Both Hilary and Stephen find a sense of belonging through their unlikely and tender relationship and come to experience the healing power of music, cinema, and community.
BABYLON IS ONLY IN THEATRES DECEMBER 23, 2022
OFFICIAL SYNOPSIS
From Damien Chazelle, BABYLON is an original epic set in 1920s Los Angeles led by Brad Pitt, Margot Robbie and Diego Calva, with an ensemble cast including Jovan Adepo, Li Jun Li and Jean Smart. A tale of outsized ambition and outrageous excess, it traces the rise and fall of multiple characters during an era of unbridled decadence and depravity in early Hollywood.
WRITTEN AND DIRECTED BY
Damien Chazelle 
PRODUCED BY
Marc Platt, p.g.a., Matthew Plouffe, p.g.a., Olivia Hamilton, p.g.a.   
EXECUTIVE PRODUCED BY
Michael Beugg, Tobey Maguire, Wyck Godfrey, Helen Estabrook, Adam Siegel 
STARRING
Brad Pitt, Margot Robbie, Diego Calva, Jean Smart, Jovan Adepo, Li Jun Li, P.J. Byrne, Lukas Haas, Olivia Hamilton, Tobey Maguire, Max Minghella, Rory Scovel, Katherine Waterston, Flea, Jeff Garlin, Eric Roberts, Ethan Suplee, Samara Weaving, Olivia Wilde
In Select Theaters December 2nd
Expanding December 25th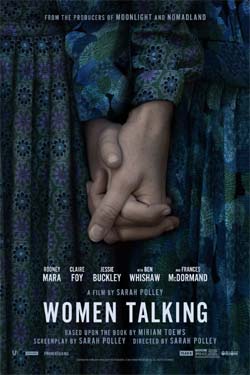 In 2010, the women of an isolated religious community grapple with reconciling their reality with their faith. Based on the novel by Miriam Toews.
Directed by: Sarah Polley
Screenplay by: Sarah Polley
Based upon the Book by: Miriam Toews
Produced by: Dede Gardner, p.g.a, Jeremy Kleiner, p.g.a., Frances McDormand, p.g.a.
Executive Producers: Brad Pitt, Lyn Lucibello Brancatella, Emily Jade Foley
Cast: Rooney Mara, Claire Foy, Jessie Buckley, Judith Ivey, with Ben Whishaw and Frances McDormand
Genre: Drama
Rating: PG-13 for mature thematic content including sexual assault, bloody images, and some strong language
Site | Facebook | Instagram | Twitter
#WomenTalking
Puss in Boots: The Last Wish
Puss in Boots: The Last Wish, only in theaters December 21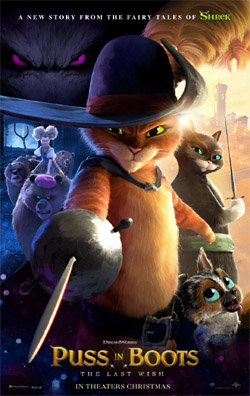 This fall, everyone's favorite leche-loving, swashbuckling, fear-defying feline returns. 
For the first time in more than a decade, DreamWorks Animation presents a new adventure in the Shrek universe as daring outlaw Puss in Boots discovers that his passion for peril and disregard for safety have taken their toll. Puss has burned through eight of his nine lives, though he lost count along the way. Getting those lives back will send Puss in Boots on his grandest quest yet. 
Academy Award® nominee Antonio Banderas returns as the voice of the notorious PiB as he embarks on an epic journey into the Black Forest to find the mythical Wishing Star and restore his lost lives. But with only one life left, Puss will have to humble himself and ask for help from his former partner and nemesis: the captivating Kitty Soft Paws (Oscar® nominee Salma Hayek). 
In their quest, Puss and Kitty will be aided—against their better judgment—by a ratty, chatty, relentlessly cheerful mutt, Perro (Harvey Guillén, What We Do in the Shadows). Together, our trio of heroes will have to stay one step ahead of Goldilocks (Oscar® nominee Florence Pugh, Black Widow) and the Three Bears Crime Family, "Big" Jack Horner (Emmy winner John Mulaney, Big Mouth) and terrifying bounty hunter, The Big Bad Wolf (Wagner Moura, Narcos).
Puss in Boots: The Last Wish features an all-star comedic cast that includes Oscar® winner Olivia Colman, Ray Winstone (Black Widow), Samson Kayo (Sliced), Emmy nominee Anthony Mendez (Jane the Virgin) and Tony nominee Da'Vine Joy Randolph (Trolls World Tour).  
The long-awaited follow-up to the 2011 Academy Award®-nominated blockbuster, The Last Wish is directed by Joel Crawford and produced by Mark Swift, the creative team behind DreamWorks Animation's smash, The Croods: A New Age. The film's executive producer is Illumination founder and CEO Chris Meledandri. 
The character of Puss in Boots first appeared in 2004's Oscar®-nominated Shrek 2 and instantly became a global, scene-stealing sensation. Puss then co-starred in two other Shrek sequels and his solo film, as well as in multiple DreamWorks Animation videos and TV series. The Shrek and Puss in Boots films have collectively earned more than $3.5 billion worldwide.
Genre: Animated Comedy Adventure
Cast: Antonio Banderas, Salma Hayek, Olivia Colman, Harvey Guillén, Samson Kayo, Wagner Moura, Anthony Mendez, John Mulaney, Florence Pugh, Da'Vine Joy Randolph, Ray Winstone
Director: Joel Crawford 
Producer: Mark Swift
Executive Producer: Chris Meledandri
THE SON OPENS IN LV THEATERS ON DECEMBER 23rd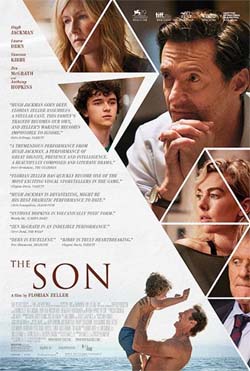 A cautionary tale that follows a family as it struggles to reunite after falling apart. THE SON centers on Peter (Hugh Jackman), whose hectic life with his infant and new partner Beth (Vanessa Kirby) is upended when his ex-wife Kate (Laura Dern) appears at his door to discuss their son Nicholas (Zen McGrath), who is now a teenager. The young man has been missing school for months and is deeply troubled. Peter strives to take care of Nicholas as he would have wanted his own father (Anthony Hopkins) to have taken care of him while juggling his and Beth's new son, and at work an offer of a dream position in Washington. However, by reaching for the past to correct its mistakes, he loses sight of how to hold onto Nicholas in the present.
DIRECTED BY: Florian Zeller
WRITTEN BY: Florian Zeller, Christopher Hampton
STARRING: Hugh Jackman, Laura Dern, Vanessa Kirby, Zen McGrath, and Anthony Hopkins.
Shotgun Wedding will release globally on Prime Video January 27, 2023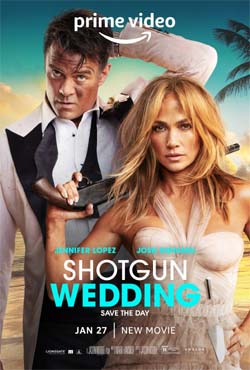 Directed by Jason Moore
Written by Mark Hammer
Produced by Todd Lieberman, p.g.a., David Hoberman, p.g.a., Alexander Young, p.g.a., Jennifer Lopez, p.g.a., Elaine Goldsmith-Thomas, p.g.a., and Benny Medina
Starring Jennifer Lopez, Josh Duhamel, Jennifer Coolidge, Sônia Braga, Cheech Marin, Selena Tan, D'Arcy Carden, Callie Hernandez, Desmin Borges, Steve Coulter, Alberto Isaac, and Lenny Kravitz

In Shotgun Wedding, Darcy (Jennifer Lopez) and Tom (Josh Duhamel) gather their lovable but very opinionated families for the ultimate destination wedding, just as the couple begin to get cold feet. And if that wasn't enough of a threat to the celebration, suddenly everyone's lives are in danger when the entire party is taken hostage. "'Til Death Do Us Part" takes on a whole new meaning in this hilarious, adrenaline-fueled adventure as Darcy and Tom must save their loved ones—if they don't kill each other first.

 100 minutes | Rated R

#ShotgunWeddingMovie
#LiterallySaveTheDay
@primevideo 
Knock at the Cabin – In Theaters February 3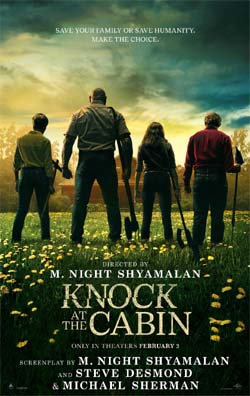 While vacationing at a remote cabin, a young girl and her parents are taken hostage by four armed strangers who demand that the family make an unthinkable choice to avert the apocalypse. With limited access to the outside world, the family must decide what they believe before all is lost.
From visionary filmmaker M. Night Shyamalan, Knock at the Cabin stars Dave Bautista (Dune, Guardians of the Galaxy franchise), Tony award and Emmy nominee Jonathan Groff (Hamilton, Mindhunter), Ben Aldridge (Pennyworth, Fleabag), BAFTA nominee Nikki Amuka-Bird (Persuasion, Old), newcomer Kristen Cui, Abby Quinn (Little Women, Landline) and Rupert Grint (Servant, Harry Potter franchise).
Universal Pictures presents a Blinding Edge Pictures production, in association with FilmNation Features and Wishmore Entertainment, an M. Night Shyamalan film. The screenplay is by M. Night Shyamalan and Steve Desmond & Michael Sherman based on the national bestseller The Cabin at the End of the World by Paul Tremblay. The film is directed by M. Night Shyamalan and produced by M. Night Shyamalan, Marc Bienstock (Split, Glass) and Ashwin Rajan (Servant, Glass). The executive producers are Steven Schneider, Christos V. Konstantakopoulos and Ashley Fox.
Genre: Thriller
Cast: Dave Bautista, Jonathan Groff, Ben Aldridge, Nikki Amuka-Bird, Kristen Cui, Abby Quinn and Rupert Grint
Screenplay by: M. Night Shyamalan and Steve Desmond & Michael Sherman, based on the book The Cabin at the End of the World by Paul Tremblay
Directed by: M. Night Shyamalan
Produced by: M. Night Shyamalan, Marc Bienstock, Ashwin Rajan
Executive Producers: Steven Schneider, Christos V. Konstantakopoulos, Ashley Fox
COCAINE BEAR – In Theaters February 24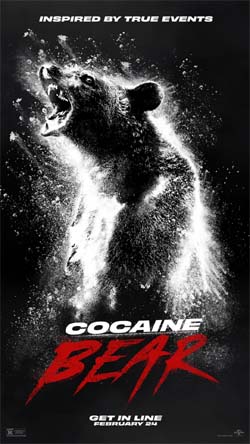 Inspired by the 1985 true story of a drug runner's plane crash, missing cocaine, and the black bear that ate it, this wild thriller finds an oddball group of cops, criminals, tourists and teens converging in a Georgia forest where a 500- pound apex predator has ingested a staggering amount of cocaine and gone on a coke-fueled rampage for more blow … and blood.
Cocaine Bear stars Keri Russell (The Americans), Emmy winner Margo Martindale (The Americans), Emmy winner Ray Liotta (The Many Saints of Newark), Alden Ehrenreich (Solo: A Star Wars Story), O'Shea Jackson Jr. (Straight Outta Compton), Jesse Tyler Ferguson (Modern Family), Kristofer Hivju (Game of Thrones), Kahyun Kim (American Gods), Christian Convery (Sweet Tooth), Brooklynn Prince (The Florida Project) and newcomer Scott Seiss.
Directed by Elizabeth Banks (Charlie's Angels, Pitch Perfect 2) from a screenplay by Jimmy Warden (The Babysitter: Killer Queen), Cocaine Bear is produced by Oscar® winners Phil Lord and Chris Miller (Spider-Man: Into The Spider-Verse, The Mitchells vs. The Machines) and Aditya Sood (The Martian) for Lord Miller, by Elizabeth Banks and Max Handelman (Pitch Perfect franchise) for Brownstone Productions, and by Brian Duffield (Spontaneous). Robin Fisichella (Ma) will executive produce.
Genre: Thriller
Cast: Keri Russell, Margo Martindale, Ray Liotta, Alden Ehrenreich, O'Shea Jackson Jr., Jesse Tyler Ferguson, Kristofer Hivju, Kahyun Kim, Christian Convery, Brooklynn Prince, Scott Seiss
Directed by: Elizabeth Banks 
Screenplay by: Jimmy Warden 
Producers: Phil Lord & Chris Miller, Aditya Sood, Elizabeth Banks, Max Handelman, Brian Duffield
Executive Producer: Robin Fisichella
DUNGEONS & DRAGONS: HONOR AMONG THIEVES
OUR JOURNEY BEGINS IN THEATRES ON MARCH 3, 2023
#DnDMovie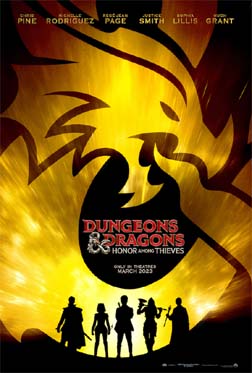 A charming thief and a band of unlikely adventurers undertake an epic heist to retrieve a lost relic, but things go dangerously awry when they run afoul of the wrong people.  Dungeons & Dragons: Honor Among Thieves brings the rich world and playful spirit of the legendary roleplaying game to the big screen in a hilarious and action-packed adventure.
Cast:
Chris Pine, Michelle Rodriguez, Regé-Jean Page, Justice Smith, Sophia Lillis, Chloe Coleman, Daisy Head and Hugh Grant
THE SUPER MARIO BROS. MOVIE
#SuperMarioMovie is in theaters April 7.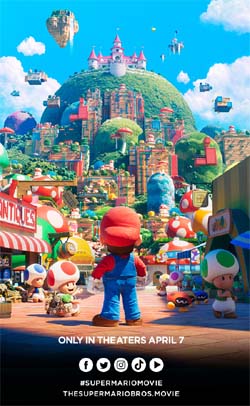 From Nintendo and Illumination comes a new animated film based on the world of Super Mario Bros.
Directed by Aaron Horvath and Michael Jelenic (collaborators on Teen Titans Go!, Teen Titans Go! To the Movies) from a screenplay by Matthew Fogel (The LEGO Movie 2: The Second Part, Minions: The Rise of Gru), the film stars Chris Pratt as Mario, Anya Taylor-Joy as Princess Peach, Charlie Day as Luigi, Jack Black as Bowser, Keegan-Michael Key as Toad, Seth Rogen as Donkey Kong, Fred Armisen as Cranky Kong, Kevin Michael Richardson as Kamek and Sebastian Maniscalco as Spike.
The film is produced by Illumination founder and CEO Chris Meledandri and by Shigeru Miyamoto for Nintendo. The film will be co-financed by Universal Pictures and Nintendo and released worldwide by Universal Pictures.
Genre: Action-Comedy
Cast: Chris Pratt, Anya Taylor-Joy, Charlie Day, Jack Black, Keegan-Michael Key, Seth Rogen, Fred Armisen, Kevin Michael Richardson, Sebastian Maniscalco
Screenplay: Matthew Fogel
Directors: Aaron Horvath, Michael Jelenic
Producers: Chris Meledandri, Shigeru Miyamoto
GUARDIANS OF THE GALAXY VOL. 3
"GUARDIANS OF THE GALAXY VOL. 3" RELEASES IN  U.S. THEATERS MAY 5, 2023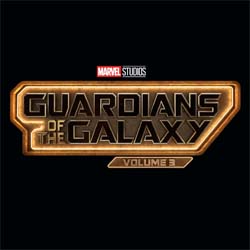 CCXP22 (Comic-Con Experience 2022) in São Paulo, Brazil, Marvel Studios debuted the trailer for "Guardians of the Galaxy Vol. 3." Kevin Feige, President of Marvel Studios, introduced Zoe Saldana, who plays Gamora in the franchise, before delighting the enthusiastic fans with the trailer debut for the highly anticipated upcoming feature film, releasing in U.S. theaters on May 5, 2023.
In Marvel Studios "Guardians of the Galaxy Vol. 3" our beloved band of misfits are looking a bit different these days. Peter Quill, still reeling from the loss of Gamora, must rally his team around him to defend the universe along with protecting one of their own. A mission that, if not completed successfully, could quite possibly lead to the end of the Guardians as we know them.
James Gunn writes and directs "Guardians of the Galaxy Vol. 3," which stars Chris Pratt, Zoe Saldana, Dave Bautista, Karen Gillan, Pom Klementieff, featuring Vin Diesel as Groot, Bradley Cooper as Rocket, Sean Gunn, Chukwudi Iwuji, Will Poulter and Maria Bakalova. Kevin Feige is the producer and Louis D'Esposito, Victoria Alonso, Nikolas Korda, Simon Hatt and Sara Smith serve as executive producers.