ALL RELEASE DATES ARE SUBJECT TO CHANGE
TEENAGE MUTANT NINJA TURTLES: MUTANT MAYHEM
IN THEATRES AUGUST 2, 2023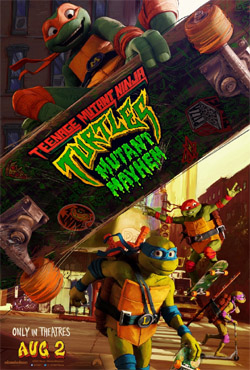 After years of being sheltered from the human world, the Turtle brothers set out to win the hearts of New Yorkers and be accepted as normal teenagers through heroic acts. Their new friend April O'Neil helps them take on a mysterious crime syndicate, but they soon get in over their heads when an army of mutants is unleashed upon them.
Paramount Pictures and Nickelodeon Movies Present
A Point Grey Production
Directed by:Jeff Rowe
Co-Director: Kyler Spears
Based on the Teenage Mutant Ninja Turtles Characters Created by Peter Laird and Kevin Eastman
Produced by: Seth Rogen, Evan Goldberg, James Weaver
Executive Producers: Ramsay McBean, Josh Fagen
Cast: Micah Abbey, Shamon Brown Jr., Hannibal Buress, Rose Byrne, Nicolas Cantu, John Cena, Jackie Chan, Ice Cube, Natasia Demetriou, Ayo Edebiri, Giancarlo Esposito, Post Malone, Brady Noon, Seth Rogen, Paul Rudd, Maya Rudolph
This film has not been rated.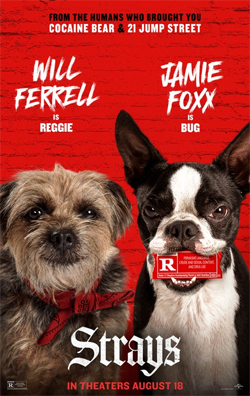 They say a dog is a man's best friend, but what if the man is a total dirtbag? In that case, it might be time for some sweet revenge, doggy style. 
When Reggie (Will Ferrell), a naïve, relentlessly optimistic Border Terrier, is abandoned on the mean city streets by his lowlife owner, Doug (Will Forte; The Last Man on Earth, Nebraska), Reggie is certain that his beloved owner would never leave him on purpose.
But once Reggie falls in with a fast-talking, foul-mouthed Boston Terrier named Bug (Oscar® winner Jamie Foxx), a stray who loves his freedom and believes that owners are for suckers, Reggie finally realizes he was in a toxic relationship and begins to see Doug for the heartless sleazeball that he is.
Determined to seek revenge, Reggie, Bug and Bug's pals—Maggie (Isla Fisher; Now You See Me, Wedding Crashers), a smart Australian Shepherd who has been sidelined by her owner's new puppy, and Hunter (Randall Park; Always Be My Maybe, Aquaman), an anxious Great Dane who's stressed out by his work as an emotional support animal—together hatch a plan and embark on an epic adventure to help Reggie find his way home … and make Doug pay by biting off the appendage he loves the most. (Hint: It's not his foot). 
A subversion of the dog movies we know and love, Strays, directed by Josh Greenbaum (Barb and Star Go to Vista Del Mar) and written by Dan Perrault (Players, American Vandal), is a hilarious, R-rated, live-action comedy about the complications of love, the importance of great friendships, and the unexpected virtues of couch humping.
The film features a powerhouse comedic supporting cast, including Grammy winner Josh Gad (Beauty and the Beast), Harvey Guillén (Puss in Boots: The Last Wish), Emmy nominee Rob Riggle (The Hangover), Brett Gelman (Stranger Things), Jamie Demetriou (The Afterparty) and Emmy nominee Sofia Vergara (Modern Family).
Strays is produced by Lord Miller partners Phil Lord p.g.a and Christopher Miller p.g.a, (Spider-Man: Into The Spider-Verse, The Lego Movie 2: The Second Part), by Picturestart founder and CEO Erik Feig p.g.a. (Luckiest Girl Alive, Cha Cha Real Smooth), by Lord Miller's Aditya Sood p.g.a. (The Martian, Cocaine Bear), by Louis Leterrier (director Fast X, The Clash of the Titans) and by Dan Perrault (Players, American Vandal). 
 The film is executive produced by Nikki Baida, Doug Merrifield, Jessica Switch and Julia Hammer. Universal Pictures presents a Lord Miller/Picturestart production.
Genre: Comedy 
Cast: Will Ferrell, Jamie Foxx, Isla Fisher, Randall Park, Brett Gelman and Will Forte, Josh Gad, Harvey Guillén, Rob Riggle, Jamie Demetriou and Sofia Vergara
Directed by: Josh Greenbaum
Written by: Dan Perrault
Producers: Phil Lord p.g.a., Christopher Miller p.g.a., Erik Feig p.g.a., Aditya Sood p.g.a., Louis Leterrier, Dan Perrault
Executive Producers: Nikki Baida, Doug Merrifield, Jessica Switch, Julia Hammer
MY BIG FAT GREEK WEDDING 3
Nationwide In-Theaters on Friday, September 8th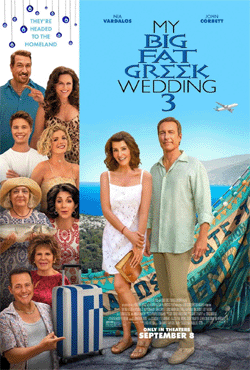 Story: From writer and director Nia Vardalos, the worldwide phenomenon My Big Fat Greek Wedding is coming back to theaters with a brand-new adventure. Join the Portokalos family as they travel to a family reunion in Greece for a heartwarming and hilarious trip full of love, twists and turns. Opa!
Writer/Director: Nia Vardalos
Producers: Rita Wilson, Tom Hanks, Gary Goetzman
Executive Producers: Paul Brooks, Scott Niemeyer, Steven Shareshian
Cast: Nia Vardalos, John Corbett, Elena Kampouris, Gia Carides, Joey Fatone, Louis Mandylor, with Lainie Kazan, and Andrea Martin
EXCLUSIVELY IN THEATERS IN ONE MONTH,
ON SEPTEMBER 15, 2023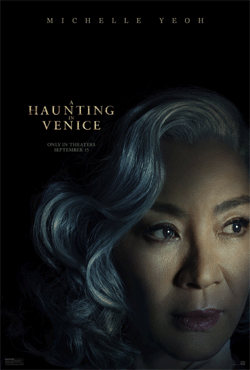 "A Haunting in Venice," an unsettling supernatural thriller directed by Oscar® winner Kenneth Branagh based upon the novel "Hallowe'en Party" by Agatha Christie, are available now. The film, which stars Branagh as famed detective Hercule Poirot and features a brilliant acting ensemble portraying a cast of unforgettable characters, including Kyle Allen, Camille Cottin, Jamie Dornan, Tina Fey, Jude Hill, Ali Khan, Emma Laird, Kelly Reilly, Riccardo Scamarcio, and Michelle Yeoh, will open exclusively in theaters September 15, 2023. 
"A Haunting in Venice" is set in eerie, post-World War II Venice on All Hallows' Eve and is a terrifying mystery featuring the return of the celebrated sleuth, Hercule Poirot. Now retired and living in self-imposed exile in the world's most glamorous city, Poirot reluctantly attends a séance at a decaying, haunted palazzo. When one of the guests is murdered, the detective is thrust into a sinister world of shadows and secrets.
Reuniting many of the filmmakers behind 2017's "Murder on the Orient Express" and 2022's "Death on the Nile," the film is directed by Kenneth Branagh with a screenplay by Oscar® nominee Michael Green based upon Agatha Christie's novel "Hallowe'en Party." The producers are Kenneth Branagh, p.g.a., Judy Hofflund, p.g.a., Ridley Scott, and Simon Kinberg, with Louise Killin, James Prichard, and Mark Gordon serving as executive producers. 
"A Haunting in Venice" Original Motion Picture Soundtrack featuring score by Hildur Guðnadóttir is available September 15, 2023.
Launching Globally on Prime Video on September 15, 2023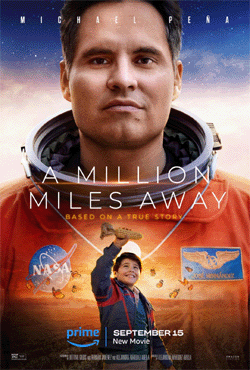 Inspired by the real-life story of NASA flight engineer José Hernández, A Million Miles Away follows him and his devoted family of proud migrant farm worker on a decades-long journey, from a rural village in Michoacán, Mexico, to the fields of the San Joaquin Valley, to more than 200 miles above the Earth in the International Space Station. With the unwavering support of his hard-working parents, relatives, and teachers, José's unrelenting drive & determination culminates in the opportunity to achieve his seemingly impossible goal. Acclaimed writer and director Alejandra Márquez Abella has created a dazzling tribute to the loyalty and tenacity of the entire Hernández family, as well as anyone who dares to dream.
Directed by Alejandra Márquez Abella
Screenplay by Bettina Gilois, Hernán Jiménez, Alejandra Márquez Abella
Produced by Mark Ciardi, Campbell McInnes
Starring Michael Peña, Rosa Salazar, Bobby Soto, Sarayu Blue, Veronica Falcón, Julio César Cedillo, Garret Dillahunt and Eric Johnson
Run Time: 120 minutes 
Rating: PG
ONLY IN THEATERS SEPTEMBER 29TH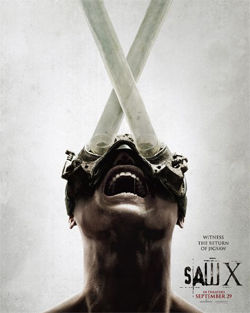 Synopsis
John Kramer (Tobin Bell) is back. The most chilling installment of the SAW franchise yet explores the untold chapter of Jigsaw's most personal game. Set between the events of SAW I and II, a sick and desperate John travels to Mexico for a risky and experimental medical procedure in hopes of a miracle cure for his cancer – only to discover the entire operation is a scam to defraud the most vulnerable. Armed with a newfound purpose, John returns to his work, turning the tables on the con artists in his signature visceral way through a series of ingenious and terrifying traps.
 
Directed by: Kevin Greutert
Written by: Peter Goldfinger & Josh Stolberg
Produced by: Mark Burg, Oren Koules
 
Genre: Horror, Thriller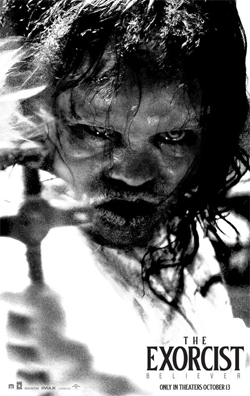 Exactly 50 years ago this fall, the most terrifying horror film in history landed on screens, shocking audiences around the world. Now, on Friday, October 13, a new chapter begins. From Blumhouse and director David Gordon Green, who shattered the status quo with their resurrection of the Halloween franchise, comes The Exorcist: Believer.  
Since the death of his pregnant wife in a Haitian earthquake 12 years ago, Victor Fielding (Tony winner and Oscar® nominee Leslie Odom, Jr.; One Night in Miami, Hamilton) has raised their daughter, Angela (Lidya Jewett, Good Girls) on his own.
But when Angela and her friend Katherine (newcomer Olivia Marcum), disappear in the woods, only to return three days later with no memory of what happened to them, it unleashes a chain of events that will force Victor to confront the nadir of evil and, in his terror and desperation, seek out the only person alive who has witnessed anything like it before: Chris MacNeil.
 For the first time since the 1973 film, Oscar® winner Ellen Burstyn reprises her iconic role as Chris MacNeil, an actress who has been forever altered by what happened to her daughter Regan five decades before.
The film also stars Emmy winner Ann Dowd (The Handmaid's Tale, Hereditary) as Victor and Angela's neighbor, and Grammy winner Jennifer Nettles (Harriet, The Righteous Gemstones) and two-time Tony winner Norbert Leo Butz (Fosse/Verdon, Bloodline) as the parents of Katherine, Angela's friend.
When The Exorcist, based on the best-selling book by William Peter Blatty, was released, it changed the culture forever, obliterating box office records and earning 10 Academy Award® nominations, becoming the first horror film ever nominated for Best Picture. 
The Exorcist: Believer is directed by David Gordon Green from a screenplay by Peter Sattler (Camp X-Ray) and David Gordon Green, from a story by Scott Teems (Halloween Kills), Danny McBride (Halloween trilogy) and David Gordon Green, based on characters created by William Peter Blatty.
The film is produced by Jason Blum for Blumhouse and by David Robinson and James G. Robinson for Morgan Creek Entertainment.
The executive producers are Danny McBride, David Gordon Green, Stephanie Allain, Ryan Turek and Atilla Yücer. Universal Pictures presents a Blumhouse/Morgan Creek Entertainment production in association with Rough House Pictures.
Genre: Horror
Cast: Leslie Odom, Jr., Ann Dowd, Jennifer Nettles, Norbert Leo Butz, Lidya Jewett, Olivia Marcum and Ellen Burstyn
Directed by: David Gordon Green
Screenplay By: Peter Sattler and David Gordon Green
based on characters created by William Peter Blatty
Producers: Jason Blum, David Robinson, James G. Robinson
Executive Producers: Danny McBride, David Gordon Green, Stephanie Allain, Ryan Turek and Atilla Yücer
FiveNightsAtFreddys is in theaters and streaming on Peacock October 27.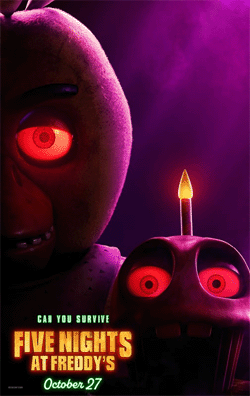 Can you survive five nights?
The terrifying horror game phenomenon becomes a blood-chilling cinematic event, as Blumhouse— the producer of M3GAN, The Black Phone and The Invisible Man— brings Five Nights at Freddy's to the big screen.           
The film follows a troubled security guard as he begins working at Freddy Fazbear's Pizza. While spending his first night on the job, he realizes the night shift at Freddy's won't be so easy to make it through.
The film stars Josh Hutcherson (Ultraman, The Hunger Games franchise), Elizabeth Lail (You, Mack & Rita), Piper Rubio (Holly & Ivy, Unstable), Kat Conner Sterling (We Have a Ghost, 9-1-1), with Mary Stuart Masterson (Blindspot, Fried Green Tomatoes) and Matthew Lillard (Good Girls, Scream).
Five Nights at Freddy's is directed by Emma Tammi (The Wind, Blood Moon) and is written by Scott Cawthon, Emma Tammi and Seth Cuddeback.
The film's iconic animatronic characters will be created by Jim Henson's Creature Shop.
Five Nights at Freddy's is produced by Jason Blum and Scott Cawthon. The film's executive producers are Bea Sequeira, Russell Binder, Marc Mostman and Christopher H. Warner. Universal Pictures presents a Blumhouse production, in association with Striker Entertainment.
Genre: Horror
Cast: Josh Hutcherson, Elizabeth Lail, Kat Conner Sterling and Piper Rubio, with Mary Stuart Masterson and Matthew Lillard
Directed by: Emma Tammi
Written by: Scott Cawthon, Emma Tammi, Seth Cuddeback, based on the video game series created by Scott Cawthon
Producers: Jason Blum, Scott Cawthon
Executive Producers: Bea Sequeira, Russell Binder, Marc Mostman, Christopher H. Warner
SALTBURN will release in theaters November 24, 2023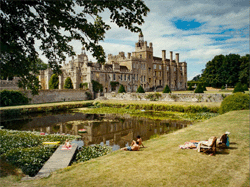 Academy Award winning filmmaker Emerald Fennell (Promising Young Woman) brings us a beautifully wicked tale of privilege and desire. Struggling to find his place at Oxford University, student Oliver Quick (Barry Keoghan) finds himself drawn into the world of the charming and aristocratic Felix Catton (Jacob Elordi), who invites him to Saltburn, his eccentric family's sprawling estate, for a summer never to be forgotten.
Written and Directed by Emerald Fennell
Produced by Emerald Fennell, p.g.a; Margot Robbie, p.g.a; Josey McNamara, p.g.a
Starring Barry Keoghan, Jacob Elordi, Rosamund Pike, Richard E. Grant, Alison Oliver, Archie Madekwe, and Carey Mulligan
MigrationMovie is only in theaters Dec. 22.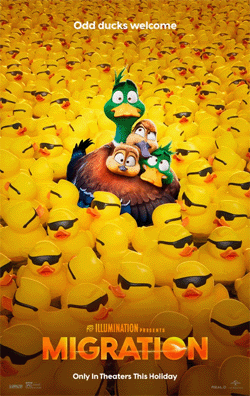 This holiday season, Illumination, creators of the blockbuster Minions, Despicable Me, Sing and The Secret Life of Pets comedies, invites you to take flight into the thrill of the unknown with a funny, feathered family vacation like no other in the action-packed new original comedy, Migration.
The Mallard family is in a bit of rut. While dad Mack is content to keep his family safe paddling around their New England pond forever, mom Pam is eager to shake things up and show their kids—teen son Dax and duckling daughter Gwen—the whole wide world. After a migrating duck family alights on their pond with thrilling tales of far-flung places, Pam persuades Mack to embark on a family trip, via New York City, to tropical Jamaica.
As the Mallards make their way South for the winter, their well-laid plans quickly go awry. The experience will inspire them to expand their horizons, open themselves up to new friends and accomplish more than they ever thought possible, while teaching them more about each other—and themselves—than they ever imagined.
From a screenplay by Mike White, the Emmy winning creator of The White Lotus and the screenwriter of School of Rock, the film stars a top-flight comedic cast led by Oscar® and Emmy nominee Kumail Nanjiani (The Big Sick, Eternals) as anxious Mallard dad Mack and Emmy nominee Elizabeth Banks (Hunger Games and Pitch Perfect franchises) as Pam, the Mallards' daring, quick-witted matriarch.
Caspar Jennings plays Dax, the Mallards' confident and restless son, and, in her feature film debut, Tresi Gazal plays Gwen, the family's innocent and lovable daughter.
Golden Globe winner Awkwafina (Shang-Chi and the Legend of the Ten Rings) voices the scrappy leader of a New York City pigeon gang; Emmy winner and Oscar® nominee Carol Kane (The Princess Bride) plays Erin the heron, the first friend that the Mallards make on their journey; Emmy winner Keegan-Michael Key (The Super Mario Bros. Movie, The Lion King) voices a homesick Jamaican parrot locked away in a Manhattan restaurant, and BAFTA winner David Mitchell (Peep Show) plays the yogic leader of a mysterious duck farm. Legendary Emmy winner and Oscar® nominee Danny DeVito (It's Always Sunny in Philadelphia) co-stars as Mack's curmudgeonly, adventure-averse Uncle Dan.
Directed by Benjamin Renner, the Oscar®-nominated filmmaker of Ernest & Celestine and The Big Bad Fox and Other Tales, Migration is a visual spectacle unlike any in Illumination's acclaimed history, featuring elevated, expressionist artistry and Illumination's signature subversive humor and authentic heart, unforgettable characters and joyful soundtrack.
Produced by Illumination founder and CEO Chris Meledandri, Migration is a film about overcoming your fears and opening yourself up to the world and its opportunities. The film is co-directed by Guylo Homsy (Head of Layout and Cinematography for Sing and Sing 2), edited by Christian Gazal (Happy Feet, Peter Rabbit) and the Production Designer is Colin Stimpson (The Secret Life of Pets 2).
Genre: Animated Action-Comedy
Cast: Kumail Nanjiani, Elizabeth Banks, Awkwafina, Keegan-Michael Key, David Mitchell, Carol Kane, Caspar Jennings, Tresi Gazal and Danny DeVito
Screenplay by: Mike White
Directed by: Benjamin Renner
Producers: Chris Meledandri