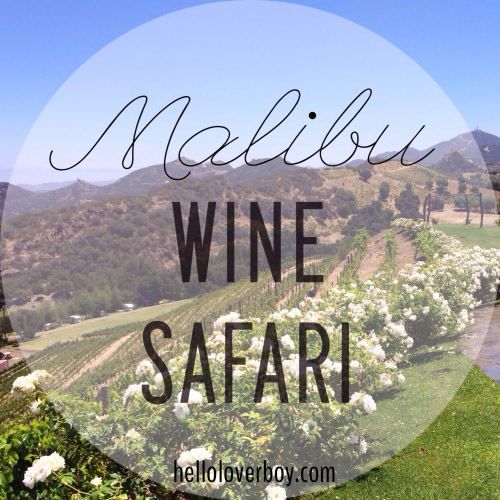 An Exotic Animal and Wine Adventure!
Malibu Wine Safaris covers over 1,000 acres of the Saddlerock Ranch and vineyard in Malibu California. There are a variety of of tours being offered such as the Explorer Safari, Giraffe Safari, Mimosa Safari, Vintner Safari, Vineyard Lunch Safari. The safari trucks are specially built to maximize the viewing experience. They are open-air vehicles and the seats are high off the ground, with steps to help people climb into them. During Malibu Wine Safaris you will make stops along the way to take in the scenery, taste local wines, and get up close and personal with the animals like zebras, camels, alpacas, bison, and even Stanley the Giraffe. During the Safari guests get on and off the trucks 2-3 times to explore the grounds and taste the wines, also there is some walking involved.
The Explorer Giraffe Safari is a fun-packed afternoon that shows off the best of Saddlerockock Ranch's quirky spirit. Embrace your adventurous side, this tour is not to be missed!
Classic wine tasting meets a wild view on the Explorer Giraffe Safari, where you'll enjoy the best of the area wines and Saddlerock Ranch's amazing scenery and wildlife. Two wine tasting stops with 3 wines each: 1 white and 2 reds. Stop and feed the animals, including the retired Hollywood Star, 'Stanley the Giraffe". Light snacks are provided.
Vineyard Lunch Safari: Enjoy this very VIP Wine Safari tour and explore the many sites of Saddlerock Ranch while feeding exotic animals and taste wine. Enjoy lunch in a private reserved area. Tour is approximately two hours.
Malibu Wine Safari is located at 32111 Mulholland Highway, Malibu CA 90265, 818-497-2206
Open from 10am – 5pm
www.lasafaris.com