Bills safety Damar Hamlin released from Cincinnati hospital, returns to Buffalo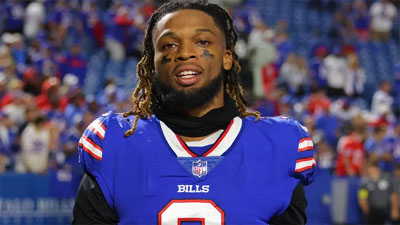 Bills safety Damar Hamlin has been released from the University of Cincinnati Medical Center and transferred to a Buffalo-area hospital just one week after he suffered a cardiac arrest during a game on Jan. 2, UC health physicians announced on Monday.
Hamlin will continue to undergo tests and be monitored back in Buffalo.
"I traveled with him to the airport this morning with our UC Health air care and local care crew, including teammates that were with us on the field when Damar Hamlin collapsed," Dr. William Knight told reporters on Monday. "He landed safely and, as standard with anybody who has gone through what he's gone through this past week and certainly after flying on a plane, he's going to be observed and monitored to ensure that there's no impact on the flight of his condition or on his lungs."
"Dr. [Timothy] Pritts and I have spoken extensively with his air team in Buffalo, and I can confirm that he's doing well and this is the beginning of the next stage of his recovery. … Since our last update to you, Damar Hamlin has met a number of key milestones on his journey to recovery."
Knight said that Hamlin has been able to walk and tolerate a "regular diet," and has been undergoing physical and occupational therapy as he continues to progress in his recovery. Knight added that Hamlin remained in the UCMC surgical intensive care unit until he was released Monday.
Bills RB Nyheim Hines returns opening kickoff 96 yards for stunning TD in win over Patriots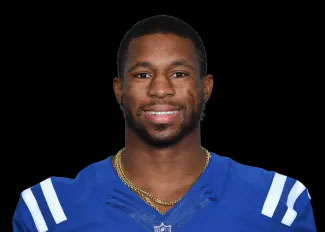 The Buffalo Bills took the first play Sunday to the house — and didn't stop there.
Nyheim Hines, whom the Bills acquired at November's trade deadline, took the opening kickoff 96 yards for a touchdown to give Buffalo a 7-0 lead in Sunday's 35-23 win over the Patriots. Hines wasn't done, as he returned a second kickoff for a score in the second half, a 101-yard return that flipped a Bills deficit to a lead and eventually to a victory.
The win clinched the AFC's No. 2 seed for the Bills and a Super Wild Card Weekend matchup against the rival Dolphins, who secured the No. 7 seed with a win over the Jets and the Pats' loss.
Hines became the 11th player in NFL history with two kickoff return TDs in the same game and the first since the Seahawks' Leon Washington in Week 3, 2010, per NFL Research.
The stunning opening TD was the first play for the Bills since safety Damar Hamlin suffered a cardiac arrest during last Monday's game. Hamlin, who was watching the game from the University of Cincinnati Medical Center, took to Twitter to celebrate immediately after the play.
"I'm speechless," Hines said after the game. "I'm so thankful it was me to bring that juice, but it's way bigger than me. That's what I always thought about, and that's what I thought all day. It's just bigger than me and bigger than those 10 guys who did a great job of blocking for me."
Hines' second-half score inspired Hamlin to celebrate again.
Hines' first return was a chill-inducing moment as the Buffalo organization spent the week worrying for the health and wellbeing of their teammate following the harrowing events of Monday night.
Bills quarterback Josh Allen said it will be a play he will never forget.
"I can't remember a play that touched me like that, I don't think in my life. It's probably No. 1," Allen told reporters after the game.
Bills players all wore No. 3 patches during Sunday's game in honor of Hamlin, who received the game ball and broke the team down in the postgame locker room.
The No. 3 appeared in multiple ways throughout the game. Allen threw three TDs. The defense had three interceptions. Hines' return was the team's first in three years and three months.
"God is good. He really is. I just urge everybody to keep praying for [Hamlin]," Allen told CBS Sports' Tracy Wolfson after the game. "He's in good spirits. Hopefully he got to watch the game. I just hope he can feel the love and the emotion that everybody here in this stadium had for him. One of the more surreal stadium feelings I've ever been in. It was special."
Buffalo announced on Saturday that Hamlin remains in critical condition, but is making continued progress, per physicians at UCMC, where Hamlin has been under care since Monday night. The defensive back "continues to breathe on his own and his neurological function is excellent," and on Friday he virtually addressed the team during a meeting.
The Bills got back to work Sunday honoring Hamlin during the pregame ceremonies. They then started the game with an opening script even Hollywood couldn't have written.
"If you want the truth, it was spiritual," Allen said. "It really was. Bone-chilling. It was special."
Fred Minnick's Bourbon Invitational Adds To Big Game Week Festivities
Premier Event Features Top Athletes And Top Shelf Bourbon In Scottsdale, Az On February 9 & 10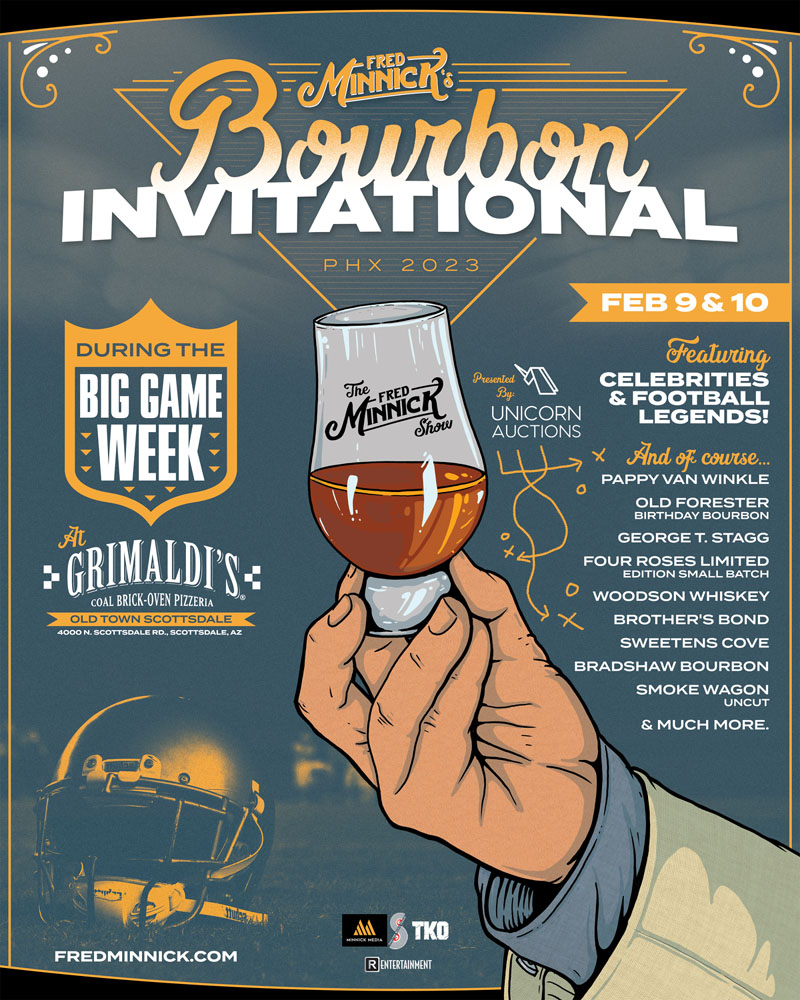 Fred Minnick is known around the world as a leading authority on all things bourbon and spirits. Throughout the year, he has interviewed countless celebrities, musicians and athletes on his award-winning podcast The Fred Minnick Show, and he has brought his one-of-a-kind rare bourbon tasting experiences to cities across the country. Now, he's combining the best of both worlds with Fred Minnick's Bourbon Invitational ahead of the Big Game.
Fred Minnick's Bourbon Invitational, co-produced with renowned special events company R-Entertainment, adds to an exciting list of parties happening during the Big Game week. The 2-day exclusive spirits event will take place at Grimaldi's Pizzeria in Old Town Scottsdale, AZ on Thurs., Feb. 9 (2-5 PM MST) and Fri., Feb. 10 (2-5 PM MST). The event will feature celebrity guest bartenders from the sports world including legendary pro football player Jared Allen with more guests to be announced. The event will also feature bourbons from iconic football players from Peyton Manning's Sweetens Cove to Charles Woodson's Woodson Whiskey to Terry Bradshaw's Bradshaw Bourbon and others. Other celebrity whiskeys include brands from ZZ Top, Ian Somerhalder and Paul Wesley and more.
"I'm a lifelong football fan and to throw a party during the week of the year's biggest game is a dream come true," says Minnick. "Guests can expect to mingle with the stars while sipping on some rare bourbon. This will be an amazing two days!"
"Grimaldi's Pizzeria is excited to partner with renowned bourbon icon Fred Minnick for his Bourbon Invitational," adds Joseph Ciolli, CEO of Grimaldi's Pizzeria. "Grimaldi's events are always spectacular, and what makes this one even more special is this amazing bourbon menu event is happening during the Big Game weekend and it helps support the Phoenix Theatre Company. Pizza, bourbon and football: what more can you want?"
Attendees can expect to learn top tasting techniques from Minnick, taste some of the finest and most rare bourbons on the market, hear about the rich culture and history of America's spirit, and meet legendary football players and celebrities who will participate in the event alongside attendees.
Fred Minnick's Bourbon Invitational will include tastings of spirits that are nearly impossible to find at the liquor store from Pappy Van Winkle, Old Forester Birthday Bourbon, Henry McKenna Single Barrel, vintage Stitzel-Weller and more. Selections will vary per tier of ticket purchased. The rocking bar at the event will be powered by UnicornAuctions.com, an auction house specializing in extremely rare bottles, including the record-breaking Red Hook Rye that sold for more than $48,500. 
Tickets are available now while supplies last and a portion of the proceeds will benefit Phoenix Theater, chosen due to Minnick's passion for the arts and his mission to promote arts education. Tickets can be purchased (ages 21+), here:
Thursday (2.9) night: etix.com/ticket/p/5442135
Friday (2.10) night: etix.com/ticket/p/8498742
For more information on all things Fred Minnick, visit fredminnick.com.
Saturday, February 11, 2023 • 4:00 pm – 8:00 pm
Chateau Luxe, Phoenix, AZ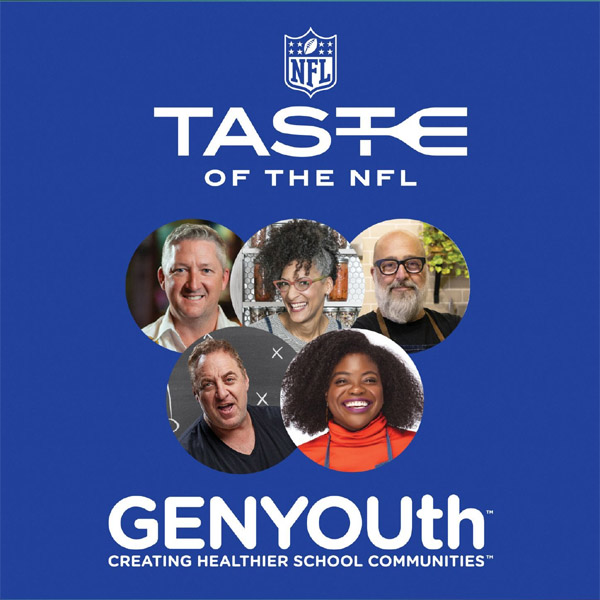 In Arizona they say it is "Life on a Grander Scale" and for Taste of the NFL 2023, we are tipping the scales by featuring more chefs, more surprise and delight moments and more ways to support GENYOUth's commitment to end student hunger at Taste of the NFL.
Meet our marquee chefs along with food masterminds from Phoenix's top restaurants. Delight in tasting national and regional food specialties, sipping thirst-quenching beverages, mingling with NFL players and celebrity guests – all while enjoying the most delicious pre-Super Bowl LVII party! And you'll do with your heart as you'll be supporting a worthy cause.
Ticket Prices:
$750 – General Admission
$950 – VIP Admission
For more questions or sponsorship opportunities, please contact [email protected] 
Bud Light Super Bowl Music Fest Returns With Music's Biggest Names
Three incredible nights of shows include Imagine Dragons and Kane Brown (Saturday), Dave Matthews Band with DJ Pee .Wee (Anderson .Paak) (Friday), Paramore (Thursday)
Bud Light and On Location Present Fourth Edition of Super Bowl Music Fest at Footprint Center in Phoenix, AZ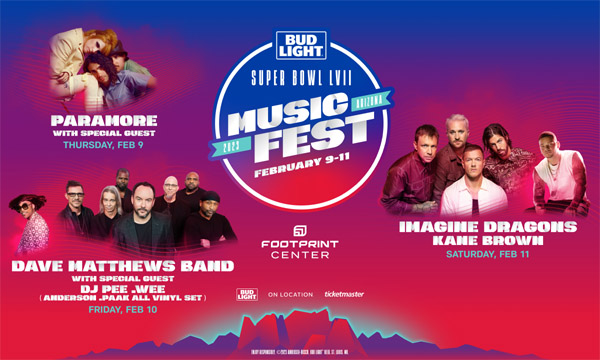 On Location, the official hospitality partner of the National Football League ("NFL" or "The League"), and Bud Light, the official beer sponsor of the NFL, today announce the return of the Bud Light Super Bowl Music Fest. Celebrating its fourth year, the three-night festival connects the city of Phoenix with the football and music communities as part of the festivities surrounding this year's Super Bowl.  The Bud Light Super Bowl Music Fest will run from Thursday, February 9th to Saturday, February 11th at Footprint Center in Phoenix, AZ.  
The Bud Light Super Bowl Music Fest kicks off Thursday night with the beloved trio Paramore with special guest to be announced, and is followed by Friday Night with the iconic and revered Dave Matthews Band with a DJ set by DJ Pee .Wee (Anderson .Paak).  The three-night music festival wraps Saturday night with the powerhouse lineup of Imagine Dragons and Kane Brown. Tickets go on sale December 2 at 10:00 am local time.   Additional ticket information is available at superbowlmusicfest.com.  
The Bud Light Super Bowl Music Fest—an anchor entertainment event of Super Bowl weekend—continues to redefine the role of music at one of the biggest sporting events in the world. 2019 through 2021 concerts showcased unforgettable cross-genre performances by powerhouse acts and never-before-paired line-ups, including Halsey and Machine Gun Kelly; Gwen Stefani and Blake Shelton; Miley Cyrus and Green Day; Bruno Mars and Cardi B; Post Malone and Aerosmith, Maroon 5 and Dan + Shay, with a special appearance from Demi Lovato; Guns & Roses and Snoop Dogg; and many more. 
The three-day entertainment spectacular has set ticket records and received accolades all around: The New York Times has called it the "Extended Super Bowl Halftime Show," and PEOPLE Magazine has cited its "Super Bowl dominance." Last year UPROXX lauded "This annual event is perhaps the biggest non-halftime musical attraction of the weekend,"  and Pollstar proclaimed it "the biggest show… a three-night affair featuring top artists that would be a major event under any circumstances." 
"This music festival continues to be at the heart of the Super Bowl Fan Experience and will continue to offer everyone an unforgettable lifetime of memories," said Paul Caine, President of On Location and IMG Events. "We couldn't be more excited for those in Phoenix to experience an amazing lineup of headliners who normally wouldn't perform together for fans."
"Music and football are core to Bud Light's DNA, and we're thrilled to bring our annual Bud Light Super Bowl Music Fest to Phoenix," said Lane Joyce, Director of Experiential Marketing for Bud Light. "Beyond the Super Bowl itself, our three-day festival has become the marquee event of Super Bowl week. This year, we have an all-star line-up of musicians from various genres, ensuring we have something for all fans whether they're traveling early for the game or live right here In Arizona."  
"Super Bowl Music Fest is a once-in-a-lifetime experience, and Footprint Center is honored to be this year's host," said Ralph Marchetta, general manager of Footprint Center. "We look forward to welcoming fans for three nights of incredible music and showcasing downtown Phoenix as an entertainment destination."
In addition to top-level music talent spanning a range of genres, the festival features surprise appearances by celebrities and athletes. An array of premium seating is available, including suite and club packages plus options for premium hospitality. 
The Bud Light Super Bowl Music Fest is executive-produced by On Location and SYNERGY Productions, LLC.
On Location is the official hospitality partner of the NFL. For more details on tickets and packages to the Super Bowl, visit onlocationexp.com/nfl/super-bowl-tickets. 
For more information, please check out @SBMusicFest or visit superbowlmusicfest.com.  
BUD LIGHT SUPER BOWL MUSIC FEST SCHEDULE                                                  
Thursday, February 9 – Paramore with  special guest to be announced                          
Friday, February 10 –  Dave Matthews Band with DJ set by DJ Pee .Wee (Anderson .Paak)
Saturday, February 11 – Imagine Dragons and Kane Brown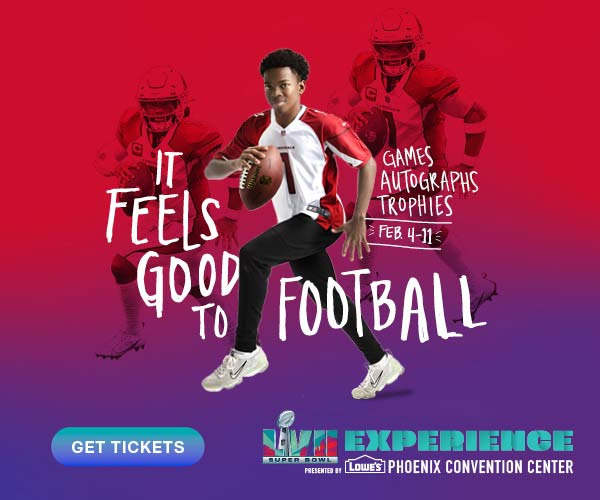 GET TICKETS FOR OPENING NIGHT AND
SUPER BOWL EXPERIENCE AT THE
PHOENIX CONVENTION CENTER
Experience the NFL's interactive football theme park at Super Bowl Experience, presented by Lowe's, at the Phoenix Convention Center on February 4, 5, 9, 10 and 11. Monday, February 6 is Super Bowl Opening Night, presented by Fast Twitch, at Footprint Center. Tickets start at just $20.
SIGN UP TODAY!
Limited spots remain for the Host Committee 5K-9 Fun Run, presented by PetSmart, on January 7. Registration includes a State Forty Eight t-shirt and dog bandana. Participants are invited to run with our without a canine companion.
REGISTER NOW
SPORTS BUSINESS JOURNAL PANEL
 Join Host Committee President and CEO, Jay Parry, and owner of the Arizona Cardinals, Michael Bidwill, as the Phoenix Business Journal hosts Destination Arizona: Why our state is becoming a a major sports event hub. The event is December 30 at State Farm Stadium. 
GET TICKETS