"The Venture Bros.: The Complete Series"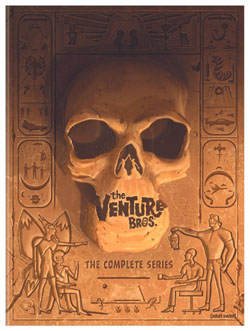 The Venture Bros. is one of Adult Swim's most beloved and critically acclaimed original animated series, and now fans can own the entire series in one complete box set. The Venture Bros.: The Complete Series features all 82 episodes from the show's seven-season run, along with all of the previously released special features.
The series, created by Chris McCulloch and Doc Hammer, follows the lives and adventures of the Venture family, including the emotionally insecure and underachieving super-scientist Dr. Thaddeus "Rusty" Venture, his teenage fraternal twin sons Hank and Dean, their bodyguard Brock Samson, and their self-proclaimed arch-nemesis, The Monarch. The show originally premiered in 2004 and ran for seven seasons, winning numerous awards, including the Best Animated TV Series Award at Cineme 2003 and the Chicago International Animated Film Festival.
The box set, which will be available for purchase digitally and on DVD from Warner Bros. Discovery Home Entertainment on June 20, 2023, is a must-have for any Venture Bros. fan. The set includes all of the show's hilarious and action-packed episodes, along with all of the bonus materials that have been created over the years.
In addition to the episodes, the box set includes special features, such as behind-the-scenes looks at the making of the show, commentary from the creators and cast, and deleted scenes. Fans will also be able to dive deeper into the world of The Venture Bros. with featurettes that explore the show's characters, locations, and themes.
The Venture Bros.: The Complete Series is not only a great way to revisit all of the show's incredible moments, but it's also a chance to experience the series as a whole. The show evolved over the years, and fans will be able to see how the characters and storylines developed over time. It's an opportunity to appreciate the show's incredible writing, characters, humor, animation, and world-building.
For fans who have been eagerly awaiting a conclusion to the series, there's good news. The box set release will be followed by the July 2023 release of a direct-to-video film, The Venture Bros.: Radiant Is the Blood of the Baboon Heart, which will serve as a finale to the series. Fans will be able to continue the adventure with their favorite characters as they embark on one final thrilling and action-packed journey.
In conclusion, The Venture Bros.: The Complete Series is a must-have for any fan of the show. It's a chance to own all of the episodes and bonus materials in one convenient box set, and it's an opportunity to experience the series as a whole. Whether you're a longtime fan or a newcomer to the series, this box set is sure to provide hours of entertainment and adventure. Don't miss out on the chance to own this incredible piece of television history.
Pretty Little Liars: Original Sin: The Complete First Season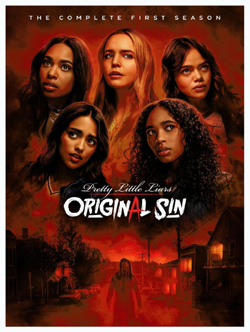 The new series in the "Pretty Little Liars" universe is a standalone reboot that mixes catty camp and stylish horror and is perfect whether or not you watched the original.
The first five blood soaked episodes of "Pretty Little Liars: Original Sin" left big shoes for its latter half to fill. While episodes 1-5 were filled with flashbacks galore, character introductions, and a trail of corpses in A's wake, episodes 6-10 plants us much more in the present, with explorations of the conflicts facing both the liars and their parents, and a deeper dive into the investigation of A.
Starting with "Original Sin's" back half is where its characters shine the most. Capitalizing on the foundation set from previous episodes, the cast of liars are given more breathing room to explore and evolve from the conflicts that they're facing. Faran's complex relationship with her mother stands out in particular, a coming-of-age arc, as Faran reconciles with the physical and mental consequences of her mother's choices. We're also given more clarity surrounding Mouse's fixation with grieving father, Steve, which turns out to be a coping mechanism she uses to grapple with a missing paternal figure in her life. It's one of the more raw and tragic takes on parental relationships in the show, especially with the heartbreaking scene of Mouse's biological father coldly rejecting her by literally shutting the door in her face.
Another standout worth noting is Mallory Bechtel's ability to seamlessly leap between channeling Karen and Kelly between scenes so seamlessly that your head will continue spinning even up until the last episode wondering which sister is still walking the halls of Millwood High, and which one is six feet under. It contributes to the air of mystery leading up to the finale, along with uncovering the identity of the person who sexually assaulted both Tabby and Imogen, the true fate of Angela Waters, and ultimately, the person behind the mask lurking around Millwood as A.
While the mysteries are gripping, the final foot of the journey is where things get a bit shaky. In short, "Pretty Little Liars: Original Sin" likely could have benefitted from another episode or two to give it the space it needed to more neatly tie up its loose ends. For example, the liars' plan to obtain DNA from the male students at Millwood High, while entertaining, almost felt like a bit of a deus ex machina plot device to conveniently narrow down suspects within one episode. When Noa's mom suddenly has a "friend at the lab" who is willing to compare the DNA of high school students with the DNA of Imogen's baby, it starts to feel the show is stretching reality a bit too much to keep the plot gears turning quickly. Despite all of this, I'm still hoping for another season of ""Pretty Little Liars: Original Sin".
Pretty Little Liars: Original Sin is from executive producer/writer Roberto Aguirre-Sacasa ("Riverdale," "Chilling Adventures of Sabrina") and co-executive producer/writer Lindsay Calhoon Bring ("Chilling Adventures of Sabrina"). The series is produced by Aguirre-Sacasa's Muckle Man Productions and Alloy Entertainment ("Gossip Girl," "Pretty Little Liars," "The Vampire Diaries," "You," "Purple Hearts") in association with Warner Bros. Television. I. Marlene King (who developed the original "Pretty Little Liars"), Michael Grassi, Caroline Baron, and Alloy's Leslie Morgenstein and Gina Girolamo are also executive producers of the series, which is based upon Alloy's bestselling series of books by Sara Shepard. Jimmy Gibbons serves as a producer for Muckle Man Productions.
Pretty Little Liars: Original Sin stars: Bailee Madison (Parental Guidance, Just Go With It), Chandler Kinney (Zombies 2, Lethal Weapon), Zaria (Two Distant Strangers)​, Malia Pyles (Baskets, Memoria), and Maia Reficco (Evita, Kally's Mashup) star as our new generation of Liars. The series also stars Mallory Bechtel (Law & Order: Special Victims Unit), Sharon Leal (Supergirl), Elena Goode (The Dictator), Eric Johnson (American Gods), Alex Aiono (Doogie Kamealoha, M.D.), and Lea Salonga (Centaurworld).
THE STAIRCASE: LIMITED SERIES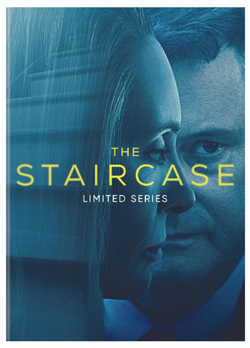 On December 9, 2001, novelist and aspiring politician Michael Peterson (Colin Firth) frantically called 9-1-1 to report finding his wife Kathleen (Toni Collette) bloody and unconscious at the bottom of a staircase in their home. She passed away before the police arrive, and Michael is arrested and charged with murder until a full investigation can be performed. Michael hires attorney David Rudolf (Michael Stuhlbarg) to defend him in this case that will go on for 16 years. They will face off against DAs Tom Maher (Justice Leak) and Freda Black (Parker Posey), overzealous blood spatter analyst Duane Deaver (Myke Holmes), and a livid and grieving Candace (Rosemarie DeWitt), who has no doubts that Michael killed her sister. It also doesn't help that Michael has been writing bad things about the police in his column in the local paper, so they aren't in any mood to help him.
As the investigation plays out, the case takes many odd and unexpected twists and turns. The first of these is that a French documentary crew wants to document Michael's legal battle in order to explore the effectiveness of the American Judicial system. Michael has a large family, including 2 adult sons with his first wife Todd (Patrick Schwarzenegger) & Clayton (Dane DeHaan) two German daughters he took guardianship of after their mother died when they were young Margaret (Sophie Turner) & Margaret Ratliff (Odessa Young and Kathleen's daughter Caitlin (Olivia DeJonge) from a previous marriage, who was just starting college when her mother died. As new secrets about Michael come to light, and lies from his past come back to haunt him, this causes some friction among the siblings, who used to be one happy blended family before this. Now they need to decide if they believe their father's story of what happened, and if they will stick by him though all of this. The children also have their own secrets and issues they are going through in their own lives, which may affect their willingness to stick by Michael.
The Staircase stars Oscar® winner Colin Firth (The King's Speech) alongside Emmy® winner and Oscar® nominee Toni Collette (United States of Tara, The Sixth Sense) along with Michael Stuhlbarg (Boardwalk Empire), Juliette Binoche (The English Patient), Dane DeHaan (The Stranger), Olivia DeJonge (The Society), Rosemarie DeWitt (Pantheon) Tim Guinee (Homeland), Patrick Schwarzenegger (The Long Road Home), Sophie Turner (Game of Thrones), Vincent Vermignon (Chronicles of the Sun), Odessa Young (The Stand) and Parker Posey (Lost in Space).
SPECIAL FEATURES INCLUDE:
Inside the Episode Featurettes

Peterson Home Set Tour

The Art of Acting

Sustainable Set Tour

Georgia Public Locations

The Owl Theory
AND JUST LIKE THAT… THE COMPLETE FIRST SEASON
Carrie, Charlotte, and Miranda, now in their mid-50s, remain best friends. Perpetually-squabbling couple Stanford (now a talent agent) and Anthony (who has a bakery business) are still close to them. Samantha, angry at being dropped as Carrie's publicist, moved to London and cut ties with her. Happily married to John "Big" Preston, Carrie participates on an LGBTQ-friendly, sex-oriented podcast hosted by Che Diaz, a Mexican-American, non-binary, stand-up comic. Carrie is uncomfortable discussing certain graphic topics, but Che warns her to engage more. Miranda, studying for a Master of Human Rights degree, nervously blunders meeting her younger classmates and Professor Nya Wallace, an African-American woman. Also, Miranda and Steve have reluctantly allowed 17-year-old son, Brady, and girlfriend, Luisa, to have sleepovers and now endure their noisy sex. Continually stressed, Miranda copes with alcohol. Charlotte and Harry dote on their teen daughters: musically accomplished Lily and independent-minded Rose. Carrie attends Lily's piano recital, but John opts for a vigorous Peloton home-workout, after which he suffers a heart attack. Carrie finds him slumped on the shower floor where he dies in her arms.
The series is executive produced by Sarah Jessica Parker, Kristin Davis, Cynthia Nixon, Julie Rottenberg, Elisa Zuritsky, John Melfi and Michael Patrick King. Writers included King, Samantha Irby, Rachna Fruchbom, Keli Goff, Julie Rottenberg and Elisa Zuritsky. The HBO series Sex and the City was created by Darren Star and based on the book Sex and the City by Candace Bushnell.
10 Episodes
Hello It's Me

Little Black Dress

When in Rome…

Some of My Best Friends

Tragically Hip

Diwali

Sex and the Widow

Bewitched, Bothered and Bewildered

No Strings Attached

Seeing the Light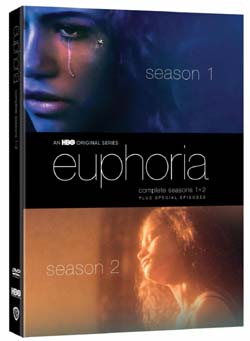 Created by actor and filmmaker Sam Levinson (Barry Levinson), the show was based on the Israeli series of the same name and follows the surreal life of Rue ( Zendaya), a drug-addicted 17-year-old just coming out of rehab, with absolutely no plans to stay sober. Her fellow students and friends are Jules (Hunter Schafer), a transgender searching for her true identity and somewhere to fit in; Nate (Jacob Elordi), an angry jock struggling with his sexual insecurities; Maddy (Alexa Demie), Nate's on-again/off-again girlfriend, a popular, narcissistic, deeply vulnerable cheerleader; Chris (Algee Smith), a football star who finds the transition from high school to college really difficult to swallow; Cassie (Sydney Sweeney), Maddy's best friend and fellow cheerleader whose sexual history continues to haunt her; Lexi (Maude Apatow), Cassie's younger sister who constantly questions herself while living in her shadow; and Kat (Barbie Ferreira), an overweight teen who deals with body issues while exploring her sexuality.
EUPHORIA specializes in shock factor and visual impact. It pulls no punches and presents a very gritty and hard-hitting series, filmed incredibly well and with an atmosphere that is mysterious and dark. Drugs and sex and love are the topics of this series, bringing the viewer back and forth from the good to the bad to the in between.
The show has style and substance and both the first season and second season are equally good. Each character has their friends but also seem alone as they battle their own private wars. This is a stylish drama that is compelling from jump and it's a fresh breath of air. It is there to push limits and it pushes limits.
As the show progresses, the emphasis is on relationships and the ups and downs that go along with it. The balance is really good and it's easy to care about these broken characters despite all their flaws and struggles.
I really enjoyed this series.
SPECIAL FEATURES
Euphoria in Conversation: Zendaya and Sam Levinson

Storyboard to Scene

Euphoria Scene Breakdown

Euphoria Unfiltered: Zendaya

Enter Euphoria Part 1: Rue

Enter Euphoria Part 2: Jules

Euphoria: The Craft

Costumes of Euphoria

Enter Euphoria

Euphoria: Set Tour with Sydney Sweeney 
18 ONE HOUR EPISODES
Season 1
Pilot

Stuntin' Like My Daddy

Made You Look

Shook Ones Part II

'03 Bonnie & Clyde

The Next Episode

The Trials and Tribulations of Trying to Pee When Depressed

And Salt the Earth Behind You
Special Episodes:
Trouble Don't Last Always

F**k Anyone Who's Not A Sea Blob
Season 2:
Trying to Get Into Heaven Before They Close the Door

Out of Touch

Ruminations: Big & Little Bullies

You Cannot See, Think of Those Who Can

Standing Still Like the Hummingbird

A Thousand Little Trees of Blood

The Theater and Its Double

8All My Life, I Have Yearned For A Thing I Cannot Name
Lucifer: The Sixth & Final Season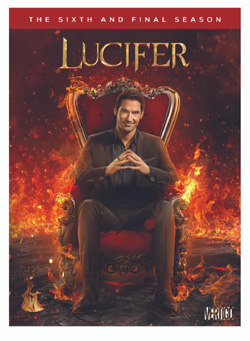 The end of season 5 had Lucifer Morningstar (Tom Ellis) realizing that with Daddy dearest gone, he has been left with the task of becoming the next God. This season immediately dives into that story with Lucifer struggling with the concept of becoming God. It's a role he doesn't really want, but does at the same time. However, to make things even more interesting he's being hunted by a young female Angel named Rory (Brianna Hildebrand). Turns out she's his daughter from the future who has traveled back in time to kill Lucifer. How, shocking, someone wants to kill Lucifer Morningstar. Well, turns out that Rory is super because in the future Lucifer is nowhere to be found, as he's abandoned Chloe (Lauren German) and Rory before she was even born.
Lucifer is stunned and shocked that he would ever abandon Detective Decker ever, and while Rory softens up to him a bit, the date that he's supposed to just walk away is only weeks away. Simultaneously Maze (Lesley-Ann Brandt) is getting married to Eve (Inbar Lavi), only to have her ex husband Adam (yes, that Adam) drop in to spoil things, and Dan's still stuck down in hell unable to figure out what his guilt is that's keeping him there. But sooner or later, things will all come back to one specific question. Why did Lucifer leave Chloe in the future, and can his fate be changed?
SPECIAL FEATURES
10 ONE-HOUR EPISODES
Nothing Ever Changes Around Here

Buckets of Baggage

Yabba Dabba Do Me

Pin the Tail on the Daddy

The Murder of Lucifer Morningstar

A Lot Dirtier Than That

My Best Fiend's Wedding

Save the Devil, Save the World

Goodbye Lucifer

Partners 'Til the End
YOUNG SHELDON: THE COMPLETE FIFTH SEASON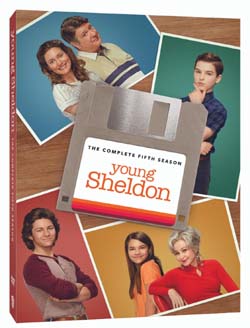 In the 22 episode fifth season of the prequel spin-off of 'The Big Bang Theory,' fans can expect to see plots about George and Brenda's dynamic, Mary's faith, Georgie dropping out of school, Connie buying a laundromat, Dr. Linkletter and Dr. Sturgis, Pastors, Sheldon's academic adventures, Connie and Dale's relationship, Georgie set to have a son, and Mary and George being unemployed.
'Young Sheldon' may be a Texas set coming-of-age single-camera family sitcom about the Cooper family, but it's a show that is far more family melodrama than comedy. This season in particular often comes across as an after school special as it tackles subjects about religion, adultery, relationships, puberty and adulthood.
The central issue with 'Young Sheldon' is that the title character is the least interesting element of this series. Jim Parsons may have been the breakout star in 'Big Bang,' but Iain Armitage is not Jim Parsons. Moreover, the character's stories in this series are simply dull and feel one note. We get it, Sheldon's smart, awkward and rude. The show might have been charming when the cast was younger, but now that everyone is older, the series has worn thin and is merely existing to milk the 'Big Bang' brand.
On the plus side, at least the series is utilizing the talents of Annie Potts and Craig T. Nelson. The 'Coach' reunion in episode 4 was a nice touch especially.
SPECIAL FEATURES
"Time Flies When You're Having Fun: Young Sheldon at 100" – A look at the five years and 100 episodes of Young Sheldon and how this family, both on the show and as an ensemble in real life, have grown into global sensations like the show itself.
22 EPISODES
One Bad Night and Chaos of Selfish Desires

Snoopin' Around and the Wonder Twins of Atheism

Potential Energy and Hooch on a Park Bench

Pish Posh and a Secret Back Room

Stuffed Animals and a Sweet Southern Syzygy

Money Laundering and a Cascade of Hormones

An Introduction to Engineering and a Glob of Hair Gel

The Grand Chancellor and a Den of Sin

The Yips and an Oddly Hypnotic Bohemian

An Expensive Glitch and a Goof-Off Room

A Lock-In, a Weather Girl and a Disgusting Habit

A Pink Cadillac and a Glorious Tribal Dance

A Lot of Band-Aids and the Cooper Surrender

A Free Scratcher and Feminine Wiles

A Lobster, an Armadillo and a Way Bigger Number

A Suitcase Full of Cash and a Yellow Clown Car

A Solo Peanut, a Social Butterfly and the Truth

Babies, Lies and a Resplendent Cannoli

A God-Fearin' Baptist and a Hot Trophy Husband

Uncle Sheldon and a Hormonal Firecracker

White Trash, Holy Rollers and Punching People

A Clogged Pore, a Little Spanish and the Future
THE GILDED AGE: THE COMPLETE FIRST SEASON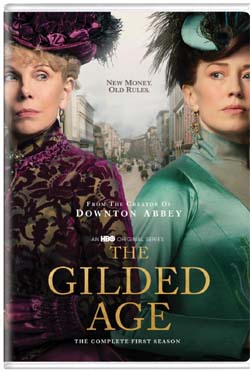 Julian Fellowes, the creator of the hit series Downton Abbey and its subsequent movies, offers a look at the elite of New York City in the late 19th century in the new series The Gilded Age, out now on DVD.
When a family with "new money" moves across the street, the "old money" residents are indignant and determined not to acknowledge their existence.
In the middle of all of this is Marian Brook (Louisa Jacobson), whose father just died. She arrives in Manhattan to live with her father's sisters, widowed Agnes Van Rhijn (Christine Baranski) and spinster Ada Brook (Cynthia Nixon).
Agnes is extremely agitated when the wealthy Russells move in across the street. Mrs. Bertha Russell (Carrie Coon) is an unabashed social climber whose savvy businessman husband is a self-made multi-millionaire who made his money through the Transcontinental railroad. Agnes wants nothing to do with them, and orders Marian and Ada to stay away as well. Marian, an open-minded young woman, wants to get along with her aunts, who are her only living relatives, but she has ideas very different from that of Agnes as to which people make suitable companions.
At times, The Gilded Age may remind you a bit of Downton Abbey we get to know the servants, although they're not as front and center as those of the British series, and the homes are luxurious beyond imagination. But this is definitely America, and Americans had a different attitude towards the wealthy and entitled than the Brits did during the 19th century.
The Russells – especially Mrs. Russell – can see no reason why they shouldn't fit in with the other families in their neighborhood. In America, the wealthy don't have titles, so Bertha doesn't see a difference between her family and the rest of high society.
The first season is about her struggle to earn her family a place amongst the elite of New York society, and Marian's struggle to stay independent, while still relying financially on her aunt.
There's also a wonderful character named Peggy Scott, played by Denée Benton, and her parents Dorothy (played by Broadway legend Audra McDonald) and Arthur (John Douglas Thompson), who come from a middle-class Black family with servants.
This series has it all – drama, intrigue, sorrow, joy and mystery – and it's clear Julian Fellowes didn't leave anything out when he researched high society in New York City in the late 1800s. It was a fascinating time when the Vanderbilts and the Astors ruled the city – and being able to watch it played out on the screen is a treat, not to mention a feast for the eyes.
Also included in the DVD set are a wide range of special features on each disc, including an inside look at every single episode and featurettes on each of the lead actors. See below for the list of all the bonuses that come with the three DVDs that contain all nine episodes of the first season.Alexandra Heilbron.
All That Glitters: Creating The Gilded Age (Exclusive for DVD)

Old Money vs New: The Heart of the Matter

Who's Who Featurettes

Invitation To Set

Carrie Coon BTS

Writing Peggy

Inside the Episodes
 9 EPISODES:
Never The New

Money Isn't Everything

Face The Music

A Long Ladder

Charity Has Two Functions

Heads Have Rolled For Less

Irresistible Change

Tucked Up in Newport

Let The Tournament Begin
A Cinderella Story: Starstruck - Available on Digital & DVD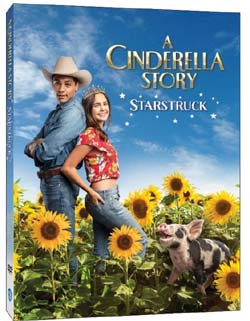 In A Cinderella Story: Starstruck, small-town Idaho farm girl Finley Tremaine (Bailee Madison) has starry eyed dreams about going to Hollywood and becoming actress. The tale begins when a Hollywood movie shoot comes to her little town in the middle of nowhere.
Before we know it, Finley is trying everything she can think of to not only land a role in the film but also capture the heart of Jackson Stone (Michael Evans Behling), a handsome young man playing the lead character.
But all is not well back on the ranch. After completely blowing the audition, farm girl Finley springs into action to think outside the box. The wannabe actress makes a last effort, finally getting her big show biz break disguised as a cowboy named Huck.
With twists and turns about her wacky pursuits of performing and true love complicated still more by trying to keep the whole charade secret from a wicked stepmother and her step-siblings.
Bonus Features
Finley's Best Friends: Meet the Farm Animals

Dirt Under My Nails: The Making of A Cinderella Story: Starstruck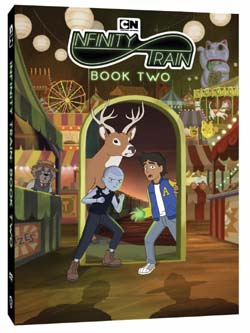 The series picks up just about where it left off in Book One. Tulip, the main protagonist from Book One is home safe, but the Infinity Train continues in its sole purpose of teaching and correcting children in their miscreant ways. This time, it's Mirror Tulip, or MT, who Tulip liberated in Book One's episode The Chrome Car, that carries the action in Book Two with a new human passenger, Jesse.
While Book One spent plenty of time in world-building and establishing the rules of the Infinity Train, Book Two pushes those boundaries dives deep into existential issues that trouble us all through its protagonist MT. Not only is she forced to constantly question her existence both on the train and in a potential real-world situation, but she's also stuck trying to find where she fits into this framework.
While the initial slate of episodes focused on Tulip getting back safely to her family, this new slate of episodes spends a great deal of time on purpose and expectations. While MT is confident of her place in the world, she's also certain that she's not meant to live on the train forever.
The season's 10 episodes have the same quick pace as season one and it truly feels as though creator Owen Dennis has found his niche of providing fun, educational content without the navel-gazing that sometimes creeps into other lesser animated fares. The tight story-telling allows the show to go in and tell its story while leaving enough breadcrumbs along the way to chase in future seasons.
SPECIAL FEATURES INCLUDE:

Commentaries

Animatics

Image Gallery
The Black Market Car

The Family Tree Car

The Map Car

The Toad Car

The Parasite Car

The Lucky Cat Car

The Mall Car

The Wasteland

The Tape Car

The Number Car
Infinity Train: Book Two is available to own on Digital. Digital purchase allows consumers to instantly stream and download all episodes to watch anywhere and anytime on their favorite devices. Digital movies and TV shows are available from various digital retailers including Amazon Video, iTunes, Google Play, Vudu and others.
THE ALIENIST: ANGEL OF DARKNESS A LIMITED SERIES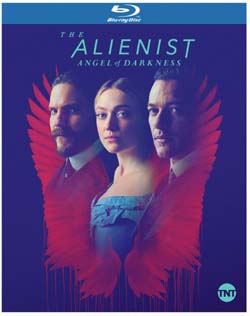 Daniel Brühl, Luke Evans, and Dakota Fanning return as a team of profilers (alienists) to a serial killer who is murdering street children. A year after the Beecham case (season one), the group is trying to put that case behind them but get a visit from the wife of a Spanish diplomat who wants the team to help her find her kidnapped daughter. This sets them on a dangerous mission where they uncover dark secrets about New York itself, about a serial killer, and have to be extra careful because The United States and Spain were on the brink of war at the time, and so every step they take is a perilous walk on thin ice. This plays out over eight one-hour episodes.
One interesting aspect of this series is the way it weaves fact and fiction. It uses real historical figured to add a level of believability to the series. For example, Theodore Roosevelt makes an appearance that makes sense because he really was the Chief of Police for New York City in that era. There are a few other details like that which add to the atmosphere and design of the show. The set design is fantastic. 1890's New York feels like that, and the producers really went the extra mile to capture that atmosphere. The cast is strong, and their interactions feel natural. The dangers feel real. A warning so the series does not shy away from gruesome scenes and commentary and probably is not for the weak of stomach.
SPECIAL FEATURES INCLUDE:
Inside the Alienist: Building the World

Walking the Set 2.0 with Luke Evans

Kreizler Season 1 Recap

Dressing a Modern Woman

Series Overview
Ex Ore Infantium

Something Wicked

Labyrinth

Gilded Cage

Belly of the Beast

Memento Mori

Last Exit to Brooklyn

Better Angels
The Alienist: Angel of Darkness is also available to own on Digital. Digital allows consumers to instantly stream and download all episodes to watch anywhere and anytime on their favorite devices. Digital is available from various retailers including Apple TV, Amazon Video, Google Play, Vudu, PlayStation, Xbox and others. A Digital Copy is also included in the U.S. with the purchase of specially marked Blu-ray discs for redemption and cloud storage.
Victor and Valentino: Folk Art Foes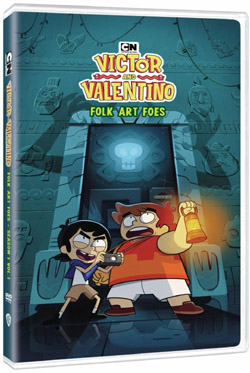 Supernatural mayhem is a way of life in Monte Macabre, and it's up to two fun-loving half brothers to contain it. That is, when they're not starting it in the first place! Join mischievous Victor and kindhearted Valentino as they encounter mythical monsters, spooky specters and all manner of folklore foes during their hilarious adventures.
Includes 18 Episodes:
Folk Art Foes

Dead Ringer

Brotherly Love

Chata's Quinta Quinceañera

Legend of the Hidden Skate Park

Cleaning Day

The Babysitter

Hurricane Chata

Lonely Haunts Club

Suerte

The Dark Room

The Collector

The Boy Who Cried Lechuza

Boss for a Day

Cuddle Monster

Los Cadejos

It Grows

Welcome to the Underworld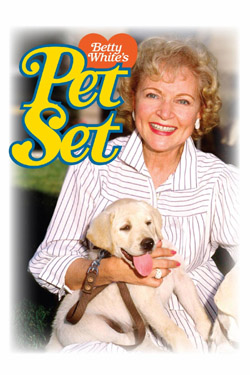 The 6 disc set includes 39 episodes of the weekly 70's half-hour talk show. The format of the series, for those that don't know, find host Betty White talking and joking with celebrities who bring their own pets (mostly dogs). Throughout the show, there will be other animal guests with their trainers (from chimps to elephants) who may have skills and or tricks. The history of certain animals is also a topic that comes up at times.
Produced by Betty White and her husband Allan Ludden, "Betty White's Pet Set" is a bit of a refreshing change of pace from the normal talk show. Sure, there are guests such as Vincent Price, Rod Serling, Doris Day, Mary Tyler Moore, James Stewart, Burt Reynolds, Beverly Garland, Carol Burnett and more promoting their work, but the conversations tend to center around their pets. To say animal lovers will treasure this show is an understatement. Not only do you get to see a wide variety of animals, but you get to see them do fun things.
Betty White is as charming as ever as the host although she can understandably get a bit distracted at times by the unpredictable actions of animals. At the same time, seeing White get thrown off her game and not knowing what will happen is part of the appeal of this show.
Extras:
"Betty And The Pets" photo gallery
"The Pet Set" promo spots and MPI promos.
Betty Public Service spots.
"Betty White's Pet Set: Behind The Scenes"- A new 25 minute featurette on the show and Betty White that also includes interviews.
"Betty White: Game Show Goddess"- Episodes of Betty White guesting on "Password," "What's My Line," "The Price Is Right," and "Make The Connection."
"Queen of Television"- A featurette on Betty White's TV career (clips included).
"Life With Elizabeth" and "Date With The Angels" – An episode of each TV series.
"Betty And Allen"- Sketches with the couple from "The Peter Marshall Variety Show"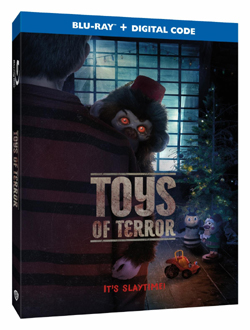 Toys of Terror is a 2020 American horror feature film about kids that discover toys that magically come to life but have an evil side to them.

Directed by Nicholas Verso and written by comedian/actor/screenwriter Dana Gould, "Toys Of Terror" is a Christmas horror movie about Hannah, David, and their 3 children (Alicia, Franklin and Zoe) and nanny Rose venturing to an old former children's clinic turned Victorian home. With the help of a contractor, Hannah and David are planning to fix up the house and flip it, but in the meantime, the family is staying there for the holidays.
While the adults focus on renovating the place, the bored kids find a toy chest hidden in the play room and are delighted when the toys inside magically come to life. However, bizarre events soon begin to take place, events that threaten the family's lives. As the special day dawns with gifts piled under the tree, so the killings start and  blood starts to flow.
"Overall, Toys of Terror is a fun simply horror feature the old fashion way.
Starring: Dayo Ade, Georgia Waters, Verity Marks and Kyana Teresa.
Steven Universe: The Complete Collection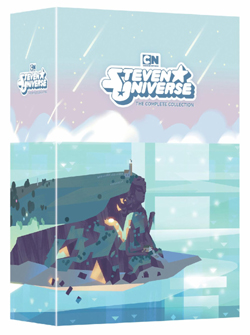 Steven is the son of the Crystal Gems' late leader Rose Quartz and aging aspiring rockstar Mr. Universe. Steven belongs everywhere and nowhere: he has inherited his mother's Gem and her magical powers, but also his father's humanity and charm.
The show is a slice-of-life action comedy that follows Steven as he attempts to bridge the gap between the sci-fi fantasy world of Gems and the cozy, funny, simple-yet-extraordinarily-complicated world of human beings.
Steven Universe is created by Emmy and Annie Award-nominated writer and New York Times bestselling author Rebecca Sugar, and produced by Cartoon Network Studios.
Steven Universe the Complete Collection includes:
Season 1 Extras
"Behind the Music" – This featurette includes creator Rebecca Sugar and composers Aivi and Surasshu discussing how the songs came into existence.

Listening Party – This is a video of the 2017 listening party and Q&A with Rebecca Sugar, including sing-a-long versions of a couple of songs and Rebecca performing a couple on the ukulele.

Music Video Performances – Rebecca Sugar sings some of the songs from Steven Universe with Aivi and Surasshu accompanying.

"Something Entirely New"

"It's Over Isn't It"

"Love Like You"

"Here Comes a Thought"

"What's the Use of Feeling (Blue)?"

Animatics – This is dialogue over storyboards.

Gem Glow

Full Disclosure

Steven the Sword Fighter

Steven and the Stevens

Island Adventure

Song Demos – Rebecca's original demos over art.

"Be Whoever You Are"

"Full Disclosure"
Season 2 Extras
Animatics

Sworn to the Sword

Keystone Motel

The Answer

We Need to Talk

Onion Friend

Catch and Release

Love Letters
Season 3 Extras
Animatic Excerpts – These are not the full episode, just select scenes.

Hit the Diamond

Mr. Greg

Alone at Sea

Greg the Babysitter
Season 4 Extras
Animatics (Full)

Last One Out of Beach City

Animatic Excerpts

Mindful Education

That Will Be All

Three Gems and a Baby – "I Could Never Be Ready"
Season 5 Extras
Episode Commentary

Animatic Excerpts

The Question – "Ruby Rider"

Reunited – "For Just One Day Let's Only Think About Love"

Change Your Mind
The Movie Extras
"Behind the Curtain" – This is a behind-the-scenes look at the making of the movie, including interviews with Rebecca, the voice cast, writers, composers, and artists.

"Rebecca Pitches Act 3" – This is a video of the official pitch of the final act of the movie, with Rebecca explaining the story using storyboards.

Animatics for Select Songs – These can be viewed with or without commentary.

"Happily Ever After"

"Other Friends"

"True Kinda Love"

"Change"
Future Extras
Episode Commentary

Animatics (Full)

Animatic Excerpts
Bonus Disc
Music Videos

"Stronger than You" – filmed at San Diego Comic-Con 2017

"True Kinda Love"

Multi-Language "Other Friends"

Steven Universe Pilot

Steven Universe Mini-sodes

"Fusion"

"How Are Gems Made?"

"Lion Loves to Fit in a Box"

"Unboxing"

"What Are the Crystal Gems?" – extended intro

"What Are Gems?"

"Cooking with Lion"

"Gem Karaoke"

"Steven Reacts"

"Steven Song Time"

"Video Chat"

Steven Universe the Movie Sing-a-long Version
Ben 10 vs. The Universe: The Movie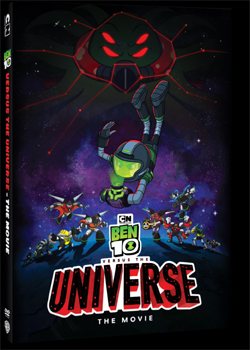 In BEN 10 VS. THE UNIVERSE, 10-year-old Ben (voiced by Tara Strong) has grown jaded to the drudgery and predictability of workaday heroism. He's eager for new challenges, and while complaining about this to his cousin Gwen and Grandpa Max, they get a call from Phil (John DiMaggio) about an impending crisis. A meteor is heading straight towards Earth, large enough to destroy the Earth. With some upgrades and space training, Ben's ready to stop the meteor. But as he goes into space, he misses the meteor and goes through a wormhole, ending up on a spaceship where aliens believe that he's the supervillain Vilgax (Yuri Lowenthal) in disguise. Meanwhile, the meteor has landed on Earth, and while the planet isn't destroyed, Vilgax is the one inside the meteor. Now Ben, with some unexpected allies, must find a way to convince his alien captors that he's not Vilgax, then return to Earth and stop the real Vilgax.
DVD BONUS FEATURES INCLUDE:

Cast: Dee Bradley Baker, Greg Cipes, John DiMaggio
Directors: Henrique Jardim, John McIntyre
Studio: Cartoon Network
S.P. – Well done reconstruction of Ulysses S. Grant's life.
The documentary-series examines Grant's life story using his perspective and experiences to explore a turbulent time in history: the Civil War and Reconstruction.
Produced by Leonardo DiCaprio and Jennifer Davisson, Grant looks at the life and career of the military legend who saved the Union during the Civil War and tried to hold the nation together during his two terms in the White House. Based on Ulysses S. Grant's own memoirs and drawing from Ron Chernow's 2018 bestselling bio, the documentary stars Justin Salinger as the cigar-chomping man himself in reenactments. The Malcolm Venville-directed event series is also full of insights from the likes of Ta-Nehisi Coates, Gen. David Petraeus, Chernow himself and others.
CAST
Justin Salinger (TV's "Hanna," "The Mill," Everest)
Francis Chouler (TV's "Black Sails," Eye in the Sky, "The Widow")
Carel Nel (TV's "Blood Drive," "Vagrant Queen," The Last Days of American Crime)
'WE BARE BEARS THE MOVIE'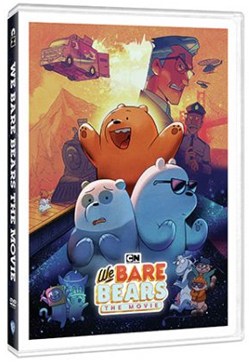 A heartwarming story about acceptance and diversity.
We Bare Bears is a cartoon that aired on the Cartoon Network for four seasons. It centers around three bears (grizzly, polar, and panda) that are "bros for life" and vow to stick together no matter what. The show follows them as they try to integrate onto human life by doing traditionally human things like buying food, seeing movies, and making friends with humans. The show now has a follow-up movie meant to be a cap to the series (which has ended its run) and finish their storyline.
The movie starts with the grizzly bear having a nightmare about when the bears first met and had to form a "bear stack" (the three bears all stack up in order to move around more quickly) to escape an oncoming train. He awakens before the train gets too close.
We now find the three bears live in San Francisco, and they very much want to be accepted as part of the community. In their efforts to make a good impression, they accidentally cause a trail of disasters that turns the community as a whole against them. This incident brings them to the attention of National Wildlife Control Agent Trout, who proposes to remove the bears and return them to their natural habitats (China, the Arctic, and a North American grizzly habitat). As a result, the bears flee the city and make a run for Canada with Agent Trout on their trail. Along the way, they meet several animal friends (some with very wild personalities) and have to learn to rely on each other and be better friends to keep each other safe.
DIGITAL
We Bare Bears The Movieis currently available to own on Digital. Digital allows consumers to instantly stream and download all episodes to watch anywhere and anytime on their favorite devices. Digital is available from various retailers including iTunes, Amazon Video, Google Play, Vudu, PlayStation, Xbox and others. A Digital Code is also included in the U.S. with the purchase of specially marked Blu-ray discs for redemption and cloud storage.
BONUS FEATURES
Commentary

Early Sketches

Movie Pitches

Animatics and Pencil Tests

Deleted Scenes
SpongeBob SquarePants: Bikini Bottom Bash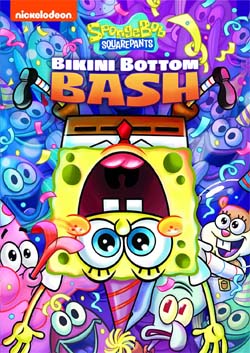 It's SpongeBob's birthday, but it's a surprise, so SpongeBob and Patrick are going on a tour of the surface world while everyone else plans the birthday blowout below.
Then, Bikini Bottom throws a wave of other parties: Catch some rays with SpongeBob and Patrick to get into the biggest bash in town, enjoy a girls' night in at Pearl's sleepover, raise the pineapple's roof at SpongeBob's house party, and celebrate the Krusty Krab's momentous eleventy-seventh anniversary! Let's par-tay!
Episodes Include:
SpongeBob's Big Birthday Blowout

SpongeBob's House Party

Sun Bleached

The Slumber Party

Truth or Square
TWIN, the Norwegian drama series starring Kristofer Hivju from Game of Thrones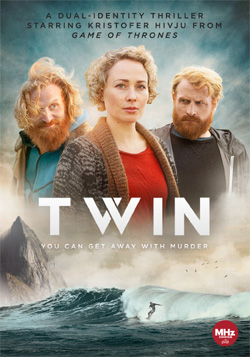 TWIN is one of the most anticipated Nordic TV Suspense-Dramas. The series features a prominent cast including Kristofer Hivju, most famously known for his role as Tormund Giantsbane in HBO's smash-hit drama series Game of Thrones and Norwegian actress Rebekka Nystabakk; high production value and a thrilling story taking place in the dramatic and picturesque settings of Lofoten, Norway.
Erik and Adam are identical twin brothers, living completely different lives. Erik is a broke surfer bum. Adam is a successful family and business man. When Erik seeks out his brother for the first time in 15 years, a quarrel ends with Erik and Adam's wife, Ingrid, accidentally killing Adam. To avoid getting arrested for murder, and save his brother's family, Erik takes over Adam's identity. It soon turns out that the biggest challenge is not avoiding getting caught it's pretending to be someone you're not.
Co-Created by Hivju and Lead Writer/Director Kristoffer Metcalfe
Language: Norwegian, German, French, English
THE GREAT ALASKAN RACE: 3 - Film Collection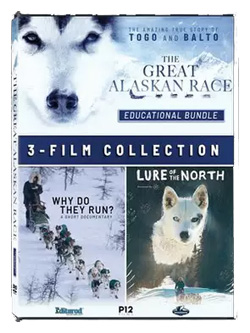 Following up to the successful home entertainment release of THE GREAT ALASKAN RACE on January 28th, P12 FILMS has just announced a brand new 3-Film Collection including the original full-length feature film The Great Alaskan Race, along with two new educational, documentary featurettes including the Iditarod film, "Why do they Run?" and the Beargrease Sled Dog Marathon story "Lure of the North," plus additional Interactive Educational Video and new bonus content.
The Great Alaskan Race 3-Film Educational Bundle includes:
The Great Alaskan Race:
After overcoming personal tragedy, widowed father and champion musher Leonhard 'Sepp' Seppala steps in the midst of a diphtheria outbreak in his small dock town of Nome, Alaska to safely deliver the anti-toxin to the hospital. With his own child's life on the line, Sepp battles the impossible, accompanied by his trusty pack of sled dogs. When a severe winter storm has made it impossible journey for planes, trains, or any form of transportation, Sepp and his dogs are able to get the anti-toxin to the children in need, just in the nick of time.
Why Do They Run?:
Produced by the Emmy award winning Insider Production Team, this short documentary takes a fascinating look at the sled dog to answer the burning question: "Why do they run?" In just 33 minutes viewers will get insight and testimony from leading veterinarians and scientists that answer this very question. A true "must see" for any dog lover!
Lure of The North:
This short documentary film profiles Blake and Jennifer Freking, a musher family from Finland, Minnesota who care for 60+ purebred Siberian Huskies. With over 20 years of working with the breed, they have each competed in numerous long-distance sled dog races including the Iditarod, Yukon Quest, and The John Beargrease Marathon. The film explores the challenges of living and raising a family off-grid in the snowiest region of Minnesota and captures the Frekings' devotion to the sport, spirit of adventure, and commitment to the well-being of their huskies. Produced and directed by Johnathan Chapman (JCP).
Additionally, new special features Include:
"The Making of The Great Alaskan Race"
"Behind-the-Scenes with the Iditarod"
"Beargrease Race Kick off Video," and "Mushers Review The Great Alaskan Race."
Betty Davis: They Say I'm Different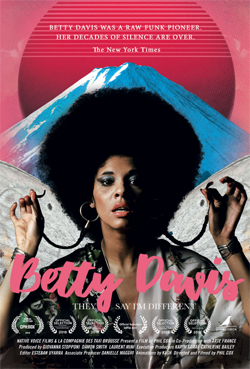 Original Funk Queen Betty Davis took on 1970s establishment America and changed the course of women in music forever. Then she vanished. Forty years later, Betty, in a creative and constructed narrative, finally shares her extraordinary story.
The world simply wasn't ready for a woman like Betty Davis. With her raw, explicit image, her music was too honest and too real for the industry. When many female groups were in cute little dresses singing about their long-lost love, Betty was on stage in hot shorts and boots belting out anti-love songs, released in 1973. She was bold, powerful and wrote her own lyrics where she owned her sexuality and refused to conform. When she completely disappeared, many wondered where she was, literally not knowing whether she was dead or alive.
In this amazing documentary, you get to experience the journey Betty took to becoming the pioneer of funk, which paved the way for so many other artists of my generation like Prince, who seemed to embody the exact same presence on stage. Interviews with ex-bandmates and childhood friends give you a sense of who Betty Davis was behind the image. Friends call her shy, private and remember being shocked when they saw her perform in sexy outfits, singing in a deep raspy voice because at home she was described as a quiet church-going girl. Her bandmates mention her as a strong feminist who displayed frustration with the music industry who denied her opportunities as a woman. Her brief marriage to jazz legend Miles Davis was mentioned as volatile and had a great effect on her personal life but it was also seen as very influential as Betty had a huge impact on not only Miles' music, but the transformation in his image and the way he challenged himself as an artist.
When her father passed away, the world saw less of her until she simply vanished. As they finally get in touch with Betty, we never really know what happened to her all those years. We are left wondering, will she come back with new music and reconnect with her fans or remain a mystery? One thing is for sure, this story will definitely re-introduce you to one of the most powerful, influential musicians of funk ever!
Big Little Lies: The Complete Second Season
The Lies Continue To Haunt As the DVD is Available Now and on Blu-ray via Warner Archive Collection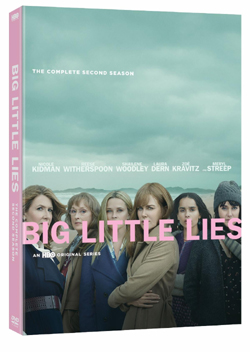 In season two, on the surface, everything seems the same in the seaside town of Monterey, CA: mothers continue to dote, husbands support, children are adorable, houses are beautiful. But the night of the school fundraiser changed all that, leaving the community reeling as the "Monterey Five" bond together to pick up the pieces of their shattered lives. Meanwhile, Perry's grieving mother Mary Louise Wright (Streep) comes to town in search of answers after son's death.
Perhaps the most exciting development in Big Little Lies' second season is that there's more depth to each of the characters, allowing Witherspoon, Dern, and Kravitz in particular to give even more impressive performances. The show appears to be exchanging an all-consuming, incendiary mystery for a tale that's less mercurial but no less hearty, and it's still an absolute pleasure to watch.
DVD BONUS FEATURES:
The Lies Revealed: A Conversation with the Cast' Meryl Streep, Shailene Woodley, Reese Witherspoon, Nicole Kidman, Zoe Kravitz and Laura Dern share laughs and mimos as as they look back at Season 2
7 ONE-HOUR EPISODES
1.What Have They Done?
2.Tell-Tale Hearts
3.The End of The World
4.She Knows
5.Kill Me
6.The Bad Mother
7.I Want To Know
Veronica Mars: The Complete First Season 2019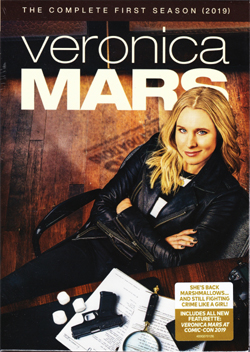 Veronica Mars (Kristen Bell) grew up in Neptune, California, working as a teenage P.I. alongside her father, former police chief Keith Mars (Enrico Colantoni). It took her 19 years to finally get away from the town, but now, ten years later, Veronica is back and has once again teamed up with her father in the family business. These days Veronica often finds herself working cases helping women catch their cheating husbands and boyfriends. Her father is experiencing some health issues that may be a delayed result of a car accident he had years earlier he walks around with a cane, and is experiencing some issues with his memory. But that hasn't dulled his ability to verbally spar with his daughter.
As the series opens, Veronica's longtime boyfriend, former Navy Pilot turned intelligence officer Logan Echolls (Jason Dohring), has returned from some mystery assignment, and he has a question to ask Veronica. However, Veronica is not the marrying type, and is pretty sure that she has made Logan aware of that over the years.
Neptune is a big Spring Break town, and is already being overrun with the annual throngs of frat kids. Meanwhile, crooked real-estate tycoon, Richard "Big Dick" Casablancas (David Starzyk) has been trying to get the town to pass some ordinances that would drive out the small businesses. One of these is a local nightclub owned by the tough Nicole Malloy (Kirby Howell-Baptiste), and another is the local motel. The situation escalates when a bomb goes off at the motel, killing four people the owner of the motel, a student/Mexican national, a law school student, and the fiancee of the younger brother of wealthy Arab American Congressman Daniel Maloof (Mido Hamada). Was this a random act, or was one of these people the intended target of the bomb?
As Veronica and her father start to investigate, they bump heads with the town's new police chief (Dawnn Lewis). And things only get worse what seemed like an isolated incident quickly turns into a serial bomber case. The FBI are called in, with the investigation being led by Veronica's former boyfriend Leo D'Amato (Max Greenfield). While working on the bombing case, the Mars' also take on some smaller cases to help pay the bills. And along the way they bump into many old acquaintances as well as some interesting new ones.
The series has a really nice blend of mystery, drama, thriller and humor. One of the highlights is the relationship between Veronica and her father. The two have this fun, quippy, sarcastic way of speaking with one another.
Longtime fans of the series will see the return of characters like Veronica's best friend Wallace Fennel (Percy Daggs III) who is now a married high school teacher and coach, Pacific Coast Highway biker gang leader Eli 'Weevil' Navarro (Francis Capra), and "Big Dick"'s son Dick Casablancas (Ryan Hansen), who's now an actor. Among the many new characters are two mysterious hitmen for the Mexican cartel (Clifton Collins Jr., Frank Gallegos); Clyde Pickett (J.K. Simmons), an old acquaintance of Keith's who spent some time in prison and is now working for Richard Casablancas; Matty Ross (Izabela Vidovic), the daughter of the owner of the motel, who becomes Veronica's protege; two brutes who are after Matty, looking for their sister's engagement ring that disappeared in the bombing; nerdy pizza delivery guy Penn Epner (Patton Oswalt) who runs a club of "Murderheads" who like to swap conspiracy theories and his fellow Murderhead Don (Clark Duke), who calls into their meetings remotely from D.C.; and numerous badly-behaved frat boys in town for Spring Break.
Includes:
All 8 episodes of the first season of the revival series (fourth season of the series overall):
Disc 1: "Spring Break Forever", "Chino and the Man", "Keep Calm and Party On", "Heads You Lose"
Disc 2: "Losing Streak", "Entering a World of Pain", "Gods of War", "Years, Continents, Bloodshed"
Special Feature:
Veronica Mars at Comic Con 2019
Footage from this past July's San Diego Comic-Con panel for the series. The Q&A is moderated by TVLine's Michael Ausiello, and the panelists include Francis Capra ("Eli 'Weevil' Navarro"), Percy Daggs III ("Wallace Fennel"), Ryan Hansen ("Dick Casablancas"), Kirby Howell-Baptiste ("Nicole Malloy"), Enrico Colantoni ("Keith Mars"), Jason Dohring ("Logan Echolls"), Kristen Bell ("Veronica Mars"), writer/executive producer Diane Ruggiero-Wright, and writer/creator Rob Thomas
Family Guy: Season Seventeen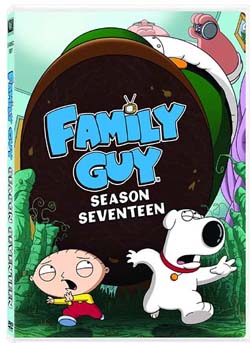 Season 17 of the animated series starts off with a two-parter in which Brian meets, falls in love with and marries a woman with a terminal illness, only to realize that his rushed decision could spectacularly backfire. In other episodes, Stewie unexpectedly finds a new friend, Peter is hired as Press Secretary at the White House, Lois tries to write a novel, Chris takes up vaping, Meg becomes an Olympic biathlete and Quagmire finally pays the price for his promiscuity.
The Orville: The Complete Second Season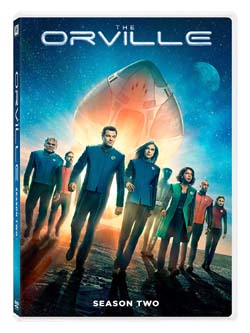 The second season of The Orville sheds new light on the war with the Krill. On top of that, there's the decision if Isaac's (Mark Jackson) race, the Kaylons, will join the Union. Both of these topics will become the red thread of the season. Nonetheless, most of this season's content is much like the first, many different topical issues. The different episodes handle topics such as porn addiction and how it affects one's relationship, as well as how different cultures can work together and even how it is to fall in love with an illusion. While these topics may be a bit weird for a Sci-Fi series, the writers handle these cases well, and they stay within the boundaries of the genre. Much like the older Star Trek series, many cases, problems, and situations are handled within the course of one episode.
The flow is somewhat similar to the first season, where each episode handles a different encounter, problem or topical issue. The characters seem to grow a bit more this season, and a red thread is also visible. The situation with the Krill becomes more important, as well as the decision of the Kaylon race, of which Isaac is a part of. Otherwise, you can watch these episodes quite loosely, as many cases are handled within the course of one episode. There's only one diptych in the series, and the final two episodes of the season also relate to one another. While this series is actually quite serious, there's some banter in-between certain events to make sure things don't become too heavy. Overall one could consider this series to be a bit of a 'soap opera' at times, as relationships are also a very important topic for the show.
In The Orville: Season 2, the cast is nearly identical as in the first season. There is a bit more character growth during this season, which means that every crew member has to do an extra effort this season. There's one big actress leaving the cast this season, namely Halston Sage, who plays the very likable Lt. Alara Kitan. She is succeeded by Jessica Szohr, who will play Lt. Talla Keyali, the new chief of security. Other than that, there are no significant changes.
Manifest: The Complete First Season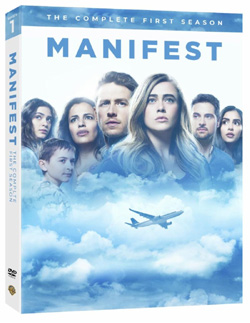 Great mystery, can't how it will all end!
On April 7, 2013, Montego Air flight 828 left Jamaica bound for New York City. While en route, it experienced some rough turbulence, but nothing that felt too out of the ordinary to the passengers on board. However, when the plane landed, the passengers discovered that it was now November 4, 2018. For them, it was instantaneous, and they haven't aged a day, but their families and loved did and ones on the ground had given them up for missing and dead for over 5 years! Some have moved on, some have still kept the candle burning, and on the flip side, some passengers unknowingly lost family members during the time gap.
NYPD cop Michaela Stone (Melissa Roxburgh) had just been proposed to by her boyfriend/partner Jared (J.R. Ramirez) before she left for the family trip to Jamaica. She had been in a dark place, and was using this vacation to clear her head. However, she was still madly in love with Jared, and planned to accept his proposal upon her return. However, during the five year gap, Jared had moved on, marrying her best friend.
Meanwhile, Michaela's brother Ben (Josh Dallas) was also on board and is unaware he's in a similar situation with his wife of 15 years. Grace (Athena Karkanis) had already dealt with her mourning and had started to move on, but is now ready to forget that and make things work with her husband. Their terminally ill son Cal (Jack Messina) was also on flight 828. However, new advances in science over the those missing 5 years may now be able to save him, thanks to a treatment that passenger Saanvi Bahl (Parveen Kaur) had helped to develop just before the flight, and that has been in clinical trials for the past five years.
During the first season NBC ordered a couple of additional episodes and the ratings were soft for the season. Luckily for the fans NBC renewed the show for a second season. There have been a lot of shows like this over the last few years that have not lasted. With at least a second season, it gives the fans and the people that make the show more time to expand and explore more of the story. It's a great premise as long as they're able to keep the story going with a great payoff for the fans in the end.
16 ONE-HOUR EPISODES
Pilot

Reentry

Turbulence

Unclaimed Baggage

Connecting Flights

Off Radar

S.N.A.F.U.

Point of No Return

Dead Reckoning

Crosswinds

Contrails

Vanishing Point

Cleared for Approach

Upgrade

Hard Landing

Estimated Time of Departure
Velvet: The Complete Series Box Set (Season 1 to 4)

It's time to get your binge – watch on!
Velvet Season 1
The owner of Velvet Galleries presents his son Alberto, newly returned from London after years of training away from the family and away from his illicit love affair with a humble seamstress, Ana Rivera. Alberto's return and his reunion with Ana will reawaken family tensions, but this time Alberto is willing to fight for Ana as he did not fight in the past. The two lovers are ready to break with family expectations and the norms of the time.
Velvet Season 2
In season two, stolen kisses, and jealous outbursts abound. While Spain's wealthiest and most beautiful women continue to be attracted by the sensuality of Velvet Galleries' garments, it's seduction that seems to drive the store's highly competitive management. Alberto, heir to the Velvet fortune, has married a socialite rather than Ana, the love of his life. She, too, is aware that her lowly rank as a seamstress represents a hurdle that she cannot leap over.
Velvet Season 3
After learning that Cristina is pregnant, Alberto and Ana have much to think about. Both had proposed fight all odds for their relationship, but this news can change everything, but surprisingly Alberto is very clear. Anna will not give up. Meanwhile, Cristina is willing to do anything to recover Alberto and with the help of Barbara plots a plan to take her to be closer to her husband. Meanwhile, Rita and Pedro enjoyed as ever. They finally have their wedding night and happiness fills them, at least until they discover next to Jonás a terrible event can lead to the ruin of the galleries. Alberto is forced to take action on the matter and seeks help from his uncle Esteban. But he is the right person to defend the interests of Velvet?
Velvet Season 4
Mateo is in NYC scanning for Alberto and keeping Clara updated; he encourages Clara to stop Ana/Carlos' wedding if it turns out Alberto is alive. Clara, not ready to keep such a tremendous riddle, tells Rita that Alberto may be alive, the two sisters plot to back off Ana's wedding to
Carlos. Raul gets inside information about the diagram school Jonas needs to go to, and Jonas must course of action a recommendation that is stunning and risky. The police guess Patricia/Enrique of executing Valentin; Patricia settles on a decision and perseveres through the outcomes.
In Spanish with English Subtitles
Directors: Carlos Sedes,David Pinillos, Jorge Sánchez-Cabezudo, Sánchez-Cabezudo, Sílivia Quer, Gema R. Neira
Cast: Paula Echevarría, Miguel Ángel Silvestre, Aitana Sánchez-Gijón, Manuela Velasco, Manuela Vellés, Marta Hazas,Maxi Iglesias, Javier Rey, Cecilia Freire, Adriàn Lastra,
Natalia Millán, José Sacristán, Amaia Salamanca, Miriam Giovanelli, Diego Martín, Asier Etxeandia, Llorenç González.
Captain Marleau, Vol. 1 and 2
Captain Marleau has a hunter's instinct, disguised under a deliberately offbeat veneer. As she says herself, she doesn't skim over cases; she plunges into them. Always on the prowl, she lies in wait for clues and her prey and takes them by surprise.
During Gilles Garin's youngest son's death anniversary, Elsa, the eldest son's nanny is shot. Unusual French policewoman – Captain Marleau investigates. The trails're numerous: Garin's wife? Elsa's boyfriend, Julien? A crazy, jealous woman in love with Gilles? Gilles himself – famous detective novel – throwing red-herrings in Marleau's path. Is Garin protecting someone? Captain Marleau – like a sniffer dog – will at the end find her innocent prey.
Cast: Corinne Masiero, Gérard Depardieu, Victoria Abril, Bruno Todeschini, Pierre Arditi, Sandrine Bonnaire
In French with English Subtitles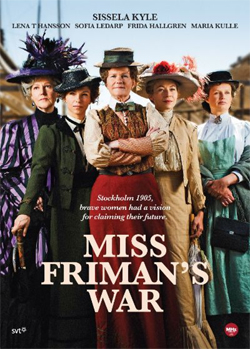 It's 1905 in Stockholm, and Swedish lives are changing rapidly because of the introduction of new food safety technologies. Miss Friman believes firmly in equal rights for women. She and her friends set out to open Swedish Homes, a grocery cooperative with unspoiled food at affordable prices. It's a store for women, run by women, and a revolutionary idea for its time. When the all-male board of the Stockholm Wholesale Association learns about the womens business plan, they start fighting back.
Cast: Sissela Kyle, Frida Hallgren, Maria Kulle, Lena T Hansson, Sofia Ledarp, Gustaf Hammarsten, Ulla Skoog
In Swedish with English Subtitles
FXX's Archer: Danger Island Arrives on DVD April 2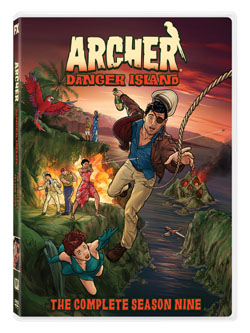 Get ready for a change of scenery with the semi-functioning alcoholic seaplane pilot, Sterling Archer, a lush on the lush South Pacific island of Mitimotu in 1939. While the rest of the world is concerned about the impending Second World War, Archer is only concerned with who's buying his next drink. Along with his trusty co-pilot Pam, Archer must navigate quicksand, cannibals, super-intelligent monkeys, poison darts, pirates, and did we mention quicksand? Enter the mysterious and deadly world of Archer: Danger Island when all 8 episodes from Season 9 arrive on DVD April 2 along with exotic special features.
The series features the voices of H. Jon Benjamin as the hard-drinking pilot, "Sterling Archer;" Jessica Walter as Archer's acid-tongued mother and hotel owner, "Malory Archer;" Aisha Tyler as island royalty and local revolutionary, "Princess Lanaluakalani;" Judy Greer as the abandoned heiress, "Charlotte Vandertunt;" Chris Parnell as the obvious German spy posing as a businessman, "Siegbert Fuchs;" Amber Nash as Archer's co-pilot and loyal sidekick, "Pam Poovey;" Adam Reed as impeccably uniformed French Capitaine, "Reynaud;" and Lucky Yates as the audacious scarlet macaw, "Crackers."
Archer: Danger Island Season 9 DVD Special Features:
Inside look: Making Archer

Crackers' Costumed Playings
ACQUITTED Season One & Two
Season One:
Norwegian Aksel Borgen (Nicolai Cleve Broch) has returned home to his native small town after twenty years of self-imposed exile after being acquitted of murdering his then-sweetheart, when the entire township — now facing ruin after the bankruptcy of the sole manufacturing company — turned against him. But Aksel has bought into the business along with a larger, sleazy corporation, which might now abandon the beautiful fjord-facing town, killing its tourist-laden future.
Acquitted he might have been after a year in prison when a young woman came forth with evidence that he wasn't near the site when the sweetheart was murdered, but still the remaining folk aren't happy to have him back. Aksel has left his a wife, a native Malaysian (Elaine Tan), for now, but has his teen-aged son (Mathias Romano) with him while he works to get the business on its feet. The complications start when Aksel falls in love with the female friend who vouched for him those years before, and has to deal with his addled mother (Anne Marit Jacobsen) and resentful brother (Tobias Santelmann), in addition to a town still suspicious that Aksel had indeed committed the slaying, now egged on by the dead girl's bitter mother (Lena Endre).
Season Two:
The ten episodes build well, introducing us to many of the townsfolk angry with him showing up at all. The meanness of the new owners and their cynical abuse of the townsfolk are absorbing and fruitful. And the love-making certainly keeps the cold weather away.As the dust settles from the explosive finale of the first series, Aksel has the answer he so desperately sought. Finally, his search for justice appears to be over and his reconciliation within the local community can begin. But Aksels hopes are short-lived. As Eva and William close ranks and deny the truth, a new struggle begins for Aksel. Convinced that Eva is covering for William, he asks himself a question: what secret could be so big that a mother is willing to shield the murderer of her own daughter? As the impenetrable fog of lies and deceit that has enveloped a decades-old murder begins to clear, Aksel finds himself heading toward an inevitable showdown with his nemesis, Eva. Only then he may finally know the truth, and his own fate. 
Cast: Nicolai Cleve Broch;  Lena Endre; Henrik Rafaelsen; Ingar Helge Gimle; Amrita Acharia
In Norwegian with English Subtitles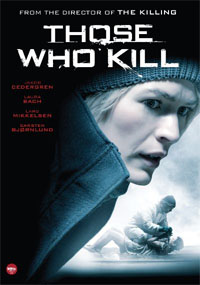 'Those Who Kill is a compelling dark crime series, based on the novels by bestselling author Elsebeth Egholm. It follows the investigations of a special unit of Copenhagen's police force, consisting of detective inspector Katrina Ries Jenson (Laura Bach) and forensic psychiatrist Thomas Schaeffer (Jakob Cedergren). The pair specialise in identifying serial killers that do not fit within traditional behavioural patterns and aim to uncover the psychology of a violent killer in their attempt to solve a case surrounded by fear and mystery'.
Cast: Laura Bach; Jakob Cedergren; Lars Mikkelsen; Lærke Winther; Frederik Meldal Nørgaard
In Danish with English Subtitles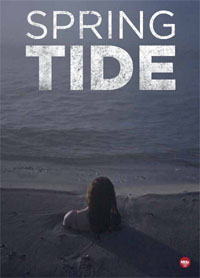 A young pregnant woman is buried in the sand, slowly being submerged by the tide. 25 years later, the sadistic murder remains unsolved. Olivia Rönning at the Police Academy studies the case as a cold case exercise. Olivia becomes almost obsessed with the murder when she discovers that her father worked on the investigation. She quickly realises that she needs to find the lead investigator, detective Tom Stilton, but he has gone to ground.
Olivia is completely absorbed by the case and goes to Nordkoster to visit the murder scene. When she comes to the beach at Hasslevikarna bay, a man appears with a rolling suitcase. Stilton finds out through Situation Stockholm that Olivia is looking for him but is not interested in making contact. He has other concerns, like his homeless friends being beaten up.
Stilton finds his friend Vera severely beaten and decides to try to find the perpetrators. Olivia has received information that a former escort girl, Jackie Berglund, figured in the inquiry on the beach case and decides to examine her a little closer. She contacts a journalist who interviewed Jackie a few years ago, Eva Carlsén, for advice on how to approach her. Linn Magnuson, CEO of the mining company, receives a malicious call and realises that the call could crush both her and the company.
Olivia continues to look for information about Jackie Berglund, but goes a little too far when she visits Jackie's store "Odd & Right." Jackie has already heard that a young woman has been digging around in her past, and she quickly realises that it is Olivia. Olivia's mother tries to tell Olivia to stop digging around in the beach case. She does not want to see Olivia become as obsessed as her father. Tom Stilton slowly starts to get in shape so that he can pursue those who murdered Vera. He makes contact with his former snitch, Mink, for help in finding them.
Children find a car in the water where they are swimming. Inside the car is a dead man. Stilton's old colleague and ally, Mette Olsäter, takes the case and quickly starts a murder investigation. The dead man, Nils Wendt, has been missing since 1987. Where has he been all these years, and why has he turned up now? Olivia tries to take it easy after the attack. She is certain that Jackie Berglund is behind it. But she is more worried about her cat, Elvis, who she hasn't seen since.
Olivia contacts Ove Gardman, the man who witnessed the beach murder as a child. He tells her that he met Nils Wendt in Costa Rica. Olivia gives this information to Mette Olsäter, who decides to send Abbas – a friend to both she and Stilton. She wants to see if he can find anything that can explain Nils Wendt's murder, and if there is any connection to the murder in Nordkoster. The police manage to get Nils Wendt's mobile phone working and find that his last call was to Linn Magnusson, who now realises that she must find the original recording of the conversation that could destroy her life.
Abbas finds Nils Wendt's house in Costa Rica, as well as his friend, Bosques. Bosques tells him that the woman who was murdered on the beach in Nordkoster was Adelita Rivera and that she was in a relationship with Nils Wendt. Abbas also gets a bag of material that Wendt left behind, in case he didn't return. Mette realises that the investigation of the murder in Nordkoster and Nils Wendt's murder are now one and the same. Linn Magnusson has sent people to look for the evidence Wendt left in Costa Rica.
Stilton is visited by his ex-wife in the caravan. She wants to see how he is and tell him that she has got a match on the DNA from the hair slide – it is Jackie Berglund's. Mette immediately calls Jackie in for questioning and wants Stilton to participate. After the interrogation, Jackie sees Olivia waiting outside. This worries Stilton, because he knows that Jackie will stop at nothing to protect herself. Abbas is on his way home from Costa Rica, heading directly to a meeting with Mette, Stilton and Olivia.
Abbas manages to deliver all of the material to Mette and her group. When they listen the recorded phone call between Linn Magnusson and Nils Wendt on the cassette tape, they go straight to Linn Magnusson's house. But they get there too late. Olivia is frustrated with the beach case, and decides to take revenge on the man who killed her cat. Stilton realises that the police are not going to spend any time on the investigation related to the murder of Vera Larsson and the beating of the homeless. He must take control of it himself.
Mette gathers everyone at the police station, including Stilton and Olivia. The pieces begin to fall into place, now they have identified the person who had the earring and are just waiting for a crucial DNA analysis. They have also identified a new witness who was in Nordkoster. Mette calls in a new suspect for questioning. But how does the murder at Nordkoster fit together with the murder of Nils Wendt? And what is the motive?
Cast: Kjell Bergqvist; Julia Ragnarsson; Helena Bergström; Johan Widerberg; Cecilia Nilsson; Dag Malmberg; Niklas Hjulström
In Swedish with English Subtitles