21st Annual Off The Field Players' Wives Association Charity Fashion Show.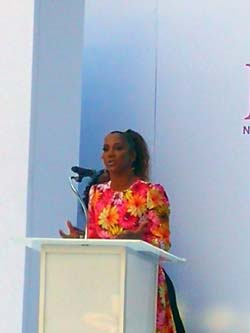 Santa Monica Place proudly hosted the 21st annual Off The Field Players' Wives Association Charity Fashion Show. This prestigious event was created to support the Super Bowl host city charities and pay tribute to the NFL wives who have made remarkable strides in improving the lives of women and children.
This year's event benefited the HollyRod Foundation, a 501(c)(3) founded by actress Holly Robinson Peete and husband, former NFL player, Rodney Peete. The HollyRod Foundation is dedicated to raising awareness and providing resources to families that have a loved one who has received an autism or Parkinson's Disease diagnosis. The foundation advocates for ethical treatment, inclusion and access to services and treatment of individuals living with autism or Parkinson's Disease with the goal of empowering them to live their best lives. In honor of the HollyRod Foundation's mission, this year's event was themed "Fashion on a Spectrum." Models walked the runway, showcasing a wide range of looks from athleisure to evening wear from Nordstrom and Hugo Boss at Santa Monica Place.
Sherice Brown, one of the Founders of Off the Field and the inspiration behind the Super Bowl Fashion Show, served as this year's Fashion Show Chair. Holly Robinson Peete and Cookie Johnson also served as this year's Honorary Co-Chairs. The Emmy Award-winning co-host of Entertainment Tonight Nischelle Turner hosted this year's charity fashion show. The notable attendees were members of the Professional Football Hall of Fame, retired and current NFL players, and celebrity guests.
For more information, visit offthefieldpwa.org.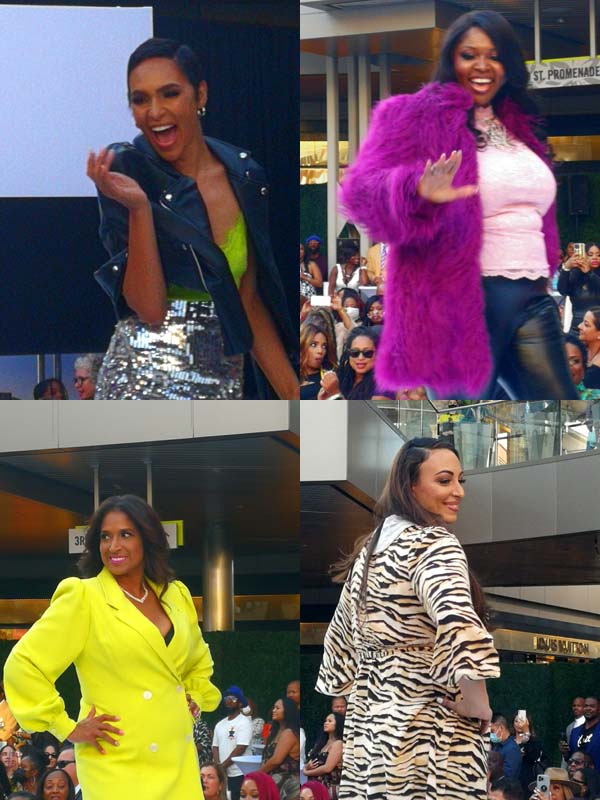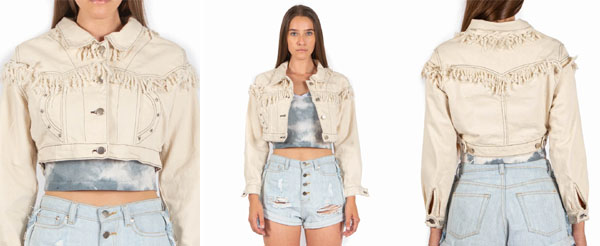 Here comes a cool Denim Jacket by "DELAFUENTE" the "BLANC' FRAY CROP JACKET" which comes in White, Neon, and Amos.
This cool jacket goes with any denim style to mix and match. Super comfy and hip.
Specs:
Crop puffy western jacket.
Slightly oversized around body.
Cotton fringe finish.
Pleated sides.
Metal star detail.
Fringe detail throughout.
Body Fabric: 100%  cotton 

Modeled in size XS.(Take your normal size)

Model Measurements: Height 5'6″, Waist 24″, Bust 32″, Hips 34″
Care: Machine wash cold, tumble dry 

Made in Los Angeles

 
About DELAFUENTE:
DELAFUENTE was founded in 2015 by designer and visionary, Eli Delafuente. Delafuente started his career in the automotive industry and he worked as a BMW technician, until at the age of 26, he decided to make a career change from automobiles to designer. He taught himself everything he could about clothing, such as pattern making, sewing machines, garment construction, how to sew, etc.
Three years, 13 machines and many silk shirts later, he upgraded to a bigger studio where the Delafuente brand currently operates, doing everything in house; from design, to pattern making, prototypes, production, shipping and distribution.
Delafuente began the brand with the idea of elevating the iconic T-shirt; updating this closet staple by adding a silk trim to the hem of his first menswear collection under the DELAFUENTE name.
DELAFUENTE has recently launched its inaugural womenswear collection titled "Westlake" which features an edgy and artistic take on traditional denim silhouettes. Their Split Boyfriend Jean showcases the brand's innovation by playing with the contrasting backside of denim to create paneling and texture throughout the garments.
The brand offers an array of styles that are ever-changing, with raw hems that naturally get worn in over time and jeans with snap-on fringe, the brand is offering must-have looks with their modern touch.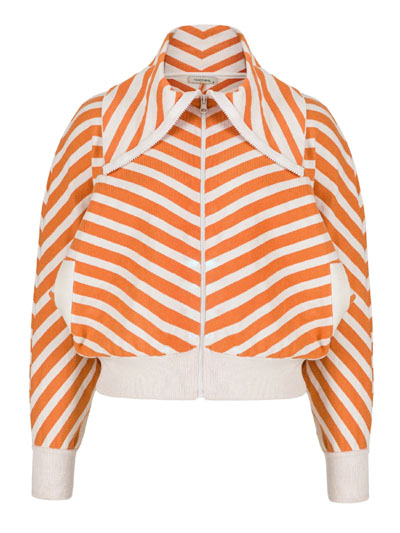 Nocturne is a fashion brand which designs, manufactures, distributes and retails ready to wear clothing for everyday purposes!
Like the Striped Knit Cardigan which comes in Multicolor – Orange & White and comes in a Standard Clothing Size.
It's very stylish and comfortable for an everyday casual outing.
Specs: High-collar relaxed knit cardigan. Front zipper closure and ribbed cuffs.
%90 Viscose %10 Elite
Hand Wash Cold; Do Not Tumble Dry; Iron Low, Steam; Dry Clean
Do Not Bleach; Dry Flat. Delicate Garment; Handle with Care.
ALICE + OLIVIA EXPANDS ON STAND APART, #MASKTOGETHER INITIATIVE
Alice + Olivia By Stacey Bendet Debuts Expanded Limited Edition, Zero Waste Mask Range for Both the Public Healthcare Providers in Need.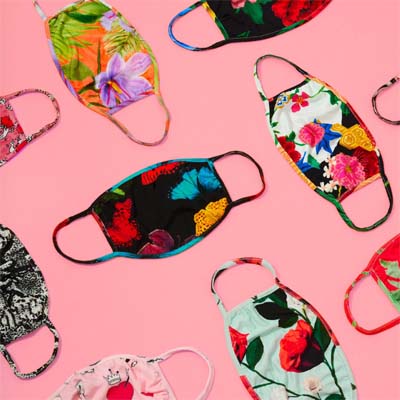 • throughout April, alice + olivia is distributing its first round of donations; over 35,000 masks to medical workers on the front line and communities in need
• alice + olivia's washable and reusable masks are available for purchase on aliceandolivia.com for the public
• for every mask sold, alice + olivia is donating a mask to the medical community
• the new range of limited-edition masks that launched today are designed from excess fabric featuring the brand's signature prints; furthering the brand's commitment to minimizing fabric waste
• alice + olivia will continue to drop new prints in the coming weeks.Since the COVID-19 outbreak, alice + olivia has mobilized its design teams, production teams and factories on a two-part initiative to create and distribute protective masks to hospitals and communities in need. The first round of donations is currently being distributed to Lincoln Hospital and Montefiore Medical Center in the Bronx, Safe Horizon – a center in New York City for victims of abuse and Vincere Cancer Center in Arizona.

On Monday, April 5, 2020, alice + olivia rolled out this initiative – providing the public access to masks and promising to match each mask sold with a donation. Over 35,000 orders have been placed over the past 10 days, alice + olivia is pleased to announce that an additional 35,000 masks have been allocated for donation to communities in need, including Memorial Sloan Kettering Cancer, New York Presbyterian Hospital, Mount Sinai West, Child Advocates of Silicon Valley a fostering program.

In an effort to expand this initiative, the brand announces today additional mask styles are now available, retailing at $12.95 and continuing the match-donation promise. Alice+ Olivia has produced the new range of masks with remnant fabrics, offering masks designed from brand's remnant jersey materials that feature the brand's colorful prints; furthering the brand's commitment to minimizing fabric waste.

The brand hopes that offering the opportunity for the public to obtain masks will aid in educating our community on the importance of wearing masks daily to stop community spread, in line with this weekend's advisory from the Center for Disease Control and World Health Organization.

The alice + olivia masks are being donated to healthcare workers and available to the public are designed to protect non-emergency caretakers and help protect N95 masks for longer use. They are made from jersey and remnant poplin materials; furthering the brand's commitment to minimizing fabric waste for reuse, wash-ability and comfort. The masks retail for $10 and $12.95 on aliceandolivia.com. For every mask sold, alice + olivia will continue to donate one to the medical community and beyond.

Future masks, currently in production, will feature a medical grade filter and are expected to be available within the coming weeks.
boohoo Kicks Off the Holiday Season with Elsa Hosk, Romee Strijd, Josephine Skriver, Jasmine Tookes, Yvonne Simone & More Featuring Musical Performance by Diplo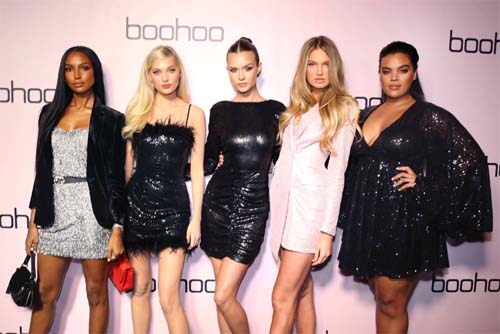 International online fashion retailer, boohoo.com, celebrated the launch of their Holiday 2019 Campaign with global supermodels Elsa Hosk, Romee Strijd, Josephine Skriver, Jasmine Tookes & Yvonne Simone at L.A. hotspot, Nightingale Plaza.
The fabulous cast of models joined boohoo in bringing holiday spirit to the Hollywood Hills for the ultimate night out that ended with a surprise performance by iconic DJ and producer, Diplo. Glamorous and alluring, the Nightingale Plaza set the stage for an intoxicating evening of music and dancing.
Welcomed by Vegas showgirls, guests entered through a light tunnel placing them into the campaign on Fremont Street, to elegant bars with glittering chandeliers and a private lounge adorned in leather and velvet encapsulating the luxe holiday campaign. Bringing Vegas to L.A. with Casino boohoo, guests played their hands at poker and roulette tables, tested their luck on slot machines, and were enchanted as a suspended aerialist performed above them.
Notable attendees like Sofia Richie, Paris Hilton, Josie Canseco, Maura Higgins, Delilah Belle, Amelia Gray, Gizelle Oliveira, and many more were spotted on the red carpet wearing stunning looks from the latest collection before joining friends on the dance floor. The celebration continued well into the night surrounded by top celebrities, influencers, and members of the press.
The new Holiday Collection – available globally on November 7th – boasts billowing sleeved mini dresses, feathered skirts, sparkling two-piece sets, striking colors, faux furs, and more sexy styles. The product ranges from $20 – $120 and is available in US sizes 2-20 at boohoo.com.

boohoo Introduces…All That Glitters
Starring…Elsa Hosk, Romee Strijd, Josephine Skriver, Jasmine Tookes & Yvonne Simone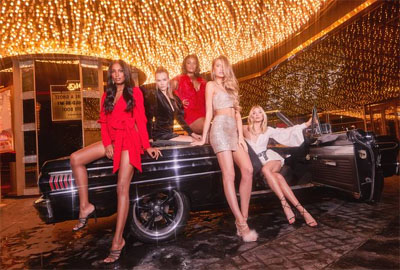 International retailer, boohoo.com, is excited to unveil the brand's Holiday 2019 campaign, launching worldwide on November 7, 2019.
Starring global supermodels Josephine Skriver, Romee Strijd, Elsa Hosk, Jasmine Tookes and Yvonne Simone, in the brand's most luxe campaign to-date. The new drop features festive, trend-driven must haves, in time to party hard and sparkle even harder.
Known globally for their unique and enviable styles, each model perfectly embodies the diverse offering of dressing options from boohoo. Drawing inspiration from the bold, confident, and sexy styles of each model – the collection features rich velvet suiting, mini dresses with feathered embellishments, sparkling two-piece sets, and faux furs.
Shot in iconic Las Vegas – photographer Zoe McConnell captured the glitz and glamor of the collection at notable locations, including Fremont Strip, The Plaza Hotel, The Golden Nugget and new luxe sites including the NoMad Hotel at Park MGM and On the Record Nightclub and lounge.
boohoo's holiday campaign launches globally on November 7, 2019 on boohoo.com.
boohoo.com Holiday 2019 includes:
Ready-to-wear separates including tops, dresses, pants, skirts, accessories and more

Showcasing trends like velvet, embellishments, strong suiting, matching sets, puffy sleeves & jumpsuits

Select styles range from US sizes 2-20

Price points range from $20-$120
alice + olivia by Stacey Bendet x FriendsWithYou Launch Party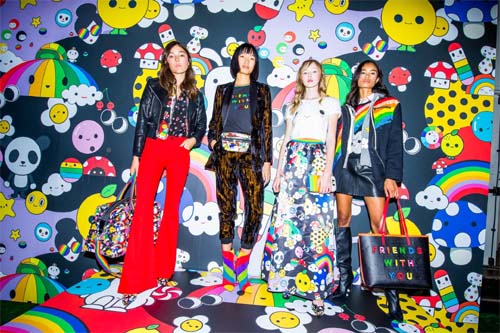 alice + olivia by Stacey Bendet announces a new collaboration with FriendsWithYou, an LA-based creative duo specializing in immersive installations. The collaboration launches as part of alice + olivia's Art Collective, a series of creative partnerships with renowned artists that began in 2013. The FriendsWithYou collaboration debuted in Los Angeles during an alice + olivia event that gathers the LA art scene in Hollywood, combining art, fashion, and fun.
alice + olivia's Stacey Bendet was drawn to FriendsWithYou artists Samuel Borkson and Arturo Sandoval's joyous post-pop imagery and colorful style, and saw how their magical worlds would translate into whimsical, wearable art. The collection itself puts optimism at the forefront, with FriendsWithYou's signature smiling cloud graphic drifting across knitwear, skirts, accessories and shoes. In the mix are alice + olivia's saturated rainbows, with West Coast inspired silhouettes.
During the Art Collective event, alice + olivia will also launch its Kindness campaign T-shirt in partnership with Ditch the Label, the anti-bullying charity dedicated to promoting equality and providing support to young people who have been negatively affected by bullying and prejudice. alice + olivia created a black t-shirt with bold, white messaging: Kindness Is For Everyone. The shirt will be available in alice + olivia stores and online; a portion of the proceeds will go to Ditch the Label.
Celebrity jeweller Le Vian stages 20th anniversary Chocolate Diamonds® catwalk fundraiser in Las Vegas raising almost $500,000 for children's and cancer charities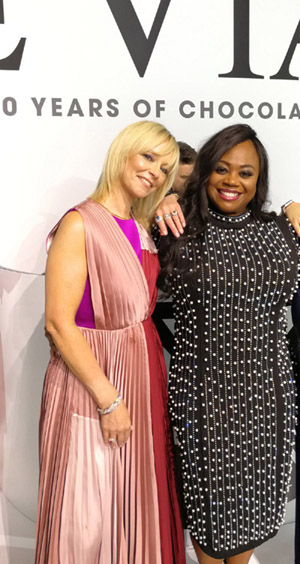 Las Vegas: American jeweler to the stars, Le Vian, has celebrated 20 years of its record-busting Chocolate Diamonds® with a glittering retrospective catwalk, which also portrayed 7 trends Le Vian believes will rock the jewellery world in 2020, while raising almost $500,000 for children's and cancer charities

Le Vian models sashayed down the runway in a packed Las Vegas ballroom at the Venetian Hotel on Sun 2 June in a catwalk show that looked both to the past and the future, with an audience of top retailers and superfan Le Vian collectors. 

The evening's proceedings included two impromptu ovations. One for the man who pledged $175,000 (matched dollar for dollar by Le Vian) in exchange for nothing more than a balloon and a rose. The highlight of the night however was for one of the serving staff – a single father – who was so moved by the stories of the evening that he stopped work and through tears, explained that he wished to pledge $200 in honour of his father who had died in his 50s from cancer. He has since been offered a job by the billionaire top donor of the night.

Le Vian Chocolate Diamonds® is a trademarked brand of natural fancy colour brown diamonds which denote a superior quality of brown diamonds.

The Le Vian Chocolate Diamonds® story involves two world-firsts:
– Le Vian is the world's only company that has succeeded in legally acquiring the right to name a diamond. Registering the trademark for Chocolate Diamonds® took 8 years in the US and a further 1 year to extend the rights to Europe, China, India and dozens of other countries. 
– Le Vian is the only jewellery brand worldwide with the right to emit a chocolate scent from a jewellery store. The Chocolate Diamonds® scent took 18 months to produce using one of the world's most experienced perfumeries and is one of only 13 scents to be registered as a trademark on the planet and the only one on earth to ever achieve trademark registration in jewellery. 

Catwalk looks reflected the 20 year journey of Chocolate Diamond® delicacies spanning Vanilla Gold® and Strawberry Gold® settings, Chocolate Diamond® timepieces, the Chocolate Weddings collection and the more recent winning combination of Chocolate Diamonds® and Nude Diamonds™  – a chronicle of success all achieved against a backdrop of A-list celebrity wearers including Jennifer Lopez, Lady Gaga and Rihanna (who wears Chocolate Diamond® earrings in her newest ad campaign for Fenty Beauty).

The Le Vian catwalk also revealed the following 2020 trends:
Trend of the year: Bold Gold – glossy and brushed gold giving diamonds a wearable feel, against a backdrop of growing demand for gold as a preserver of wealth

Theme of the year: Heavenly Halos– Keeping the central stones in the spotlight including GemLinks™, Baguette Frenzy™  and Taj Mahal™

Cut of the year: Pear-shaped– From central stones to carefully positioned gems that become a butterfly or the petal of a four leafed clover

Diamond of the year: Chocolate Diamonds® and Nude Diamonds™ – the perfect combination of neutral tones including the 20th anniversary XX Gladiator design 

Gem of the year: Emeralds – a symbol of prosperity, rebirth and serenity. 2020 sees the Le Vian Costa Smerelda Emerald™as gem of the year

Fall 2019 colour: Berrylicious Reds and Blues– Two of America's favourite colours.
Think Passion Ruby™, Blueberry Tanzanite™and Cornflower Ceylon Sapphire™

Spring 2020 colour: Le Vian Nature Greens – The arrival of spring inspires Mint Julep Quartz™, Pistachio Diopside®, Forest Green Tsavorite™  and Costa Smerelda Emeralds™

Feature of the year: Phenomena– The eye-catching effects of iridescence, translucency and matrix structures in Cat's Eye Alexandrite which changes colour dependent on light, and Peacock Aquaprase™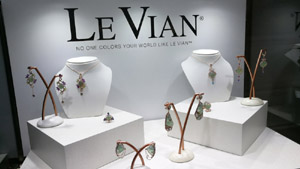 DIAMOND EMPOWERMENT FUND PRESENTS 2019 'GOOD AWARD' TO LEADING DIAMOND MINER AND LUXURY JEWELER GROUP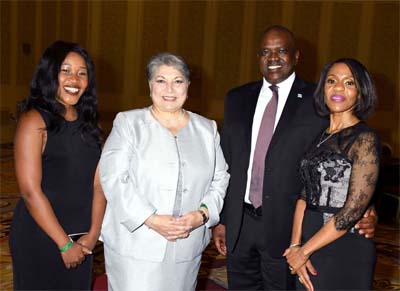 Raises Funds To Help Student Scholars from Diamond Communities
Before an audience of industry leaders, heads of state and foreign dignitaries, The Diamond Empowerment Fund (D.E.F.) last night bestowed its Diamonds Do Good Award for Community Stewardship to leading diamond miner ALROSA and its Diamonds Do Good Award for Community Building to the leading independent jewelers that comprise the Luxury Jewelers Resource Group.
The funds raised will be used to provide higher-education scholarships and assistance to empower young people living in diamond producing countries and where the diamond industry does business, and to help communicate this 'Diamonds Do Good' impact to consumers.
Botswana Top Achiever student and recent Stanford graduate, Moratwa Chamme, represented D.E.F's Student Scholars. She said, "This [scholarship] is not just college tuition. To my country, Botswana, it is an investment in its human capital and evidence of the positive impact of diamonds."  
Dignitaries attending the event included His Excellency Dr. Mokgweetsi Eric Keabetswe Masisi, president of the Republic of Botswana, the first lady, Mrs Neo Jane Masisi and a delegation of senior leaders from Botswana.  
The successful event was aided by an encore of last year's first-ever industry "Balloons For Good" appeal. Emceed by Awards Chair and president of Fred Meyers Jewelers, Pete Engel, the on-site appeal raised additional dollars for D.E.F's mission.
Honorees receiving Diamonds Do Good awards for their own efforts at bringing about social impact change included diamond mining giant, ALROSA. Noted CEO Sergey Ivanov; "We set ourselves an ambitious task, to make ALROSA's regions of operation develop together with the company by providing employees a good wage, safe working conditions, modern infrastructure and strong social development programs which have been a key priority of the company since diamonds were first found in Yakutia in 1954."
The Luxury Jewelers Resource Group was awarded the Diamonds do Good Community Building Award for their efforts at fostering positive social programs in the neighborhoods in which their stores are located. Noted Michael Pollak, CEO of Hyde Park Jewelers who accepted the award for the group, "I believe this award will inspire other jewelers to [continue to] elevate their business practices to serve their clients and communities in an ethical and transparent manner…when we can foster this spirit among our peers, this represents a win for the entire industry".
D.E.F. president Anna Martin, also senior vice president of GIA, closed the evening by saying "the recipients of this year's Diamonds Do Good Awards truly reflect the ongoing positive impact being fostered by the diamond industry around the world. Sharing these stories with our consumers is not only good for business, it is a responsibility for the entire industry."
Lead sponsors of the Diamonds Do Good Awards included De Beers, the Chow Tai Fook Jewellery Group, Signet Jewelers (Kay Jewelers, Jared the Galleria of Jewelry, Zales Jewelers), ALROSA, Le Vian, and the JCK Industry Fund.
About the Diamond Empowerment Fund:
The Diamond Empowerment Fund is a global non-profit based in New York City inspired by Nelson Mandela and founded by leaders in the diamond industry in 2007 to empower diamond communities around the world.  Its beneficiaries include: the Botswana Top Achievers program providing the top high school students countrywide the opportunity to study at a university of their choice worldwide. Graduates then return to Botswana to contribute to its economic, social and political development; The Graca Machel Mandela Foundation  supports bringing 20,000 Tanzanian out-of-school youth back to school. Veerayatan, a model for encouraging development of responsible citizens who are educated, have strong integrity and a motivation to give back to their community. D.E.F  supports students attending its colleges of Pharmacy, Business Administration and Engineering. www.diamondempowerment.org.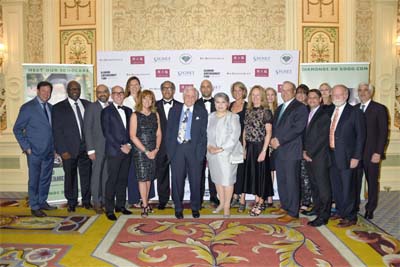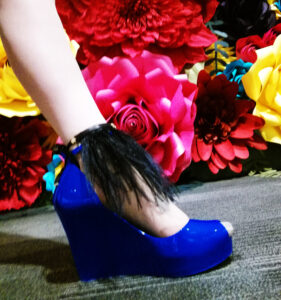 Beautiful shoe jewelry for any occasion from Millianna. It's easy to put on around your favorite heel or boots as a playful accessory. I absolutely love it. I accessorized my favorite high heel with the Jet Feather accessory. The are seven different styles to choose from/.
Founded by two friends in the jewelry industry, Millianna offers bold pieces inspired by historical eras and art movements for style that's always elegant. Their handmade items feature a unique closure, making them comfortable to wear and easy to put on and take off.
Camouflage Cellulite Body Liner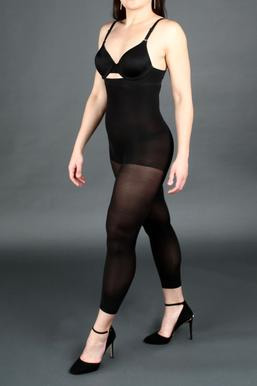 I love this Body Liner it replaced my usual shaperwear .They are like a thick pair of pantyhose with that nylon feel. I don't have to worry about material clinging. It molds well to the body and it is really comfortable. Easy to put on and to wear under your favorite clothes without showing all the imperfections. They come in 3 different colors to choose from Beige, Black and White.
CONSTANCE WU SHINES IN ROBERTO COIN AT THE VANITY FAIR OSCAR PARTY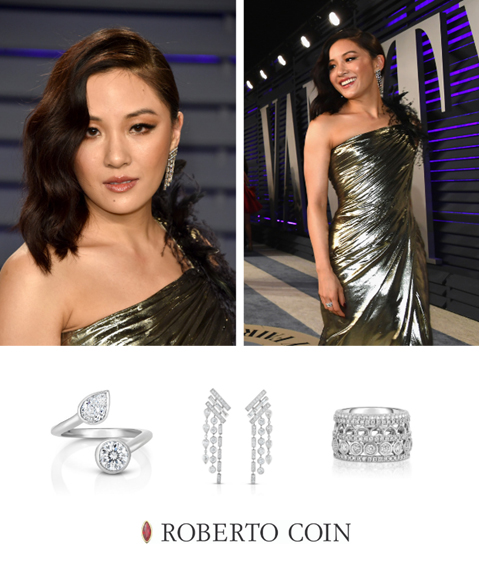 Constance Wu wowed on the Vanity Fair red carpet with Italian jewelry designer Roberto Coin. Wu, styled by Micaela Erlanger, stunned in a Roberto Coin 18K White Gold Dolce 2 Stone Cento Pear Ring ($15,780), the 18K White Gold 3 Line Dolce Deco Drop Earrings ($34,000), and the 18K White Gold Rosette Band Asymmetric Ring ($9,300).
Celebrities Dazzle at the 2019 Oscars After Parties!
Actress Ainsley Ross attended the 4th Annual Roger Neal Oscar Viewing Dinner Icon Awards and After Party accessorizing her gold gown with J.ING's Heirloom earrings ($58, www.jingus.com).
Regina King wore a custom Oscar de la Renta Ivory Cady Pesante Gown with sculptural hand draping and asymmetrical train to the 91st Annual Academy Awards in Los Angeles, California on Sunday, February 24th.
H&M USA and the Environmental Media Association kick off fashion month with a partnership to help close the loop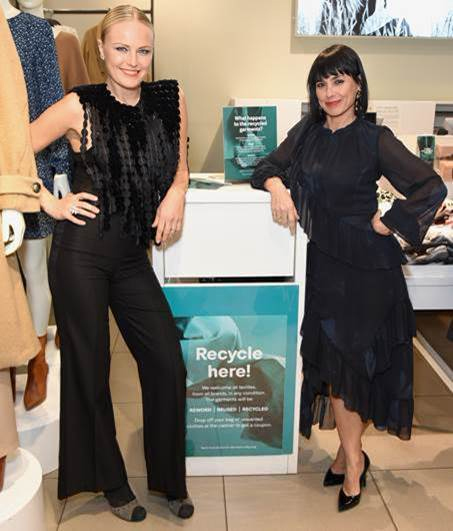 H&M USA and the Environmental Media Association (EMA) are teaming up to bring awareness on the important topic of circularity in fashion. Kicking off their partnership the EMA has called on some of their celebrity friends, including Malin Akerman, Constance Zimmer, Emmanuelle Chriqui and Karrueche Tran to spread the word on H&M's garment collecting program through viral videos on social media.
The partnership kicked off with an intimate event at H&M's Sunset Blvd store, where stakeholders and friends including Blythe Danner, Malin Akerman, Katie Asleton Duplass and Constance Zimmer, came together to talk about the importance of a more sustainable fashion future. The conversation is part of a broader mission by the two companies to take on the challenges of climate change and circularity in fashion more directly. H&M started its Garment Collecting program in 2013, becoming the first fashion company to launch a clothing collecting initiative worldwide. The program has collected 163 million pounds of textiles globally, providing customers an easy way to give clothes a second life to ensure fewer garments end up in landfills.
EMA serves as a valuable link between the world of media and the environmental community, working tirelessly to bring the planet's most pressing issues to the forefront and make true change by inspiring millions of people across the globe to live sustainable lifestyles and to use their voice to help our planet.
"The Environmental Media Association is proud to partner with H&M to support the Garment Collecting initiative and provide visibility on such an important program that aims to divert millions of pounds of textiles from landfills," says Debbie Levin, CEO. "Helping people learn about alternatives for their unwanted textiles is an important and exciting step in creating a positive impact on our planet for a more sustainable future."
EMA is a diverse subsection of entertainment industry influencers, entrepreneurs in business, and green icons dedicated to the mission of promoting environmental progress. EMA is a movement powered by celebrity role-modeling, campaign work, social media messaging, year-round programs, including EMA Green Seals for Production, Hospitality, Fitness and Business, #greenmyschool garden program and three large scale events. Visit green4ema.org for more information. 
Kut From the Kloth debuts Eco-Friendly Premium Heritage Denim Made in USA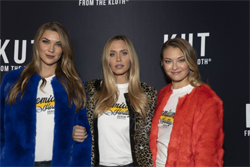 The launch of the eco-friendly Premium Heritage Denim line launch party was held on Thursday, Nov. 8th from 6-9 pm hosted by television host, Kristine Leahy, at The Sofitel in Beverly Hills, CA. The night consisted of live music by Caliboca, lite bites and signature Chandon cocktails, live denim activations, models, complimentary gift bags, and a star-studded red carpet with many celebs such as host Kristine Leahy, Mercedes Javid, Gretchen Rossi, Ali Levine, Jacob Busch, Ava Cantrell, Patrica Kara, Michelle Epps, Savannah Kennick, and many more. Special thanks goes out to @ChandonUSA for Rose minis, @RonRobinson for IF mini perfumes and @O4oxigen water.
Kut from the Kloth (www.kutfromthekloth.com) is decoding denim nostalgia with the release of its vintage-inspired Premium Heritage Denim Collection. The new Premium Heritage Denim line is handcrafted right here in Los Angeles, with rich contemporary washes that capture history in the making with their ultra-comfortable cotton blends that grow more authentic with each wear.
The Premium Heritage Denim collection features vintage throwbacks designed with laser technology, resulting in a worn look by burning the denim with lasers, an eco-friendly process. Denim lovers can choose from unique washes in a variety of your favorite Kut from the Kloth fits – including skinny, boyfriend, boot cut and flared styles – for just $108.
"In 2006 Kut from the Kloth was born. We discovered that women were looking for a clothing brand that was designed with their needs and lifestyle in mind, and for every stage of her life. They were looking for well-made, on-trend pieces designed with impeccable quality and a great fit. Today, we are excited to introduce the Premium Heritage Denim line to keep Kut's legacy and trends at the forefront of the denim industry", explains Kut from the Kloth's designer, Evelyn Ober.
Quality versus quantity rings true with the Heritage line, offering long-lasting, fashionable trends that mold to the everyday woman wanting to salvage their unique lived-in styles to last a lifetime. Every pair of denim tells a story, and the Premium Heritage Denim line wants to help women tell theirs.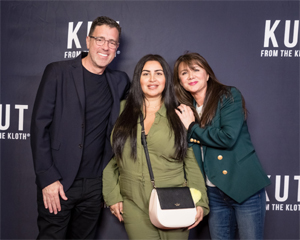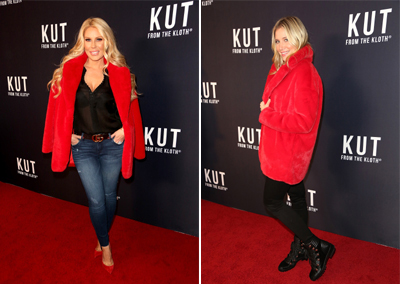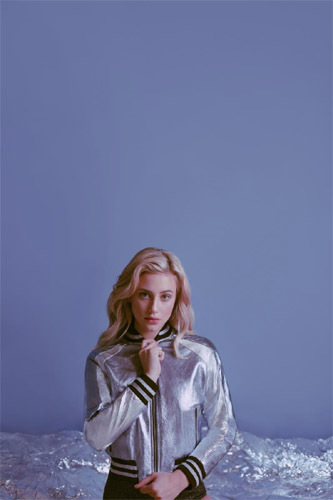 The Mighty Company and Ilaria Urbinati Celebrate Collaboration!
Luxury jacket brand, The Mighty Company, teamed up with celebrity stylist, Ilaria Urbinati, on a capsule collection with 100% of the profits benefiting Unchained At Last. Lili Reinhart is the face of the campaign. Inspired by a break-up, Urbinati and The Mighty Company's Jessie Willner worked closely together to create a collection that drew inspiration from the galaxy, owed to the classic parting phrase: "I need space."  The duo translated that concept into a three-piece capsule entitled, "The Breakup Collection." Filled with planetary and celestial hand-cut elements atop a spectrum of specialty metallic and patent leathers, finished with light-hearted phrases for both the self-admittedly vulnerable ("Lost") and the defiant ("Miss Galaxy"). Within 3 jackets, the collection communicates the pair's proclivity to a brand of slight irony reserved for the woman in control of her own cosmic fate. What started out as a passion project between longtime friends quickly transformed into a bigger mission. Realizing their own good fortune in having a support system to lean on, they decided to make it about women who don't. They partnered with Unchained At Last, a nonprofit dedicated to stopping forced and child marriages and helping survivors rebuild their lives. With 100% of the proceeds from "The Breakup Collection" donated to Unchained At Last, The Mighty Company and Ilaria hope to offer women the support they need to rise above their given circumstances. Per Willner: "We can pick lust over love, or love over suitability, or designate what our 'type' is, or be very decidedly single. We're seeking with this project to give back to the women it touches one thing we so easily take for granted: Choice."  Urbinati adds: "We realize we are very lucky to have grown up under circumstances wherein we get to make our own choices in our lives: to go after our dreams and the careers we choose, to marry or break up with the partners we choose, to make the decisions we ourselves select. So we wanted to help support and empower girls and women who don't have that simple privilege."  Lili Reinhart, a friend of the brand, heard the cause and agreed to shoot the campaign in a heartbeat. Photographed by Willner in the company's LA studio, converted to become a land of monochrome color and structured aluminum foil. Willner stated: "The campaign was space cowgirl themed as a tongue-in-cheek embodiment of a wild, independent woman in a galactic setting. Ilaria pulled up the September 1995 Rolling Stone cover of Alicia Silverstone and we had to shoot a nod to it. Lili was the perfect front-woman of this because she's this incredibly outspoken champion of women. She's not following some set of antiquated rules that accompanies overnight success. She's straightforward about what she believes and speaks out when she sees something wrong, demonstrating to a huge audience of young women that it's okay to be unapologetically yourself."  With a desire to combine the timeless and the unique, The Mighty Company was created to redefine the classic jacket silhouettes in luxury materials. Launched in April 2016, the LA-based company skyrocketed to cult status when Gigi Hadid wore a custom leather jacket. Similarly, Ilaria Urbinati became known for putting a modern twist on the classic suit. Now one of Hollywood's top stylists, her roster includes stars like Donald Glover, Bradley Cooper, Rami Malek, Armie Hammer, Ryan Reynolds, Dwayne Johnson, and John Krasinkski. The collection is available for purchase today, December 4th  exclusively at themightycompany.com. Jackets are $995 apiece. 100% of the profits benefit Unchained At Last.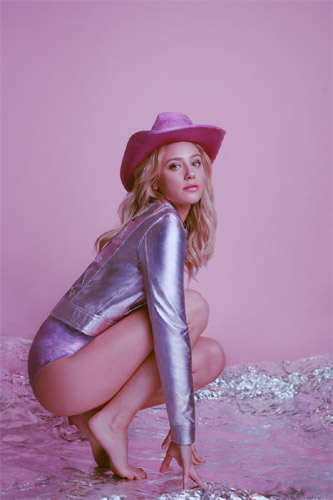 Founded by visual artist Jessie Willner in 2016, the LA-based company known for their luxury jackets skyrocketed to cult status when Gigi Hadid wore a custom leather jacket from the brand. Using the direct-toconsumer model, the label is 100% dedicated to transparency and ethical production methods. The jackets retail from $695-$995, where through a traditional retail model they would retail around $1800$2500.  
www.themightycompany.com.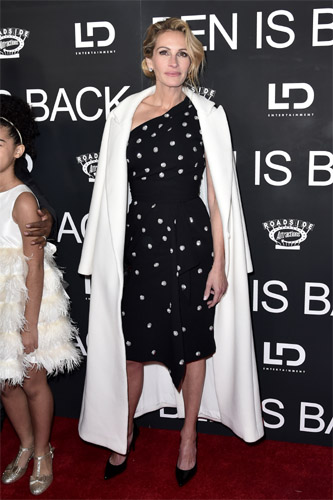 Julia Roberts in Oscar de la Renta
Julia Roberts wore an Oscar de la Renta Resort 2019 Black Silk Georgette Gown with White Sequined Embroidered Polka Dots to the premiere of Ben is Back in NYC on December 3rd.
Margherita Missoni Collaborates With Mott50 for Sun-Protective Swimwear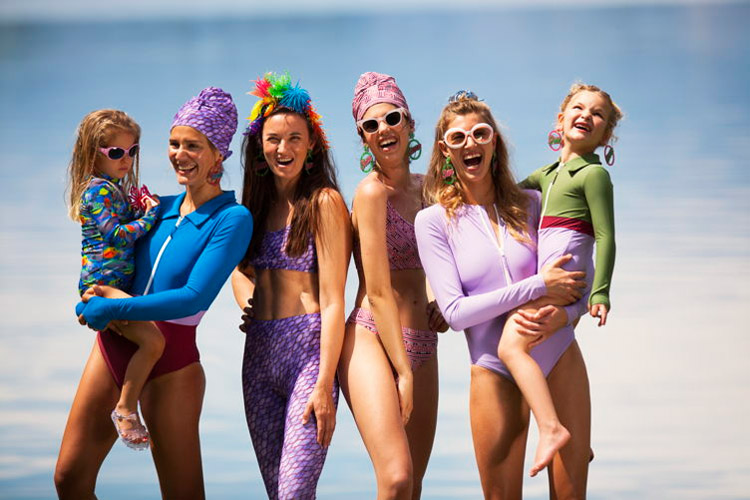 Margherita Maccapani Missoni has teamed with the sun protective apparel brand Mott50 for women's and children's swimwear. The resort capsule collection launched in October with an assortment of bold-colored options. In tandem with Mott50's chief executive officer and founder Anne Reilly, Missoni has dreamed up performance swimwear with retro elements such as zippered necklines, flounced skirts, polo collars and color-blocking. Reached in Europe on a family vacation, Missoni said one challenge of designing this sun-shielding collection was the need for ample coverage on the arms and neckline. "Performance-oriented sun-protected swimwear is normally very sports-driven from a style perspective. It's very sporty and contemporary. What I tried to do was to make it more retro," she said. "Back in the day they used to cover themselves up more so I picked up some of the aspects of that and mixed them with contemporary fabrics and techniques," adding that the references span from the Forties through the Seventies. While the average T-shirt provides 5 UPF, Mott50 apparel claims to have 50+ UPF to fend off UVA and UVB without harmful toxins that are used in certain sun lotions. The company aims to curtail the estimated 50 million people who are treated annually for skin cancer in the U.S. Missoni, a mother of two, was approached by Mott50 about joining forces. Missoni said she always has an eye on advancements in technology and performance-driven fabrics — a trait shared by her grandmother Rosita — the matriarch of the Missoni brand. Mott50's trademarked athletic fabric measured up for its lightweightness and breathability. The women's collection will retail from $58 to $195, and the children's line will start at $32. (Missoni's other collaborations have included Splendid and luxury handbag-maker Ximena Kavalekas.) Margherita Missoni has named a long-sleeved one-piece swimsuit "Margherita" and other styles also have names like "Angela" and "Lucia."
Launch Party to preview the new Mott50 x Margherita Missoni Resort 2019 Collection took place Wednesday, October 24th, 2018 in Los Angeles.

So Cal Denim Designer, sts blue, Drops Early Denim Fall Release and Sneak Peek at the Hottest Upcoming Trends
With their official fall launch right around the corner, denim designer sts blue (www.stsblue.com) couldn't wait to talk about the newest member of their denim squad, an early release of the all-new CARA jean: the perfect vintage inspired slim straight ankle jean! Inspired by the relaxed, celeb street style of sunny So-Cal, sts blue is known for crafting denim that perfectly fits your body, lifestyle, and budget. Your one-stop shop for the hottest denim trends in jackets, shorts and jeans, sts blue creates laid-back, current styles for the everyday muses who live and breathe denim.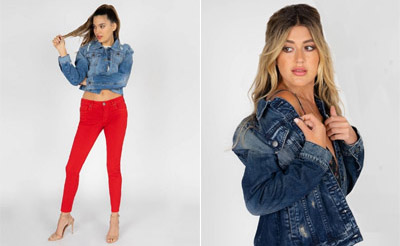 Fall is on its way so GET OBSESSED with sts blue's latest collection and keep up your denim game. While skinny styles still rule the runways, sts blue boldly introduces fun and flirty fits that flatter, like CARA. This slim fit, mid-rise silhouette features a 9" rise with a 27" inseam that hits right at the ankle for a stunning straight fit. And the best part? A perfectly relaxed leg opening that breaks at the knee, barely grazing your calf for an ultra-mod twist on this classic style. Available in rich azure washes with accents that pop, take your pick of eye-catching neon athletic striping down the leg or statement-making color blocked styles.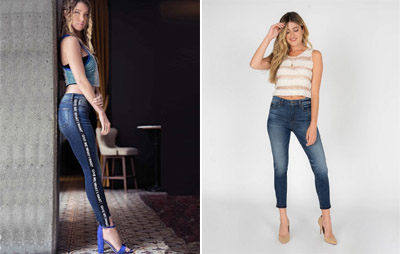 Not quite over summer's frayed and stepped hem trend? Good news: they're still going strong as fall approaches. Get your fix with sts blue's EMMA fray hem skinny, or try an upgrade on this modern look with the ELLIE camo high rise skinny paired with a pastel cropped tank and white trainers. Ready for something new? Showcase your summer festival swag and favorite band merch with the ASHLEY high-rise style featuring exposed button fly detailing, or go retro glam with printed ankle boots and the wider leg JENNIFER flare or BROOKE kick flare styles.
The switch from easy breezy summertime style to the cozy layers of fall has never been more fun. Be ready for anything with versatile pieces that take you from binge-watching to people-watching and everything in-between. Get your favorite sts blue fall denim at Nordstrom stores, or online at stsblue.com, where you'll find free shipping or returns and even custom free embroidery. Join the sts blue rewards program to earn points toward all of your favorite items, and get in the conversation on Instagram @sts_blue to see why everyone is posting about the #denimdolls!
About sts blue: The sts blue muse is trendy, sexy and fun. She looks to celeb street style for her fashion influence. She considers her social life when selecting what jeans to wear, whether it's brunch with friends or date night, denim is always where her outfit begins. She chooses styles that are anything but basic, coveting the latest "it" jean, jean short, or denim jacket. Not afraid to rock denim on denim, but always interested in the best value, a perfect fit, and a jean that will turn heads. Find sts blue denim at Nordstrom, Macy's, Dillard's, and Von Maur, or online at stsblue.com, all with a wallet-friendly price tag. Follow the latest trends and our #DenimDolls on Instagram @sts_blue.
Nicole Frank - The Wardrobe Evolution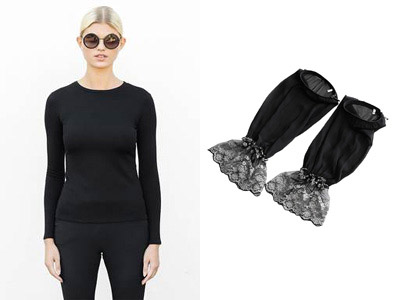 Experience a revolutionary wardrobe with Nicole Franks break through clothing and technology. Go from coffee to cocktail effortlessly and look good doing it!
Nicole Frank, California based women's wear brand is inspired by the idea of luxurious practicality, this collection is designed for the modern woman with a chic yet active lifestyle. By using only quality and high-performance fabrics that are made in the USA, this collection is intended to seamlessly transition your ensemble from day to night. The range is complete with a curated assortment of customization and ready to wear jackets, pants, tops, dresses, skirts and jumpsuits that can be accompanied with luxe zip-ons comprised of silk, cashmere, fur and leather to provide endless opportunities to showcase your personal style.
Creative Director Nicole Frank, takes inspiration from the 1960's and re-imagines the designs with a modernized sophistication. The brand's tagline, "The Wardrobe Evolution" represents the constant progression of women's roles in society and the fashion that evolves with it. From the boardroom to a ballet recital, the Nicole Frank collection is versatile enough to adapt to a woman's busy schedule. Fabrics are all machine washable, stain repellent, moisture wicking and breathable, proving that you don't have to sacrifice style for comfort.
We were offered the Carol top and the Gigi Chiffon & Lace Sleeves and I must say it's so comfortable, sophisticated, stylish.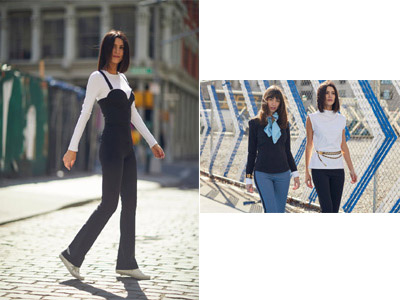 Carol Top designed with Superfino stretch knit, this fabric is the ultimate versatile go to long sleeve top to wear under just about anything. Very flattering slim fit. Looks great with your pants or skirts. And when you attach the sleeves it becomes a whole different look evening, elegant, night out on the town just beautiful, what a great concept.
Other Cool Styles are: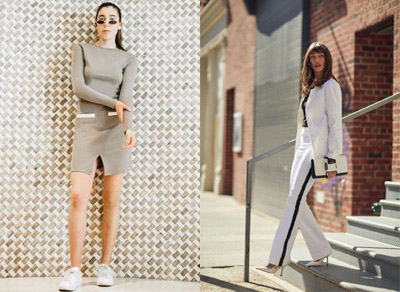 About Nicole Frank:
Nicole Frank began her journey into the world of fashion at a young age. She was raised in California by a family of strong, smart women with superb style and careers in film, modeling and fashion. With a desire to create her own business in fashion, Nicole went on to the University of Southern California where she graduated from the esteemed entrepreneur program. In her first business venture, she began manufacturing handbags for women and children. She drew inspiration from the females in her family whose style was rooted in the 1960's and 70's. Nicole was enamored by the chic, effortless ensembles and elegant aesthetic of the era. In 2015, after years of working in the industry and becoming a mother, Nicole realized that there was a need for the busy, hardworking woman to find a smarter and more sophisticated way of dressing. Like many modern women, her daily uniform consisted of yoga pants, shirts and tailored blazers as these pieces supported her active lifestyle. She was inspired to create and evolve a woman's wardrobe with an active wear collection that would meet the visual, technical and physical demands of modern day society and thus, the Nicole Frank collection was born. Using high performance and quality fabrics with moisture wicking and breathable technology, each item in the collection is designed to seamlessly take you from day to night. With a range of versatile, customization and ready to wear pieces accompanied with high quality fabrics and luxurious zip-ons, the opportunities to showcase your personal style is endless.