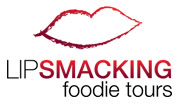 Come with an appetite!
It was such a wonderful delicious experience to take the "Savors of the Strip" by Lipsmacking Foodie Tours on Thursday, May 9th in Las Vegas.
The tour began in front of the arched waterfall outside the Aria Resort & Casino and included 4 top restaurants, and a little bit of history. As we stopped at Retrospecs & Co. located at The Cosmopolitan of Las Vegas were we got a tour of old preserved sunglasses, manufactured during the 1870s-1970s. (An interesting perk)

The first stop was BARDOT Brasserie, which served us: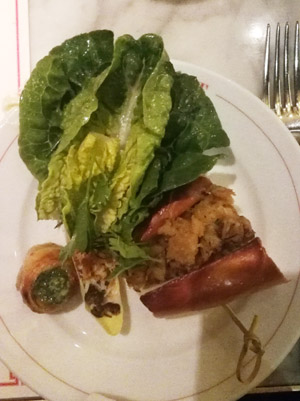 ECARGOTS BARDOT
Wild burgundy snails, Toasted hazelnuts chartreuse garlic butter, Puff pastry shells.
KING CRAB CAESAR
Belgian endive, Wild caught king crab, Parmesan bread crumb, Caper aioli, Herbed bread cumbs.
ROASTED FRENCH CHICKEN DIP
Gruyere cheese, Mushroom bread pudding, Greenbeans, Vin jaune au jus
Our second stop was Julian Serrano, which served us Tapas and Paella.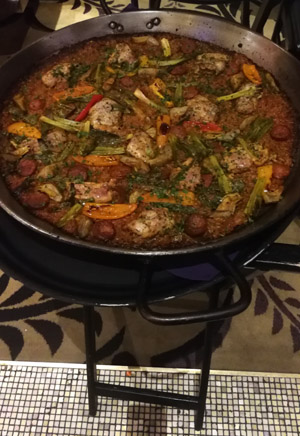 PAELLA
Valenciana, chicken, Spanish pork choizo, Vegetables, saffron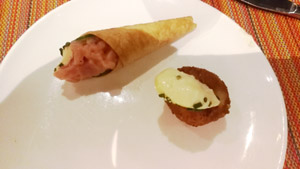 TAPAS
Spanish croquetas, Chicken bechamel, Tuna cones, Ahi tartare cucumbers, Cripy won ton, Avocado, Ponzu, Stuffed dates, Nedjool dates, Goat cheese, Bacon, Apple puree.
The third stop was Estiatorio Milos (my favorite) which served us a delicious Greek Salad, Octopus and Milos Special.
THE GREEK SALAD
Vine ripe tomatoes, Extra virgin olive oil, Barreel-Aged feta.
OCTOPUS
Sushi quality mediterranean octopus grilled, Santorini fava.
MILOS SPECIAL
Lightly Fried Zucchini, Eggplant, Tzatziki & Kefalograviera Cheese
The finally stop was Cucina by Wolfgang Puck which served us delicious yummy sweats with a choice of coffee.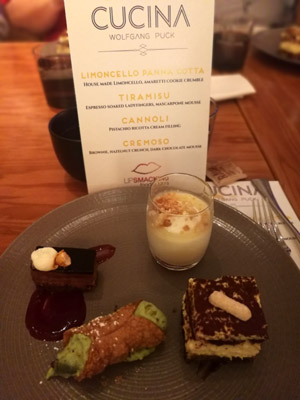 LIMONCELLO PANNA COTTA
House made limoncello, Amaretti cookie crumble
TIRAMISU
Expresso Soaked Ladyfingers, Mascarpone mousse
CANNOLI
Pistachio ricotta cream filling
CREMOSO
Brownie, hazelnut crunch, dark chocolate mousse
This tour is great for Locals and Tourists who want to experience some of the Top Restaurants, Las Vegas has to offer.
ABOUT LIPSMACKIN FOODIE TOURS:
In just a short time, Lip Smacking Foodie Tours has grown into the premier culinary walking tour in Las Vegas, garnering not only loyal fans but outstanding accolades. Its variety of tours offer guests personalized service and VIP access to the best tables in the house at the city's most acclaimed restaurants – all without standing in line or the hassle of making reservations. Each tour includes an expert guide who entertains guests with insider knowledge about the sights along the way. At each of four restaurant stops on The Strip or downtown, guests indulge in signature dishes, as well as receive a warm welcome from the chefs. Guests can sit beside different patrons at every stop, gaining new friends and networking connections. The tours are perfect for everyone from locals to tourists to business travelers, including corporate groups of up to 250. In 2019, Lip Smacking Foodie Tours expanded for the first time outside of Vegas to include upscale Santana Row in San Jose, located in the heart of California's dynamic Silicon Valley. 
Recent honors include: "Best Tour", "Best Food Tour", and "Best Date Night Spot" by Las Vegas Review-Journal in 2018; "Best Food/Beverage Tour Operations (Land)" by The World Food Travel Association 2018; "Best Tour", "Best Fine Dining", and "Best Brunch" by Las Vegas Review-Journal in 2017; "Best Tour" by Las Vegas Review-Journal in 2016; "Best Tour" by INVEGAS Magazine in 2015 and 2016; and "Best New Tour" by Thrillist in 2015; as well as inclusion in TripAdvisor's "Top 3" tours in Las Vegas, and ranked #1 tour on Yelp.
Additionally, Lip Smacking Foodie Tours has been given the honored distinction of "preferred partner member'' of Virtuoso, the invitation-only member network catering to luxury travel advisors. That designation means that no other company offering similar experiences can become a member of this leading international travel agency network that specializes in opulent experiential travel.
VEGAS UNCORK'D BY BON APPÉTIT COMMENCES WITH A BURST OF CHAMPAGNE AT THE CEREMONIAL SABER OFF Chef Bruce Bromberg Kicked Off the Iconic Las Vegas Culinary Festival at Boulevard Pool at The Cosmopolitan of Las Vegas
The 13th annual Vegas Uncork'd by Bon Appétit, presented by the Las Vegas Convention and Visitors Authority, started with a splash as some of the biggest names in the culinary world united at the Boulevard Pool at The Cosmopolitan of Las Vegas. Joined by more than 30 iconic chefs including Masaharu Morimoto, Roy Choi, Frankie Pellegrino Jr., Michelle Tribble, Greg Sherry, Angelo Auriana, Timon Balloo, Mark LoRusso and Stephen Hopcraft, Chef Bruce Bromberg sabered a magnum of champagne to kick off the weekend of festivities at Caesars Entertainment, The Cosmopolitan of Las Vegas, MGM Resorts International, The Venetian Resort and Wynn Las Vegas.
Hosts Adam Rapoport, Editor in Chief of Bon Appétit, Eric Gillin, Chief Business Officer of The Lifestyle Division at Condé Nast, Bree McKenney, Head of Marketing for The Lifestyle Division at Condé Nast, Simon Pettigrew, Senior Vice President of Resort Operations for The Cosmopolitan of Las Vegas, and Fletch Brunelle, Vice President of Marketing, Las Vegas Convention and Visitors Authority raised a toast to thank the chefs, resort partners and brands for their continued support of the Las Vegas culinary scene.
Recognized as one of the country's top food, wine and spirits festivals, the four-day event featured some of the world's greatest culinary talent including returning favorites Jean-Georges Vongerichten, Gordon Ramsay, Giada De Laurentiis, Guy Fieri, Lorena Garcia, Nobu Matsuhisa, Lisa Guy Savoy, Bryan and Michael Voltaggio, Julian Serrano, Michael Mina and Susan Feniger to name a few.

LEGENDARY CHEFS GATHER AT VEGAS UNCORK'D BY BON APPÉTIT'S 13TH ANNUAL GRAND TASTING EVENT, MAY 10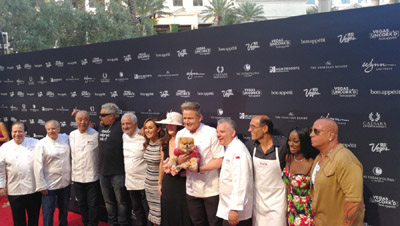 The world's most sought-after chefs, sommeliers and mixologists from Caesars Entertainment, The Cosmopolitan of Las Vegas, MGM Resorts International, The Venetian Resort and Wynn Las Vegas came together to showcase their extraordinary talents during the Grand Tasting at the 13th annual Vegas Uncork'd by Bon Appétit. This year's epicurean indulgence  returned to the dramatic 5-acre Garden of the Gods Pool Oasis at Caesars Palace and featured more than 50 award-winning chefs as well as more than 100 of the best wines and spirits from around the world.
Chefs and special guests  at the Grand Tasting red carpet included:
Lisa Vanderpump, Gordon Ramsay, Giada De Laurentiis, Guy Fieri, Nobu Matsuhisa, Frank Pellegrino Jr., Steve Martorano, Greg and Marc Sherry and Guy Savoy of Caesars Entertainment
Stephen Hopcraft of The Cosmopolitan of Las Vegas
Will Guidara, Roy Choi, Masaharu Morimoto, Susan Feniger, Shawn McClain, Michael Mina, Diane Mina, Arturo Corpuz, Philippe Angibeau, Florent Cheveau and Adam Arencibia of MGM Resorts International
Lorena Garcia, Kim Canteenwalla, Juyoung Kang, Evan Hosaka, Olivier Dubreuil, Christian Tetedoie, Claude Le Tohic, Steve Benjamin, Simone Bregardis, Alan Ji, Lee Man Sing, Timon Balloo, Joel Versola, Matteo Ferdinandi, Angelo Auriana and Daniel Yang of The Venetian Resort
Mark LoRusso of Wynn Las Vegas  
Charles Phan, Shaun King, Haruhiko Takeshita, Kiko Ojeda, Michael Ingino, Miguel A. Rivera and David Mangual of The Forum Shops at Caesars Palace
Fletch Brunelle, Vice President of Marketing, Las Vegas Convention and Visitors Authority
Eric Gillin, Chief Business Officer, The Lifestyle Division, Condé Nast
Bree McKenney, Head of Marketing, The Lifestyle Division, Condé Nast
Adam Rapoport, Editor in Chief, Bon Appétit
Alex Delany, Associate Web Editor, Bon Appétit
Andy Baraghani, Senior Food Editor, Bon Appétit
Christina Chaey, Associate Editor, Bon Appétit
Rachel Karten, Associate Director of Social Media, Bon Appétit
Paulie Dibner, Director of Editorial Operations, Condé Nast Traveler
Mayer Rus, West Coast Editor, Architectural Digest
Whembely Sewell, Executive Editor, them.
Mark Anthony Green, Special Projects Editor, GQ
Benjy Hansen-Bundy, Senior Associate Editor, GQ
Jeffrey Tousey, Social Media Director, Vanity Fair
Chris Legaspi, Menswear Editor,

Vanity Fair
3rd Annual Picnic at The Park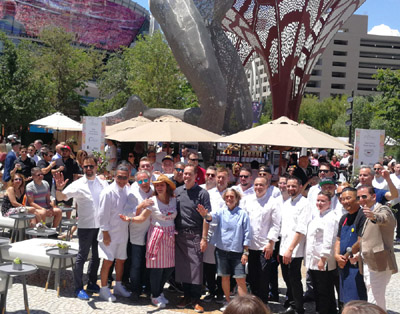 The third annual Picnic at The Park where some of the most notable chefs in the industry including Jean-Georges Vongerichten, Michael Mina, Masaharu Morimoto, Roy Choi, Bryan and Michael Voltaggio, Susan Feniger, Julian Serrano, Shawn McClain, and MGM Grand executive pastry chef Florent Cheveau came together to offer creative twists on classic al fresco dining along with carefully paired wine curated by Master Sommelier Jason Smith, cocktails by Mixologist Craig Schoettler, and a variety of beer. The outdoor dining and entertainment district was stocked with each chef's creation including sweet corn from Masaharu Morimoto, Japanese wagyu Thai beef salad from Jean-Georges Vongerichten, beef short ribs from Bryan and Michael Voltaggio, tandoori kampachi with butter chicken oysters from Michael Mina, apricot lacquered jidori chicken from Shawn McClain, and boquerones en vinaigrette from Julian Serrano, among other delectable options.
About Bon Appétit
Bon Appétit is where food and culture meet. The award-winning No. 1 food lifestyle brand covers food through the lens of cooking, fashion, travel, technology, design, and home. As the leading arbiter of taste, its home-grown talent and tireless dedication to recipe testing separates it from the competition by miles. Bon Appétit has been named to Advertising Age's A-List for eight consecutive years, including Magazine of the Year 2013 and 2017, Brand of the Year 2015, and Digital and Video recognition in 2019, and has been named to Adweek's Hot List every year since 2012, including Hottest Food Magazine in 2013, 2017 and 2018. Bon Appétit has also been nominated for 32 National Magazine Awards in the past six years, including wins in 2014 for General Excellence and Photography, in 2017 for General Excellence, and in 2019 for Social Media. For more, visit www.bonappetit.com.
About the Las Vegas Convention and Visitors Authority
The Las Vegas Convention and Visitors Authority (LVCVA) is charged with marketing Southern Nevada as a tourism and convention destination worldwide and also with operating the Las Vegas Convention Center. With nearly 150,000 hotel rooms in Las Vegas alone and more than 11 million square feet of meeting and exhibit space citywide, the LVCVA's mission centers on attracting ever increasing numbers of leisure and business visitors to the area. Download the virtual reality app, Vegas VR, to experience Las Vegas from your iPhone or Android by visiting http://www.vrtv.vegas/. For more information, go to www.lvcva.com or www.visitlasvegas.com.
HELP of Southern Nevada's celebrated Derby in the Desert with a Twist of Lime!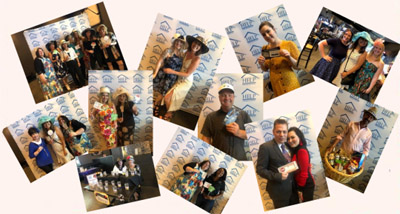 HELP of Southern Nevada celebrated Derby in the Desert on May 4, at MacKenzie River Pizza inside City National Arena. The event included signature cocktails, delicious bites and an amzing door prize. As well as a best hat contest.
HELP of Southern Nevada was started by the Junior League of Las Vegas and was incorporated in 1970. It is a 501 (c) (3) organization that has grown exponentially since the inception, from an organization that served fewer than three hundred people a year, to one that will serve tens of thousands unduplicated people in a fiscal year.
HELP of Southern Nevada responds to the changing needs of our growing community. We strategically expand our programs and refine our service delivery systems to better serve the poor, the homeless and those in crisis who come to us as a place of last resort. We pride ourselves on being 100% local and 100% accountable and engaging other organizations through collaboration to achieve maximum impact with the services we provide and the clients we serve.
3rd Annual Wine Woman & Shoes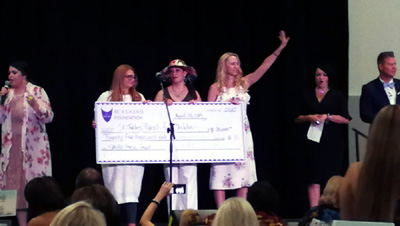 St Jude's Ranch for Children "Wine Women & Shoes" hosted it's 3 rd Annual benefit honoring Linda Faiss on Sunday, April 28th. The event started of with a Wine Tasting and Culinary Bites, Silent Auction and Best in Shoe Contest followed by an opening Performance, Brunch, honoree Presentation, Live Auction, Fashion Show and Winner announcements. Jason Feinberg served as emcee for the afternoon.
St. Jude's Ranch for Children wasn't a place so much as a dream in the mind of one well-meaning man. "What if we could build a place for neglected children?" He wondered. "How much good could we do?"
A lot!  For 50 years, St. Jude's Ranch has provided a safe, nurturing home with therapeutic residential treatment services to thousands of abused and neglected children in Nevada. St. Jude's Ranch has made and continues to make a difference by creating new lives with new hope for these children.
It all began with Father Jack Adam, an Episcopalian priest, who envisioned a place where neglected children could feel loved. He named the place after St. Jude, the Patron Saint of Desperate Causes. At first, Father Adam's project seemed to be one of those desperate causes, but that changed in 1966 when several members of the community stepped in to help.
Claudine and Shelby Williams assisted with fundraising and organized a successful gala called the "Nite of Stars."  With the help of Forrest Duke, the entertainment columnist at the Las Vegas Review Journal, they convinced stars including Jack Benny, Shecky Greene, Bob Hope and Frank Sinatra to perform. Held November 15, 1966, at the Riviera Hotel, the event was a great success, raising more than $30,000.
Alvin Wartman, an attorney in Boulder City, persuaded City fathers to provide 40 acres of land for a campus. The Sisters of Charity, an order of nuns based in Bristol, England, agreed to care for the children. Builders, contractors and tradesmen offered to help develop the property.
St. Jude's Ranch for Children was instituted in 1966, construction began in 1967 and later that year, Eddie – a boy from Elko, Nevada – became the first resident. The Ranch wasn't big or fancy, but the kind people of Southern Nevada quickly embraced the organization and its mission.
The St. Jude's Ranch Women's Auxiliary was established and became the largest and most active support group in the Las Vegas area with more than 300 members. Publicity that had surrounded the Nite of Stars helped bring new supporters to the Ranch family.
Under the leadership of Father Herbert Ward, Executive Director from 1970-2000, St. Jude's Ranch became one of Southern Nevada's most visible and successful nonprofit organizations. Over time, the organization grew and expanded its programs into two locations in Las Vegas, offering related services such as housing for homeless families and singles, employment and education assistance, sibling preservation for families separated in foster care and family support services to provide caregivers skills and resources they need before children are removed from the home.
Today, our campus is a community landmark and an important part of life in Boulder City. Not only do we continue to serve the needs of abused and neglected children and young adults in Southern Nevada, we give tours of our campus, maintain a Thrift Store that is open to the public seven days a week and conduct weddings in our beautiful chapel.
Crossings and New Crossings, our transitional living programs for homeless youth and families, and Child Focus, our sibling preservation program, are both located in Las Vegas.
Even though there have been changes over the years, St. Jude's Ranch has remained true to its mission: rescuing abused, abandoned and neglected children and providing a safe, nurturing and therapeutic home for them.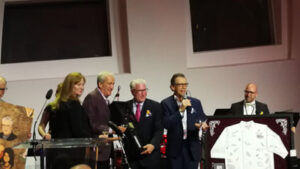 UNLVino, proudly sponsored by Southern Glazer's Wine & Spirits of Nevada since the event's inception, returned for its 45th year as Las Vegas' longest running wine and food festival. Benefitting the students of UNLV's Harrah College of Hospitality, this highly anticipated event returned for three incredible nights.
Bubble-Licous
Bubble-Licious, which is the first event in the UNLVino series, featured champagne, sparkling wines and award-winning restaurants from The Venetian and The Palazzo's outstanding collection.
UNLVino was confounded in 1974 by the William F. Harrah College of Hotel Administration and Southern Wine & Spirits of Nevada, now operating as Southern Glazer's Wine & Spirits. Over the past four decades, UNLVino has raised several million dollars for scholarships and other academic developmental needs of UNLV students. UNLVino is differentiated through unparalleled, hands-on student experiences at all levels of even planning, execution and promotion, as well as the impactful funds raised each year – all testaments to the celebratory weekend's broader purpose – scholarship.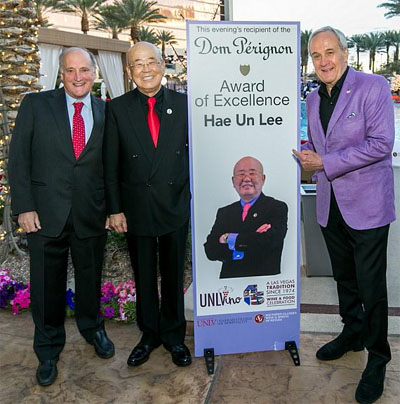 Night two officially open the evening celebration, with traditional Japanese drummers, Japanese swordsmen, themed characters and UNLV Rebel Girls paraded through the resort's casino and led guests to the entrance of the event. Japanese warriors with samurai swords performed alongside the traditional Japanese drummers. Guests also enjoyed the Great Tuna Cutting by Naked Fish's of the 300-lb tuna, a celebration that has come to be known by guests of Sake Fever. Following the ceremony, a DJ spun upbeat tracks alongside the evening's emcee, Ron Cabildo, while attendees worked their way around the beautiful resort pool under the beautiful Las Vegas sky to enjoy Japanese spirits, sake and more as well as Asian-inspired cuisine from restaurants in Las Vegas.
To further commemorate the evening, Michael Severino, Ian Staller and Larry Ruvo (all of SGWSNV), as well as Mr. Lee of Lee's Discount Liquors and Stowe Shoemaker of UNLV Harrah College of Hospitality, all took part of the Sake Barrel Ceremony, a tradition of the event since its inception. Following the ceremony, Severino, Shoemaker and a UNLV student of the UNLVino Class presented Mr. Lee with the Dom Pérignon Award of Excellence for his incredible contribution to our community.
Grand Tasting
UNLVino concludes on Saturday, April 13 with the Grand Tasting at The Mirage Events Center. This final event honored Nicole Brisson of Eataly Las Vegas and featured premium selections of wine, spirits, craft beer and other beverages and over 20 award-winning restaurants, as well as special performance  by Legends In Concert.
Vanderpump Cocktail Garden Officially Debuts at Caesars Palace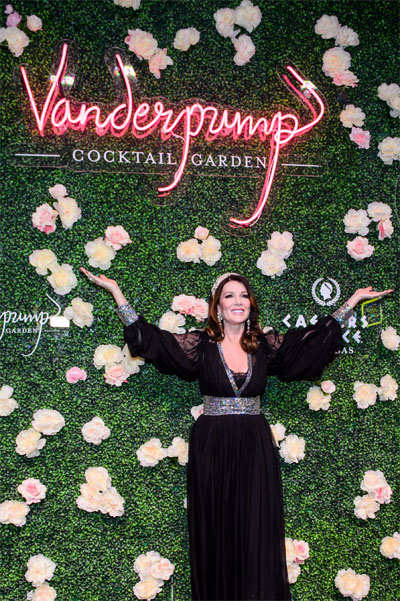 Caesars Palace became "Lisa's Palace" this past weekend as the resort celebrated the grand opening of Vanderpump Cocktail Garden with television star and restaurateur Lisa Vanderpump. Vanderpump Cocktail Garden is the newest addition to the iconic Los Angeles-based Vanderpump empire and offers exclusive cocktails and bites, all in a garden oasis setting.
anderpump was joined by some of her famous friends for a star-studded opening, including Camille Grammer, Lance Bass and the cast of "Vanderpump Rules." In true Vanderpump-fashion, Caesars Palace's iconic fountains were turned pink and all of the resort's signature roman statues were adorned with pink roses in homage to the newest member of the Caesars Palace family.
It is such an honor that Caesars Palace asked us to partner with them on this venture- we were thrilled to become part of the Caesars Family," said Lisa Vanderpump. "We have created a unique, decadent space with a majestic feel where guests can relax in a sexy garden oasis. From the design and ambiance (featuring the incredible Nick Alain lighting, fixtures and furniture) to the selection of light bites and cocktails, I am proud of what we created and hope everyone will enjoy the experience as much as we do!"
With design inspiration from Vanderpump, husband Ken Todd, and designer Nick Alain, the stunning space welcomes guests with an indoor patio featuring an al fresco-style garden with 16-ft. olive trees and romantic lighting fixtures. The romance continues as the lounge inside elegantly fuses natural elements with industrial décor, including Lisa's signature feminine touch with contrasting masculine details. With plush seating throughout, and a space that transports guests into a decadent destination, Vanderpump Cocktail Garden is perfect for a casual gathering or big night out.
Vanderpump Cocktail Garden focuses on innovative craft cocktails including The Checkmate Bitch (Stoli hot vodka, Chacho jalapeno vodka, fresh pineapple, grapefruit liqueur, vanilla citrus, angostura bitters and pink peppercorns), Please Her, Caesar! (Vanderpump vodka, Rosé Champagne, blackberry, elderflower, lemon, aquafaba), and Matcha Matcha Man Vanderpump vodka, matcha, fresh mint, lemon, ginger liqueur, aquafaba). Favorites are sure to include the English Pimms Cup and the stunningly purple Giggy Tonic. Don't forget to end the night on a high note with a cocktail from the  'Naughty Nightcaps' portion of the menu.
Along with a diverse selection of beverages, the lounge also offers guests small bites, shareable plates and Instagram-worthy desserts. On the savory end, menu highlights include Ahi Tuna Tartare in Plantain Tacos (chili ginger citrus glaze, avocado, crispy capers), Grilled Cheese Tasting (whipped Brie & Gruyere, naan, thyme, Asian pear, rosemary ham), Roasted Red & Golden Beets with Goat Cheese, Lobster & Avocado Naan Flatbread and Provencal Phyllo Cigars (wild mushroom and walnut / sausage ham, and peppadew, green goddess crème fraîche). For those with a sweet tooth, you can't miss the Vanderpump Rosé Cake for Two (Rosé infused sponge cake, strawberry buttercream).
"We are incredibly proud to see this project and partnership with Lisa Vanderpump come to life," said Gary Selesner, regional president of Caesars Palace. "Vanderpump and her team together with our team have created an exceptional space that perfectly brings together the Los Angeles flair with the extravagance of the Strip, and we know it will quickly become a favorite of our guests."
Vanderpump joins Caesars Palace's eclectic lineup of celebrity restaurants including Gordon Ramsay HELL'S KITCHEN, Restaurant Guy Savoy, Pronto by Giada, Bobby Flay's Mesa Grill and MR CHOW. Vanderpump Cocktail Garden is open daily from 4 p.m.-2 a.m. Reserve your VIP package today, visit: vanderpump.uvtix.com. For more information, visit: VanderpumpVegas.com.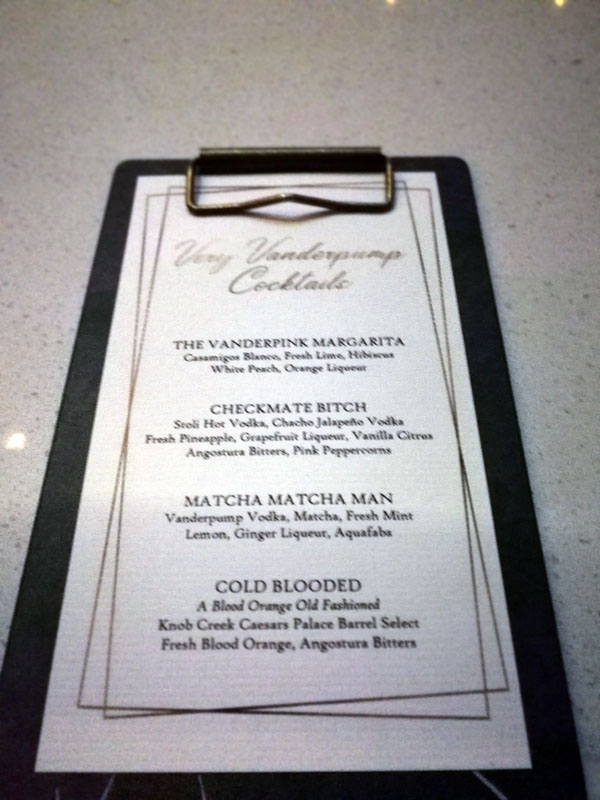 THE HIGHEST CONCENTRATION OF BAR OWNERS AND OPERATORS ATTENDED QUESTEX'S NIGHTCLUB & BAR SHOW 2019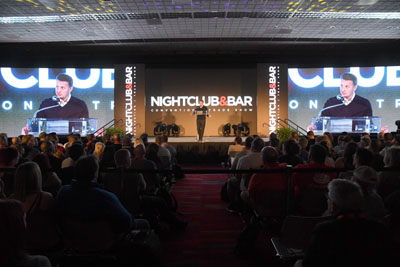 America's Largest Bar Expo celebrates 35 years in 2020 and returns to Las Vegas March 30 – April 1
Questex's 34th annual Nightclub & Bar Convention and Trade Show set records during 2019 delivering the highest concentration of bar owners and operators during the three-day convention at the Las Vegas Convention Center, March 25 – 27. North America's premier bar and nightlife industry conference and expo featured over 400 exhibitors, 82 conference sessions, the first-ever Live Bar, hosted by Bob Peters, and the inaugural F&B Innovation Conference – along with product launches, keynote sessions, bootcamps, certification sessions and a series of educational workshops.
"This year's Nightclub & Bar Show had a remarkable turn out, and I don't just mean in terms of attendance," said Paul Miller, CEO of Questex. "Our speakers brought an incredible amount of knowledge, energy and material to the conference sessions for attendees to apply to their businesses. In addition, the chefs and mixologists set the bar high for what professionals should expect to see in the future – and so did our exhibitors as they debuted new products and showcased the future of the industry."
In response to current trends and the growth in the industry, the 2019 Nightclub & Bar Show brought to the floor a Live Bar, hosted by Bob Peters of Creative Cocktails Consulting LLC. Attendees were treated to custom cocktails made on-site featuring new spirits and innovative technology such as Ripples Maker machine, which created custom designs on cocktails. In addition, the third edition of the F&B Innovation Center offered the first-ever Conference Series, led by Executive Chef and Owner of Duffified Experience Group, Brian Duffy. Attendees had the opportunity to interact with accomplished chefs from Food Network hit series such as Food Network Star, Guy's Grocery Games, Cutthroat Kitchen, Chef Wanted, The Great Food Truck Race, and Beat Bobby Flay, – along with FOX series Hell's Kitchen and Paramount Network's Bar Rescue while learning how to re-energize brands, find exciting ways to increase traffic and boost revenue, and mitigate the challenges presented by disruptors.
Leading this year's conference sessions were keynote speakers Jon Taffer, Jim Meehan and Tanisha Robison. With more than 80 sessions over the three-days, attendees had direct access to the industry's premier leaders allowing them to strengthen their brands and get ahead of the trends. Session highlights were "Understanding the Psychology Behind Guest Experiences," "Personalizing Your Bar Experience," "The Food Delivery Challenge," "Sustainability in Bars," "Secret to the Get the Restaurant/Bar You Want," and "Handling Special Dietary Needs."
On Tuesday, March 26, the expo floor opened with the hottest names in the food and beverage industry with a star-studded red carpet and ribbon cutting ceremony lead by Chairman of the Nightclub & Bar Show and star of Paramount Network's hit TV series Bar Rescue, Jon Taffer. Also spotted on the red carpet was former professional football player and cornerback, Mark McMillian of the Washington Redskins, and Vanderpump Rules star and TomTom partner, Tom Sandoval.
The spotlight shined on the last two days of the convention inside the exhibit floor where thousands of products spanning all facets of the industry: bar equipment, spirits, craft beer, alcohol-free beverages and mixers, furnishings, technology, food, venue equipment, glassware, décor, menu designs, social media, apparel, lighting and more lined the expo floor. New exhibitors to the 2019 Nightclub & Bar Show included Cannabiniers / Two Roots Brewing with the world's first de-alcoholized cannabis infused craft beer; Glyph debuting the world's first molecular commercial whiskey; and Cutting Edge Axe Throwing Builders featuring brand new axe throwing lanes, LED targets and customization options.
As the largest annual bar and nightlife convention, the 2019 Nightclub & Bar Show spanned throughout the city with offsite trainings, networking opportunities and nightlife events at Las Vegas' hottest venues and businesses including On the Record at Park MGM, Marquee Nightclub and Dayclub at The Cosmopolitan of Las Vegas, JEWEL Nightclub at ARIA Resort & Casino and Intrigue Nightclub at Wynn Las Vegas.
The Nightclub & Bar Show will celebrate a milestone year in 2020 with its 35th anniversary at the Las Vegas Convention Center March 30 – April 1. For updates throughout the year, visit www.ncbshow.com.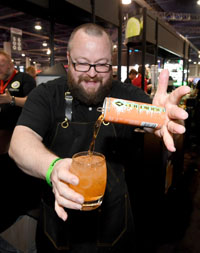 Add Your Heading Text Here
Add Your Heading Text Here