S.P. – Epic sci-fi blockbuster with stunning visual effects and non-stop action.
A disillusioned soldier in a future war with sentient machines chooses to protect their nascent messiah over his country's interests. John David Washington continues to astound in a well-crafted sci-fi thriller with critical pertinent themes. The Creator strikes at the heart of a raging debate over the capabilities and possible threats of artificial intelligence. Will the robots created to make human life easier turn on their masters once self-realization is inevitably achieved? The Creator predicts that humanity's age-old afflictions of ignorance, hatred, and violence will prove to be more destructive than our worst fears.
An opening '50s-styled montage shows how the advent of artificial intelligence transforms society. Machines go from clunky assistants to fully simulant co-workers integrated in every facet of human life. They cook, clean, babysit, and become law enforcement officers. People even volunteer their likeness, so new generations of simulants can look like us. A catastrophic incident changes American calculus in a terrifying instant. Wired friends become enemies and are deemed an existential danger to our survival.
Congress authorizes the military to exterminate AI simulants globally with prejudice. Trillions are dedicated to create a space station capable of moving quickly and launching decimating attacks. NOMAD is the most powerful offensive weapon ever created. But America's view of AI isn't shared by the rest of the planet. New Asia believes simulants and humanity are meant to work together in peace. These countries harbor AI beings and attempt to provide a safe refuge from NOMAD's wrath. Their only option is to run and hide until US spies uncover a dangerous new development.
Joshua (Washington) goes to his job as a decontamination specialist in a daze. The former special forces soldier attends psychological evaluations to gauge his recovery from physical and emotional trauma. His therapist can tell he's lying about getting better, but that's no longer a concern. The military needs his services as a matter of national security.
Colonel Howell (Allison Janney) informs Joshua that the leader of the simulants, an unknown individual called Nirmata (Nepalese for 'The Creator') has developed new technology that will change the tide of the war. She believes an event in Joshua's past can lead them to Nirmata's location. He reluctantly accepts the mission, but the raid takes a truly unexpected direction. Alpha One (Madeleine Yuna Voyles) is a simulant unlike any he's ever encountered.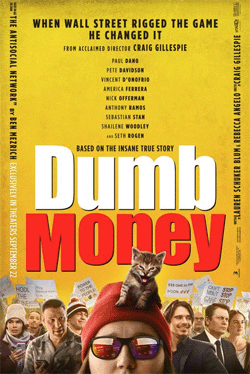 S.P. – A Hilarious Adaptation of the GameStop Short Lived Phenomenon
Dumb Money tells the astonishing true story of a "David vs. Goliath" financial revolution that rocked Wall Street and caused a global media firestorm during the pandemic. Keith Gill, played superbly by Paul Dano, was a Mass Mutual financial analyst working from home near Boston. He became a working class hero through a series of YouTube videos under the moniker Roaring Kitty. Gill believed that GameStop, the brick and mortar video game retailer,
was being purposely undervalued by billion dollar hedge funds. They were "shorting" the stock by betting that its price would plummet, thus opening the company to the possibility of a predatory takeover where it could be broken up and sold.
Gill urged his followers to buy GameStop stock to increase its value and market share. A legion of average Joe traders, primarily through the no-fee Robinhood app and the WallStreetBets Reddit forum, drove up the stock price 1,500% to hundreds of dollars per share. This "short squeeze" became a rallying cry against wealthy elites with billions lost and the eventual bankruptcies. Congress became involved when the backers of Melvin Capital and Robinhood used their influence to try and tank GameStop's trading.
Dumb Money, adapted from The Antisocial Network by Ben Mezrich, is a raunchy, hilarious, and surprisingly emotional rollercoaster of sweet comeuppance. The film brilliantly contrasts the lavish lifestyles of the 1% with those struggling to survive during a deadly crisis. Essential workers like store clerks and nurses are seen banding together with college students via social media against previously untouchable financial giants. They brought the market to heel while not succumbing to greed as the GameStop stock soared. The meme "HODL", or "hold on for dear life" became a rallying cry to not sell and take significant profits.
Cast: Paul Dano, Pete Davidson, Vincent D'Onofrio, America Ferrera, Nick Offerman, Anthony Ramos, Sebastian Stan, Shailene Woodley and Seth Rogen.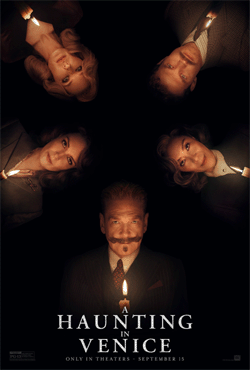 S.P. – Great assemble cast, fun murderer mystery mixed with haunting elements.
Based on the 1969 novel Hallowe'en Party a Haunting in Venice opens after World War II, with Poirot living comfortably in retirement. He ignores the crowds of onlookers loitering outside his luxurious villa. Poirot's morning routine cannot be interrupted by the bothersome; those desperate for his services or an autograph are rudely tossed aside. Vitale Portfoglio (Riccardo Scamarcio), a former Italian poliziotto, serves as an effective bodyguard. He's tough as nails and makes sure Poirot enjoys his breakfast pastries in peace.
Poirot's lazy afternoon is interrupted with a surprise visit from famed author Ariadne Oliver (Tina Fey). The mystery writer who helped make Poirot famous with her novels has a perplexing problem that will surely lure him back to work. Oliver has become entranced by the abilities of a sensational psychic and spiritual medium. Joyce Reynolds (Michelle Yeoh) has been invited to Venice for a séance. Opera star Rowena Drake (Kelly Reilly), inconsolable since the suicidal drowning of her beloved daughter Alicia (Rowan Robinson), lives in an eerie palazzo rumored to be haunted with the ghosts of dead children. Their voices are said to linger through the house at night. Drake's convinced they drove Alicia to kill herself. She believes Reynolds will be able to communicate with Alicia's tortured soul.
Poirot scoffs at such a ludicrous notion. Reynolds is obviously a con artist preying on a bereaved mother. Oliver wants him to attend the séance to witness her in action. Previous attempts to expose Reynolds as a fraud have failed. She seems to actually possess mystical powers. Poirot's superior intellect is needed to either confirm Reynolds as a legitimate seer or an ingenious deceiver. He skeptically accepts the challenge but soon discovers that he's not immune to the palazzo's insidious terrors.
Poirot realizes that the strange environment puts him at an extreme disadvantage. Hidden corridors, trap doors, and a dungeon-like basement must be searched for clues. This also gives the nefarious attacker ample opportunities to strike the unsuspecting.
Cast: Kenneth Branagh, Kyle Allen, Camille Cottin, Jamie Dornan, Tina Fey, Jude Hill, Ali Khan, Emma Laird, Kelly Reilly, Riccardo Scamarcio, Michelle Yeoh.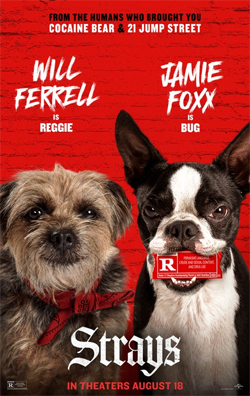 S.P. – Hilarious foul-mouthed rating-R dog comedy.
A loving and loyal dog, abandoned by a truly despicable owner, finds a pack of caring canines who help him return home to exact sweet revenge. Strays will have audiences rolling in the aisles with its unabashed embrace of raunchy and sex-fueled humor. The foul-mouthed pooches liberally drop f-bombs while mocking weird humans and their penchant for picking up poop. A smart script relishes everything naughty but is also unexpectedly insightful. The film tackles themes of animal abuse, cruelty, and neglect with a clever approach.
Reggie (Will Ferrell), a scruffy Border Terrier, recounts how "every day is a great day" with his supposedly fantastic owner Doug (Will Forte). He gets to eat leftover food scraps, is called fun names like s**t head and f**k nugget, while being chased around their filthy house. The awesome Doug loves to shove Reggie off the couch while engaging in his favorite activity, nonstop masturbation. The unemployed Doug has all the time in the world to tickle his pickle. But the best game is when Doug drives Reggie miles away, throws a tennis ball as far as possible, and jumps in the pickup before he can get back. It's sometimes exhausting to find a way home, but Doug always yells and screams enthusiastically when Reggie returns.
Playing fetch takes a more complicated turn after an eviction notice gets pinned to the front door. Doug's fury reaches a volcanic level when poor Reggie accidentally breaks his precious bong while packing. The unwitting mutt is tossed into the truck and taken to the big city. Doug chucks the ball towards a dark alley, kicks out Reggie, and takes off snickering. Reggie retrieves his beloved toy, but it's viciously snatched by an intimidating Rottweiler and Doberman Pinscher. A frightened Reggie cowers in fear. He's rescued by a small dog with a big attitude.
Bug (Jamie Foxx) despises bullies. He quickly shows the large breeds who's the king of the streets. Reggie follows the shrewd and savvy Bug, who promises to look out for him, but takes umbrage when he's called a stray. Bug takes Reggie to a dog park where he meets the Australian Shepherd, Maggie (Isla Fisher), and Hunter (Randall Park), a mammoth Great Dane with a cone around his head. The kind Hunter flunked police training and now serves as a nursing home therapy dog. They tell Reggie to wise up. Doug abandoned you to die. Reggie's hurt and betrayed feelings explode into anger. He's going to find a way home and bite off the body part that Doug treasures the most.
Strays starts the laugh riot early with the innocent Reggie unaware of Doug's vile behavior towards him. Ferrell's naive voiceover smacks of disbelief until he finally realizes the cold truth. Foxx's vulgar and irrepressibly horny teachings indoctrinate Reggie to the glorious virtues of street life. An "unleashed" dog eats, pees, and poops whenever he wants. There's no waiting hours for a stupid human to walk you, beatings, or curses. People suck and will let you down. We later learn the source of Bug's tremendous disappointment, but it's all bravado and bluster. Every dog craves attention and belonging.
Reggie adapts to "pack" life as they journey together on his quest for revenge. He's never had friends or experienced sincere warmth. Bug, Maggie, and Hunter show him kindness for the first time. These scenes add a lot of heart to the stream of juvenile shenanigans. Your jaw will hit the floor at their crazy antics. It's absolutely wild but ingeniously based on how dogs perceive their surroundings.
Voice Cast: Will Ferrell, Jamie Foxx, Will Forte, Isla Fisher, Randall Park, Josh Gad, Harvey Guillén, Brett Gelman, Rob Riggle, Jamie Demetriou and Sofia Vergara
LANDSCAPE WITH INVISIBLE HAND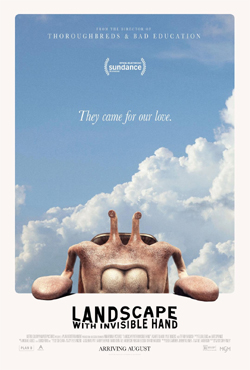 S.P. -Weird, bizarre movie with an artist touch.
Landscape with Invisible Hand is an offbeat comedy with heavy doses of spunk and sweetness. It's a daring picture for Finley, who takes the premise of aliens ruling Earth in the not-too-distant future as a backdrop to explore one family's journey to keep it all together.
The movie focuses around a talented teenage artist named Adam. He's creative, driven, and wants to make it as an artist. That proves to be tricky, considering the fact that aliens have created a bureaucratic rule and their advanced technology allows them to monitor humans as if they were in one big reality show.
AI has taken over the planet and many citizens are unemployed, barely making it, or worse. Adam's mother, Beth, can no longer be a lawyer, so she takes on odd jobs to keep Adam and her daughter Natalie safe and intact.
Then Adam is lured into a life-saving idea. He's been bonding with Chloe and she convinces him to have their "love story" become the focal point of a quasi-social media show that aliens will pay them to participate in. These aliens are intrigued with human mating rituals and relationship patterns. So, all good?
One catch. Adam and Chloe must be in love, and if they're not, well, you can see how high the stakes get here. Onward the duo goes, however, their emotions tracked every step of the way. Thing is, teenage emotions are fluid. Maybe Adam and Chloe's bond wasn't as deep as they initially thought.
Another plot point factors into the story. When Adam discovers that Chloe is homeless, he invites her entire family to live in his basement. There's Chloe's father and brother. Beth is irked initially, but caves in. In the meantime, the aliens rule above the land in hovering landscape cutouts.
To that end, the production design and VFX are exceptional throughout this film. The aliens depicted here are crafted with imagination and from an artistic standpoint are exceptional. Part blob, part slug, they communicate through a series of clicks that are picked up by a universal translator. The filmmaker takes his time to deliver this big reveal, and when the story finds Beth coming face to face with the alien overlord, these scenes play out in absurdist fashion. To Finley's credit, all the scenes featuring aliens are never played up to be ridiculous, even though the premise of those specific scenes are so over the top.
Written for the Screen and Directed by: Cory Finley
Based on the Book by: M.T. Anderson
Produced by: Dede Gardner, Jeremy Kleiner
Executive Producers: Brad Pitt, Gabby Shepard, David Kern, M.T. Anderson, Megan Ellison, Tiffany Haddish
Music by: Michael Abels
Cast: Asante Blackk, Kylie Rogers and Tiffany Haddish
Genre: Sci-Fi Drama
THE LAST VOYAGE OF DEMETER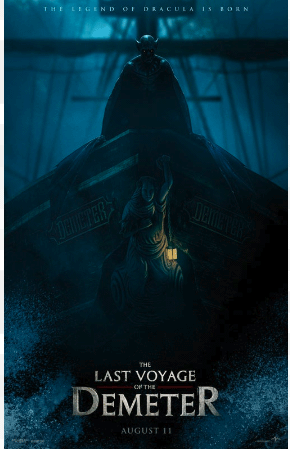 S.P. – Tiresome dull horror flick
Unlucky sailors become a blood-sucking buffet in a lifeless and predictable vampire horror flick. The Last Voyage of the Demeter, based on "The Captain's Log" chapter from Bram Stoker's Dracula, had the base elements to be terrifying. Getting stuck on a doomed ship at sea with a ravenous beast is a promising premise. There's nowhere to run or hide. Fight for your life or die horribly. What we get is a painfully slow moving tiresome horror flick. The characters don't have an ounce of self-preservation or rationality. They're akin to flailing teens running blindly in the dark with a killer ambling behind them.
On August 6, 1897, a derelict ship crashes into the English coastline during a fierce storm. Rescuers find no sign of the crew, but recover the captain's log in the wreckage. He documents their ghastly demise at the hands of an evil and relentless creature. The film then flashes back to four weeks earlier at a port in Bulgaria. The Demeter comes ashore to pick up cargo and hire new crew for a trip to London. Captain Elliot (Liam Cunningham) tells his grandson, Toby (Woody Norman), to be careful playing on the docks as Wojchek (David Dastmalchian), his first mate, takes care of business.
Meanwhile, in a nearby bar, Clemons (Corey Hawkins), a Black doctor looking for work, hears the Demeter is looking for able-bodied seamen. He rushes to the dock but is overlooked by Wojcheck. Clemons watches as caravan of Romanian Gypsies unload long wooden crates emblazoned with a dragon symbol. They work feverishly to avoid staying after dark. Clemons springs into action when a crate nearly crushes Toby. Captain Elliot rewards him with a job and a full share of the cargo's profits.
The Demeter sets sail with an unnerved Wojchek. The Gypsies' parting words linger in his troubled mind. Clemons fits in at first with the rough and seasoned crew. The winds look favorable. They should arrive in London way ahead of schedule. This means additional money for each man. Clemons laughs as they describe the drinking and cavorting at brothels to come.
Below the deck, something sinister stirs. Huck, Toby's dog, barks furiously at an unseen menace. Toby shrieks when he discovers Huck's eviscerated body later that night. All the animals in the hold suffered the same grisly fate. Captain Elliot wonders what could have done this. Clemons notices the carcasses have strange bite marks on the necks.
Captain Elliot orders the ship to be searched. They find a strange stowaway in one of the crates (Aisling Franciosi) but inexplicably don't open the other boxes. One by one crew members start dying. Could the hidden killer possibly be in the place they didn't search?
Cast: Corey Hawkins, Aisling Franciosi, Liam Cunningham, David Dastmalchian.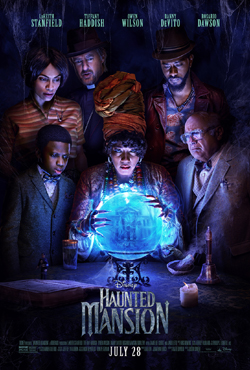 S.P. – Haunted Mansion captures the spooky theme park ride with family-friendly humor and a fantastic cast.
In New Orleans, Ben Matthias ( LaKeith Stanfield), a NASA scientist who designs optics for space research, becomes smitten with a charming tour guide. Alyssa (Charity Jordan) believes in ghosts, spirits, and everything supernatural. The unlikely couple fall hard for each other after a brief romance. Some time later, a shattered Ben has abandoned his career and taken over Alyssa's successful business. His heartbroken demeanor and sarcastic comebacks doesn't damper tourist enthusiasm for creepy endeavors.
Meanwhile, Gabbie (Rosario Dawson) and her young son, Travis (Chase W. Dillon), arrive at their decrepit new home. The mansion was a steal and offers a new beginning for the family after suffering their own tragic loss. A terrified Travis thinks that something is following them through the house. Gabby scoffs at first but realizes he's right. They race back towards their car but aren't alone in their escape.
Ben gets a visit from Father Kent (Owen Wilson), a priest hired by Gabbie to exorcise the demons from her abode. A thoroughly skeptical Ben almost pushes him out the door before the lure of easy money changes his mind. Father Kent hopes that Ben can photograph the supposed apparitions with his specialized camera. Ben agrees to meet Gabbie and Travis but doesn't take them seriously. She warns him to be sure before crossing the threshold.
Ben walks through the house faking picture snaps. These people seem nice but are obviously crazy and wasting his time. Ben returns home to find that something also followed him. The terrifying encounter has Ben back at Gabbie's door step. He's not happy to see Father Kent also at the house. Gabbie's ignored warning has trapped Ben in the same freaky predicament. They must figure out why the ghosts won't leave them alone and how to get rid of them. The desperate gang seeks help from a college professor (Danny Devito) and wacky psychic (Tiffany Haddish).
Cast: LaKeith Stanfield, Tiffany Haddish, Owen Wilson, Danny DeVito, Rosario Dawson, Chase W. Dillon and Daniel Levy, with Jamie Lee Curtis and Jared Leto as The Hatbox Ghost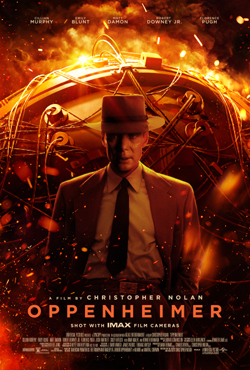 S.P. – Oppenheimer's three-hour runtime is a masterpiece in ensemble acting, character development, visual/special effects and film editing.
Christopher Nolan explores the life, controversial legacy, and significant scientific contributions of J. Robert Oppenheimer in a tense, superbly-acted biopic. Based on the biography American Prometheus: The Triumph and Tragedy of J. Robert Oppenheimer by Kai Bird and Martin J. Sherwin, the film chronicles the "father of the atomic bomb" through an unvarnished lens.
Oppenheimeris portrayed as an arrogant genius with an extraordinary ability to visualize advanced theoretical concepts. He was revered while being greatly disliked and an unabashed womanizer who harbored leftist political views, but also a diligent taskmaster capable of managing the Manhattan Project, which thrust the world into the nuclear age and the brink of annihilation.
Oppenheimer is told in several concurrent timelines from two points of view. Nolan opens with Oppenheimer (Cillian Murphy) at the height of the Red Scare in 1954. He's being viciously interrogated by a committee from the U.S. Atomic Energy Commission (AEC). His security clearance is in danger of being revoked for associations with known communists and possibly Russian espionage. Five years later, Lewis Strauss (Robert Downey Jr.), former chairman of the AEC, and the man who brought Oppenheimer to Princeton after World War II, sits before a Senate panel for confirmation to be President Eisenhower's Secretary of Commerce.
Strauss is asked directly about his work with Oppenheimer and disputed events leading up to the creation of Edward Teller's (Benny Safdie) thermonuclear hydrogen bomb. In 1954, Oppenheimer reads a statement about his start in quantum physics and the people who were instrumental in shaping his career. Nolan then flashes back to a younger Oppenheimer in the 20s as an eager but frustrated student. He was obsessed with the work of Albert Einstein (Tom Conti) and Niels Bohr (Kenneth Branagh). Oppenheimer believed in the existence of Black Holes. What happens when a supermassive star collapses into itself? A troubled Oppenheimer stares into space but thinks about the gravitational implosion on a subatomic level. Oppenheimer's first act swings between the hearings and seemingly unreal possibilities. He vividly imagines particles in the quantum realm. Nolan uses visual effects to show the audience this chaotic state. He then begins a primer through character dialogue to explain the basic theories of quantum mechanics. This is vital exposition that smartly doesn't get too detailed. You learn just enough to understand what makes an atomic reaction go boom.
The second act dives deep into Oppenheimer's complex and sordid personal life. Many intellectuals in the 20s and 30s flirted with communist ideologies. Oppenheimer is introduced to people whose friendships would haunt and cost him dearly in the future. He becomes enamored with the sharp and sultry Jean Tatlock (Florence Pugh). The devout communist intrigues Oppenheimer with her intellect and voracious sexual appetite. He also discovers his lifelong love for New Mexico. Nolan shifts cinematic focus to sweeping, spectacular shots of the desert landscape. Oppenheimer's purchase of a ranch with his younger brother, Frank (Dylan Arnold), a registered communist, would become key to developing America's top secret nuclear research facility. The onset of World War II raises the stakes. Oppenheimer, and the country's leading scientific minds, knew the Nazis were pursuing a nuclear fission weapon. A bomb of this magnitude had catastrophic range and aftermath. Nolan introduces General Leslie Groves (Matt Damon), the no-nonsense and tough engineer who designed the Pentagon. He's given a blank check and supreme authority by the President to beat the Germans to the atomic bomb at all costs. Groves was keenly aware of Oppenheimer's reputation. He'd been closely watched by the FBI as his communist leanings were well known.
Cast: Cillian Murphy, Emily Blunt, Robert Downey, Jr., Matt Damon, Rami Malek, Florence Pugh, Benny Safdie, Michael Angarano, Josh Hartnett and Kenneth Branagh
Written and Directed by: Christopher Nolan
Produced by: Emma Thomas, Charles Roven and Christopher Nolan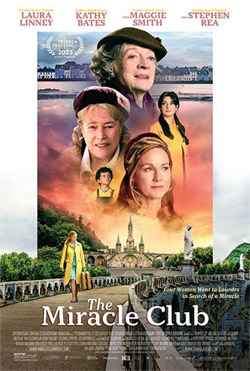 S.P. – Refreshing Tale of Friendship and Forgiveness about three close friends in search of personal miracles who ultimately find something far more important.
Set in 1967, The Miracle Club is about three close friends who represent completely different generations who reunite with someone from their past.
Lily is portrayed by Maggie Smith (Downton Abbey), Eileen by Kathy Bates (Misery), and Dolly by Agnes O'Casey (BBC One's Ridley Road), and they all reside in a densely populated community in Dublin called Ballygar. Separately, and yet together, they are facing life challenges such as a health scare, a mute child, and debilitating guilt from a deceased child. They all need and support one other, but what they really want is to win a trip to Lourdes, a place of miracles.
Similar to a Jewish person's faith journey to the Western Wall, a Christian pilgrimage to Jerusalem, or a Muslim's person's Hajj, for those of Catholic faith, this annual journey to Lourdes is embarked upon in hopes of being granted a miracle for which the French lure is known to distribute. For women in the 1960s, as is apparent in The Miracle Club, this was also an opportunity to temporarily escape the mundane routines of domestic life. For this group, there is so much more in store.
Just before the women's excursion, Chrissie (Laura Linney, You Can Count on Me), returns to Ballygar after 40 years to bury her estranged and recently deceased mother, Maureen, who was originally supposed to be going to be the fourth friend on the journey. Replacing her mother without invitation, Chrissie joins the initially unwelcoming ladies, and she is an immediate and definite vibe misfit.
After being exiled and culturally re-conditioned in the United States for so long, Chrissie's presence is the awkward beginning on an ultimately uplifting path to healing from unspoken trauma and buried betrayals presented by some of the most iconic actresses to exist.
Starring: Laura Linney (You Can Count on Me, The Squid and the Whale, HBO's John Adams), Kathy Bates (Misery, Fried Green Tomatoes, About Schmidt), Stephen Rea (The Crying Game, Michael Collins, V for Vendetta), Agnes O'Casey (BBC One's Ridley Road), and the legendary Maggie Smith (Downton Abbey, The Prime of Miss Jean Brodie, California Suite).
MISSION: IMPOSSIBLE - DEAD RECKONING PART ONE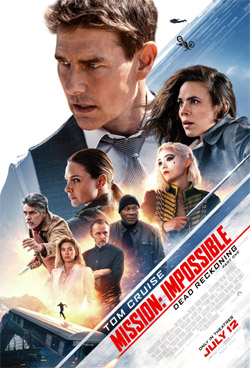 S.P. – Tom Cruise battles terrorists, arms dealers, and a ruthless AI
Mission: Impossible – Dead Reckoning Part One doesn't reach the helicopter-swerving heights of the superb last installment. This time around we get submarine warfare, Venice, and unstoppable train settings with a lot of running around in between. The IMF team faces their greatest challenge with an adversary that can literally calculate every move. It gets a bit exhausting. The lack of surprises and several questionable plot holes are detrimental, but Cruise is a guaranteed commodity in delivering blockbuster popcorn cinema.
A Russian nuclear attack submarine traverses the icy arctic depths on a top secret exercise. It carries a special cargo with terrifying capabilities. The Entity is the world's most advanced artificial intelligence. The officers gloat about their superiority until an unexpected blip appears on the radar.
In the meantime Ethan Hunt (Tom Cruise) waits in the darkness for a nervous courier. He receives a self-destructing package with a memorable refrain. CIA Director Eugene Kittridge (Henry Czerny) needs the IMF immediately. A former associate of Hunt's has half of an object that must be recovered at all costs. Its counterpart is equally important, but the location remains unknown. Hunt must secure this first vital piece before finding the other. What interesting no one knows the completed device's purpose.
Ethan rides into the Arabian desert seeking Ilsa Faust (Rebecca Ferguson). A bounty of $50 million dollars has been placed on her head. A legion of the world's deadliest mercenaries are also in pursuit. Ethan and Ilsa have a complex relationship. Are they friends or lovers?
Kittridge has a high stakes meeting with the president's national security advisor (Cary Elwes). Intelligence has uncovered a black market exchange at the Abu Dhabi airport. Kittridge acknowledges the IMF's existence for the first time. Ethan, Luther Stickell (Ving Rhames), and Benji Dunn (Simon Pegg) are immediately dispatched. The situation gets complicated when a wily thief (Hayley Atwell) makes her duplicitous move. The IMF adapts but a brief glimpse of a new player changes the game completely. Ethan hasn't seen the vicious Gabriel (Esai Morales) since he murderously altered his life decades ago.
Mission: Impossible – Dead Reckoning Part One preys on a familiar fear, what happens when an AI achieves sentience and stops taking orders from its human masters. The Entity, depicted by a blue light cube of algorithmic processes, is supremely formidable. Nothing electronically connected can be trusted. The voice in your earpiece and security monitors are easily faked. But it's the psychological manipulation that proves the most effective. The Entity knows what Ethan values the most.
Starring: Tom Cruise, Hayley Atwell, Ving Rhames, Simon Pegg, Rebecca Ferguson, Vanessa Kirby, Esai Morales, Pom Klementieff, Mariela Garriga, Henry Czerny, Shea Whigham, Greg Tarzan Davis, Charles Parnell, Frederick Schmidt, Cary Elwes, Mark Gatiss, Indira Varma, Rob Delaney
Indiana Jones and the Dial of Destiny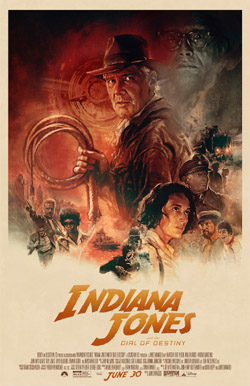 S.P. – Great cast and action scenes but a little bit long and overplayed.
Indiana Jones and the Dial of Destiny opens in 1944 Germany at the end of World War II. Indy (Ford) and British professor Basil Shaw (Toby Jones) infiltrate a castle to stop Nazis from plundering stolen art. SS Colonel Weber (Thomas Kretschmann) barks orders while ignoring pleas from scientist and mathematician Jürgen Voller (Mads Mikkelsen). The treasures collected for Hitler are useless trinkets. Somewhere in their larder lies a prize that can change the course of history. They must find the Antikythera. Needless to say, the Nazis are rudely interrupted.
25 years later, America basks in the glory of the lunar landing. Crowds gather in New York City for a parade celebrating the Apollo 11 astronauts. A gruff Indy couldn't care less. He's got classes to teach as a professor at Hunter College. An unfamiliar student chirps answers as others stare blankly during his lecture. Indy skips out on his own anniversary party thrown by caring colleagues. He'd rather drown his sorrows at a local watering hole.
A student plops down beside him at the bar. Indy doesn't recognize his goddaughter. He hasn't seen Helena Shaw (Phoebe Waller-Bridge) since dear Basil's passing. Her father became obsessed with finding the Antikythera, which was split in two by its famed creator. Indy can't believe Helena has fallen under the spell that drove her father mad.
Meanwhile, at a nearby hotel, CIA handlers watch the man secretly responsible for America's lunar conquest. Voller has become an indispensable part of NASA's rocket program. But he's not there to participate in his hated adversary's accomplishment. Voller's men have been following Helena. He believes she has the key to finding the two halves of the Antikythera. Hitler lit a "fire that could have burned for thousands of years." He'll go back in time to make sure those embers aren't snuffed out.
Starring: Harrison Ford, Phoebe Waller-Bridge, Antonio Banderas, John Rhys-Davies, Toby Jones, Boyd Holbrook, Ethann Isidore, Mads Mikkelsen.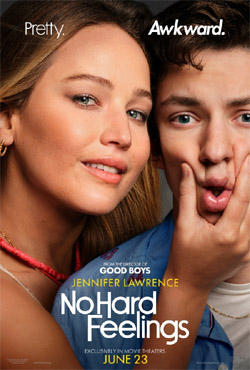 S.P. – Easy-breezy comedy, rich parents hire a desperate bartender to date their shy teen son.
Jennifer Lawrence gets hilariously raunchy in a sweet-natured sex comedy with surprisingly relevant themes. No Hard Feelings has the Oscar-winning actress down on her luck in beautiful Montauk, New York. She owes a small fortune in property taxes and is about to lose her deceased mother's house.
A desperate Craigslist ad from a rich couple seems like an easy answer to her financial woes. The ad? Date their shy and introverted son for a Buick. What begins as a quick nerd seduction turns into a formidable task. The protagonist discovers her hapless lust target actually wants romance and friendship first. They're forced to face uncomfortable truths that have been barriers to happiness.
Maddie Barker (Jennifer Lawrence) wakes up to her car being towed. Gary (Ebon Moss-Bachrach), her ghosted ex-boyfriend, takes no pleasure in repossession. He's just doing a job for the city, but feels betrayed and hurt from her unexpected dumping. Maddie turns on the charm to rekindle those old flames of love. It almost works until Gary sees her latest one-night stand stretching in his man thong.
An exasperated Maddie rollerblades to work as a bartender at a boat dock. She refuses to serve a wealthy tourist mere minutes before opening. Maddie despises the rich New York City elites that descend on Montauk for the summer season. They're the reason her property taxes are so high. Maddie has never left her hometown. She resolves to save her house at all cost. That means getting a car, because Maddie makes most of her living as an angry Uber driver for tourists.
Her pregnant bestie (Natalie Morales) and dim-witted surfer husband (Scott MacArthur) find a solution on Craigslist, help a shy butterfly out of his cocoon and get a sweet Buick in return. But is Maddie willing to prostitute herself to an unexperienced virgin for a car? In a heartbeat, she's debased herself dating losers before. How difficult could this be?
Maddie rollerblades to a stunning mansion. Laird (Matthew Broderick) and Allison (Laura Benanti) Becker are very concerned about their son. 19-year-old Percy (Andrew Barth Feldman) has never had a girlfriend, or any friends for that matter. He just sits in his room playing video games. Percy doesn't even have a driver's license. How can he go to Princeton and succeed as a recluse? Maddie swears she'll "date Percy hard." His parents are overjoyed but warn that he can never learn the truth that they hired her.
Directed:
Gene Stupnitsky
Cast:
Jennifer Lawrence, Andrew Barth Feldman, Laura Benanti, Natalie Morales, Hasan Minhaj, and Matthew Broderick
Rated R for sexual content, language, some graphic nudity and brief drug use.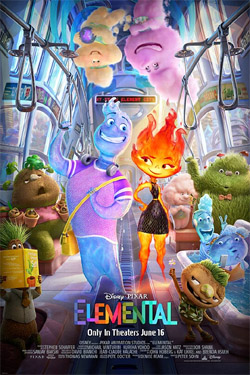 S.P.  – Fun family friendly movie, cute characters with stunning CGI Animation
Elemental tells the story of Ember (voiced by Leah Lewis, of The Half of It), a young woman made of fire living in Element City, a massive metropolis populated by anthropomorphized characterizations of the four elements air, earth, fire and water. Ember grows up as a first-generation fire elemental in Element City, her parents having immigrated prior to her birth, and hopes to one day take over their' store, and carry on the family traditions.
Infrastructure problems at the family business run Ember afoul with Wade (Mamoudou Athie), a water elemental working for the city. Ember has grown up in fear of water elementals in particular, since exposure to the fluid could extinguish her out of existence. Yet Wade and Ember feel an immediate attraction to one another, and an unlikely romance blooms as the pair team to save Ember's family shop.
Directed By:Peter Sohn
Produced By: Denise Ream
Cast: Leah Lewis, Mamoudou Athie
Transformers: Rise of the Beasts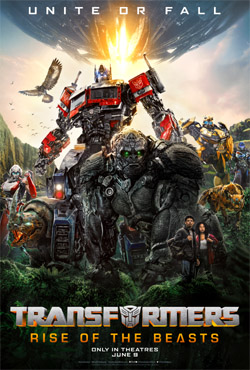 S.P. – The long-running franchise returns, with new characters and a trip back to the '90s.
Rise of the Beasts takes place in 1994, telling a story after the events of Bumblebee and well before all the shenanigans of the previous live-action films.
The Autobots are still stranded on Earth, but when the legendary Transwarp Key which could bring them back home is unearthed, they see opportunity. Unfortunately, they're not the only ones who've been looking for it. The Terrorcons led by the ruthless Scourge have been searching the universe for centuries in search of the key in order to bring their master, Unicron, anywhere he desires.
In order to secure the Transwarp Key which has been split apart for safety reasons, the Autobots will have to work alongside a pair of humans. There's Noah (Anthony Ramos), a down on his luck ex-military man trying to take care of his sick brother. And there's Elena (Dominique Fishback), a young archeologist, who's pivotal in tracking down the final piece that's needed.
As the Terrorcons continue to haunt their every step, the humans, Autobots, and Maximals will have to work together in order to save the world .
While many of the Transformers movies have pretty much stuck to a familiar set-up of Autobots and Decepticons, Rise of the Beasts follows the introduction of the Dinobots in Transformers: Age of Extinction and brings more groups into the live-action world in the form of the Maximals, Predacons and Terrorcons.
Cast: Anthony Ramos, Dominique Fishback, Luna Lauren Velez, Dean Scott Vazquez, Tobe Nwigwe, Peter Cullen, Ron Perlman, Peter Dinklage, Michelle Yeoh, Liza Koshy, John DiMaggio, David Sobolov, Michaela Jaé Rodriguez, Pete Davidson, Cristo Fernández, Tongayi Chi.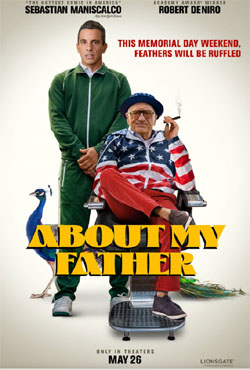 S.P. – De Niro Meets the Parents
Sebastian opens the film with a brief history of his father's journey from Italy. Salvo (Robert De Niro) came to America dirt poor with the same goal as every Maniscalco man for generations: he wanted to give his son the opportunity for a better life. Salvo prides himself as the finest coiffeur on Chicago's East Side. This meant getting up at the crack of dawn, then working like a rented mule at the beauty salon until bedtime. But don't forget a spritz of cologne before your weary head hits the pillow. Sebastian had to respect the value of money, order from the middle menu, no appetizers or desserts. Finish your food or foot the bill.
Sebastian attends the gallery opening of his artist girlfriend. Ellie (Leslie Bibb) is the daughter of powerful Senator Tigger Collins (Kim Cattrall) and her hotel magnate husband (David Rasche). She's pleasantly surprised when her parents invite Sebastian to their Fourth of July celebration. He cries with joy as this gives him the perfect forum to propose marriage. He just has to get his recently deceased mother's wedding ring from a skeptical Salvo.
Ellie desperately wants Salvo to come. Sebastian swears that's a terrible idea, but Ellie insists. How can they all be a family if Salvo has never met her parents? The trip to Maryland has a rocky start with the introduction of Lucky (Anders Holm), Ellie's spoiled playboy older brother, and the weird Doug (Brett Dier), her sound bowl meditating, liberal leftist younger sibling. An exasperated Salvo thinks Sebastian has no business consorting with these strange rich people.
CAST: Sebastian Maniscalco, Robert De Niro, Leslie Bibb, Anders Holm, David Rasche, Brett Dier, and Kim Cattrall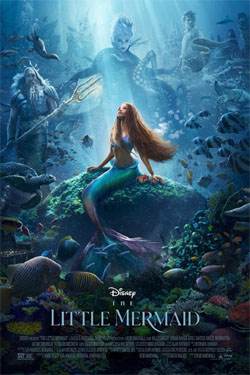 S.P. – Impressive visual effects but doesn't live up to the original.
The movie stars Halle Bailey as Ariel, the headstrong merprincess obsessed with the human world and who longs to be a part of it, much to her anti-human merfather King Triton's (Javier Bardem) chagrin. So when she falls in love with the handsomely bland human prince Eric (Jonah Hauer-King), she makes a deal with Ursula (Melissa McCarthy), the slinky sea witch, and trades in her voice to become a human herself.
But there's a catch; a mute Ariel must woo Eric enough to grant her a kiss of true love within three days, or else she'll be back under the sea and under Ursula's control.
With the help of her faithful animal sidekicks Flounder (Jacob Tremblay), Sebastian (Daveed Diggs), and Scuttle (Awkwafina) , Ariel ultimately gets her man, her voice, and her father on her side.
Cast: Halle Bailey, Jonah Hauer-King, Melissa McCarthy, Javier Bardem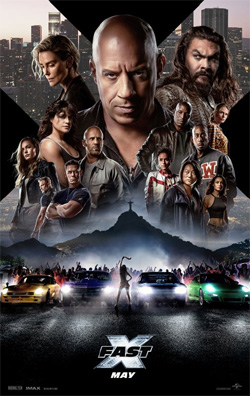 S.P. – Jason Momoa controls the movie.
In FAST X, a new villain, Dante (Jason Momoa), emerges. He's seeking revenge on Dom (Vin Diesel) and everyone Dom loves because Dante blames Dom for the death of his father, Reyes, in Fast Five. Roman (Tyrese Gibson), Tej (Ludacris), Ramsey (Nathalie Emmanuel), and Han (Sung Kang) are called to go to Rome to steal a powerful computer chip, but the job is actually a trap set up by Dante. After a huge bomb is detonated, the team is made to look like terrorists, with Dom as their leader. They lose their protection from The Agency, and their bank account, too. Meanwhile, Letty (Michelle Rodriguez) is arrested and winds up in a secret prison, while Dom's brother, Jakob (John Cena), rushes Dom and Letty's son (Leo Abelo Perry) to a safe place. Now off the grid, the team must try to reunite, even as the sociopathic Dante seems to anticipate their every step.
The 10th official movie in this wildly popular franchise, the first of a two-parter has the same, now-somewhat-tired formula: travel, stunts, fights, explosions, crashes, "family" talk, repeat. In Fast X the oft-repeated "family is everything" theme is now mostly about protecting your family and how much it hurts to lose loved ones.The stunts are bigger, of course, but they still seem derivative of past set pieces. And Momoa's Dante acts almost exactly like Batman's foe the Joker, dancing, giggling, wearing flouncy, clownish outfits, spouting endless one-liners, and behaving ghoulishly; it's all pretty shopworn.
While the movie occasionally, makes fun of itself, that's not enough to break it free from its slavish devotion to the franchise's hit recipe. And after more than two hours, Fast X ends on a cliffhanger! Even that may not make you yearn for more, but rather for a true and proper ending to this decades-long story.
Cast: Vin Diesel, Michelle Rodriguez, Tyrese Gibson, Chris "Ludacris" Bridges, Jason Momoa, Nathalie Emmanuel, Jordana Brewster, John Cena, Jason Statham, Sung Kang, Alan Ritchson, Daniela Melchior, Scott Eastwood, with Helen Mirren, Charlize Theron, Brie Larson and Rita Moreno.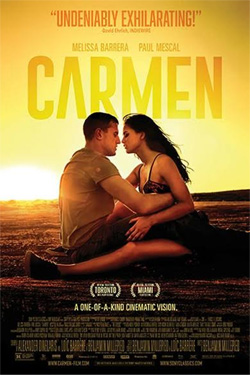 S.P. – Carmen is a dazzling cinematic experience with sensuous performances, remarkable cinematography.
Vaguely inspired by Georges Bizet's 19th century opera of the same name. After Carmen (Melissa Barrera) witnesses her mother's death at the hands of the Mexican cartel, she escapes to the United States. Aidan (Paul Mescal), who works for the U.S. government, goes against his orders and helps those who are fleeing, including Carmen. He keeps protecting her as she makes her way to the one person left that she can call family her mother's friend Masilda (Rossy de Palma).
Carmen is an interesting unusual film by design, since it's told through a magical realism lens. With a heavy emphasis on dance, the film creates a dreamlike atmosphere that's as entrancing as it is off-putting. The film's craftsmanship is top-notch, as are the song-and-dance numbers.
Cast: Melissa Barrera, Paul Mescal , Rossy de Palma .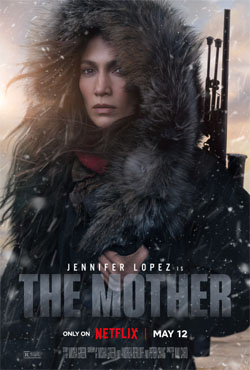 Jennifer Lopez stars as a female assassin in action-packed revenge movie.
The film stars Jennifer Lopez as a deadly female assassin simply known as "The Mother" on the run from two very dangerous men, arms dealers Adrian Lovell (Joseph Fiennes) and Hector Àlvarez (Gael García Bernal). In the film's opening sequence, we also learn in a shocking plot twist that one of the men is the father of her unborn child. Looking to make things right, The Mother teams up with the FBI but fails to assassinate Adrian for them, whom she also served in Afghanistan with as he was her former captain from a cavalry and sniper regiment. Seeking help from the bureau while holed up in a safe house somewhere in Indiana, the debriefing goes awry and a bloodbath ensues, with Adrian's team killing every agent except William Cruise (Omari Hardwick), who is saved by The Mother after one very thoughtful gesture during their cross-examination.
After the two make it out, The Mother entrusts William with her newborn baby, asking him to find the child a safe home. Requesting he update her every year and only call when trouble ensues, it's 12 years later that William reveals photographs of Zoe, also known as The Daughter (Lucy Paez), have been found in the men's belongings following internal investigations suggesting that both Adrian and Hector know her child is alive. In keeping a close eye on her daughter from afar and her sharpshooting sniper expertise in full swing, The Mother attempts to stop her daughter's abduction but fails, teaming up with William to get her back. Frustrated by the two using her daughter as leverage to draw her out, her maternal instincts are amplified as a protective, dangerous force to anyone in her way that threatens her child.
Cast: Jennifer Lopez, Joseph Fiennes, Lucy Paez, Omari Hardwick, Paul Raci and Gael García Bernal.
Book Club The Next Chapter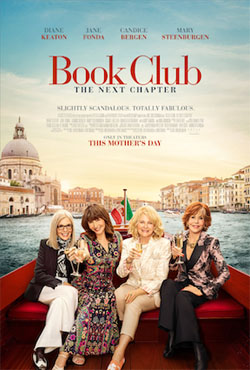 S.P.- Amazing cast, unfortunately the movie falls flat.
Bill Holderman's 2018 film Book Club was a massive box office hit. Bringing screen legends Jane Fonda. Candace Bergen, Mary Steenburgen, and Diane Keaton together as a group of friends who for over forty years have kept in touch via a monthly book club turned into a predictable, yet somewhat delightful tale of empowerment for older women. When the friends decide to read the Fifty Shades books they realise that there has been something missing in their lives; whether that be the ability to open up to love again or embrace their sexual needs. Book Club: The Next Chapter has them reading The Alchemist by Paulo Coelho and wondering if fate and omens determine their lives.
After a couple of years in lockdown, the quartet is surprised by some big news; the perpetually independent and independently wealthy Viv (Jane Fonda) has decided to get married to the man who first proposed to her fifty years prior, Arthur (Don Johnson). Finally able to travel again, and with most of the rest of the group at a loose end, Carol (Mary Steenburgen) suggests that they finally go to Italy a journey they planned years ago before Diane (Diane Keaton) got pregnant. Although Diane and Viv have had a relatively relaxing lockdown ensconced with their lovers things have been less than good for Sharon (Candace Bergen) who has retired as a judge, and quite stressful for Carol who has lost her restaurant and is dealing with her husband Bruce's (Craig T. Nelson) coronary event in a zealous manner. A trip to Italy is just what the gal pals need, and what better way to celebrate Viv's bachelorette celebrations?
Cast: Diane Keaton, Jane Fonda, Candice Bergen, Mary Steenburgen, Craig T. Nelson, Giancarlo Giannini with Andy Garcia, and Don Johnson.
Guardians of the Galaxy Vol. 3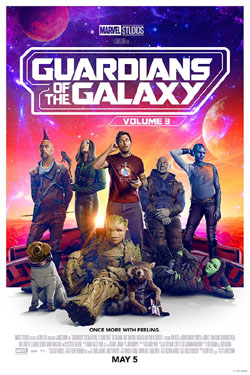 S.P. – Tells the heartbreaking story of Rockets past, introducing new likable characters and has it's funny moments as usual.
Peter Quill (Chris Pratt) returns to abject depression after a brief interlude of holiday season happiness. He drinks himself into a daily stupor thinking of Gamora (Zoe Saldaña). Nebula (Karen Gillan), Rocket, and Mantis (Pom Klementieff) run Knowhere smoothly; while Drax (Dave Bautista), Groot (Vin Diesel), Kraglin (Sean Gunn), and an upset Cosmo the Spacedog (Maria Bakalova) gum up the works with their usual shenanigans. A surprise attack catches them completely off guard.
The High Evolutionary (Chukwudi Iwuji), an utterly ruthless scientist on a quest for genetic perfection, wants his property back. We finally see the awful experiments that created Rocket from a terrified baby kit in a cage. He quickly proved to be an unbridled success. An enhanced creature who thought independently and was able to solve complex problems. But these traits weren't learned in a deplorable lab. Rocket started life with another family who taught him the values of kindness and empathy.
The Guardians plan to confront the High Evolutionary leads to an awkward reunion. They need Gamora's help, but she's not the woman Peter obsesses about. He must curtail his lovesick fawning to work effectively with her as a partner. Teamwork becomes the essential element against a merciless and calculating adversary.
Cast: Chris Pratt, Zoe Saldaña, Dave Bautista, Karen Gillan, Pom Klementieff, Vin Diesel, Bradley Cooper, Sean Gunn, Chukwudi Iwuji, Will Poulter, Maria Bakalova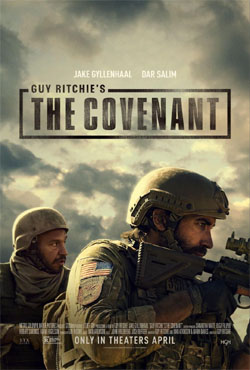 S.P. – A bond between two brothers in arms, and the need to rely on each other when systems fail their pledges.
In 2018 Afghanistan, Sergeant John Kinley (Gyllenhaal) and his elite tactical unit search for IED (Improvised Explosive Devices) factories. Their deadly job leads to tragic losses from a truck bomb. John must review a new field of candidates to replace their interpreter. A colleague recommends Ahmed (Salim), a headstrong but capable man whose son was murdered by the Taliban.
Ahmed's demeanor rubs John the wrong way. They initially don't get along. But Ahmed quickly proves his worth by securing vital intelligence during clandestine operations. They're alerted to an explosives factory over 100 kilometers away. A mission that deep in Taliban territory needs an element of surprise. John convinces his commanding officer (Jonny Lee Miller) its worth the risk.
The raid explodes into a raging firefight. Air support won't arrive in time to make a difference. John is critically injured during the escape, so Ahmed springs into action to save their lives. He carries an incapacitated John across mountainous terrain with Taliban fighters in pursuit. Back safely in California, a recovering John is overcome with grief and guilt. He's shocked to learn that Ahmed and his family weren't granted special exception visas by the US government. They are still in Afghanistan and primary targets of the Taliban.
Cast: Jake Gyllenhaal, Dar Salim, Antony Starr, Alexander Ludwig, Bobby Schofield, with Emily Beecham and Jonny Lee Miller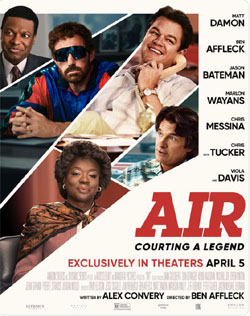 S.P. – Ben Affleck and Matt Damon teaming up once again in this classic movie about Nike's best move to sign one of the greatest athletes-of-all-time.
Ben Affleck and Matt Damon deliver their best film since the Oscar-winning Good Will Hunting. Air tells the incredible true story of Nike's fateful decision to put their entire basketball operation on the shoulders of a talented young athlete. Michael Jordan, who's never seen, became the greatest basketball player of all time. His eponymous shoe brand dominating athletic sportswear for decades. But in 1984, he was just another promising rookie in a crowded NBA Draft.
Sonny Vaccaro (Matt Damon) returns exasperated to Nike headquarters in Beaverton, Oregon. The basketball talent scout didn't agree with the company's direction. Nike had achieved great success in the running shoes market. They were flailing against behemoths Adidas and Converse to secure basketball stars. The sales numbers were grim. Nike CEO Phil Knight (Ben Affleck) was under considerable pressure to shut down the basketball business and terminate the entire department.
Marketing executives Rob Strasser (Jason Bateman) and Howard White (Chris Tucker) had a plan to spread their meager in comparison budget across multiple prospective players. Sonny scoffs at the idea during a contentious meeting. They were never going to compete with heavyweight basketball stars like Magic Johnson and Larry Bird. Later that night, Sonny changes everyone's fortunes after reviewing tape of the 1982 Georgetown vs. North Carolina NCAA National Championship. Michael Jordan wins the game in a classic last second buzzer beater.
Sonny races back to the office with a bold strategy. Jordan was going to transform the sport — they should put their eggs in his basket. Phil thinks he's crazy; Rob and Howard agree. They didn't have a chance. Jordan will undoubtedly sign with Adidas or Converse, so Sonny reaches out to Jordan's ruthless agent, David Falk (Chris Messina). Falk laughs at and berates him, but does reveal a critical piece of information: Michael's mother, Deloris Jordan (Viola Davis), makes every decision. So Sonny
does the unthinkable and flies to North Carolina, appealing to her directly, thus incurring Falk's formidable wrath and putting Nike's leadership in a cutthroat battle to sign a promising but unproven young man.
The outcome is never in question, of course, as audiences may know their history. Nonetheless, screenwriter Alex Convery, sublime in his feature debut, captures the thrilling unknowns of a pivotal point in time. Sonny's unwavering belief had dire consequences. He committed to a course of action that threatened Nike and its employees, but Sonny wasn't excoriated or fired for such a brash move. Initial fury gives way to unconditional support; Nike was born from progressive thinking, after all. They had faith in Sonny and trusted his instincts. The ensemble scenes of the Nike team coming together are absolutely enthralling.
Directed by Ben Affleck
Written by Alex Convery 
Produced by David Ellison, Jesse Sisgold, Jon Weinbach, Ben Affleck, Matt Damon, Madison Ainley, Jeff Robinov, Peter Guber, and Jason Michael Berman
Starring Matt Damon, Ben Affleck, Jason Bateman, Chris Messina, Matthew Maher, Marlon Wayans, Jay Mohr, Julius Tennon, with Chris Tucker and Viola Davis
THE SUPER MARIO BROS. MOVIE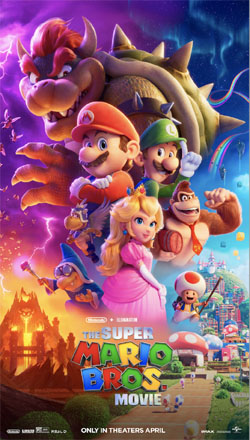 S.P. – Super Fun family friendly adventure movie.
Mario (Chris Pratt) and his younger-by-seconds brother Luigi (Charlie Day) eagerly watch their first business commercial. They've quit their jobs as wrecking crew workers to become plumbers. A career change that's mercilessly mocked by their former boss (Sebastian Maniscalco) and unsupportive but equally mustachioed relatives. The brothers are used to being bullied and criticized. That doesn't stop them from pursuing their dreams.
Their first service call ends in unmitigated disaster. A massive water main break downtown offers a chance for redemption. The brothers can help the city and get great publicity as heroes. Their underground trip in the sewers leads to a labyrinthine maze of strange pipes. Mario turns around to see Luigi sucked away into a mysterious void.
Mario chases after his brother, but they get separated. He lands in the Mushroom Kingdom as poor Luigi's plopped down near a fiery and foreboding castle. Mario can't believe his first encounter. Toad (Keegan-Michael Key) warns that Luigi is in serious trouble. Bowser (Jack Black), the flame-breathing king of the turtle-like Koopas, has stolen a powerful weapon. His massive army and devious sorcerer (Kevin Michael Richardson) are on their way. Princess Peach (Anya Taylor-Joy), their strong and beautiful leader, can help Mario save Luigi. She has a plan to unite forces with the mighty gorillas of the Jungle Kingdom.
The Super Mario Bros. Movie covers a lot of ground in quick fashion. Princess Peach puts Mario through a first act training course to prepare him for the battle to come. He learns that question mark blocks have good and bad surprises. Certain mushrooms increase size and strength; while others have nasty effects. The fire flower is especially useful against Bowser's baddies. Super Mario has the weapons to fight, but he already possesses the most important trait; the courage to stand up to bullies.
Cast: Chris Pratt, Anya Taylor-Joy, Charlie Day, Jack Black, Keegan-Michael Key, Seth Rogen, Fred Armisen, Kevin Michael Richardson, Sebastian Maniscalco
Dungeons & Dragons: Honor Among Thieves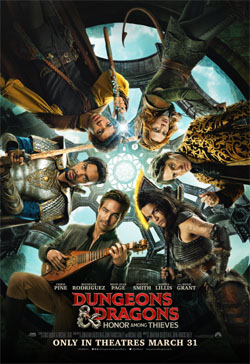 S.P. – Fun family adventure fantasy movie.
In the Forgotten Realms, bard Edgin Darvis (Chris Pine) and his fierce potato-loving accomplice, barbarian Holga Kilgore (Michelle Rodriguez), sit in their icy prison cell. They have a parole hearing after two years in cold incarceration. A chipper Ed tells Holga they're sure to be freed. She remains skeptical at her loquacious partner's brimming confidence.
Ed stands before the parole board with genuine regret. He wasn't always a thief and scoundrel. Ed used his musical talents as cover. He was a proud member of the Harpers, an organization of spies that served the public good. Ed eavesdropped on criminals and reported their actions. He was a happily married man with a beautiful daughter.
Ed notices that an esteemed board member is missing. He's asked to continue reflecting despite his insistence on waiting. Being good doesn't keep a family fed. His wondering eye saw all the treasure and spoils for the taking. Ed pays a heavy price for his initial theft. Alone and bereft, he was lucky to meet Holga. Then came Simon Aumar (Justice Smith), a not-so-capable sorcerer, and the smooth-talking conman, Forge Fitzwilliam (Hugh Grant). They were an unstoppable team until the vile Sofina (Daisy Head) and her dark magic joined. He and Holga foolishly gave in to her ambitions. Lesson learned and dues paid. It's time they got back to his precious Kira (Chloe Coleman).
Director:
Jonathan Goldstein and John Francis Daley
 
Cast:
Chris Pine, Michelle Rodriguez, Regé-Jean Page, Justice Smith, Sophia Lillis, Hugh Grant, Chloe Coleman, Daisy Head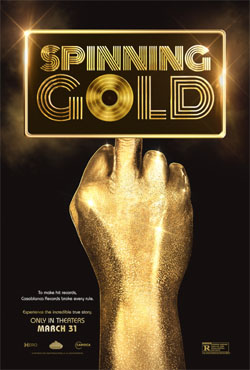 S.P. – Great Movie how some of today's Music Icons got started.
Spinning Gold told the biopic story of Casablanca Records heyday in the 1970s when most of those classic legends first signed on. Tony-nominated Jeremy Jordan primarily narrated the film as Neil Bogart (born Neil Scott Bogatz), among other names he changed to while progressing through his life and career as the film continually reinforced.
Apparently, the film was made by the real sons of Bogart (Tim and Evan) and was made with respect to their father. The writing for it had allegedly begun in 1999, and Justin Timberlake was cast to play Bogart back in 2013, with even Spike Lee directing it.
The film recounted Bogart's life from childhood to death in a non-linear way, probably the best choice for the film based on his career ups and downs. It showed the stories of how he discovered KISS, the Isley Brothers, Bill Withers and Donna Summers, all before their prime. The movie also did a fairly good job showing how much of a gambler and womanizer he was, even the amount of smoking and cocaine he snorted. It did not shy away, which made the film feel authentic versus trying to hide all the bad parts of Bogart's legacy. While Bogart was a music producer, he was also a solid singer and musician himself. So, Jordan's Broadway skills were put to full use throughout the whole film.
He had very poignant and intimate moments with Jason Derulo's Ron Isley, Tayla Parx's Donna Summer and Casey Likes' Gene Simmons. The creation of a hit from Summers was an interesting yet tantalizing take on how she and Bogart made the iconic song "Love To Love You."
While Spinning Gold took many gambles to hit gold cinematically,
the whole experience was enjoyable and seeing current artists playing these iconic music icons from the 60s and 70s was fun.It was a nice homage to Bogart, especially the incorporation of real interview footage with the real Bogart during the credits.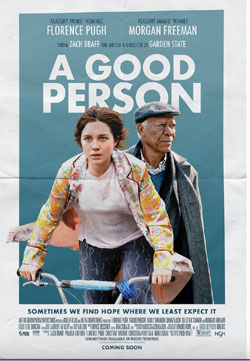 S.P. – Florence Pugh stars as a promising young woman whose life is destroyed by a tragic accident.
A Good Person introduces us to Allison (Florence Pugh), who sings and plays the piano at her joyous engagement party. Nathan (Chinaza Uche) embraces his future bride in front of their friends and family. They are the picture of happiness. The following day, Allison drives his sister (Nichelle Hines) and her husband (Toby Onwumere) to help choose a wedding dress. They're stuck in highway traffic. She darts forward to an open lane but doesn't see a backhoe reversing.
A year later, a shattered Allison lives with her mother in South Orange, New Jersey, her engagement having fallen apart. Diane (Molly Shannon) begs her daughter to try and leave the house and get a job. Allison becomes enraged when Diane refuses to give her Oxycontin. Diane knows Allison's grief has spiraled into addiction. She flushes her last prescription bottle, and Allison runs outside in desperate need of a fix.
Meanwhile, Daniel (Morgan Freeman) gets troubling news at his granddaughter's high school. Ryan (Celeste O'Connor) faces expulsion. She fights, curses at her teachers, and doesn't do her schoolwork. The promising student and athlete she once was vanished when her mother died. He admits to not having a clue how to deal with her. Daniel, an ex-cop and recovering alcoholic, attends an AA meeting at the local church. He's surprised when a sweaty and disheveled Allison enters. She freezes in fear and turns to leave once seeing him, but Daniel begs her to stay. He knows she needs help.
A Good Person pulls no punches. The characters are intertwined in significant states of distress. Allison cannot forgive herself. Opiates numbed the torment of her actions and terrible loss; she's hanging on by a thread in every moment. Nathan hates his father for abuse suffered during childhood. He refuses to help Daniel raise his niece. Nathan loves Ryan but still hasn't recovered from the accident's aftermath. Allison's sudden return to his family's life throws a wrench in the turmoil. No one can hide from their pain any longer. They must all confront the past together.
Starring Florence Pugh, Molly Shannon, Chinaza Uche, Celeste O'Connor, and Morgan Freeman.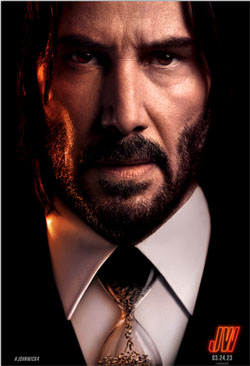 John Wick: Chapter 4 obviously picks up on the plot and ending of the previous installment, although some time has passed. Wick, who has already defied the odds of survival after emerging from being shot and falling off a tall building, is back in fine shape. The Bowery King (Laurence Fishburne) has taken in the rebellious hit man and nursed him back to health; they both have a bitter grudge against the High Table, and the Bowery King hopes that he can unleash Wick on its world and take it down.
As always, the odds are against him. He's excommunicado, so he no longer has the privileges and access he once did in the criminal underworld, and there's a $14 million bounty on his head. To make matters worse, the High Table has unleashed the Marquis de Gramont (Bill Skarsgård) as a cruel emissary who will stop at nothing to rid the world of even the faintest idea of John Wick. The Marquis's dogged hunt will send John from Berlin nightclubs to the Osaka Continental to the storied streets of Paris, all with one goal: Fight his way to freedom.
Cast: Keanu Reeves, Donnie Yen, Lance Reddick, Ian McShane, Laurence Fishburne, Bill Skarsgard, Rina Sawayama, Hiroyuki Sanada, Shamier Anderson, Clancy Brown, Aimee Kwan, Marko Zaror, Natalia Tena, Dorothea Neukirchen, Scott Adkins, Sven Marquardt
Directed by: Chad Stahleski
Written by: Shay Hatten, Michael Finch
Produced by Chad Stahleski, Basil Iwanyk, Erica Lee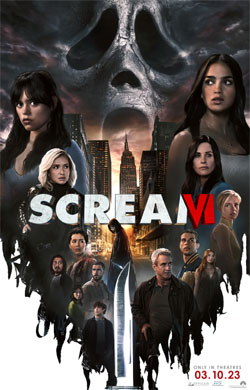 S.P. – Old school slasher fun, more bloodier than ever.
Scream VI the slasher sequel is more intense than ever. The sixth installment of the franchise, which started with Scream (1996), is a direct sequel to Scream (2022) and follows the main cast of people that made it through the previous film to New York City, where a new Ghostface murderer has descended upon the town. The 2022 film was directed by Matt Bettinelli-Olpin and Tyler Gillett, who also directed the upcoming sequel.
Six months after the events in Woodsboro, Sam (Barrera) and Tara (Ortega) are adjusting to college life in Manhattan. They're joined by twins Mindy (Jasmin Savoy Brown) and Chad (Mason Gooding). Tara wants to move on with her life by attending frat parties and meeting cute boys. Sam can't leave their traumatic past behind. She lives in fear for her younger sibling's safety. Tara doesn't want a babysitter. She's annoyed by Sam's constant monitoring.
Sam's intuition proves to be correct as new Ghostface killings rattle the city and campus. Someone is targeting the Carpenter sisters by murdering those around them and leaving strange clues. There's a sinister connection to the sisters that baffles law enforcement. NYPD lead detective Bailey (Dermot Mulroney) is confounded by the killer's knowledge of previous Ghostface crimes.
Sam, Tara, and the twins decide to stay together at all times. They get reinforcements when Kirby Reed (Hayden Panettiere), now an FBI agent, arrives to help. They don't want any assistance from Gale Weathers (Courteney Cox); who betrayed the sisters' trust. The new strategy doesn't work. Ghostface outwits them at every savage turn. Sam and Tara surmise that the killer has to be someone in their inner circle.
Cast:
Melissa Barrera, Jasmin Savoy Brown, Jack Champion, Henry Czerny, Mason Gooding, Liana Liberato, Dermot Mulroney, Devyn Nekoda, Jenna Ortega, Tony Revolori, Josh Segarra, Samara Weaving with Hayden Panettiere and Courteney Cox.
ANT-MAN AND THE WASP: QUANTUMANIA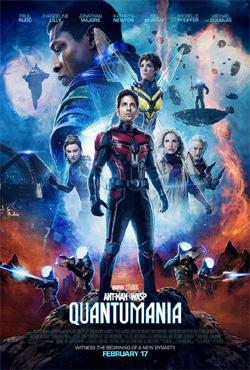 S.P. – Lots of Action, less comedy that doesn't overpower the scenes.
Scott Lang (Paul Rudd) has become an A-list celebrity. His turn as an Avenger and Blip-reversing heroics have solidified stardom. Everyone wants a selfie and autograph. Meals are on the house. Baskin-Robbins names him "Employee of the Century." There are lines out the door for his book readings. He relishes fame while his significant other Hope (Evangeline Lilly) uses Pym Particles for the public good.
Eighteen-year-old Cassie Lang (Kathryn Newton) has followed in her father's troublemaker footsteps. She's constantly getting arrested. Cassie believes that Scott can do more to help people. Saving the world, defeating Thanos, and bringing billions back from disintegration just isn't good enough.
A family dinner leads to Cassie showing her and Hank's (Michael Douglas) new project. She's invented a beacon that can send and receive subatomic signals to the Quantum Realm. A horrified Janet (Michelle Pfeiffer) pulls the plug too late. The device generates a portal that sucks them in. Scott and Hope activate their suits as everyone tumbles apart. She grabs her parents while Scott secures Cassie. Two groups land in a strange and exotic environment. Janet has kept dark secrets about her decades apart. A terrifying threat hunts them. They must find Scott and Cassie before he does. Kang (Jonathan Majors) cannot be allowed to escape his imprisonment.
Cast: Paul Rudd, Evangeline Lilly, Michael Douglas, Michelle Pfeiffer, Jonathan Majors.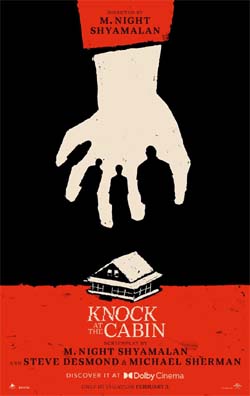 S.P. – Becomes boresome very fast.
Young Wen (Kristen Cui) collects grasshoppers in the woods near her parent's secluded Pennsylvania vacation cabin. She's frightened when the hulking Leonard (Dave Bautista) appears seemingly out of the blue. A wary Wen warns that she shouldn't talk to strangers. Leonard agrees to be her friend but apologizes sincerely for what's to come. Other figures emerge carrying medieval weapons. Wen races inside and locks the front door.
Andrew (Ben Aldridge) and Eric (Jonathan Groff) wonder what's all the commotion. A breathless Wen warns that people are coming for them. Her fathers' skepticism turns to concern when Leonard knocks. Andrew can't believe what he's seeing outside their window. They grab Wen and try to barricade every entrance. It's a futile ploy when glass can be easily shattered.
The family huddles in fear as they are restrained. The four nervous captors introduce themselves. Sabrina (Nikki Amuka-Bird) is a trauma nurse that spent all of her savings to be there. Ardiane (Abby Quinn) cooks as a line chef in a restaurant. She also has a young child. The erratic Redmond (Rupert Grint) works at a gas utility. Leonard teaches the second grade. The disparate quartet have dire purpose. Mankind will be destroyed unless the captives choose to kill one of their own.
Cast: Dave Bautista, Jonathan Groff, Ben Aldridge, Nikki Amuka-Bird, Kristen Cui, Abby Quinn and Rupert Grint.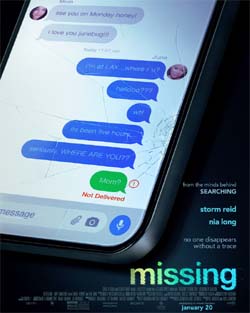 S.P. – Young Detective (Storm Reid ) at Work using Social Media to solve Mother's disappearance

June Allen (Storm Reid) lives with her widowed mother in Los Angeles. Gracie (Nia Long) finds it difficult to get her eighteen-year-old daughter's attention. June ignores her mother while constantly chatting on social media. Gracie implores June to erase her voicemails as the inbox is full. She's also annoyed when June turns off her phone's location finder while shirking curfew.
Gracie and her new boyfriend, Kevin Lin (Ken Leung), are going to Cartagena, Columbia, for a romantic getaway. She deposits emergency money in June's account just in case. Gracie warns her rebellious offspring to carefully mind the funds. June sees an opportunity for a wild party.
June throws an epic bash with her friends. She revels in having the house to herself. A hungover June clamors to clean up before picking up her mother at the airport. Gracie and Kevin fail to arrive. June becomes more worried when the Columbian hotel still has their luggage. The couple never checked out. June uses every internet tool at her disposal to search the city. She then decides to hack her mother and Kevin's e-mail accounts for further clues. Junes discovers frightening secrets that deepen the puzzle of Gracie's disappearance.
Cast: Storm Reid, Joaquim de Almeida, Ken Leung, Amy Landecker, with Daniel Henney and Nia Long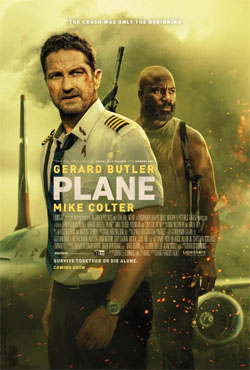 S.P. – A suspenseful violent flight.
Captain Brodie Torrance (Gerald Butler) races to the gate in Singapore. He's eager to reunite with his teenage daughter (Haleigh Hekking) in Hawaii. A pair of events unnerve Torrance as the passengers board. Bad weather looms on the flight path to Tokyo. He's given permission to fly above the storm despite misgivings. Also, law enforcement has captured a murderer on the run for fifteen years. Louis Gaspare (Mike Colter) is handcuffed in the back row for extradition to the United States.
The first officer (Claro de los Reyes) has faith in Torrance's skill. That's immediately tested as turbulence rocks the plane. Passengers whimper as Torrance raises altitude. Calm turns to terror when lightning strikes. Bonnie (Daniella Pineda), the head flight attendant, screams for everyone to remain seated. The foolish ignore her order.
The aircraft loses power. All electronic instruments have failed. The plane begins a rapid descent over a vast ocean. They have ten minutes before plummeting to certain death. Torrance yells for the passengers to prepare for a water landing. A patch of green with a winding road miraculously appears through the blinding rain. Everyone braces for impact. But the remote island of Jolo isn't a safe haven. An anti-government militia watches as a fresh batch of western hostages crashes in the jungle.
Cast: Gerard Butler, Mike Colter, Yoson An, Daniella Pineda, Paul Ben-Victor, Remi Adeleke, Joey Slotnick, Evan Dane Taylor, Claro de los Reyes, and Tony Goldwyn.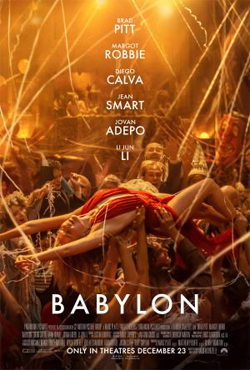 S.P. – A Dazzling Spectacle
In 1926 Blair, California, Manny Torres (Diego Calva) struggles to haul an elephant uphill for studio mogul Don Wallach's (Jeff Garlin) wild party. It's a scatological affair as Manny finally reaches the den of sin and lust. Black trumpeter Sidney Palmer (Jovan Adept) plays onstage with his jazz band as the sea of flesh writhes before them. MGM star Jack Conrad (Brad Pitt) arrives with his bickering wife (Olivia Wilde) to great fanfare.
Manny's sent to handle a problem when he notices a rambunctious gate crasher. The loud but gorgeous Nellie LaRoy (Margot Robbie) demands entrance. She's going to take Hollywood by storm. A mesmerized Manny sneaks her in, where Nellie makes the most of the opportunity. Wallach can't help but noticing her.
The following day has Nellie on the frenetic CinemaScope lot, along with Manny who became Jack's personal assistant after driving him home. They are both thrilled to finally be a part of the movies. Gossip journalist Elinor St. John (Jean Smart) gets a kick out of the crude Nellie. She can sense a rising newcomer.
Several weeks later, Jack gets word that Al Jolson's "The Jazz Singer" is expected to be a massive hit. He flies Manny to the New York premiere to see what's the fuss about talking pictures.
The film's second act sobers up the ensemble. Nellie and Jack struggle as actors with speaking roles. Manny and Sidney rise, but with embarrassing racial slights. The price of fame becomes a cost they can no longer afford. This inevitable downturn takes the sparkle and sheen off the narrative. Gazelle gets predictably ugly. Stars can't burn forever. It's obvious from the start that his characters aren't capable of change.
Brad Pitt, Margot Robbie, Diego Calva, Jean Smart, Jovan Adepo, Li Jun Li, P.J. Byrne, Lukas Haas, Olivia Hamilton, Tobey Maguire, Max Minghella, Rory Scovel, Katherine Waterston, Flea, Jeff Garlin, Eric Roberts, Ethan Suplee, Samara Weaving, Olivia Wilde.
I Wanna Dance With Somebody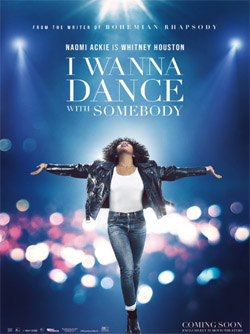 S.P. – Stellar performance by Naomi Ackie
I Wanna Dance with Somebody opens in early eighties East Orange, New Jersey. A teenage Whitney (Naomi Ackie) meets the beguiling Robyn Crawford (Nafessa Williams) in a park playground. Their friendship quickly evolves to romance. Whitney lives in the shadows of her famous mother, Cissy Houston (Tamara Tunie), and domineering father, John (Clarke Peters). She sings backup vocals in her mother's band.
Whitney's fate changes when powerful music executive Clive Davis (Stanley Tucci) comes to a show. Cissy realizes the enormous magnitude of the moment. She puts Whitney front and center for a stunning audition. Clive is blown out of his chair by the young ingénue's talent.
Clive signs Whitney to a record deal with her ecstatic parents and Robyn watching. He develops a relationship with his promising star that fosters her best traits. Whitney's debut album is a monster hit. She becomes America's pop "princess" and a global sensation.
Everyone is out for a piece of Whitney's financial windfall. Her father keeps ironclad control of the business, while Cissy and Clive steer her musical choices. They all agree on one thing. Tabloids are beginning to suspect her and Robyn are more than friends. As Whitney struggles with the pressures of fame, she's smitten by New Edition frontman turned solo star, Bobby Brown.
Starring: Naomi Ackie, Stanley Tucci, Ashton Sanders, Tamara Tunie,Nafessa Williams ,Clarke Peters.
S.P. – Parents Struggle to handle Son issues.
The Son is a heavy drama about teenage depression and the crippling effect it can have on a family, with themes around suicide, self-harm, and strong language. It stars Hugh Jackman as Peter, whose teen son, Nicholas (Zen McGrath), comes to live with him, his partner Beth (Vanessa Kirby), and their baby. Nicholas is living with mental health issues and the film examines how his parents deal with it and how difficult that can be. The film also looks at how actions and decisions have consequences. The depiction of depression is raw and unforgiving, pulling no punches in the process. The film isn't very positive, and there isn't much optimism to take away.
STARRING: Hugh Jackman, Laura Dern, Vanessa Kirby, Zen McGrath, and Anthony Hopkins
PUSS IN BOOTS: THE LAST WISH
S.P. -Purrfect fun for the whole family.
Puss in Boots: The Last Wish opens with a grand display of Puss in Boots' larger-than-life personality. He has broken into some town's mayor's mansion and is hosting a party, clawing up portraits, singing, and dancing along with the townsfolk. However, after the mayor catches him in the middle of a dance number, a giant monster appears, forcing Puss in Boots to use his abilities to save the day yet again. This does not come without consequences, Puss in Boots is crushed by a falling bell at the very end of the fight, killing and forcing him onto the last of his nine lives. If he dies again, that is the end of the legendary feline. At first, this does not seem to faze him, and he heads to the bar upon waking. There, he encounters a powerful wolf with red eyes who presumably is a bounty hunter. This is not a fight Puss in Boots can win, and, with his head held low, he gives up the life he has lived to protect his last life. With the wolf chasing him, there is only one spot where Puss in Boots can truly be safe: Mama Luna's house. Mama Luna protects domesticated cats, and after burying his cape in her front yard, Puss in Boots resigns himself to a life of eating kitty kibble and sunbathing in the window forever. He resists it at first, but after being stuck inside the house for a while, he begins to accept his new fate and even gives up on grooming himself, making the beloved character completely unrecognizable to even the most devoted fan in this universe.
Adventure cannot stay away from him, and Goldilocks and the Three Bears, a crime family consisting of a human girl and her three talking bears, show up at the house looking for him. Puss in Boots evades their notice, but finds out about a mysterious Wishing Star in the process, prompting him to dig up his hat and cape from its shallow grave and set out for a brand new, potentially final journey. He is joined by Perrito, a dog who has been pretending to be a cat in the house, and reunites with Kitty Softpaws as they try to steal the map to the Wishing Star from Jack Horner. With three different teams out to get the Wishing Star and make their dreams come true, the movie turns into an epic journey across dreams and nightmares to find out that maybe everything someone ever wanted is right in front of them.
Genre: Animated Comedy Adventure
Cast: Antonio Banderas, Salma Hayek Pinault, Olivia Colman, Harvey Guillén, Samson Kayo, Wagner Moura, Anthony Mendez, John Mulaney, Florence Pugh, Da'Vine Joy Randolph, Ray Winstone
Director: Joel Crawford
Producer: Mark Swift
Executive Producer: Chris Meledandri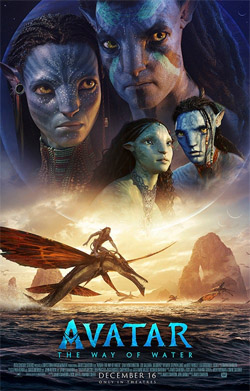 S.P.  – The Way of Water is the greatest 3D film ever made.
James Cameron returns  to Pandora with an unparalleled cinematic epic. Avatar: The Way of Water submerses you in an alien ocean of adventure, retribution, and tragic violence. Humanity's assault on the Na'vi and their magnificent world's unspoiled riches begins once again. Enemies long thought dead are reborn to threaten everything Jake Sully (Sam Worthington) holds dear. His beloved family must run for their lives as the leaders of a fierce resistance return.
Fifteen years after RDA's expulsion from Pandora, life has changed dramatically for Jake Sully. Toruk Makto and Neytiri (Zoe Saldaña) have successfully rebuilt the Omaticaya clan. They have four spirited children and an equally rambunctious interloper. The composed Neteyam (Jamie Flatters) has to keep younger brother, Lo'ak (Britain Dalton), out of trouble. Adopted daughter Kiri has a deep and mysterious connection to Eywa. She's idolized by their lovable youngest, Tuk (Trinity Jo-Li Bliss), a fixture at her siblings' side. Rounding out the energetic youth is Spider (Jack Champion), a human teen raised along the Sullys with a Na'vi sensibility.
Jake's worst fears are realized when he notices new stars appear in the night sky. Ships are entering Pandora's atmosphere. RDA lands with a massive force. General Frances Ardmore (Edie Falco) has brought new weapons to the fight. A platoon of Avatars led by Jake's greatest adversary has evened the physical score. They are just as strong as the native Na'vi, and most importantly, aren't recognized as invaders by Eywa. Neytiri's "demons" have come back to kill and conquer.
Jake must hide his wife and children if they are to survive. Ardmore will annihilate the Omaticaya to get them. They flee to the seas of Pandora, where thousands of islands can shield them from RDA's wrath. The Metkayina aren't happy to see the family of forest Na'vi. The pregnant Tsahìk, Ronal (Kate Winslet), warns they will bring destruction. But clan leader, Tonowari (Cliff Curtis), honors the asylum request of Toruk Makto.
Avatar: The Way of Water has a three-hour and twelve-minute runtime. The sound and visual effects are spectacular, absolutely stunning, the best to date.
Directed by James Cameron and produced by Cameron and Jon Landau, the Lightstorm Entertainment Production stars Sam Worthington, Zoe Saldaña, Sigourney Weaver, Stephen Lang and Kate Winslet.
Screenplay by James Cameron & Rick Jaffa & Amanda Silver.
Story by James Cameron & Rick Jaffa & Amanda Silver & Josh Friedman & Shane Salerno.
David Valdes and Richard Baneham serve as the film's executive producers.
In Theaters November 23 and on Prime Video December 16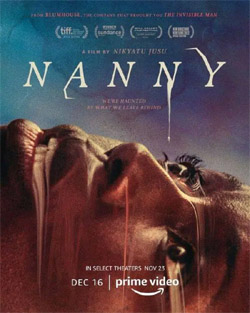 Nanny, a supernatural thriller that tells the story of Aisha (Anna Diop), a Senegalese immigrant nanny in New York City who works for wealthy white family as a live-in babysitter to their five-year-old daughter Rose (Rose Decker).while saving up to bring her own young son to the United States. As she is drawn deeper into the family's lives, however, she contends with forces both otherworldly and real that threaten her American dream.
Rose is known for disobeying caretakers and causing trouble, especially refusing to eat. Aisha doesn't have any of these problems. Instead, the young girl asks if she can try some Senegalese cuisines, quickly liking them and solving that problem. Meanwhile, parents Amy and Adam (Michelle Monaghan and Morgan Spector) are distant and arguing whenever they are in the same room. This happens to the extent that they come across as negligent guardians due to their self-absorbed behaviors. Adam even goes as far as making an unwanted romantic move towards Aisha.
Written and Directed by Nikyatu Jusu.
Starring Anna Diop, Michelle Monaghan, Sinqua Walls, Morgan Spector, Rose Decker, Leslie Uggams, Zephani Idoko, Olamide Candide-Johnson, Jahleel Kamara, Princess Adenike, Mitzie Pratt, Keturah Hamilton, Stephanie Jae Park, and Ebbe Bassey.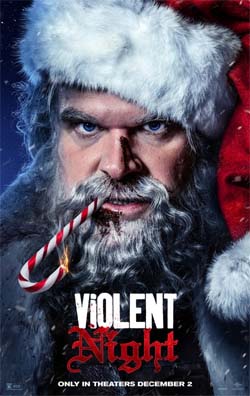 S.P. – One Naughty Santa!
On Christmas Eve, when a wealthy family is held hostage in their home by mercenaries led by Mr. Scrooge (John Leguizamo), the real Santa Claus (David Harbour), who has lost the Christmas spirit must summon his strength to defeat the bad guys and save the family including a young girl named Trudy (Leah Brady), who still believes in the magic of Christmas and Santa Claus.
Cast: David Harbour, John Leguizamo, Cam Gigandet, Alex Hassell, Alexis Louder, Edi Patterson and Beverly D'Angelo.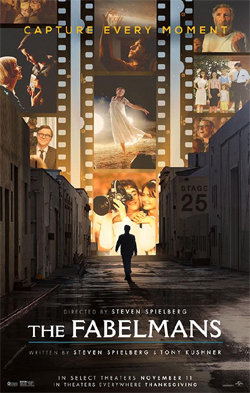 S.P. – Steven Spielberg puts his life on screen, in this amazing memoir.
Steven Spielberg tells the story of his youth in a heartfelt memoir about cherished family, an early love of filmmaking, and facing cruel antisemitism. The Fabelmans shines a spotlight on the iconic director's strong upbringing. His electrical engineer father and concert pianist mother fully supported creative endeavors. They grew a fascination with movies that blossomed to obvious talent. But the veneer of true happiness loses its luster with a startling teenage realization. Those dearest to him have secrets that endanger assumed stability. Spielberg's coming-of-age drama honestly depicts the struggle to find yourself when the world crashes down.
In fifties suburban New Jersey, young Sammy Fabelman (Mateo Zoryon Francis-DeFord) is dazzled by seeing The Greatest Show on Earth. His radiant mother, Mitzi (Michelle Williams), serves meals on paper plates with plastic utensils. She doesn't do dishes to save her pianist hands. Burt (Paul Dano), Sammy's genius father, makes extra money fixing broken televisions. Along with his three younger sisters, the Fabelmans are a picture of content. They celebrate their Orthodox Jewish faith during the holidays with Bennie (Seth Rogen), his father's best friend and co-worker.
Burt gets a lucrative job offer to move the family to Phoenix, Arizona. Mitzi implores her husband to not leave Bennie behind. He's become a treasured uncle to the children. In Phoenix, Sammy's (Gabriel LaBelle) skill with the family's 16mm camera takes a dramatic leap. He wows his family and neighbors with amazing short films. Burt and Mitzi are proud of his proficiency. Bennie gives him money to purchase a real camera. Sammy starts documenting everything. He notices that a divide exists between his parents.
Burt's career takes the family to Northern California. This time he couldn't find a place for Bennie. The change does not sit well with Sammy and Mitzi. He's beaten up at school for being Jewish. Daily bullying and taunts become unbearable. Film is his only escape. Mitzi plunges into a dark depression. Burt's confounded by this turn of events. He doesn't know how to keep his wife happy, and takes issue with Sammy's movies obsession. His son needs to focus on finding a legitimate career.
The Fabelmans begins with the seemingly limitless promise of childhood. Sammy, his sisters, father, and Bennie bask in Mitzi's glowing personality. She's beautiful, an incredible musician, and exudes an aura that lifts everything around her. Mitzi is the sun lighting every path forward. The older Sammy learns this isn't always true. His parents love each other but are very different people. As their children age, the chasm between them grows wider. Burt loves Mitzi unconditionally. She supported his career by being a good mother and wife, but has needs that he unfortunately cannot meet.
Genre: Drama
Cast: Michelle Williams, Paul Dano, Seth Rogen, Gabriel LaBelle, Jeannie Berlin, Julia Butters, Robin Bartlett, Keeley Karsten and Judd Hirsch
Directed by: Steven Spielberg
Screenplay by: Steven Spielberg & Tony Kushner
Produced by: Kristie Macosko Krieger p.g.a., Steven Spielberg p.g.a., Tony Kushner p.g.a.
Executive Producers: Carla Raij, Josh McLaglen.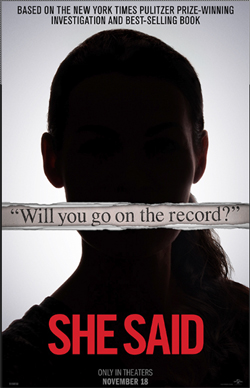 After months of investigating Weinstein, uncovering, and confirming reports of decades-long harassment and sexual misconduct, reporters Kantor and Twohey, along with Corbett, who was assistant managing editor at the New York Times at the time of the investigation, the women broke the Weinstein story, breaking decades of silence around the subject of sexual assault in Hollywood.
The result, along with Ronan Farrow's Weinstein expose, eventually fueled the fires of the #MeToo movement. Three days after the New York Times story dropped, Weinstein was fired from the Weinstein Co. Flashforward to February 2020, and Weinstein is found guilty of a criminal sexual act in the first degree and third-degree rape and would go on to be sentenced to 23 years in prison. Another trial, in which Weinstein faced 11 charges of rape and sexual assault began last month an L.A. judge overseeing the sexual assault trial dropped four of the 11 charges against Weinstein on November 15, when prosecutors announced they wouldn't move forward with counts connected to one of the accusers.
That said, it's mesmerizing to sit through She Said and witness the depth of commitment and risk Kantor and Twohey, and their editorial ally Corbett, experienced.
Genre: Drama
Cast: Carey Mulligan, Zoe Kazan 
Directed by: Maria Schrader
Written by: Rebecca Lenkiewicz
Producers: Brad Pitt, Dede Gardner, Jeremy Kleiner
Executive Producers: Megan Ellison, Sue Naegle
BLACK PANTHER: WAKANDA FOREVER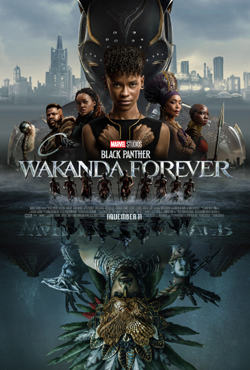 S.P. – Slow-burning Movie overshadowed by grief.
Wakanda reels from the unexpected death of King T'Challa. Queen Ramonda (Angela Bassett) assumes leadership with a broken heart. She gives the world a stark notice. The Black Panther is gone, but Wakanda remains undaunted. She will retaliate against any efforts by foreigners to steal Vibranium. Ramonda tries to make peace and accept the loss of her son. Princess Shuri (Letitia Wright) doesn't share her mother's ability to cope with grief. Anger fuels her genius mind. She's haunted by her inability to recreate the Heart-Shaped Herb. Her beloved brother died because she wasn't strong or smart enough to save him.
As Wakanda faces existential threats for its Vibranium resources. As hostile countries clamor for the valuable ore, an undersea source is discovered with a fierce protector. Who would burn the above ground to ashes and never capitulate.
Meanwhile, in the Atlantic Ocean, a specialized CIA device finds Vibranium on the sea floor. It unleashes a ferocious response from a long-hidden race of Mayan descendants. K'uk'ulkan (Tenoch Huerta), the king of Talokan, has seen the horrors of colonizing invaders. "The feathered serpent god", cursed as Namor by the terrified Spanish, won't allow his people's secret home to be known. He confronts Ramonda and Shuri with a deadly request. Wakanda and Talokan have the same enemies. Find and kill the Vibranium detector's creator (Dominique Thorne) or Wakanda will suffer the same wrath as the outsiders if they disobey him.
Cast: Angela Bassett, Letitia Wright, Winston Duke, Danai Gurira, Lupita Nyong'o, Martin Freeman, Dominique Thorne, Michaela Coel, Mabel Cadena.Tenoch Huerta,   and Alex Livinalli.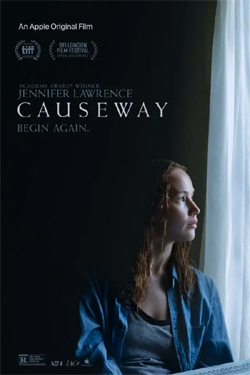 S.P. – Jennifer Lawrence plays a woman, who returns home to New Orleans after suffering severe injuries while serving in Afghanistan.
Causeaway follows Lynsey, a woman who returns home to New Orleans after suffering severe brain and body injuries as a result of her vehicle hitting an explosive in Afghanistan while serving in the U.S. Army Corp of Engineers. Causeway traces Lynsey's physical rehabilitation, her goal is to return to the army.
She forms an unlikely friendship with mechanic James (Brian Tyree Henry) when her truck breaks down.
A connection between two damaged people hurting inside, seemingly desperate for companionship and to open up to one another.
Causeway is a deeply human film that succeeds in illustrating the twisty road to recovery and the strength it takes to let other people in.
Directed by Lila Neugebauer.
Starring Jennifer Lawrence, Brian Tyree Henry, Linda Emond, Jayne Houdyshell, Stephen McKinley Henderson Russell, Harvard Frederick Weller, Sean Carvajal, Will Pullen, and Neal Huff.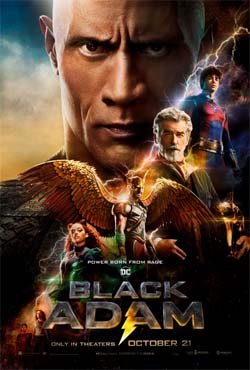 S.P. – Action – Packed movie, with great visuals.
5000 years ago in the Middle-Eastern country of Kahndaq, a ruthless king enslaved the population to search for a precious ore. Eternium's magical properties would allow him to construct the Crown of Sabbac, an object that harnessed demonic power. A young boy, Hurut (Jalen Christian), rebelled against the king but paid a severe price. His noble deeds were noticed by the cabal of wizards. They decided the suffering people needed a champion.
The violent, high-tech criminal syndicate Intergang rules modern Kahndaq. A teacher, Adrianna Tomaz (Sarah Shahi), her goofy brother Karim (Mohammed Amer), and fearless son Amon (Bodhi Sabongui), try to prevent Intergang from finding the buried crown. Adrianna's harrowing escape releases Teth-Adam (Johnson) from his long slumber.
Amon believes Teth-Adam has returned to liberate Kahndaq from outside oppressors. Teth-Adam counters that he's not a hero or savior. The myths have pegged him wrong. His awakening triggers Amanda Waller (Viola Davis) to counter the significant new threat. The Justice Society of America, led by Hawkman (Aldis Hodge) and Dr. Fate (Pierce Brosnan), bring new recruits, Atom Smasher (Noah Centineo) and Cyclone (Quintessa Swindell), to subdue Teth-Adam. They vastly underestimate their target's abilities. As Kahndaq erupts into chaos, Intergang continues to search for the evil crown.
Cast: Dwayne Johnson, Noah Centineo, Sarah Shahi, Marwan Kenzari, Quintessa Swindell, Bodhi Sabongui, Pierce Brosnan, Aldis Hodge
THREE THOUSAND YEARS OF LONGING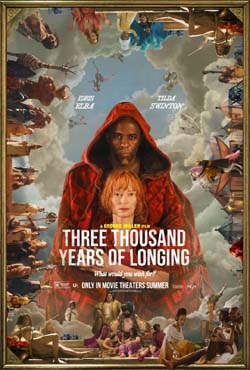 S.P. – Great Fantasy Story with Beautiful Visual Effects.
Based on the book The Djinn in the Nightingale's Eye, Three Thousand Years of Longing centers on Althea (Tilda Swinton) a literary scholar and expert on myths of modern as well as historic. On her trip to Istanbul, she happens to come across a small blue and white glass container that holds a secret Djinn (Idris Elba) inside it. Upon cleaning The Djinn's bottle, his embodiment fills the room, leaving very little space for her or him inside the tiny hotel room. It's at this moment, that The Djinn offers Althea three wishes. Althea is hesitant and begins debating on the merits of wishing. For one reason, she doesn't have anything she desires, and the second reason being her studies on literature mostly have indicated characters never truly get what they wish for. As the discussion over wishes plays out, The Djinn attempts to reason with Althea by giving tidbits of his life story to her.
Cast: Idris Elba, Tilda Swinton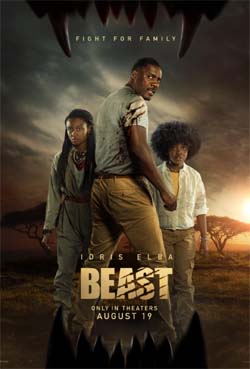 S.P. – Tiresome melodrama, boring plot. The characters argue constantly about family issues while under attack. The girls' nonstop complaining kills the movie's fun.
Dr. Nate Samuels arrives in the South African bush with his teenage daughters, Meredith (Iyana Halley) and her younger sister Norah (Leah Sava Jeffries). They're returning to visit Martin (Sharlto Copley), a wildlife conservationist and dear friend of Nate's recently deceased ex-wife (Naledi Mogadime). Nate wants to reconnect with his children while touring their mother's homeland. Meredith has followed in her footsteps as a photographer. She blames her father for being absent during her mother's battle with cancer. She argues with her father and sister from their landing.
Martin takes the family to a remote preserve. He shows them a pride of lions that he helped to raise from cubs. The tourist adventure takes a macabre turn when they drive to a nearby village. The residents have been massacred by a lion. Martin has never seen a lion behave so aggressively. He tells Nate and the girls to stay in the car. Martin ventures into the savanna to track the beast. Nate and the girls hear a gunshot. Followed by a terrifying encounter with the lion at the car. Martin radios that he's been injured. Nate tries to save Martin and get his children away from the savage predator.
Cast: Idris Elba, Sharlto Copley, Iyana Halley, Leah Sava Jeffries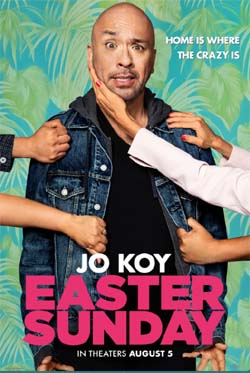 S.P. – Slow start but finishes strong.
Joe Valencia (Koy) races around Los Angeles juggling domestic affairs with career opportunities. He's got an important audition for a network sitcom and parent-teacher conference at his son's school. Junior's (Brandon Wardell) grades are tanking in his senior year. He's upset that his father doesn't have time for him. Joe's ex-wife (Carly Pope) and annoying new husband (Michael Weaver) constantly remind him of his poor parenting.
Joe's mother, Susan (Lydia Gaston), invites him and Junior to her home in Daly City for Easter dinner. He forces Junior to go but keeps an eye on his cell phone. Joe's agent (Jay Chandrasekhar) updates him on the sitcom's status. In Daly City, Joe learns that his mother and her sister, Tita Teresa (Tia Carrere), are embroiled in a bitter argument. He's also furious that his cousin, Eugene (Eugene Cordero), has stolen from a local gangster (Asif Ali) and squandered his loan for a taco truck. Joe must negotiate peace between his mom and aunt, save Eugene from a beatdown, deal with his agent, and bond with his son in one eventful day.
Cast: Jo Koy, Jimmy O. Yang, Tia Carrere, Brandon Wardell, Eva Noblezada, Lydia Gaston, Asif Ali, Rodney To, Eugene Cordero, Jay Chandrasekhar, Tiffany Haddish and Lou Diamond Phillips.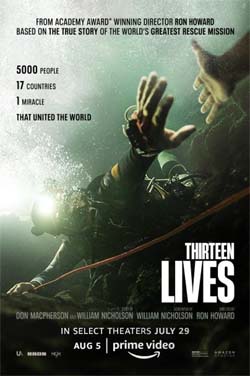 S.P. – Great story, filled with real sacrifice, outstanding courage, and people coming together to work for a common goal against all odds!
Thirteen Lives opens on a lush soccer field with the Wild Boars practicing under a gray sky. The boys have a birthday party that night. They decide to explore the nearby caves before attending. Their coach, Ekkaphon Chanthawong (Teeradon Supapunpinyo), comes along to supervise the outing. Everyone playfully enters the cave complex with literally the clothes on their backs. They ignore the posted warnings of flash flooding.
Several hours later during a torrential storm, none of the children are present at the party. Their concerned parents are told of the cave trip. Everyone races to the entrance. The cave has been blocked by the surging water. Police and rescue teams are called for help. They cannot get through the water. Governor Narongsak (Sahajak Boonthanakit) is notified. He takes command of the rescue as the Thai Navy Seals are also brought in.
Several days pass as news of the lost boys transfixes global media. The entrance to the cave is a hotbed of frantic activity. Meanwhile, a monsoon continues to drench Thailand. British ex-pat and experienced cave diver, Vern Unsworth (Lewis Fitz-Gerald), warns Governor Narongsak that time is running out. He reaches out to Richard Stanton (Viggo Mortensen) and John Volanthen (Colin Farrell). The English fireman and IT consultant were regarded as the world's best cave divers. Stanton and Volanthen arrive to a chaotic scene. Governor Narongsak, under siege from the panicked families and furious Thai officials, gives Stanton and Volanthen free rein to explore the labyrinthine cave. Stanton believes they must have all perished. Even if they find them alive, how would they get them out?
CAST:  Viggo Mortensen, Colin Farrell, Joel Edgerton, Tom Bateman, Paul Gleeson, Pattrakorn Tungsupakul, Tui Thiraphat Sajakul, James Teeradon Supapunpinyo, Sahajak Boonthanakit, Weir Sukollawat Kanaros.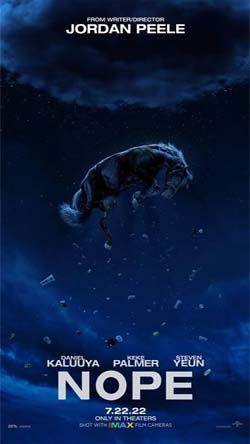 S.P. – Humorous, suspenseful sci-fi
We meet Otis Haywood Sr. (Keith David) and his son, OJ Haywood (Daniel Kaluuya), after a seemingly random and shocking open. They own a horse farm that provides animals for Hollywood productions. Keke Palmer co-stars as Emerald Haywood, OJ's scatterbrained sister that takes little interest in the hard work of training horses. A strange event has OJ and Emerald taking the reins of the family business.
The Haywood's farm sits adjacent to a Wild West theme park called Jupiter's Claim. The owner and star showman, Ricky "Jupe" Park (Steven Yeun) was a child actor on an infamous television show. OJ sells horses to Ricky who's also interested in buying the Haywood's land. OJ becomes upset when the chatterbox Emerald gets involved in their negotiation
Peculiar events plague the farm. Electrical devices lose power and horses behave erratically. OJ witnesses something extraordinary in the sky chasing after a spooked horse. Emerald believes there's big money in securing an image of the mysterious object. The Haywood's decide to hire Angel Torres (Brandon Perea), a conspiracy buff technician at the local electronics store, to help them wire the farm with cameras. Their efforts to document the unknown have a terrifying outcome.
Cast: Daniel Kaluuya, Keke Palmer, Steven Yeun, Michael Wincott, Brandon Perea
Written and Directed by: Jordan Peele
Producers: Ian Cooper, Jordan Peele.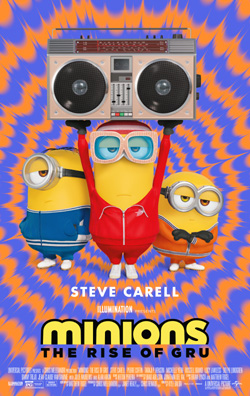 S.P.  – Minions take you back to the 70s
In the heart of the 1970s, amid a flurry of feathered hair and flared jeans, Gru is growing up in the suburbs. A fanboy of a supervillain supergroup known as the Vicious 6, Gru hatches a plan to become evil enough to join them. Luckily, he gets some mayhem making backup from his loyal followers, the Minions. Together, Kevin, Stuart, Bob, and Otto and a new Minion sporting braces and a desperate need to please and deploy their skills as they and Gru build their first lair, experiment with their first weapons, and pull off their first missions.
When the Vicious 6 ousts their leader, legendary fighter Wild Knuckles, Gru interviews to become their newest member. It doesn't go well, and only gets worse after Gru outsmarts them and suddenly finds himself the mortal enemy of the apex of evil. On the run, Gru will turn to an unlikely source for guidance, Wild Knuckles himself, and discover that even bad guys need a little help from their friends.
Cast: Steve Carell, Taraji P. Henson, Michelle Yeoh, RZA, Jean-Claude Van Damme, Lucy Lawless, Dolph Lundgren, Danny Trejo, Russell Brand, with Julie Andrews and Alan Arkin
Director: Kyle Balda
Co-Directors: Brad Ableson, Jonathan del Val
Producers: Chris Meledandri, Janet Healy, Chris Renaud.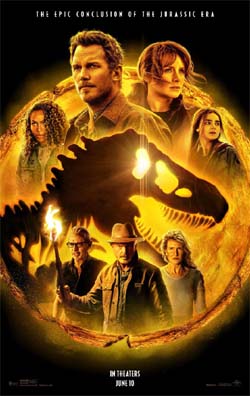 S.P. – All-star team reconnects
Set four years after a volcano destroyed Isla Nubar, dinosaurs have crashed the party on every continent. They have integrated themselves into the human ecosystem with dangerous interactions. World governments have given Biosyn, a competitor to InGen, the exclusive right to capture and move problem dinosaurs to a secure habitat in the Italian Dolemites Mountains. Biosyn's CEO, Lewis Dodgson (Campbell Scott), promises to use dinosaur DNA to herald a new era of scientific breakthroughs. He's hired a combative Ian Malcolm (Jeff Goldblum) as an advisor to "keep him honest" and stave off critics.
In California's remote Sierra Nevada, Claire (Bryce Dallas Howard) and Owen (Chris Pratt) have gone to great lengths to hide Maisie Lockwood (Isabella Sermon), the clone of Charlotte Lockwood. The fourteen-year-old chafes in isolation. Her adoptive parents fear she'll be taken if discovered. Meanwhile, Ellie Sattler (Laura Dern) reconnects with Allan Grant (Sam Neill). She's got a plague of prehistoric locusts and needs to find out where they came from. All paths collide after ruthless dinosaur hunters target the offspring of Blue, the clever Velociraptor trained by Owen.
Cast: Chris Pratt, Bryce Dallas Howard, Laura Dern, Jeff Goldblum, Sam Neill, DeWanda Wise, Mamoudou Athie, BD Wong, Omar Sy, Isabella Sermon, Campbell Scott, Justice Smith, Scott Haze, Dichen Lachman, Daniella Pineda.
Add Your Heading Text Here
Add Your Heading Text Here
Add Your Heading Text Here