Led by Grand Marshal Danny Trejo, the prolific Actor, Author and Restaurateur, the live parade will be presented by Associated Television International in association The City of Los Angeles, hosted by Erik Estrada, Laura McKenzie, Dean Cain and Montel Williams, with Special Co-Host Elizabeth Stanton, Host of Season Three of The CW's hit television show, World's Funniest Animals.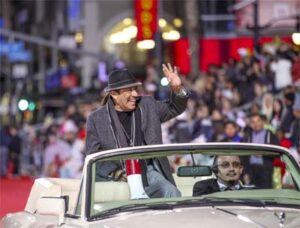 This year's live parade will feature 90 Hollywood Celebrities and VIPS, 24 Performers/Acts, 12 award-wining bands from around the country, including an international band from Cochabamba, Bolivia, 10 large-than-life four-story character balloons, 4 colorful floats including the new DINOSAURS IN THE VALLEY, 10 novelties, and 39 movie cars.  The parade culminates with the appearance of the Jolly Old Elf himself, Santa Claus and his reindeer, ushering in the holiday season!  Learn more at www.thehollywoodchristmasparade.org

WHO AND WHAT'S IN THE PARADE:
90 Celebrities and VIPS:

Danny Trejo (Parade Grand Marshal, Actor, Author and Restaurateur, Desperado, Heat, From Dawn Till Dusk series, Con Air, Spy Kids, Machete, Sons of Anarchy, King of the Hill, The Book of Boba Fett, New York Times best-selling author of TREJO:  My Life of Crime, Redemption, and Hollywood)
Mayor Eric Garcetti (The 42nd Mayor of Los Angeles from 2013 – 2022) and First Daughter, Maya Juanita Garcetti
Cast of Bob Hearts Abishola – Folake Olowofoyeku, Vernee Watson-Johnson and Shola Adewusi and Barry Shabaka Henley
Cast of The Munsters – Jeff Daniel Phillips, Butch Patrick, Daniel Roebuck and Dee Wallace who is also celebrating the 40th Anniversary of her starring role in Steven Spielberg's classic film, E.T. the Extra-Terrestrial
Wyn Starks, (America's Got Talent) singing "Deck The Halls"
Savannah Rae (American Country Singer/Songwriter from San Antonio, TX) who will be singing "All Hat"
Scotty Berg (15-Year-Old Rising Pop Singer/Songwriter) who will be singing "Just Like Christmas"
Scott Schwartz and Zack Ward (A Christmas Story – 40th Anniversary)
Hunter Clowdus (All American)
Tichina Arnold and Hank Greenspan (The Neighborhood)
Wendy Burch (Emmy Award-winning KTLA5 Morning News Reporter)
"Shotgun Tom" Kelly, Host of "60's Gold" on Channel 73 on Sirius XM Radio nationwide riding in a Highway Patrol Car
Family Film Awards
Eric Roberts, Wife Eliza Roberts (Eric Roberts is an Academy Award-nominated and Golden Globe Award-nominated Actor, Runaway Train, The Dark Knight, The Expendables)
Cast of The Bay:  Kristos Andrews (Daytime Emmy Award Winner), Mike Manning (Daytime Emmy Award Winner), Celeste Fianna and Series Creator and Director Gregori J. Martin (Daytime Emmy Award Winner)
Jason Dohring (Seal Team, Veronica Mars, Deep Impact) riding on The Way To Happiness Float
Dancing With The Stars – Britt Stewart, Emma Slater, Kateryna Klishyna
(Red Carpet Arrivals Only) Councilmember Mitch O'Farrell, District 13, City of Los Angeles
Councilmember Heather Hutt, District 10, City of Los Angeles)
Jennifer Marshall (Stranger Things, Mysteries Decoded)
Toni Vaz (Founder and Creator of the prestigious NAACP Image Awards who will turn 100 in December, and Actress, Tarzan, The Poseidon Adventure, Porgy and Bess)
Jaime Jarrín (Legendary 86-year-old Announcer and Broadcaster for the Los Angeles Dodgers from 1959 – 2022, 64 seasons; in 1998 Jarrín received the Ford C. Frick Award from the Baseball Hall of Fame)
Julie Garnyé (Singer and Actress; Singing Voice of Lyria in Disney's Tinker Bell series, National Tours of CATS, HAIR and CHESS) riding on the Salvation Army Car
Cast of Miracle Before Christmas – Paula Jai Parker, Keith David (Three Time Primetime Emmy Award Winner), Porscha Coleman, Jasper Cole and Ian Petrella
Kate Linder (The Young and the Restless) celebrating her 40th Anniversary as Esther Valentine on the show
Cast of The Bold and the Beautiful – Patrick Duffy and Linda Purl; Deidre Hall (Days of Our Lives)
Cast of General Hospital Legends – Finola Hughes, Jackie Zemen and Donnell Turner
Jorge Cueva, known as Mr. Tempo (Born and raised in Guadalajara, Mr. Tempo is the owner of numerous restaurants)
Jet Velocity All Star Holiday Band (Jason Ebs, Janea Chadwick Ebs, Eva Gardner, Teddy "Zig Zag" Andreadis and Mitch Perry)
Santa Claus and his Marine Escorts, Sergeant Andrew Sayeg and Sergeant Rechelle L. Hoppers
Lieutenant General James B. Laster, USMC (Retired) (President and CEO of Marine Toys for Tots Foundation)
Staff Sergeant Craig H. Palmer, (Drum Major of United States Marine Corps Band, San Diego)
U.S. Marine Corps Color Guard (l to r): Corporal Ramon Khweiss (Rifle), Sergeant Chino Dyer (American Flag), Sergeant Karla Alvarez (Marine Flag) and Corporal Patrick Jacobus (Rifle)
Nate Truman (Nate Truman Star Cars)
Dino Don Lessem, CEO of Dino Don Inc. and Partner of DINOSAURS IN THE VALLEY who was an Adviser to Steven Spielberg on his movie, Jurassic Park
Matt Flynn, CEO for Ultimate Fun Productions and Partner of DINOSAURS IN THE VALLEY
Jani Wang, Miss L.A. Chinatown 2010
Laur Allen, Miss L.A. Chinatown 2012
Katrina Lee, Miss L.A. Chinatown 2014
Alice Wong, Miss L.A. Chinatown 2015
Olivia Li, First Place, New Silk Road The Charm of the East Modeling Competition – California
Children in Qing Dynasty Costumes, Audrey Ly and Priscilla Ly
Magicians Ed Alonzo, My Uyên and Adam Wylie, stars of The CW's hit television show, MASTERS OF ILLUSION, perform street magic with Co-Host Elizabeth Stanton with spectators sitting in the Grandstands.


24 Performers/Acts, Including:

10 Musical Performers/Groups:  Taylor Dane, Chris Isaak, Marie Osmond, Tichina Arnold and Alijah Kai, Wyn Starks. Anna Azerli, Scotty Berg, Savannah Rae and Jet Velocity All Star Holiday Band comprised of Jason Ebs, Janea Chadwick Ebs, Eva Gardner, Teddy "Zig Zag" Andreadis and Mitch Perry.
5 Additional Musical Performers/Acts appear in a Special Montage Tribute for 90 Years, including:  The Beach Boys, The Village People, Donny and Marie Osmond, Earth, Wind and Fire and Olivia Newton-John.
9 Additional Performing Acts include:  Gevorkian Dance Academy, Hip Hop International, The Divas and Drummers of Compton, Oaxacan Indigenous Band and Dancers, Hollywood Starlettes, Magicians Ed Alonzo, My Uyên and Noah Wylie from The CW's hit television show, MASTERS OF ILLUSION and Chinese Lion, Dragon and Kung Fu Dancers from the Roundtable of Southern California Chinese American Organizations.


12 Award-Winning Bands from around the country:

United States Marine Corps Band (San Diego, California) "Hooray For Hollywood" and "Marine Hymn"
Cherry Creek High School Band (Greenwood Village, Colorado)
Concord Community High School Band (Elkhart, Indiana)
Shawnee Mission West Pride Marching Band (Park, Kansas)
Pasadena Unified School Band (Pasadena, California)
PAVA World Traditional Korean Band (Los Angeles, California)
Gadsden Elementary (Gadsden, Arizona)
Fraternidad Folklórica y Cultural Caporales Universitarious de San Simón (Cochabamba, Bolivia)
Korean American Youth Performing Artists (KAYPA) (Chino, California)
Norwalk High School Marching Band (New Britain, Connecticut)
Washington Union High School Band (Fresno, California)
and Los Angeles Catholic Schools Band (Torrance, California)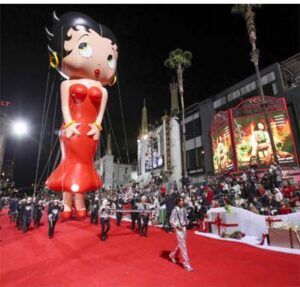 10 (Four Story High) Character Balloons:

Toy Soldier 40' (Sponsored by Family Film Awards, Wrangled by Civil Air Patrol)
Betty Boop 45'(Wrangled by Stunt Kids Association of Hollywood)
Might Mouse 35' (Wrangled by Boy Scouts of America Girl Troop 88 and Boy Troop 8)
Pirate and Chest (Sponsored and Wrangled by Galaxy Press)
Gingerbread Man 23' (Sponsored by MXO Lifewater, Wrangled by American Legion Auxiliary)
Candy Cane 25' (Wrangled by US Army)
Christmas Ornaments 13' (Three Ornaments) (Wrangled by Monarca Purchepecha Association)


10 Novelties, And 39 Movie Cars:

Two Los Angeles Fire Trucks with Commissioner
Antique Police Cars
Los Angeles Police Department Motorcycles
United States Marine Corps Honor Color Guard
Nate Truman Star Cars including:
Mach 5 Speedracer/Shaguar
Cars Lightning Queen
Cars Sally Carrera
Cars Francesca
Pixar Pizza Planet
Fast and Furious Cars (2)
Need For Speed BMW
Mad Max (4)
Bluesmobile with Horn
Bluemobile Without Horn
Magnum PI Ferrari
Miami Vice Daytona Ferrari Daytona
Jurassic Park Maintenance Truck
Jurassic Park Jeep (2)
Jurassic Park Explorer
General Lee
Dukes of Hazzard Roscoe Police Car
Back To The Future Deloreon #1, #2, #3 and Marty McFly Truck
From Dusk Till Dawn Cougar
Smoky and The Bandit Trans AM Bandit 2
Knight Rider – KITT Original Series
Super Pursuit K.I.TY.T Knight Rider
K.A.R.R. Knight Rider
Mustang K.I.T.T. 2008 Series
Herbie Love Bug; Herbie – Robo
NASCAR Herbie Fully Loaded
Ghostbusters ECTO-1 Classic (Ghostbuster Walker Costumes)
Ghostbusters ECTO-1 (2016 Version) Ghostbuster Walkers
Transformers Bumblebee Original
Transformers 2010
Teenage Mutant Ninja Turtle Van
Black Beauty Crysler Imperial
James Bond Austin Martin Vanguish (Die Another Day)
United States Air Force Color Guard (March Air Reserve Base)
Air Force Mini Jets F-16 (4) and P51 Mustang with Camp Ronald McDonald Children's Hospital Los Angeles – Alana, Daniel, Ivan and Laszlo)
Young Marine Marchers (75)
Los Angeles Vespa Club (36 Riders)
501st Legion, Rebel Legion and Mandelorian Mercs (185 Costumed Characters, including 103 Troopers, 57 Rebels, 24 Mercs and R2)
LA Ghostbusters (with three vehicles) Slime Bucket
Road Squadron Vehicles (Starspeeder 3000, Sithspawn, Rebels Ghost, Tie Corvette, G-Wing)
Roundtable of Southern California Chinese American Organizations, including 183 including 2 Banner Carriers, 2 Lion Dancers, 1 Dragon Dancer, 20 Kung Fu Dancers, 30 Hanfu Traditional Chinese Costumes, 30 Cheongsam Chinese Traditional Costumes, 30 Member Drum Team and Panda Bear Music Float
Salvation Army Band, Three Cars and Kettle Bug with Julie Garnyé


4 Floats:

Divas and Drummers of Compton
The Way To Happiness Float with Jason Dohring
A new float this year is DINOSAURS IN THE VALLEY, representing an immersive touring walk-through experience featuring the most scientifically accurate dinosaurs ever created!  The event is now talking place through December 18th at Pierce College in Woodland Hills, CA.  Featured on the parade float is T. rex and some other life-size and life-like dinosaurs which roar, move their heads, necks, tails, blink their eyes and breathe.  There will also be walking Dinosaurs on the street and some Baby Dinosaurs.  The DINOSAURS IN THE VALLEY exhibit features the Velociraptor made for original mold for the Jurassic Park movie. Riding on the DINOSAURS IN THE VALLEY float are event partners and producers:  Dino Don Lessem (pronounced LESS-sem) of Dino Don Inc., Matt Flynn of Ultimate Fun Productions and Russell Geyser (pronounced GUY-Sur) of Rainmaker Films.
The Parade will culminate with the appearance of the Jolly Old Elf himself ushering in the holiday season, Santa Claus and his reindeer escorted by U.S. Marine Corps Sergeant Andrew Sayeg and Sergeant Rechelle L. Hoppers.  (Float sponsored by Family Film Awards).


More About The Hollywood Christmas Parade:
2022 marks the historic 90th Anniversary of the Hollywood Christmas Parade, an American tradition.  The live parade is produced by Associated Television International and presented in association with The City of Los Angeles on the streets of Hollywood, CA.  This year's celebration will be held on Sunday, November 27, 2022 from 6:00 – 8:00 p.m.

Since 1928 the live Hollywood Christmas Parade has been a loved and cherished annual holiday tradition enjoyed by Angelenos, as well as by millions watching the televised airings of the parade nationally on The CW Network and internationally on Armed Forces Network around the world.  The only exceptions were during World War II from 1942 to 1944 when the parade wasn't presented, and, of course, last year in 2020, when the parade wasn't presented due the COVID 19 global pandemic.  The parade was then presented live again in 2021, and returns this year to celebrate its historic 90th Anniversary live in the streets of Hollywood, CA!
Grand Marshals who have appeared in The Hollywood Christmas Parade during the last 90 years include: Jeanette Loft, Joe E. Brown, Gene Autry, Roy Rogers, Joan Leslie, Sheriff Eugene Biscailuz, Harry Sherman. Irene Rich, Bob Hope, Art Linklater, Lawrence Welk, Charlton Heston, Dale Evans and Roy Rogers, Danny Thomas, Mary Pickford, Dick Van Dyke, Robert Vaughn, Pat Boone, Fred McMurray, Buddy Ebsen, Walter Matthau, Ernest Borgnine, Johnny Mathis, General Robert E. Cushman, Jr., John Wayne, General Omar Bradley, James Stewart, Robert Wagner and Natalie Wood, Ron Howard, George Peppard, Michael Landon, William Shatner, Mickey and Minnie Mouse, Tony Danza, Sammy Davis, Jr., Arnold Schwarzenegger, Tom Arnold and Roseanne Barr, Bob and Delores Hope, Louis Gossett, Jr., David Hasselhoff, Robert Urich, Beau Bridges, Dennis Hopper and Frankie Muñiz, Peter Fonda, Mickey Rooney, Johnny Grant, Magic Johnson, Antonio Villaraigosa, George López, Bob Barker, Joy and Regis Philbin, Susan Lucci, Larry King, Marie Osmond, Joe Mantegna, Buzz Aldrin, Stevie Wonder, Penn & Teller, Olivia Newton-John, Dr. Mehmet C. Oz, Nancy O'Dell, Mario Lopez and Sheryl Underwood.
The Hollywood Christmas Parade was originally called the Santa Claus Lane Parade.  When the American performer Gene Autry, who was known as The Singing Cowboy, was riding on his horse down Hollywood Boulevard in the 1946 Santa Claus Lane Parade, he heard young parade spectators in the crowd exclaim, "Here comes Santa Claus!"  This incident became the inspiration for Autry to compose the traditional perennial Christmas holiday song, "Here Come's Santa Claus (Right Down Santa Claus Lane)," which he co-wrote with Oakley Haldeman in 1949. Autry first recorded the song in 1947.  The song was released as a single by Columbia Records, and became a #5 country and #9 pop hit at the time.  Gene Autry is the only celebrity to have five stars on the Hollywood Walk of Fame, one in each of the five categories, Motion Pictures, Radio, Recording, Television and Live Theater.  Today the intersection of Hollywood Boulevard at Highland Avenue, part of the Hollywood Christmas Parade route, is named Gene Autry Square.

The live parade features 5,000 participants, and will be taped for multiple nationwide network television broadcasts to be aired during the holiday season.  The parade will travel along a 3.2 mile U-shaped route starting at Orange Street and Hollywood Boulevard traveling east on Hollywood Boulevard to Vine Street, turning south on Vine Street to Sunset Boulevard, and then turning west on Sunset Boulevard traveling back to Orange Street.
How It All Began 75 Years Ago – The Origin and Evolution of the Marine Toys for Tots Program:
Toys for Tots began in 1947 as the brainchild of Marine Corps Reserve Major Bill Hendricks.  Actually it was his wife, Diane Hendricks, who was the real inspiration.  She had a few handcrafted dolls and asked Bill to deliver them to an agency that supports children in need.
When Bill reported back to his wife that he could not find such an organization, she instructed him to "start one!"  Major Hendricks and the Marines in his reserve unit in Los Angeles collected and distributed 5,000 toys in 1947.
Seeing such successful community engagement in 1947, the Commandant directed all Marine Reserve Sites to implement a Toys for Tots campaign, transforming it into a national community action program in 1948.
Bill Hendrick's civilian job was Director of Public Relations at Warner Brothers Studios.  He had many celebrity friends who he asked to help support the newly created Marine Toys for Tots Program.  As a personal friend and as a favor to Bill Hendricks, Walt Disney designed the first Toys for Tots poster, which included a miniature three-car train that was subsequently adopted as the Toys for Tots logo.
The Marine Toys for Tots Foundation, an IRS recognized 501(c)(3) not-for-profit charity, was established in 1991 at the behest of the Marine Corps to help run and support the Marine Toys for Tots Program.
The Foundation raises funds, purchases toys, provides promotional and support materials, manages all funds raised and donated, solicits corporate support, educates the public, and handles day-to-day operations.
Presently, the Marine Toys for Tots Program distributes an average of 18 million toys to 7 million less fortunate children annually.  To learn more, please visit:  https://toyfortots.org